March Ramblings
Welcome to my monthly Ramblings, where I get the opportunity to share a little behind the scenes of my life and what has caught my eye on the web.
Be sure to follow me on Bloglovin'
I'm going to be cutting this month a little short, I know, it's the third "Ramblings" and I'm already skipping out.
It's our Spring Break around here and in an effort to disconnect from the computer a little this week, I have to cut this post a bit short. Normally this post takes me hours to write. Finding the links, the photos, etc etc. So forgive me guys, okay?
Instead of my usual photo collage, I'm going to count down my top 5 recipes from this month. These are based on what YOU all seemed to love the most!!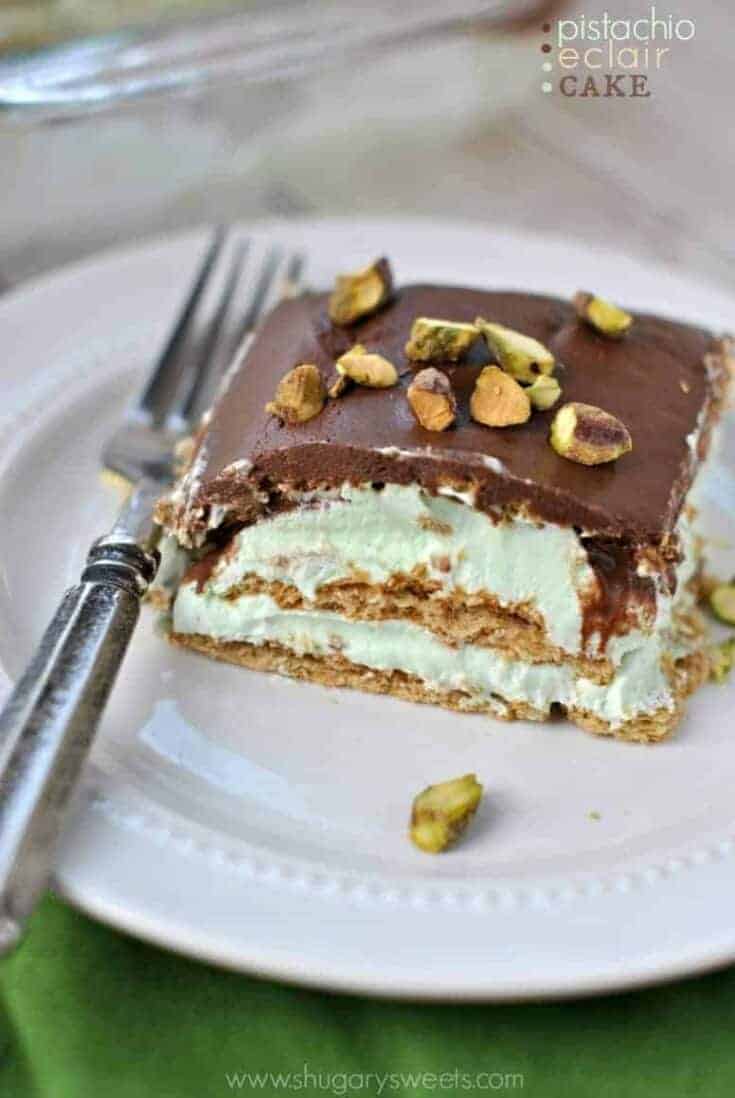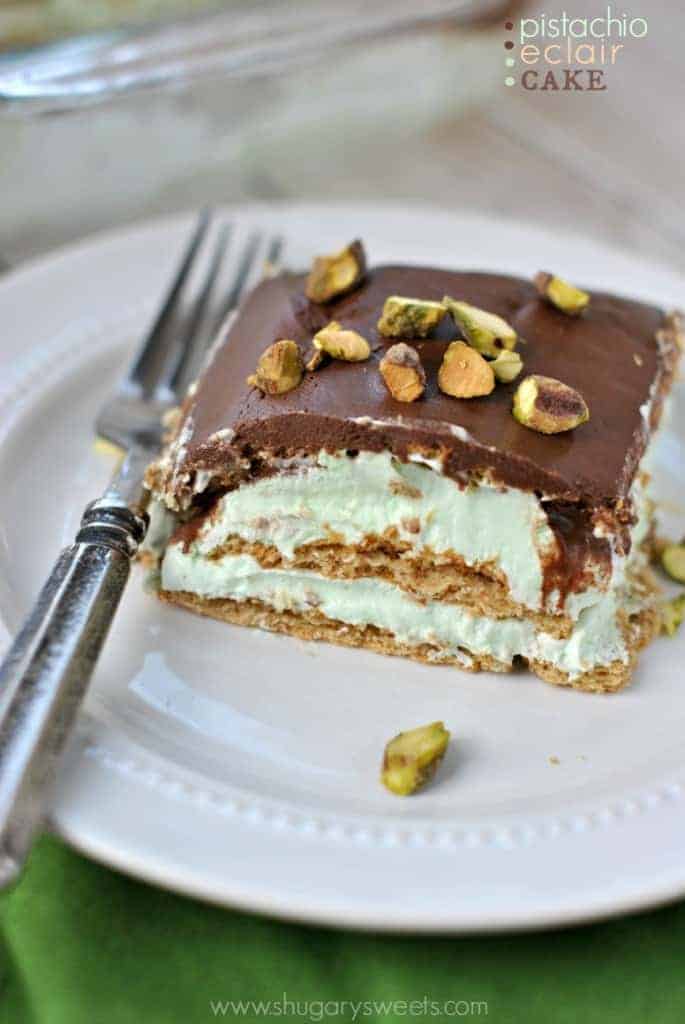 5. Pistachio Eclair Cake: easy no bake dessert, with layers of grahams, pistachio pudding, cool whip and of course, chocolate frosting!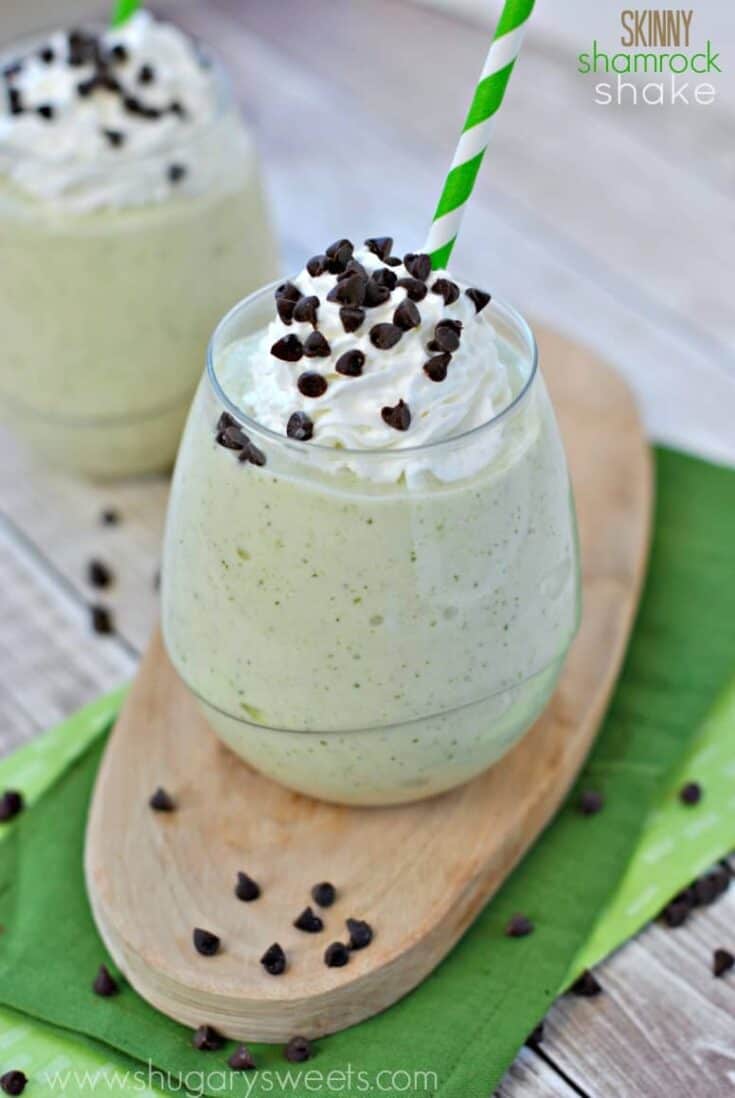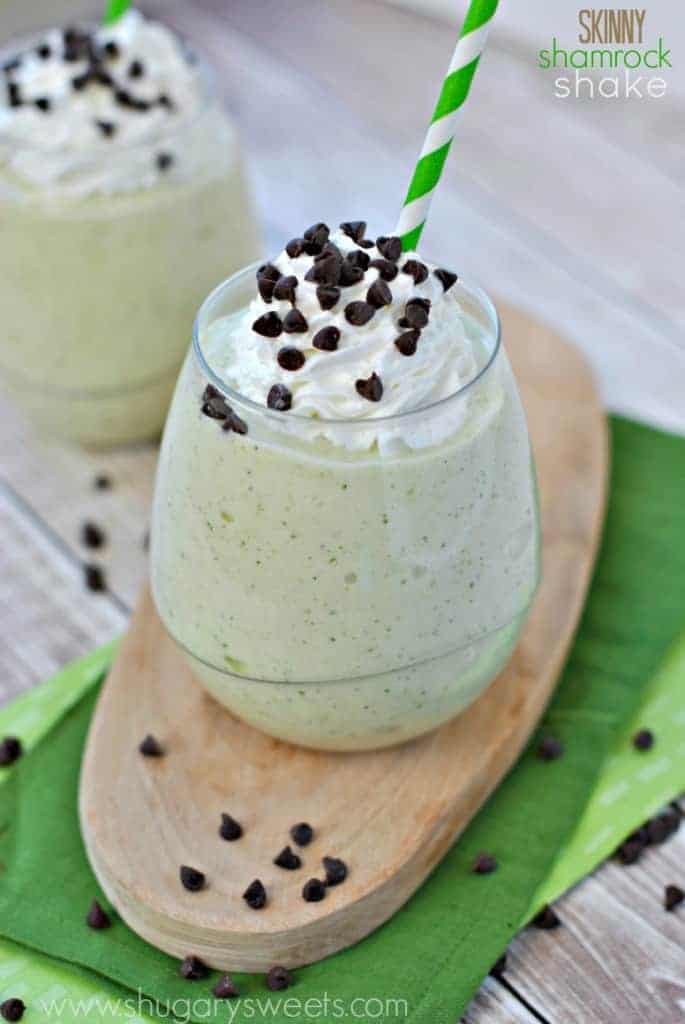 4. Skinny Shamrock Shake. With St.Paddy's Day this month, I shared this easy shamrock shake recipe, that won't leave you feeling guilty. Just a couple of spinach leaves, some mint, and frozen bananas give this shake TWO thumbs up in our house!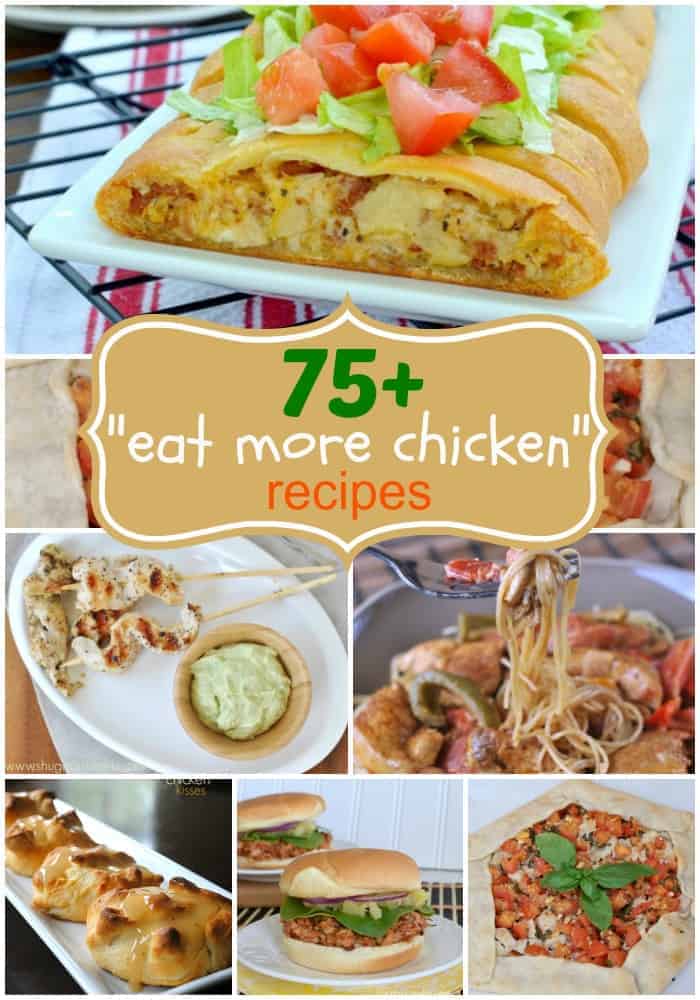 3. 75+ Ways to Eat chicken for Dinner. Thanks to stumble upon, this roundup went crazy last week. And really, look at some of those recipes…delicious family weeknight dinners…you can see why it's a hit!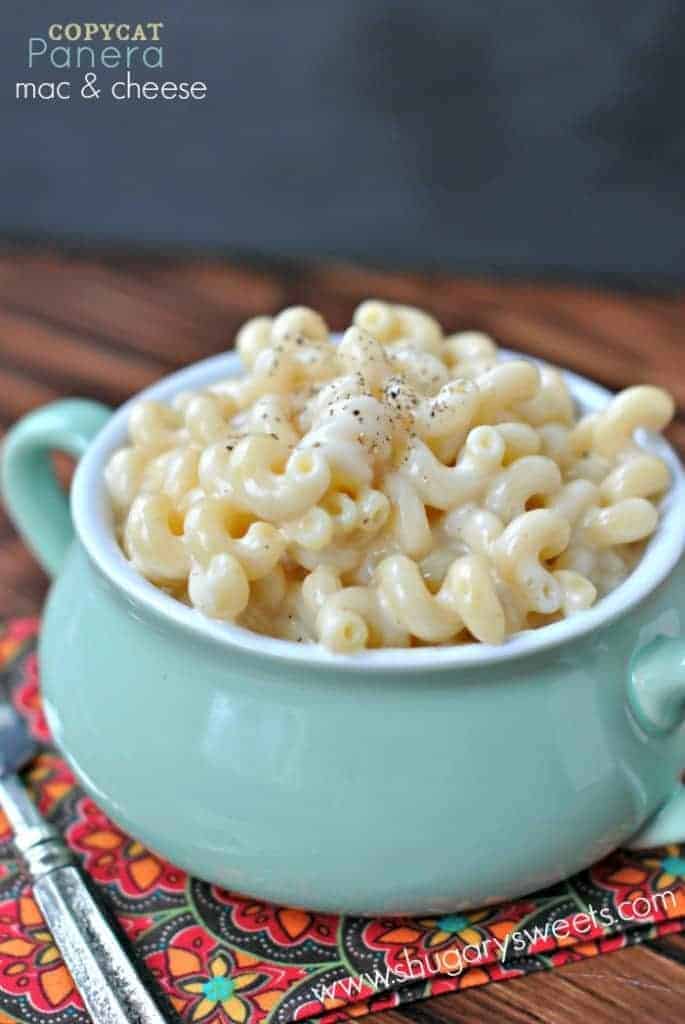 2. Copycat Panera Mac and Cheese: creamy white cheddar macaroni and cheese recipe, it's BETTER than Panera. No really, it is.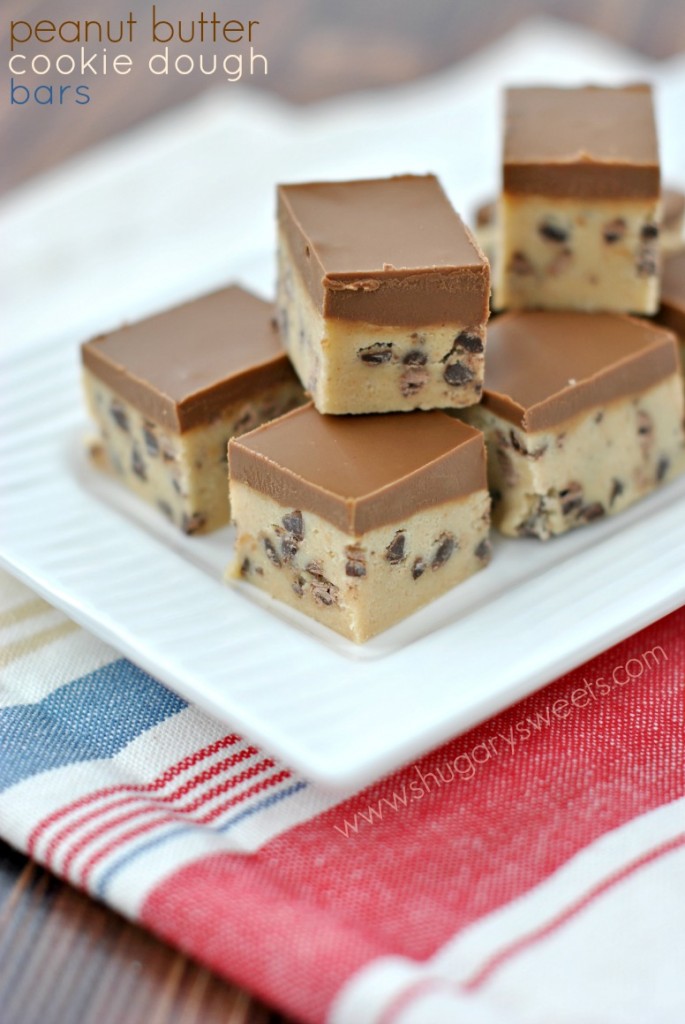 1. No Bake Peanut Butter Cookie Dough Bars: these were the most popular recipe this month. And it's no surprise. It's cookie dough that's safe to eat, filled with peanut butter and chocolate. And there's no baking involved. BOOM.
Now that we have some of my most popular recipes from the month rounded up, let's check out some pictures that caught MY eye, from other blogs! (have you grabbed your coffee and breakfast yet? I'll wait….)
Let's start with the sweets….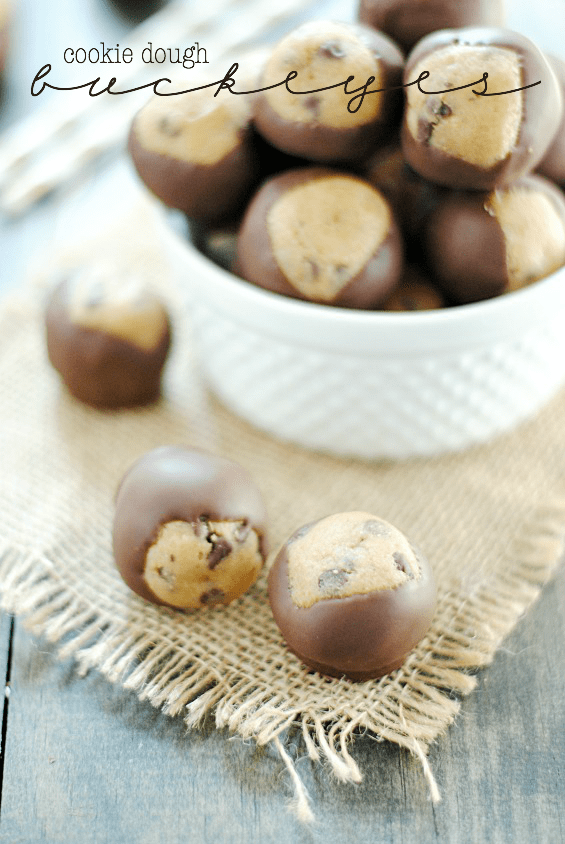 Cookie Dough Buckeyes from Something Swanky. Seriously my mind is blown with these little guys. Sure I've made cookie dough truffles, but look at these, they are just adorable. And I'm thinking they would be perfect in a bowl with traditional buckeyes, yes??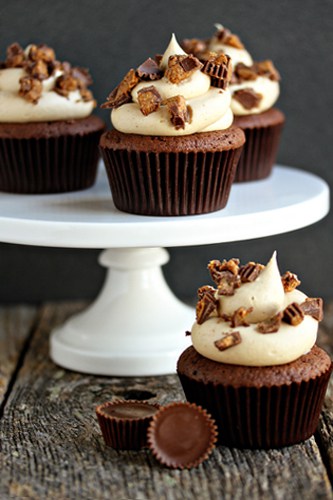 Peanut Butter Cup Cupcakes from My Baking Addiction. Rich chocolate cupcakes with a creamy buttercream frosting and chunks of Reese's PB cups is MY kind of dessert. I think my will power would certainly be tested when around these!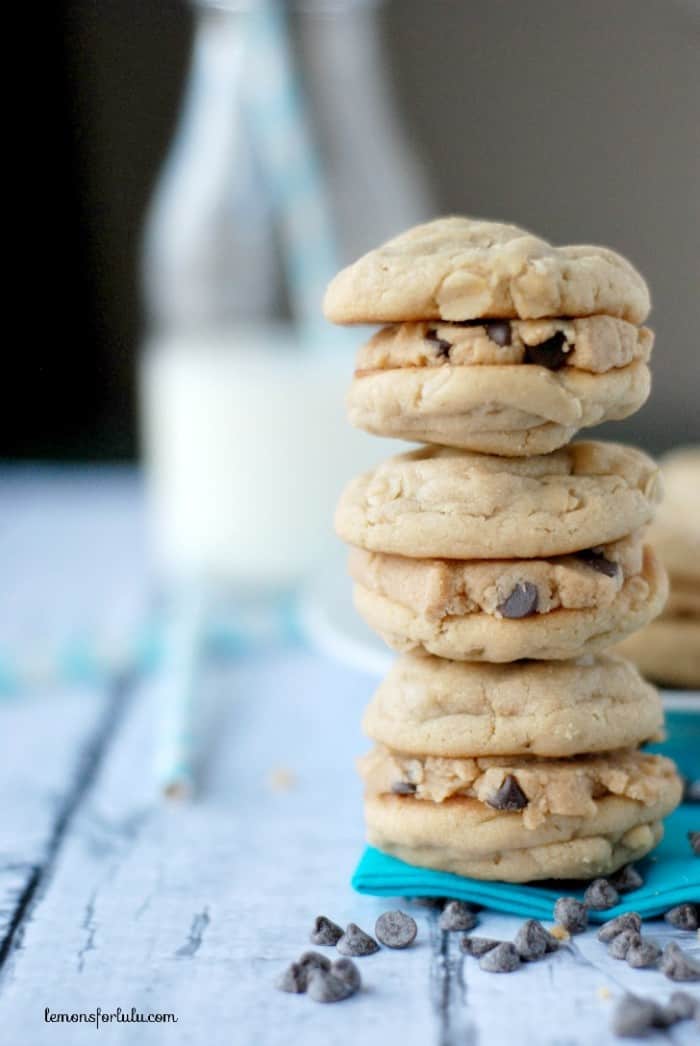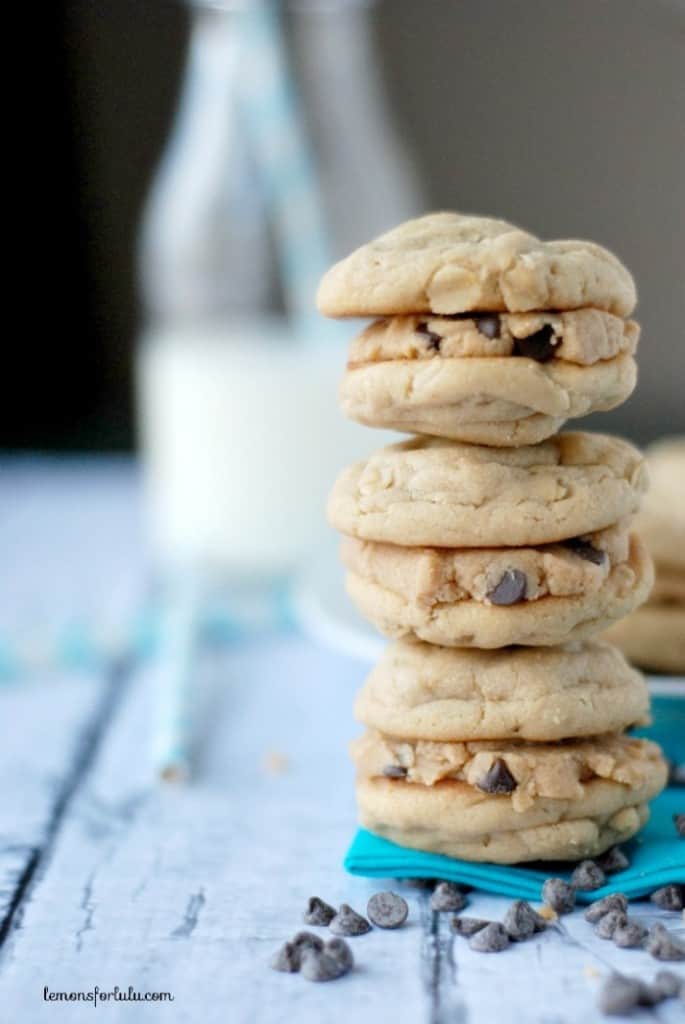 Oatmeal Peanut Butter Cookie Dough Sandwiches from Lemons for Lulu. This tower of cookies is haunting me. Delicious oatmeal peanut butter cookies with a peanut butter cookie dough filling. I mean seriously, could it get any better? Oh yeah, she put chocolate chips in there too!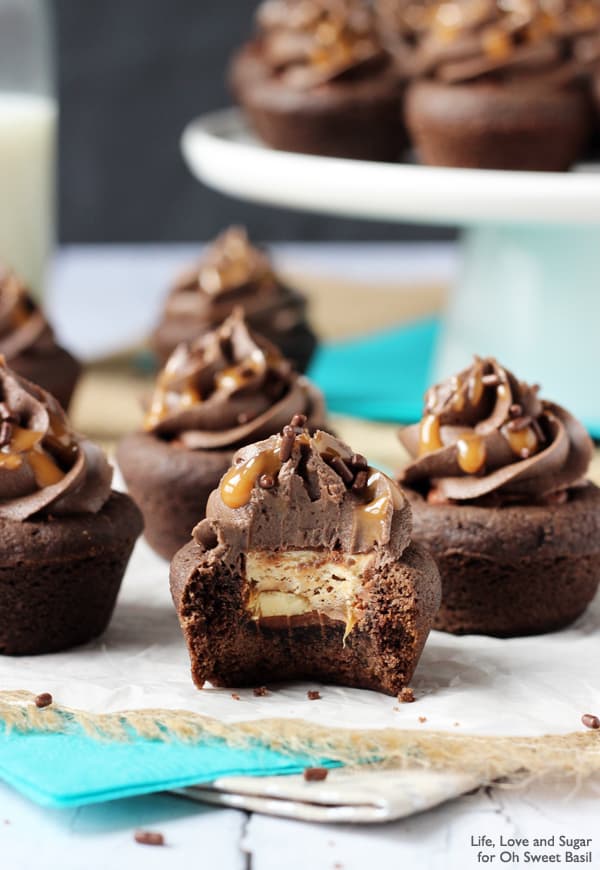 Snickers Chocolate Cookie Cups from Oh Sweet Basil. The genius baker Lindsay created these cookie cups for Oh Sweet Basil. I'm jealous. I wish she made them for me. I love the chocolate cookie with the snickers pressed in the center. If that wasn't enough, she topped these with a sweet chocolate peanut butter frosting and caramel sauce. OMG!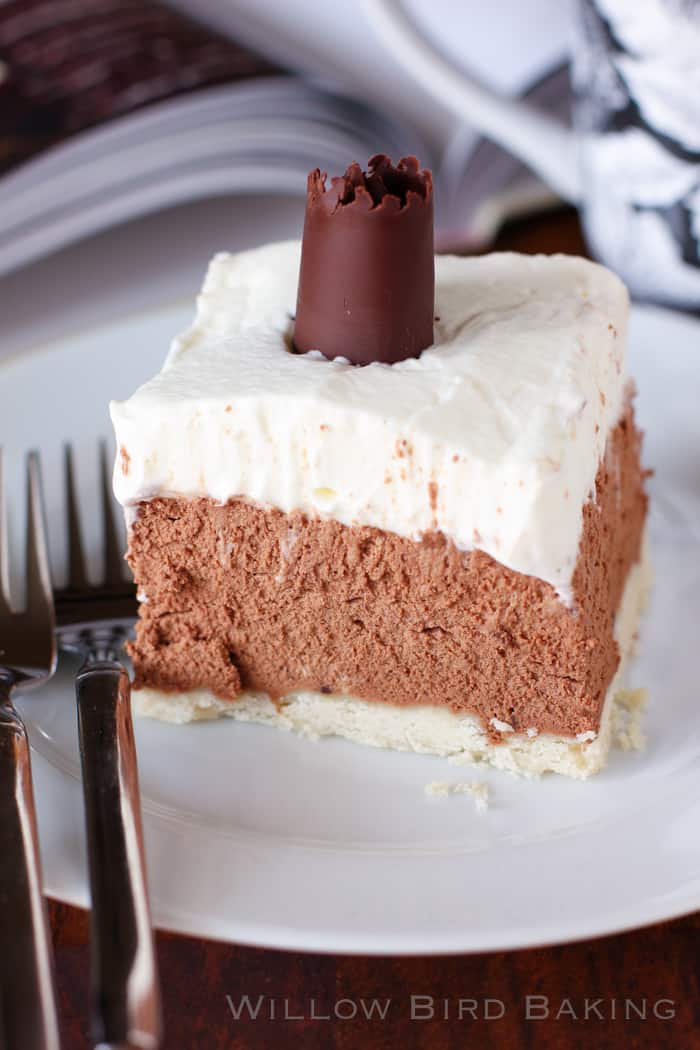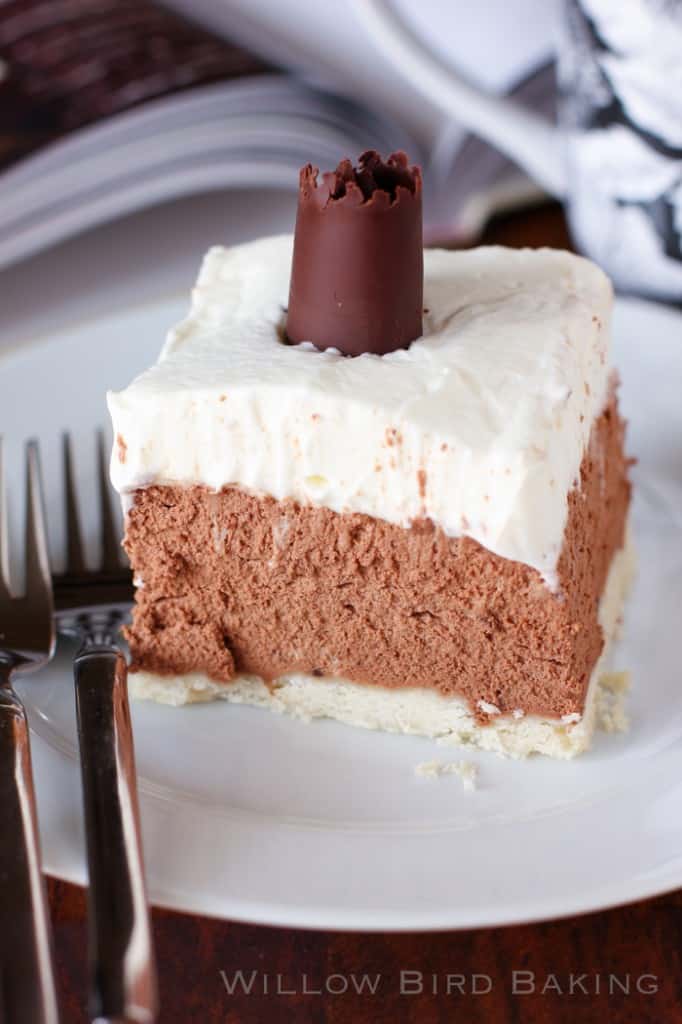 French Silk Pie Bars from Willow Bird Baking. My mind is racing with ideas as I crave a bite of these pie bars. Pure genius! Well played, Julie, well played.
Now, how about some new dinner ideas???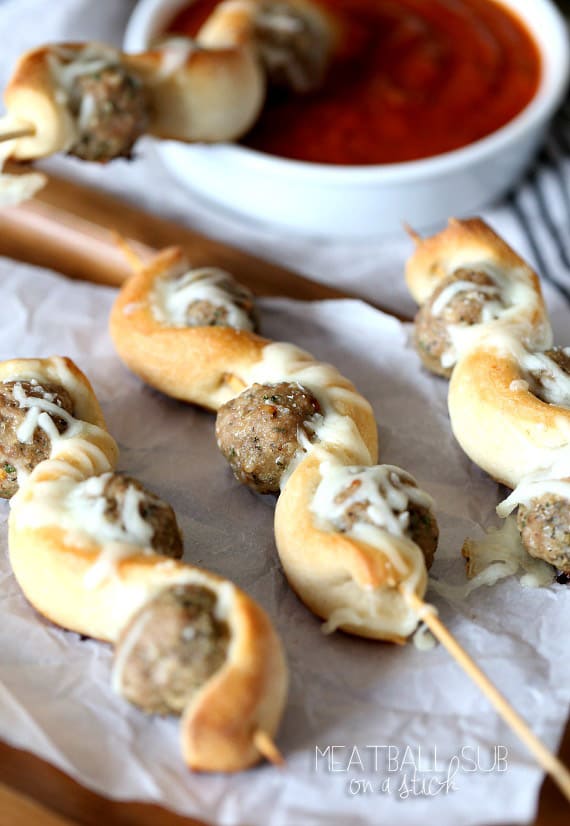 Meatball Sub on a Stick from Cookies and Cups. These may be the best idea ever. I mean, think about it, food on a stick always tastes better. And how fun for the kids. I don't know about you, but mine love DIPPING their food.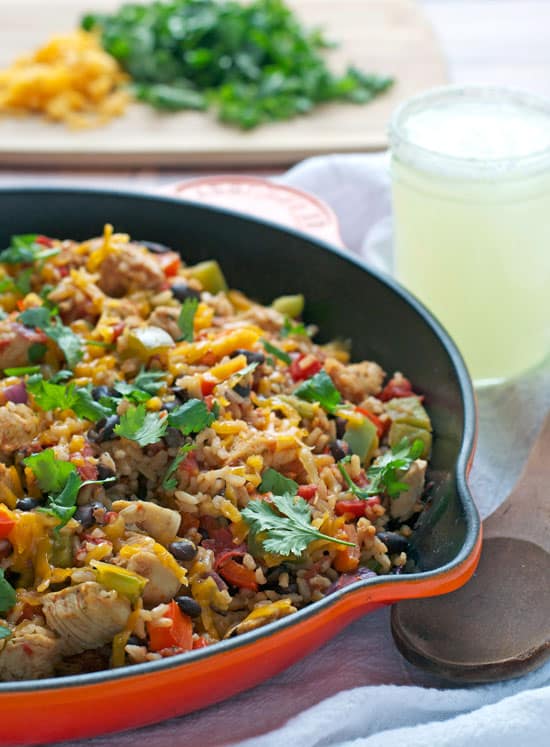 One Skillet Spicy Ranch Chicken from The Law Student's Wife. Erin is making me hungry with this delicious weeknight meal. It's got everything a family dinner needs, including one skillet which means quick clean up!! LOVE.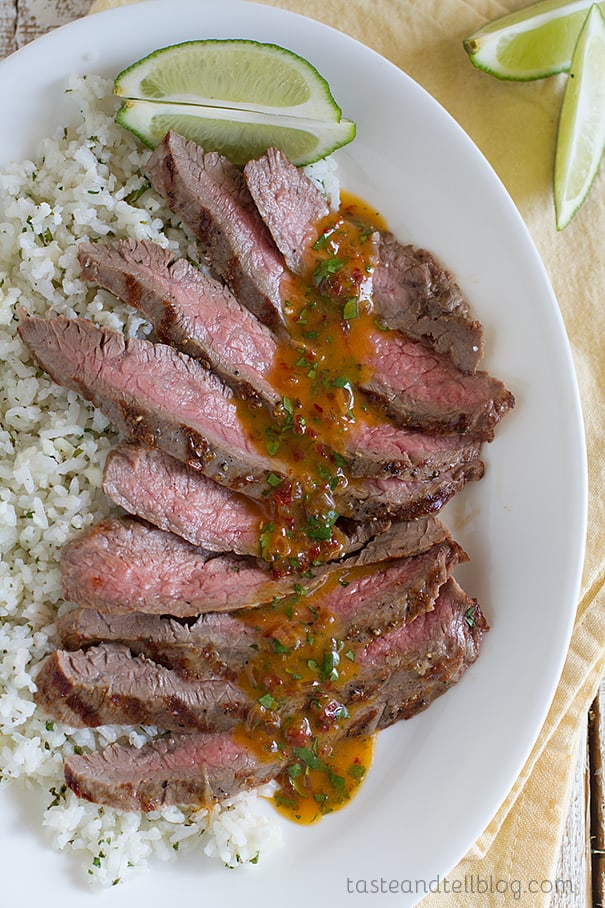 Chipotle Herb Flank Steak and cilantro lime rice from Taste and Tell. Woah. Look at that juicy steak drizzled with chipotle herb sauce? I've been thinking about this recipe for over a week now. Time to cook.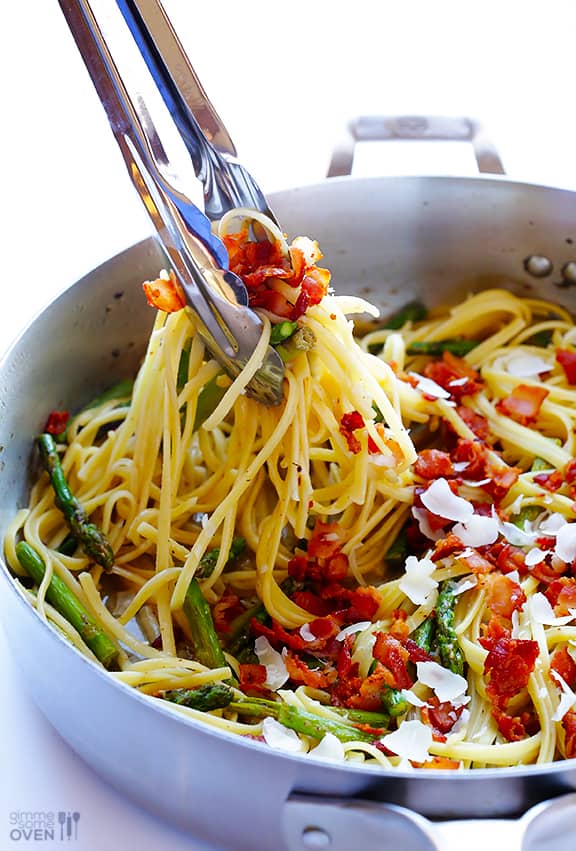 5 Ingredient Bacon Asparagus Pasta from Gimme Some Oven. This dinner is ready in 20 minutes. Yes twenty. And I'm pretty sure you can use any veggie you have on hand too. What a great inspiration for a quick and easy meal!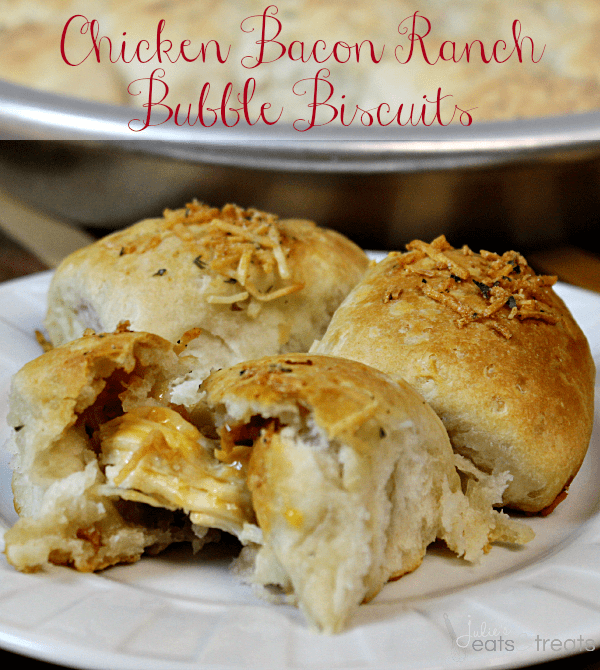 Chicken Bacon Ranch Bubble Biscuits from Julie's Eats and Treats. I love comfort food for dinner, especially when it's easy like this meal. Julie used Pillsbury dinner biscuits and wrapped them around the filling. YUMMY!!!
So I've said this before, but I really do have one of the best jobs in the world. I get paid to make food and then eat it. And sometimes, I'm sent some delicious food and goodies to try out! This month, as part of the Cabot Cheese Board, I was sent some tasty cheese as well as a new shredder, knife sharpener, coupons and more! We quickly enjoyed some cheese on our tacos, and in homemade mac and cheese! If you follow me on INSTAGRAM you may have seen these photos already.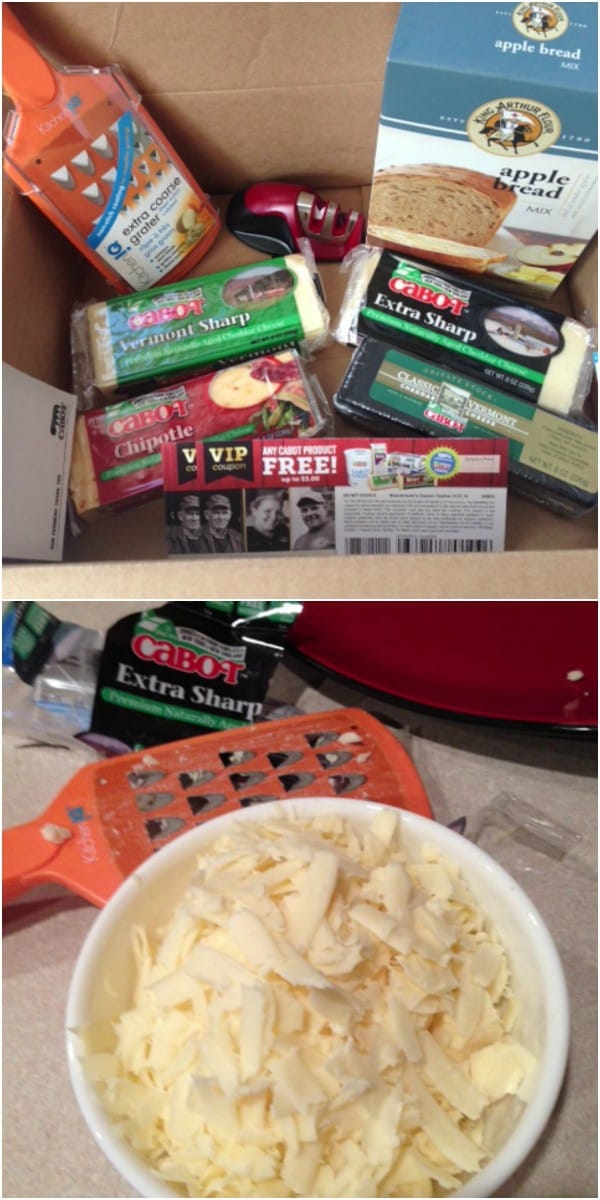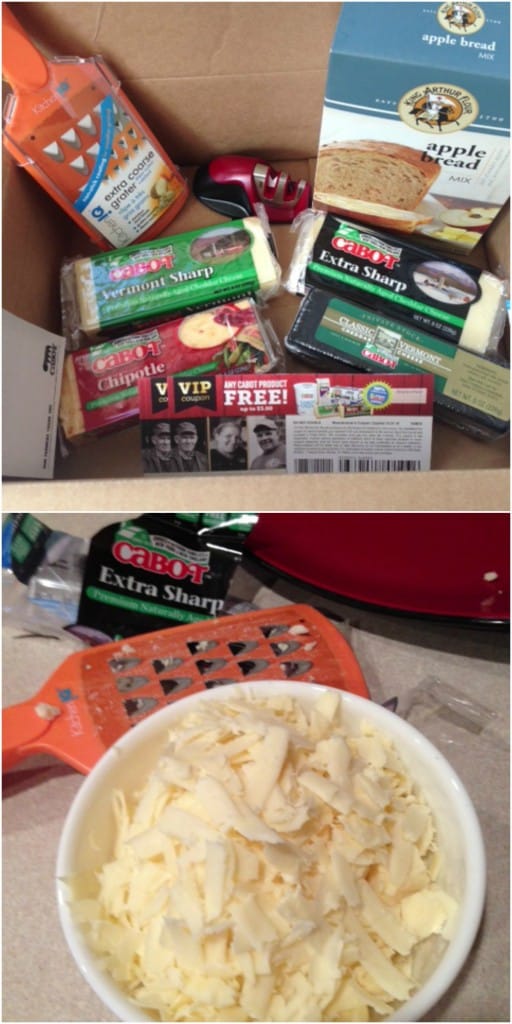 How do you follow YOUR favorite blogs? I'm constantly adding new blogs to my Bloglovin reader….Here are a few that I follow…
A Kitchen Addiction. I've been following Jessica's blog for some time. It never ceases to make me hungry!! She made some Carrot Cake Scones a few weeks ago that are on my Easter brunch menu. They look delicious!!
Big Red Kitchen. Robin Sue is the blogger behind this awesome site. I've seen her Mason Jar Meals go crazy viral on pinterest!! I want my fridge to look like hers!
Dessert for Two. Last fall I was so lucky to meet the sweet blogger, Christina. Her recipes never fail to get me drooling on my computer. These Chocolate Eclairs are no exception!!
So that's all I've got today. I hope you've enjoyed all the photos and blogs this month! Hope you're all having a great week.
Connect with Shugary Sweets! Be sure to follow me on my social media, so you never miss a post!
Pinterest | instagram | Bloglovin'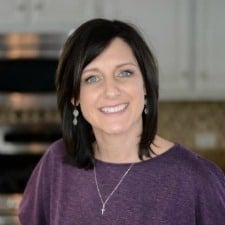 Aimee is a dessert lover (specifically rice krispie treats), workout enthusiast, self-taught foodie, and recipe creator. Her recipes have been featured in numerous magazines, and her passion is to share her love of cooking with the everyday home cook!