Mile High Caramel Bars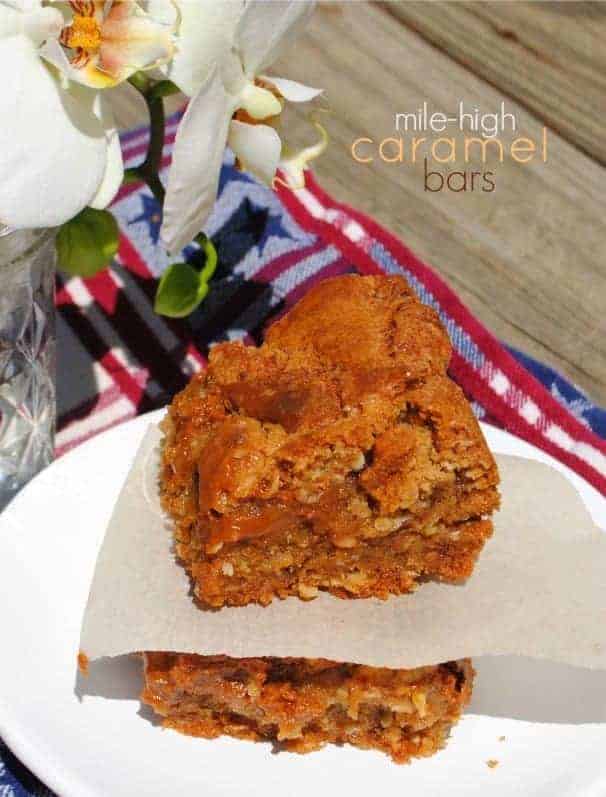 First, before you make this recipe, you must promise not to hate me. Please? Because you are about to experience something so rich, so buttery, so gooey, so delicious. Well, you get the point. For those on a diet,  please don't read any further. Actually, my blog is very bad for those watching their weight. I'm sure there are some very good food blogs that focus on healthy food and such. Not me. I exercise, alot. I exercise so that I can enjoy my food. I exercise while thinking about food, it pushes me. Is that strange? (Run for the cookies, Aimee!!!)
But, let's get back to the food. When you scroll below to read the recipe, please don't think it's wrong. It REALLY does call for 2 CUPS of butter. That's 4 sticks for those of you who are doing the math in your head. 32 Tablespoons of butter. Yum. Actually, when you think of it like that, just try to cut this into 32 bars. One tablespoon of butter per bar. Not bad. If it was only butter you were concerned about. 3 cups of brown sugar. Ummm, anyways. Go get on the treadmill now. In about 3 days you will have burned enough calories to eat….one bite. It will be worth it though. I mean it.
Mile High Caramel Bars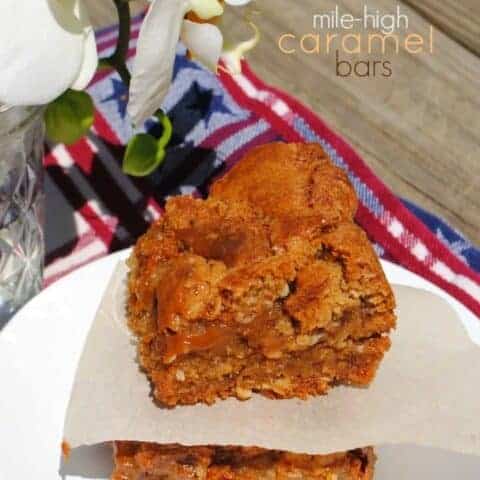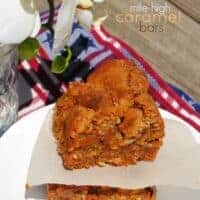 Ingredients
3 cups brown sugar
2 cups butter, melted
3 eggs, beaten
1 Tbsp vanilla
4 cups flour
1 cup oatmeal (I use quick oats)
1 tsp baking powder
1/2 tsp baking soda
3/4 tsp salt
6 candy bars (full size), chopped (I use 3 packs of Rolo and 3 Heath bars-use your favorite;
Snickers, Milky Way, it's all good)
1 can (13.4oz) dulce de leche
Instructions
Combine brown sugar, butter, eggs and vanilla. Add flour, oats, baking powder, baking soda and salt. Fold in candy bars. I line my 13×9 pan with parchment paper so that when it is done, I can lift it out of the pan to cut and serve. Spoon batter into 13×9 pan.
Spoon dollops of dulce de leche over batter, swirl slightly. Bake in a 325 degree oven for 65-70 minutes.
Allow to cool before slicing. The center will be all gooey and delicious! After slicing, refrigerate for a couple hours, as this is best eaten cold.