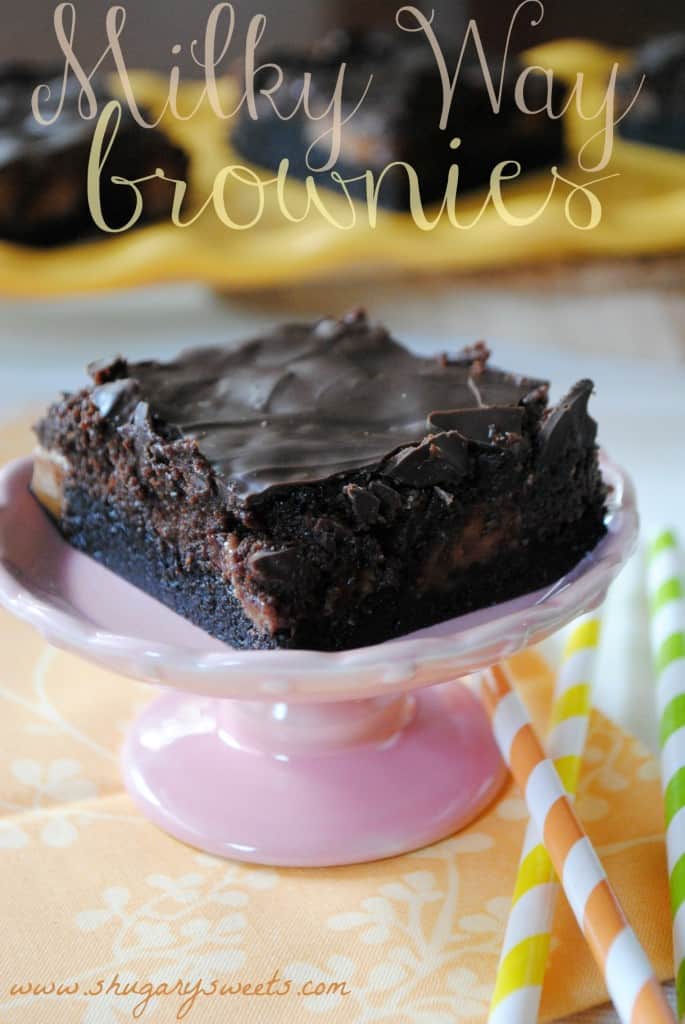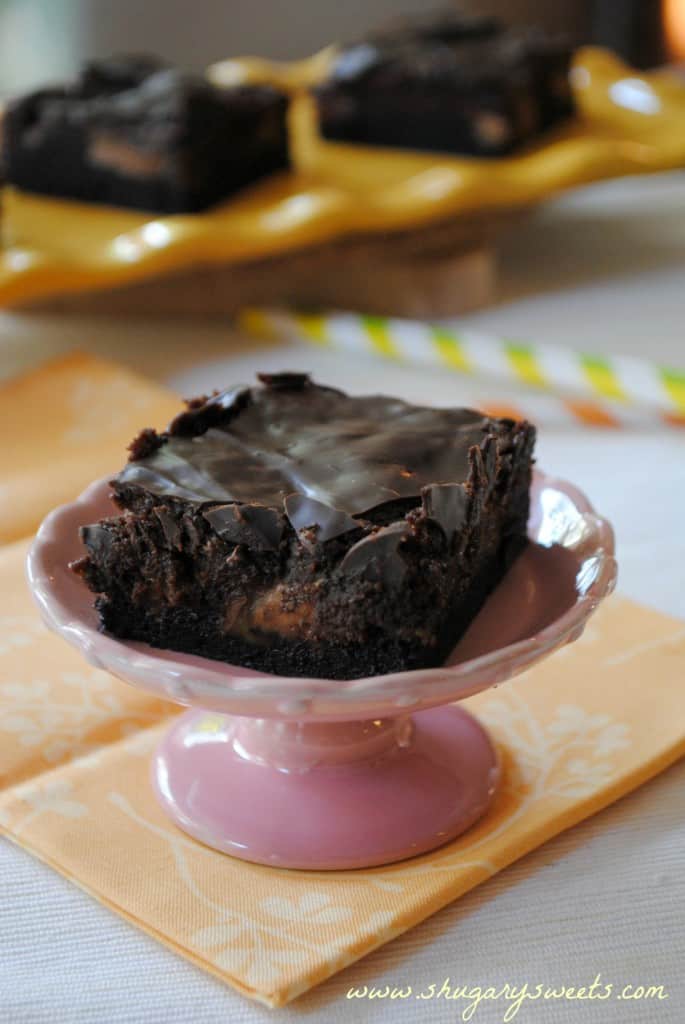 With Halloween right around the corner next week, you can bet I'll be snagging all my kids candies to make another batch of these. They were that good. Seriously.
Snickers would be a great substitution!
Or Rolos.
Or Mounds.
Or Almond Joy.
See. The possibilities….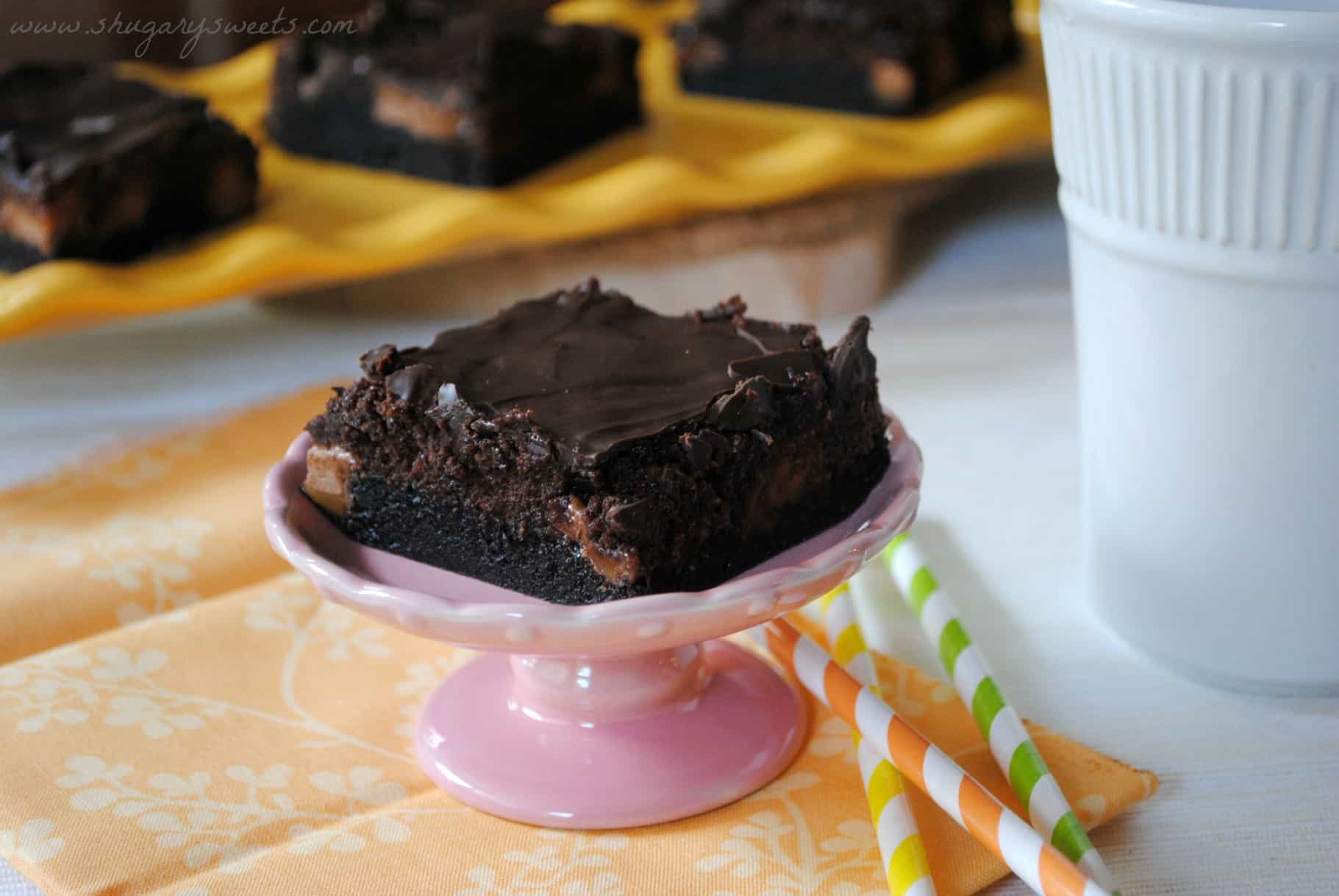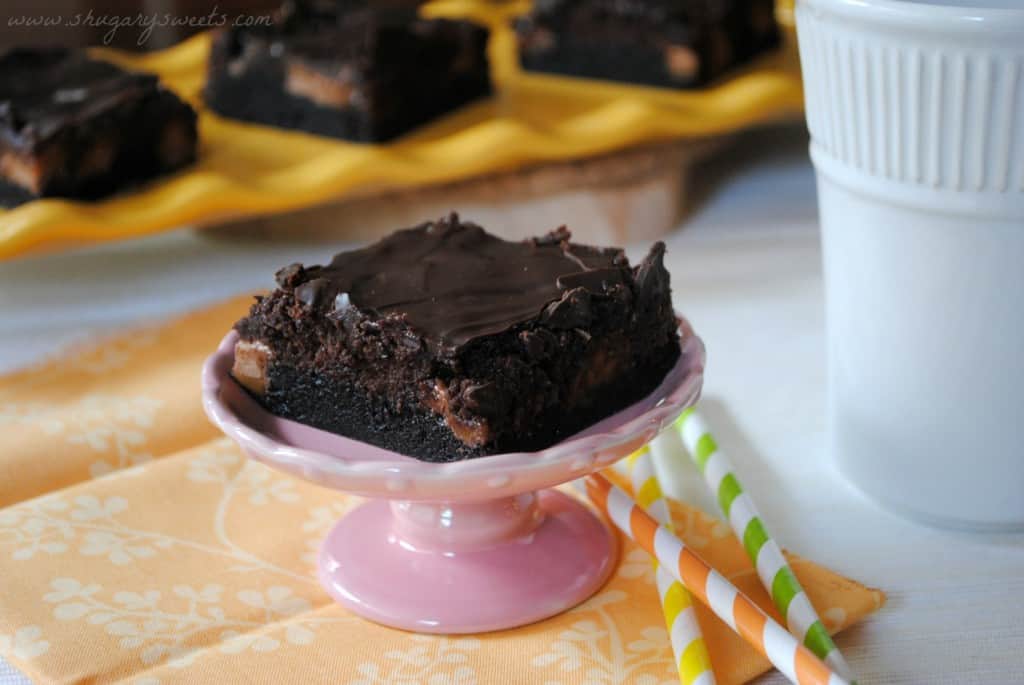 If you enjoy this Milky Way Brownie recipe, you may also enjoy these recipes….
Butterscotch KitKat Brownies– delicious fudge brownies with a layer of KitKat candy bars and topped with melted butterscotch morsels! from Shugary Sweets
OR
Check out my Pinterest Board: Cookies, Brownies and Bars
Milky Way Double Fudge Brownies
Ingredients
For the Brownie Layer:
1 1/2 cup granulated sugar
3/4 cup all purpose flour
3/4 cup unsweetened dark chocolate cocoa powder
3 eggs
3/4 cup unsalted butter, melted
11.5oz bag Milky Way Mini Candy bars, chopped
For the Mousse Layer:
3/4 cup heavy cream
1 cup milk chocolate
3 eggs
1/3 cup granulated sugar
For the Topping:
1 cup milk chocolate, melted
Instructions
Prepare a 9inch spring form pan by spraying bottom only with Bakers Joy baking spray. Mix brownie ingredients together in medium sized bowl. Pour into bottom of pan. Top with chopped Milky Way candies. Set aside.
In small saucepan, heat heavy cream on low heat until warm. Whisk in 1 cup milk chocolate until smooth. Remove from heat and set aside to cool for 10 minutes.
In large bowl beat eggs with sugar until foamy. Add in cooled chocolate mixture and pour over candy bar layer.
Bake in a 350 degree oven for one hour. Remove from oven and spread remaining cup of chocolate over top of brownies. Cool completely (one hour or more) and then remove from pan (you may need to run a knife around the edges). We enjoyed these cold, refrigerate overnight!
Follow my blog with Bloglovin