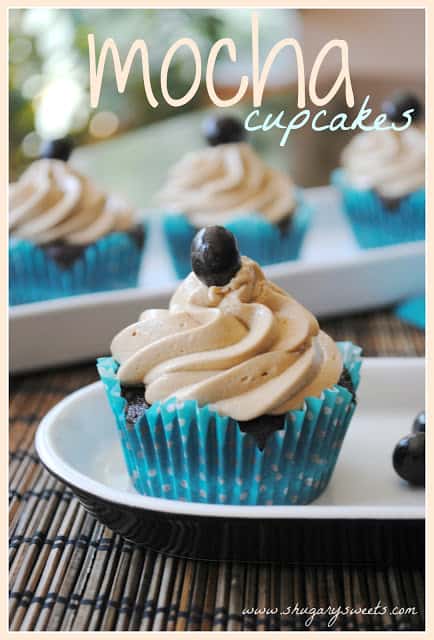 School is starting in a next week. As much as I love summer, and I love having my kids home doing fun things (or nothing at all), there is something about the rituals of a school year.
Rituals like bedtimes, homework, dinner planning, going to the gym, and most important….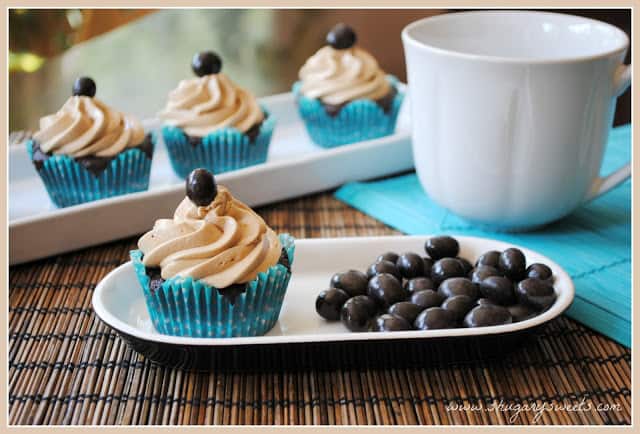 I realized several years ago (okay, 15 years ago), how important it is to be awake during the day. I mean, with 4 kids I can't certainly close my eyes anytime I want for a catnap. Not that I'm much of a napper anyways.
But coffee? Keeps me going. And I love it. With a splash of cream, thank you.
Which is probably why I like these cupcakes. They are a dark chocolate cupcake (with a hint of espresso), but the frosting? Oh my. Full fledged mocha. Chocolate and coffee buttercream. It's like cream in my coffee.
No really, same calories too. Right?
Anyways, do you like coffee recipes? Check out these fun coffee inspired drinks and treats….
Yield: 30-36 cupcakes
Mocha Cupcakes
Ingredients
For the Cupcake:
1/2 cup butter, softened
1 1/2 cup sugar
2 eggs
1 1/2 cup flour
1/2 cup unsweetened dark cocoa powder
1/2 tsp kosher salt
1 tsp baking soda
2 Tbsp espresso powder
1/2 tsp baking powder
1/2 cup brewed coffee, cooled
1/2 cup buttermilk
For the Frosting:
1/2 cup butter, softened
4 oz cream cheese, softened
1 Tbsp espresso powder
1/4 cup heavy cream
1 Tbsp chocolate syrup
5 cup powdered sugar
Instructions
In a bowl, mix flour, cocoa, salt, baking soda, baking powder and espresso powder. Set aside.
In a measuring cup, mix together cooled coffee and buttermilk. Set aside.
In large mixing bowl, beat butter and sugar together until fluffy, about 5 minutes. Add eggs, beating in one at a time. Slowly add in dry ingredients, alternating with milk mixture (about 3 additions of each). Pour batter into cupcake liners, no more than half full.
Bake in a 350 degree oven for 15-20 minutes. Remove and cool completely.
For the frosting, warm cream for about 30 seconds in microwave. Whisk in espresso powder and chocolate syrup. Set aside.
Beat butter, cream cheese and powdered sugar together, until fluffy. About 3-5 minutes. Adding cream mixture slowly until desired consistency.
Pipe frosting onto cooled cupcakes and garnish with chocolate covered espresso bean (if desired).
ENJOY.
coop