Mom's Zucchini Bread
It just doesn't get better than this. I have tried several kinds of zucchini bread, and while I love this bread, it  just doesn't compare. My mom's recipe is the best. It is filled with flavor!  I am really enjoying the zucchini I am harvesting this year, and I'm trying out new recipes, but the majority of the zucchini I harvest will be baked up into this yummy bread. I then wrap each loaf in foil and stick it in a ziploc freezer bag marked with the type of bread. We will then enjoy this bread all winter long. I hope you love it too!
Ingredients
3 cup shredded zucchini
3 cup flour
1 tsp salt
2 cup sugar
3 eggs
2 tsp vanilla
1 cup oil
1 Tbsp cinnamon
2 tsp baking soda
¼ tsp baking powder
¾ tsp nutmeg
1 cup raisins
1 cup chopped pecans
Instructions
Mix all ingredients thoroughly. Pour into two greased loaf pans. Bake in a 350 degree oven for one hour. I like to line the bottom of my loaf pans with parchment paper just to be sure that they come out easily! Remove and let cool.
Enjoy warm (I like a small pat of butter on my bread).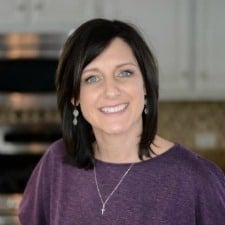 Aimee is a dessert lover (specifically rice krispie treats), workout enthusiast, self-taught foodie, and recipe creator. Her recipes have been featured in over 15 magazines, and her passion is to share her love of cooking with the everyday home cook! Learn more about Aimee.