If you had a choice do you go crunchy or chewy?
I almost always vote crunchy. 
Seems like monster cookies have been around forever. I've loved the "idea" of a monster cookie, I mean, after all, it's filled with oats, peanut butter, chocolate chips and m&m candies. Sounds great.
And you don't usually see a crunchy monster cookie.
The other day I was at Costco and they had crunchy oatmeal crisp cookies in the bakery. (yes, I scout bakeries for ideas…even costco). Anyways, these cookies were thin and crispy (can you picture them)?
So it occurred to me, why not make a crunchy, crispy monster cookie?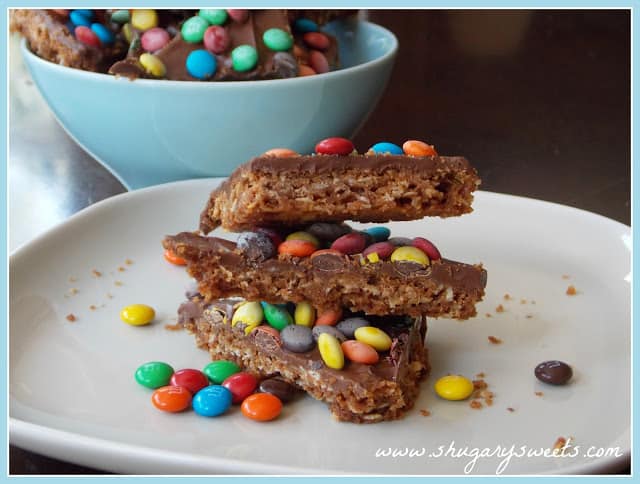 These cookie crisps are almost more like a bark. Delish. Plus it makes a ton of them for sharing with others. Which I do every once in awhile.
(oh and don't judge the washed out looking m&m candies. I know better than to put them in the refrigerator, but when I made these it was 90 degrees in my house and I had my AC off. Of course to hurry the process of setting the chocolate I had to stick it in the fridge. Doh. I knew better)
Now it's about 40 degrees outside and my house is chilly. Guess it's time to make another batch!
Like this recipe for Monster Cookie Crisps? Check out these great recipes…
Monster Cookie Crisps
Ingredients
3/4 cup unsalted butter, melted
1 cup brown sugar
1 1/3 cup all purpose flour
1/2 tsp kosher salt
1/2 tsp baking soda
1 cup quick cook oats
3/4 cup crispy rice cereal (Rice Krispies)
1/4 cup creamy peanut butter
1 1/2 cup milk chocolate morsels, melted
1 1/2 cup mini m&m candies
Instructions
In mixing bowl, add butter and brown sugar until combined. Stir in flour, salt, and baking soda. Mix in the peanut butter. Slowly stir in oats and cereal. Press dough onto a large parchment paper lined cookie sheet (mine was 15x10inch). Bake in a 350 degree oven for 20-25 minutes until browned. Allow to cool in pan completely.
To finish, spread melted chocolate over top of cookie bark. Immediately sprinkle with m&m candies. Allow to set (about 20 minutes). Cut into triangular pieces and serve! ENJOY!