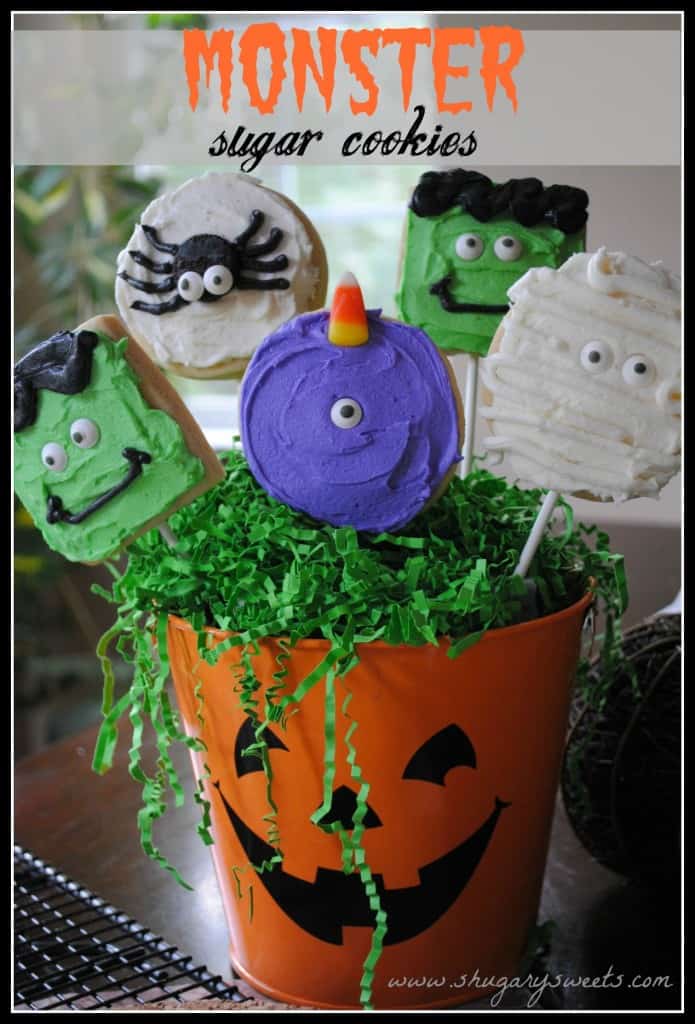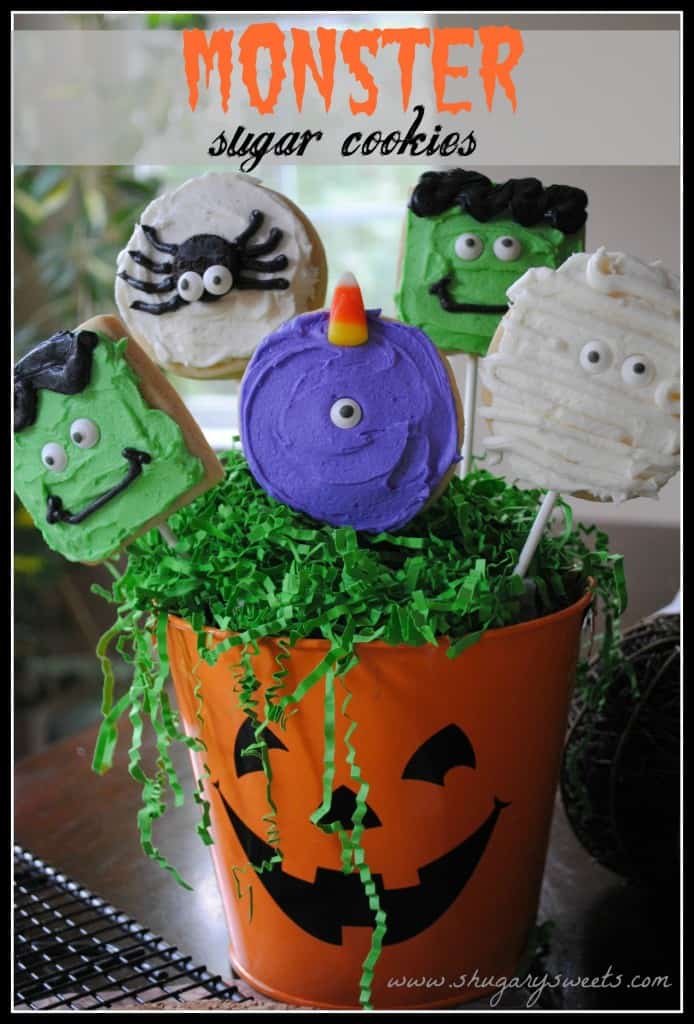 These monster cookies were so fun to make!
Then I whipped up some vanilla buttercream frosting to decorate. Sure. I could have gone all crazy detailed and made some royal icing. But my kids (and me too) LOVE this fluffy frosting!
Guess who else seems to love this frosting?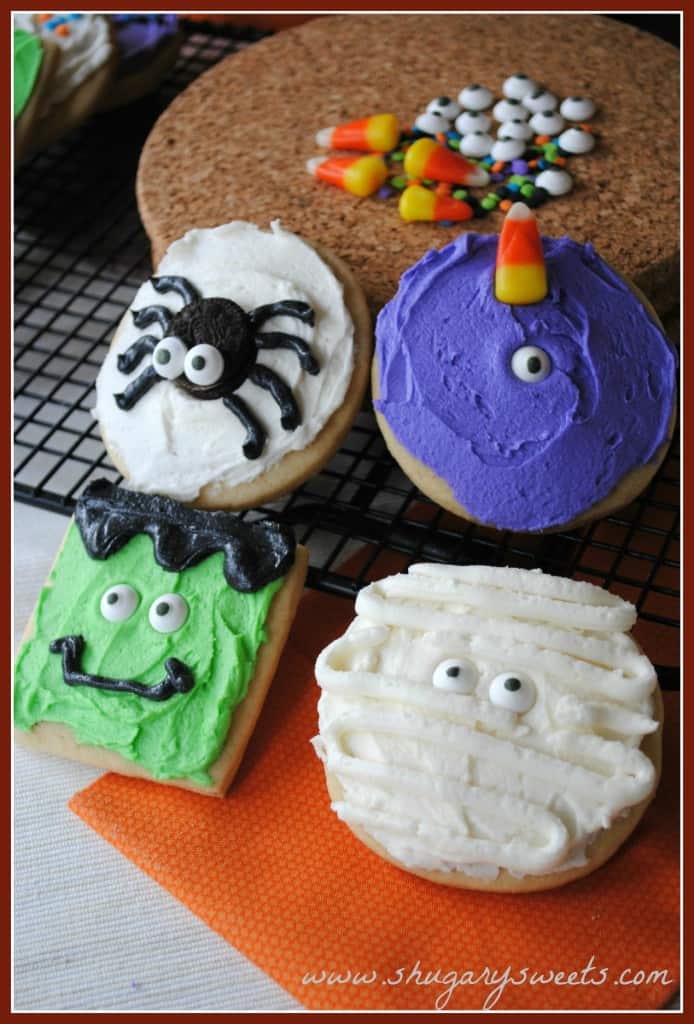 I'm so glad I didn't painstakingly spend hours with royal icing. Because that evening, as we were all tucked in our beds, the dog ate over 50 cookies.
Yes. You read that right. FIFTY COOKIES. This recipe made 72 cookies. I was so excited because I figured my kids would have lunch treats for the week. I could freeze some of these for Halloween. Nope. The next morning there were less than a dozen cookies on the tray
.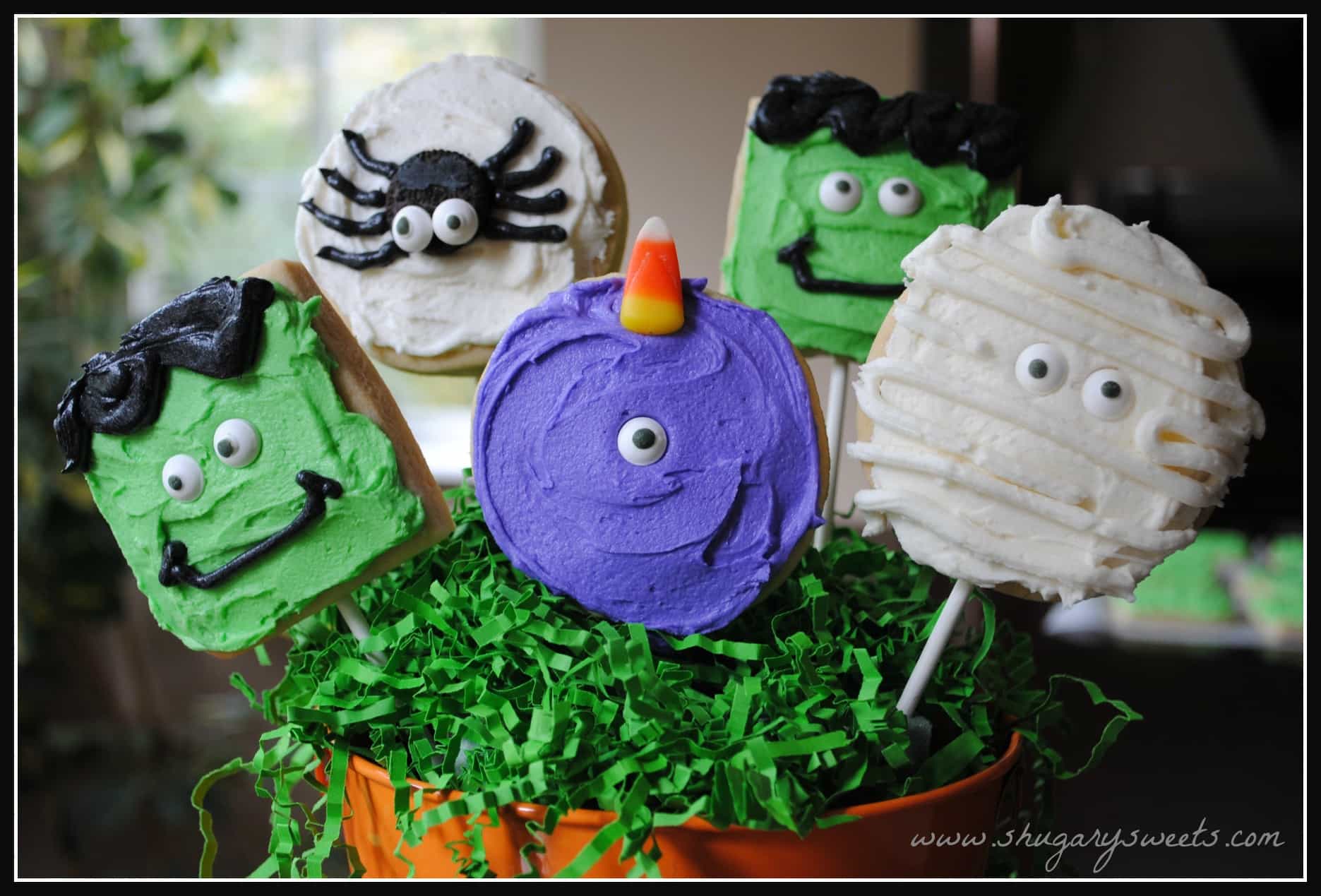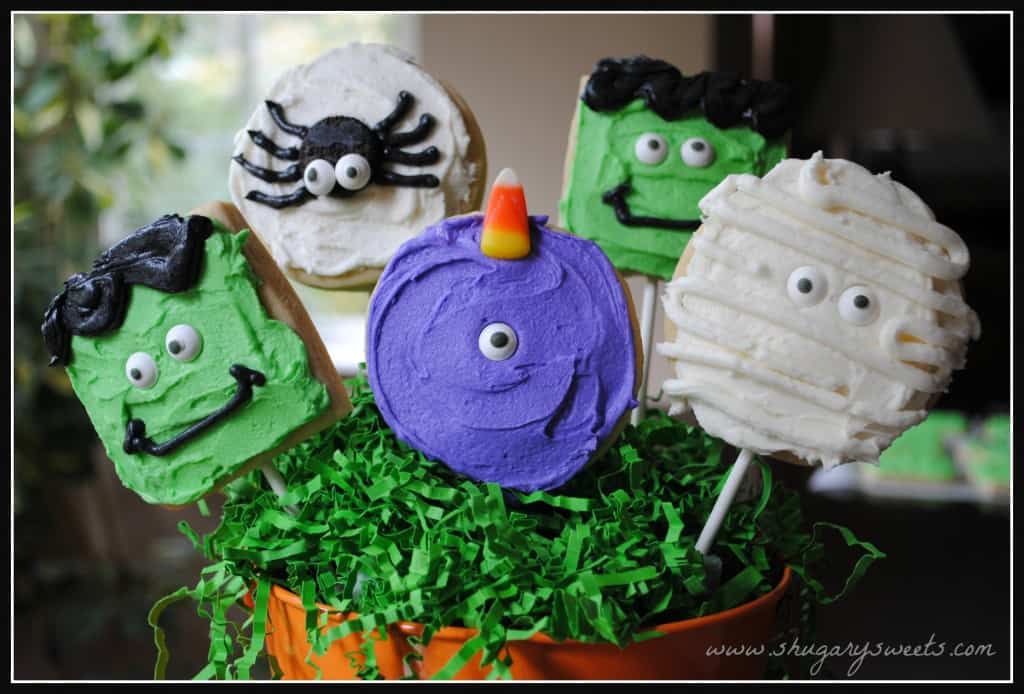 I'm grateful I got some cute photos. However, I would have enjoyed EATING more of these myself. If you've been reading this blog for any amount of time you would know by now I have a love affair with frosting. And these babies were covered in it!
On the bright side, except for a few sprinkles on the floor, she cleaned up after herself.
And she didn't get sick. Seriously. I almost hoped for a little illness to make her think about what she had done. But no. I do think she may have gained a few pounds though! At least she saved me from eating too many (trying to stay positive here).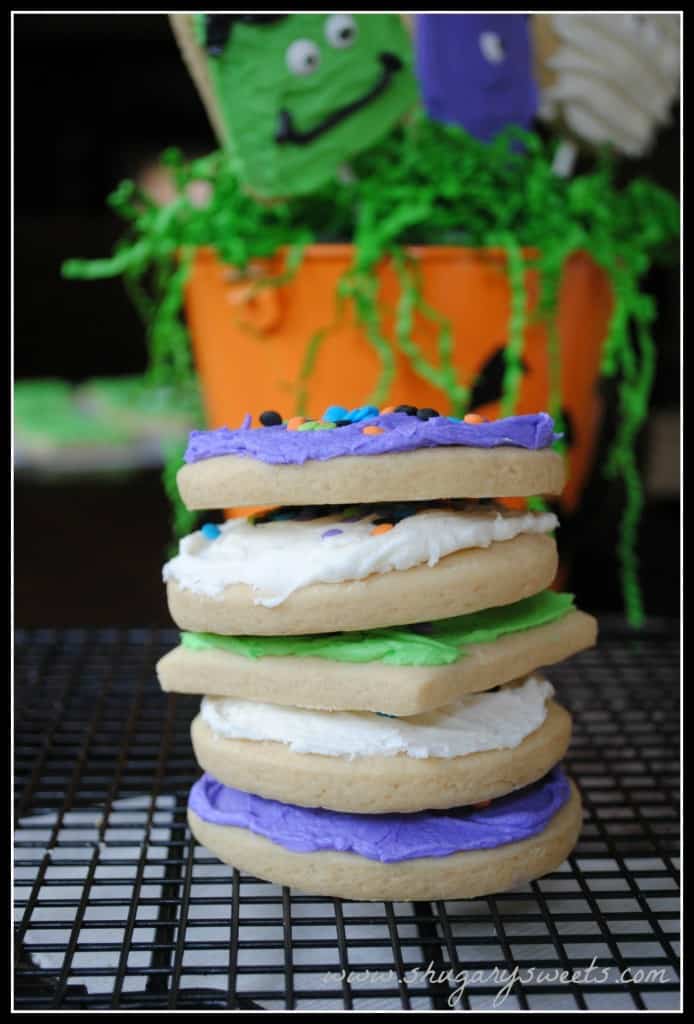 I did make a couple dozen plain frosted with sprinkles too! Just like a lofthouse. ENJOY!
If you liked these Monster Sugar Cookies, you may also enjoy these recipes….
Monster Cookie Crisps– Crunchy oats and peanut butter crisps topped with melted chocolate and m&m candies.
Monster Sugar Cookies
Ingredients
For the Cookies:
2 cup unsalted butter, softened
2 1/3 cup granulated sugar
4 eggs
1 tsp vanilla bean paste (or extract)
1 cup skim milk
8 cup all purpose flour
1 1/2 tsp baking soda
1 1/2 tsp baking powder
1 lemon, zested
1/2 tsp kosher salt
1/4 tsp nutmeg
1 1/2 Tbsp light corn syrup
For the Frosting:
1 cup unsalted butter, softened
9 cup powdered sugar
1/4 cup corn syrup
1/2 cup skim milk
1 1/2 tsp vanilla extract
For the Decorations:
mini oreo cookies
black, green, purple food coloring
sprinkles
candy corn
candy eyes
Instructions
For the cookies, beat butter and sugar for 3 minutes. Add eggs, vanilla paste and milk, beat until blended. Add in remaining ingredients. Dough may be sticky. Place on a well floured surface and roll to about 1/4 inch thick (the key to getting them like a lofthouse cookies is to roll them thicker). Cut into circle and square shapes using a 3inch cookie cutter.
If you want some of your cookies on sticks, slide lollipop stick under each cut out cookie and press gently.
Place cookies on parchment paper lined baking sheet. Bake in a 325 degree oven for 10-12 minutes. Cookies will be soft. Cool completely.
For the frosting, beat butter for 3 minutes until fluffy. Add in corn syrup, milk, vanilla and powdered sugar. Beat an additional 5 minutes until thick and fluffy!
Divide frosting into bowls to color. Add food coloring (I use Americolor gel) to tint to desired colors.
For the Mummy, frost each round cookie white. Press in candy eyes. Put remaining frosting into a pastry bag and pipe onto cookie using tip #5.
For the Spider, frost each round cookie white. Press a mini oreo cookie into the center. Using your black frosting, pipe legs onto cookie. Dot the eyeballs on the bottom with black frosting and press onto Oreo cookies.
To make a bouquet, fill bucket with styrofoam. Arrange cookie pops in styrofoam and add rafia to cover styrofoam. ENJOY.
For Frankenstein, frost each square cookie green. Using black frosting, pipe hair and mouth. Add candy eyes.
For the One Eyed Purple People Eater, color each circle cookie purple. Place one candy eye in center and a candy corn on top for the horn.
Store cookies in air tight container. ENJOY.