Most Underappreciated Recipe- Toffee Tubes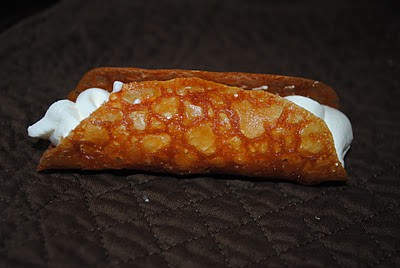 I don't blame you all for not reacting to this recipe. First of all, I posted it way back in January, when my only followers were family. (they were my only followers for many months, until I figured out what I was doing on here).
Second, look at that picture? Does not do these treats justice at all. Not one bit.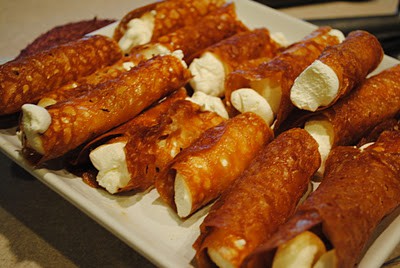 Third, the most creative name I could come up with is toffee tubes? Mmmm, sounds so appetizing. Pathetic.
These are crispy toffee shells filled with the most amazing cream. Such a beautiful, decadent treat, that you all ignored. I don't blame you. Will you ignore it this time around though?
Ingredients
for the shell:
1 stick butter
¼ cup honey
¼ cup corn syrup
¼ cup sugar
¼ cup brown sugar
½ tsp almond extract
¾ cup flour
pinch of salt
for the filling:
2 cups heavy cream
1/3 cup powdered sugar
1 tsp almond extract
Instructions
Preheat oven to 325 degrees. Line cookie sheets with silpat or parchment paper. To make tubes, melt butter in pan with honey, corn syrup and sugars. Stir over medium heat, allow to boil for one minute. Turn off heat.
Add flour, salt and almond extract, stirring quickly. Using one teaspoon, measure cookies onto cookie sheet. I only do 3 cookies at a time because they will spread. Bake for about 5-7 minutes until bubbly and browned. Remove from oven and quickly using a cannoli form (or handle of a whisk) lift up circles and form into tube. Press to seal and allow to cool. They will harden very quickly.
When all cookies are made, store in ziploc bag until ready to fill.
Filling: Combine sugar, cream and almond extract into a very cold bowl. Mix until cream is stiff. Fill pastry bag and carefully fill the toffee tubes. Serve within several hours. Enjoy!