Most Viewed Recipe- Apple Nachos
This week I thought it would be fun to recap 2011 for you here at Shugary Sweets. Today's recipe is Apple Nachos. This is by far my most viewed recipe of all time. First it was stumbled on "stumbleupon," then later this fall it took off on Pinterest. I still get hundreds of views daily on this recipe alone!
What cracks me up is this was not a planned "recipe." This was, "mom I'm hungry, can you make us a snack."
We have enjoyed these nachos several times, and think of all the possibilities…peanut butter version, smore's, you name it!
Oh, and when I made this I thought it would be "cleaner" to eat than a candy apple. It's not. It's gooey, and messy, and sticky, and absolutely divine!
Enjoy!
Yield: serves 8-10
Apple Nacho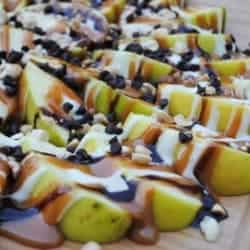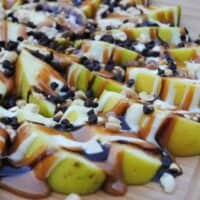 Ingredients
4 large Granny Smith apples, sliced 
35 large marshmallows
1/4 cup butter
35 caramels
1 Tbsp evaporated milk (or half and half)
1/4 cup peanuts
1/4 cup mini semi-sweet morsels
2 Tbsp chocolate syrup
Instructions
Slice apples and arrange on platter.
In saucepan, melt marshmallows and butter until creamy. Set aside.
In microwave dish, melt caramels with milk (cooking in 30 second intervals, and stirring). Set aside.

Pour marshmallow cream over apple slices, followed by caramel sauce. Drizzle chocolate syrup and sprinkle with peanuts and mini chocolate morsels. Serve immediately and enjoy!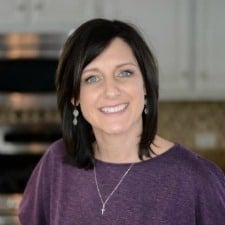 Aimee is a dessert lover (specifically rice krispie treats), workout enthusiast, self-taught foodie, and recipe creator. Her recipes have been featured in over 15 magazines, and her passion is to share her love of cooking with the everyday home cook! Learn more about Aimee.