Whether you are looking for a post workout snack, or an on-the-go breakfast, these no-bake Nutty Granola Bites are packed with flavor and protein!
**This post is sponsored by Fisher Nuts. I am excited to be partnering with them this year and bringing you all some delicious recipes! **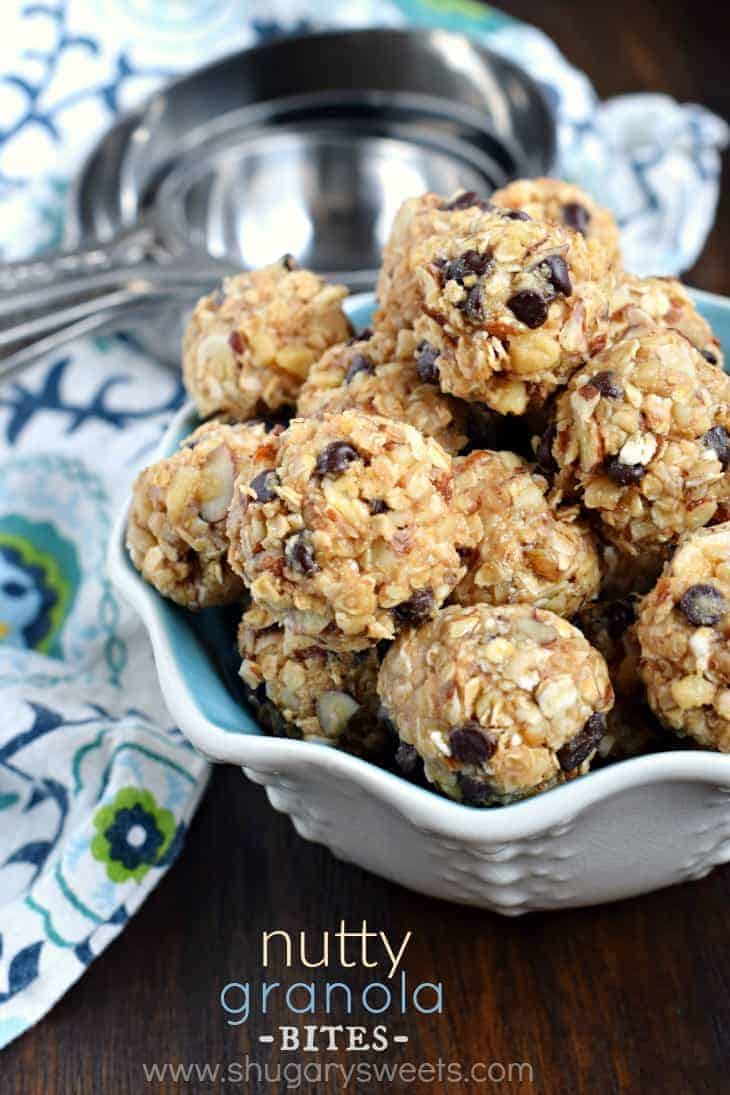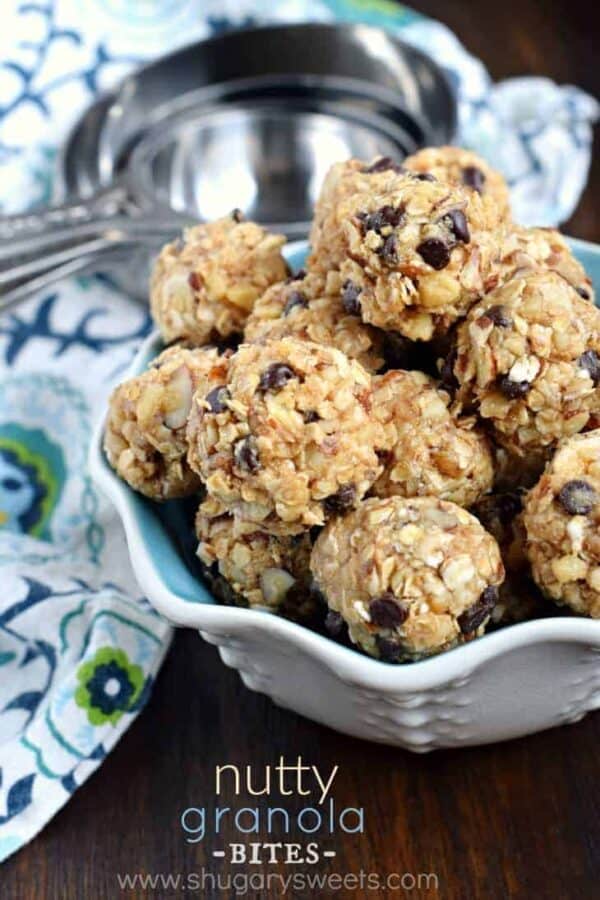 So, I recently discovered a new workout routine. Mainly because I can be pretty lazy when it comes to working out. I get my workout clothes on in the morning, and I have high hopes that I will drive myself to the gym each day. In the summer, not a problem. I walk miles and miles.
In the winter, I would much rather not leave the house.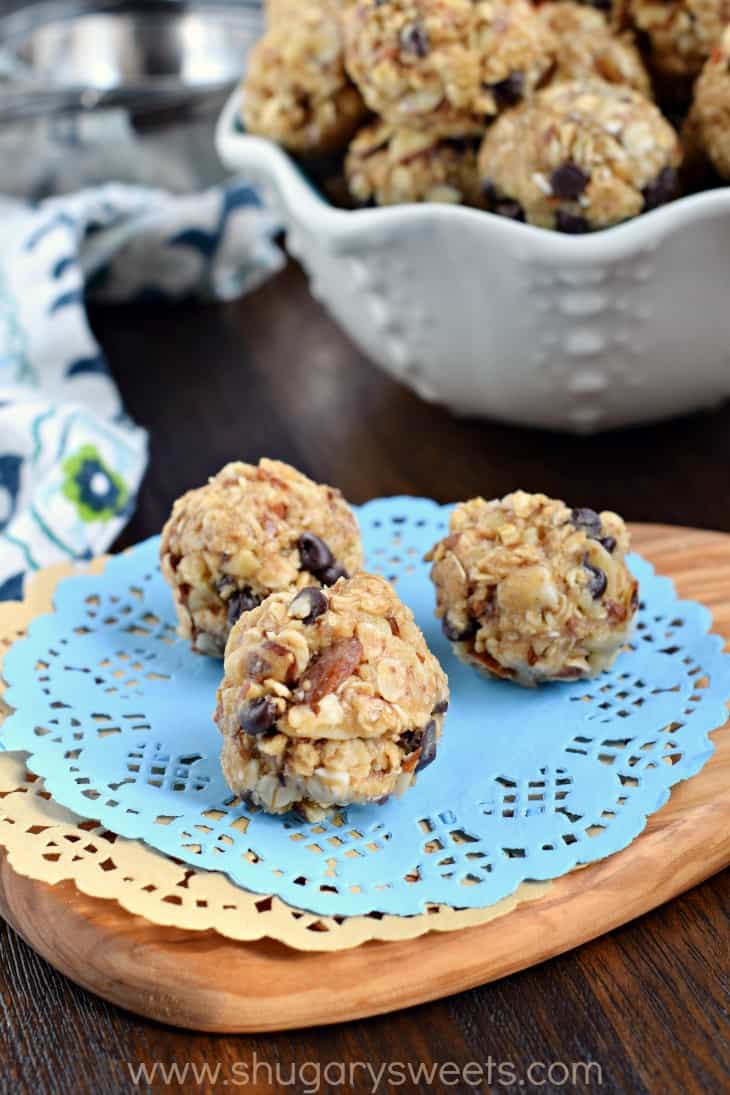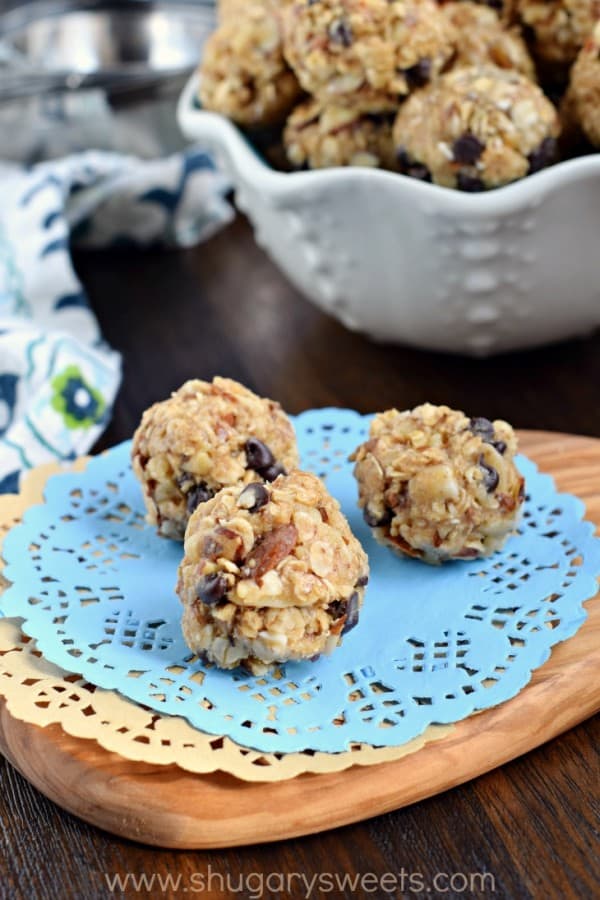 Back to my new discovery! We are very fortunate to have a finished basement, and we've accumulated an array of workout essentials. A treadmill, rowing machine, plenty of hand weights, and more! We also have a TV mounted in our workout room.
We found a channel that you subscribe to that plays a different workout every day. No…this is not Jane Fonda, haha, it's called Daily Burn and it's awesome.
Well, if you call not being able to move the next day, 'awesome', then yes..this fits. Right now I'm working through Bob Harper's Black Fire program on there…and he slays me, daily. OUCH.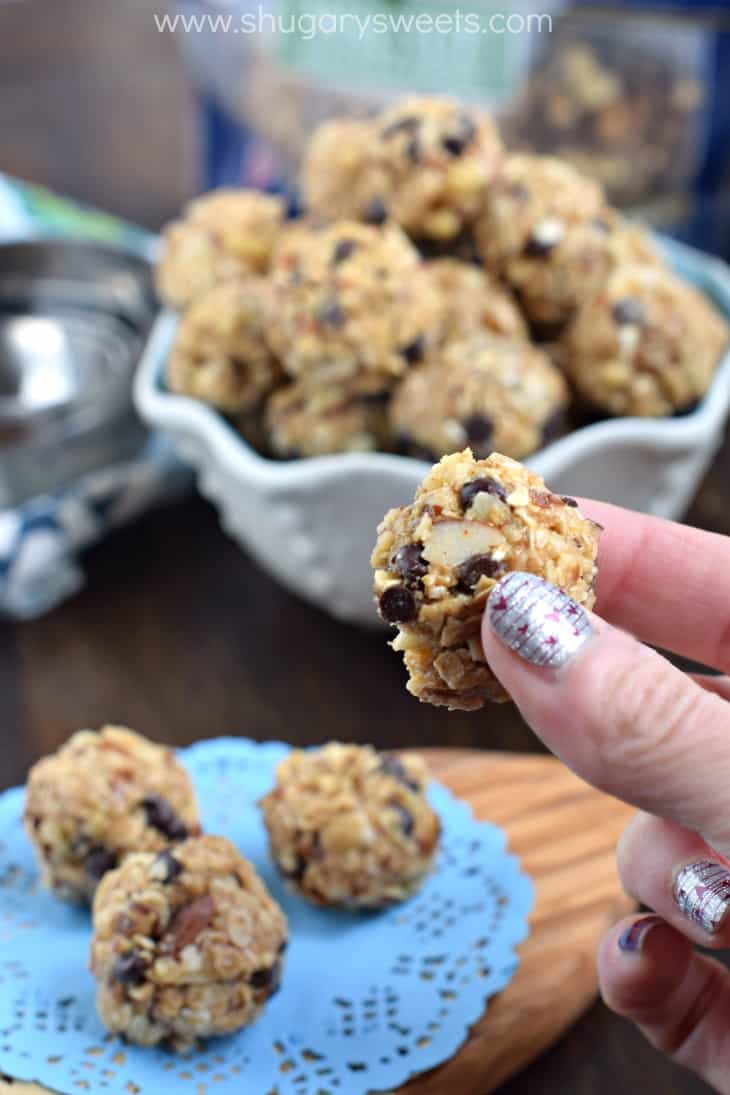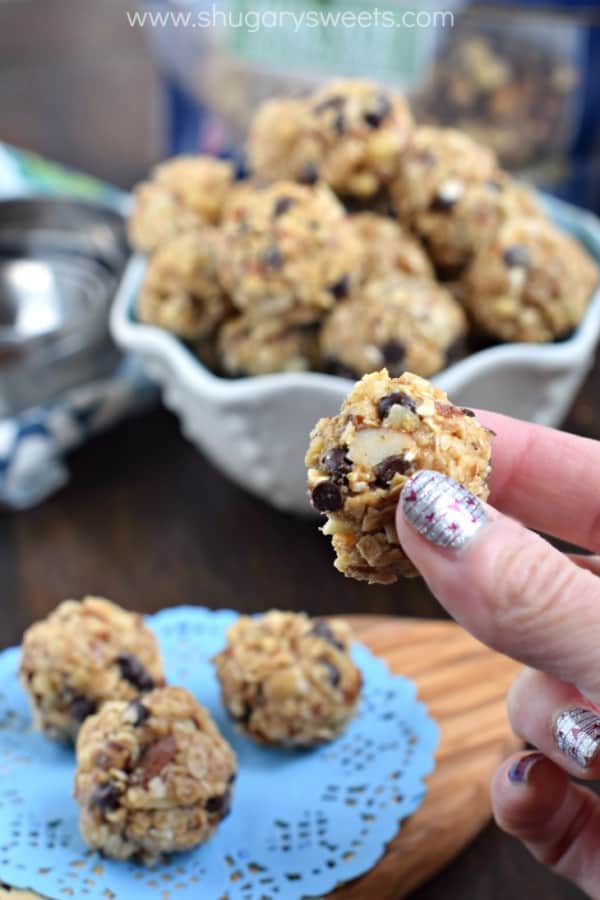 Good thing I've got a secret weapon. A handful of these Nutty Granola Bites. They give me the energy I need before AND after my workout!
In case you didn't know, February is Heart Health month.
Fisher Nuts are not only preservative free but they also have 9 varieties certified as "heart healthy" by the American Heart Association.
These Nutty Granola bites are easy to make! I like to keep them in an airtight container on the counter, so they are easy to access when I'm getting a craving for something sweet, but don't want to down a whole cake (oh, I'm not the only one, right??).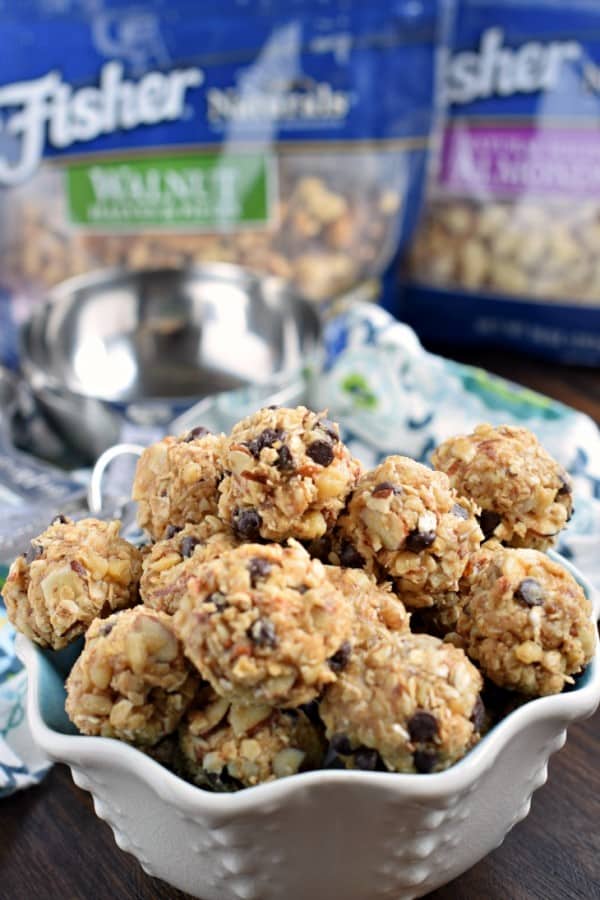 Connect with Fisher Nuts:
website | facebook | pinterest
Yield: 3 dozen
Nutty Granola Bites
Nutty Granola bites are perfect for on the go snack, post workout recovery, or breakfast!
Ingredients
1 1/2 cup oats
3/4 cup creamy peanut butter
1/2 tsp cinnamon
1/4 tsp kosher salt
1/2 cup agave nectar
3/4 cup Fisher Sliced Almonds
3/4 cup Fisher Walnut Halves and Pieces
1/2 cup semi-sweet mini chocolate chips
Instructions
In a large mixing bowl, combine all the ingredients with a wooden spoon until fully blended
With your hands, grab about 1 Tbsp of mixture and roll into a ball. Place on a piece of parchment paper. Repeat until you have used all the mixture.
Store in airtight container at room temperature. ENJOY.
Here are a few of my Heart Healthy recipes: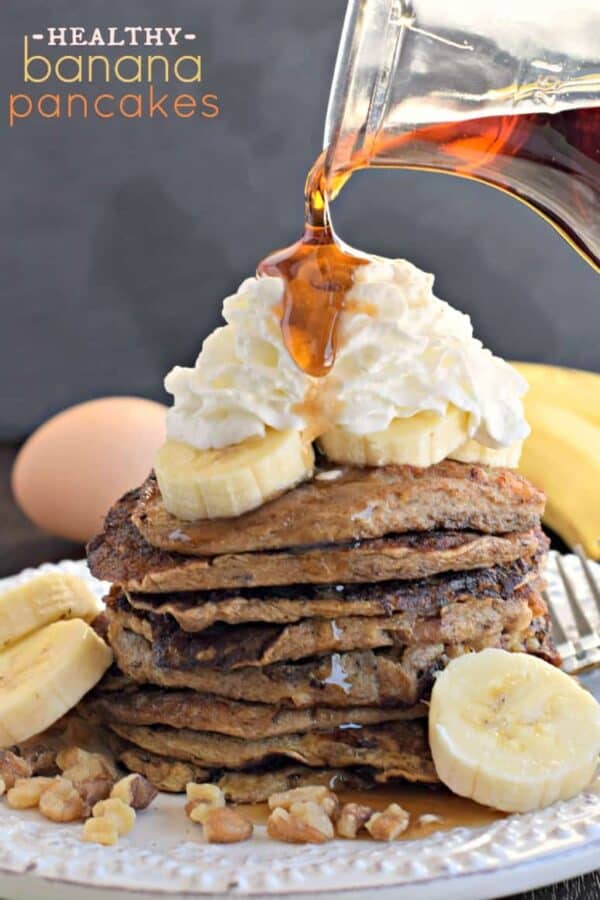 Healthy Banana Pancakes: easy 4 ingredients (NO FLOUR)!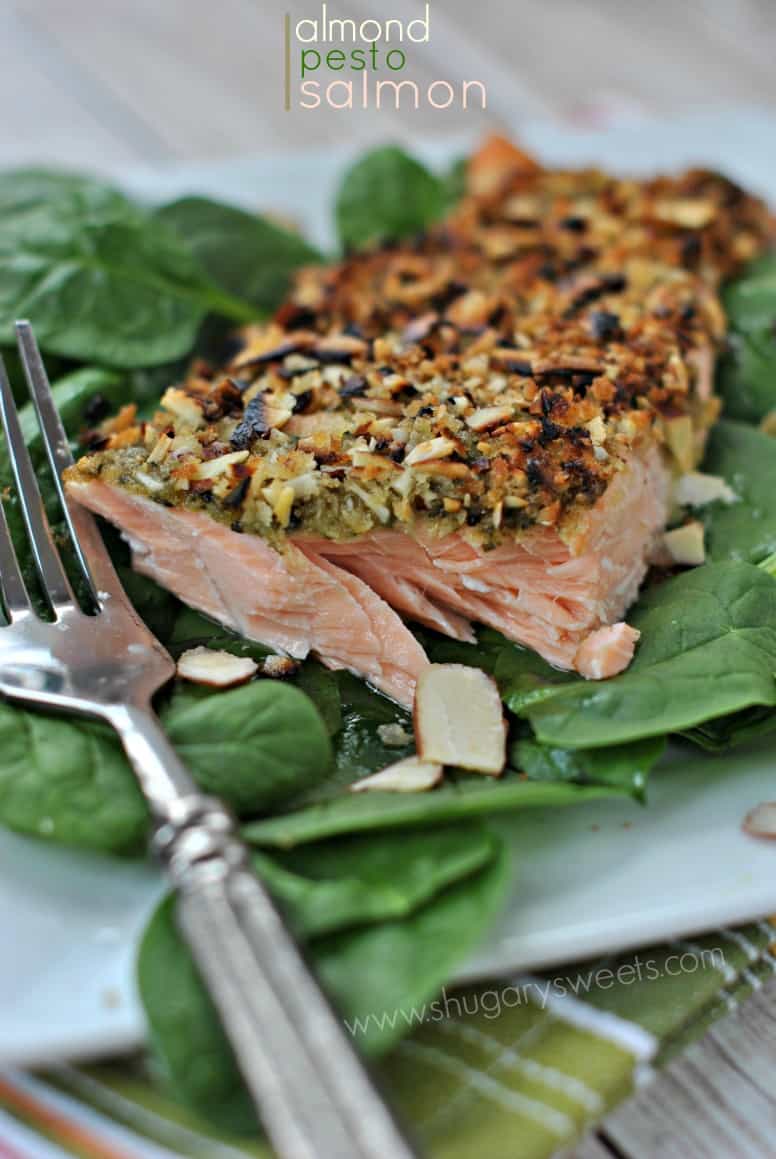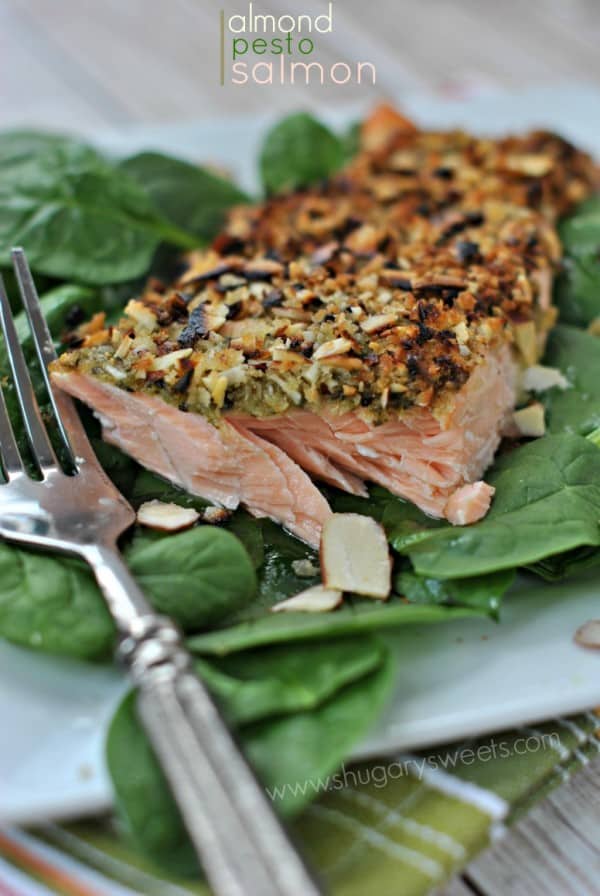 Almond Pesto Salmon: only a couple ingredients to whip up this heart healthy meal!
Looking for more Heart Healthy Recipes? Check these out:


**This is a sponsored post on behalf of Fisher Nuts. I was compensated for my time, however all opinions expressed are 100% my own!
This is a sponsored conversation written by me on behalf of Fisher. The opinions and text are all mine.