Orange and Strawberry Almond Streusel Bars
I have a confession to make. I don't eat breakfast. Unless of course you count my coffee. Which you probably don't, right? By the time I drink my coffee and get the kids ready for school, I'm running out the door to start my day, either at the grocery store or the gym.
And in the summer? C'mon. Breakfast consists of a bowl of cereal or a poptart for the kids. 
I don't make breakfast. That's hubby's job on the weekend.
However, I love pastries. And when there are some of these streusel bars on the counter, you can be certain I eat my fair share of these babies. Even for breakfast. Or lunch. Or dessert.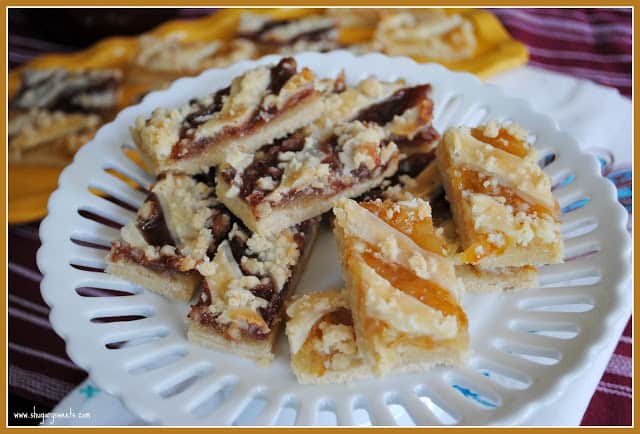 Want some more breakfast ideas? 
Orange and Strawberry Almond Streusel Bars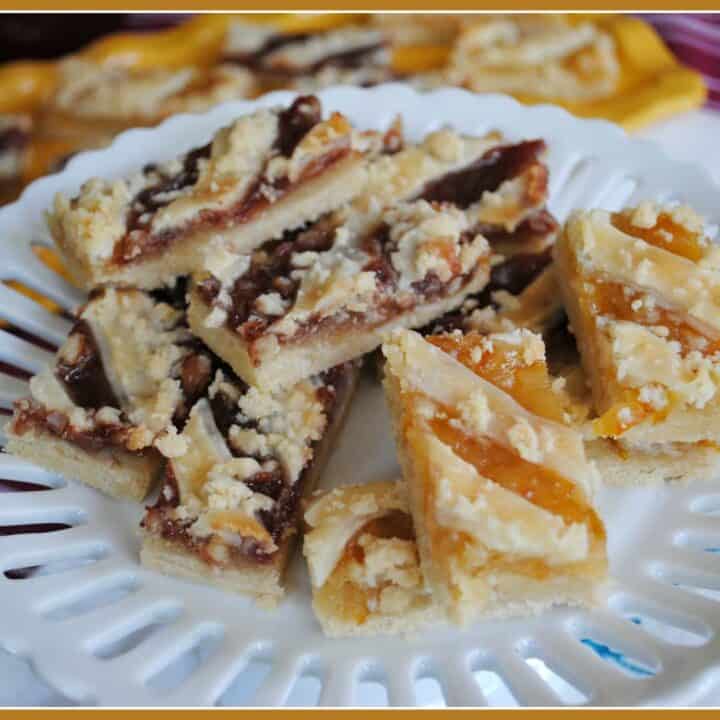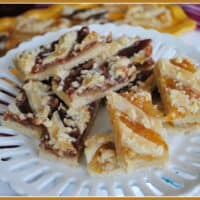 Ingredients
For the Crust:
3/4 cup butter, melted
1 cup powdered sugar
2 1/2 cup flour
For the Filling:
8oz can almond paste
1/2 cup orange marmalade
1/2 cup strawberry preserves
For the Topping:
8oz cream cheese
3/4 cup powdered sugar
1/2 tsp vanilla extract
Instructions
In large bowl, mix melted butter with flour and powdered sugar, until crumbly. Remove 1/3 cup of mixture for later. To remaining crust, press into bottom of baking sheet. I used a cannoli tube to roll the dough evenly into the pan.

Carefully spread almond paste onto dough using a butter knife or the back of a spoon. Spread strawberry preserves onto one side of the crust and the orange marmalade to the other side.

In mixer, beat cream cheese with vanilla and powdered sugar. Spoon into a pastry bag (I used tip 48) and make diagonal lines onto top of filling. Sprinkle with reserved crust mixture.

Bake in a 350 degree oven for 30 minutes. Remove and cool completely. Cut into about 3 dozen squares. I cut mine even smaller, and it made about 60 small rectangles. You can place these on a cookie sheet and stick in the freezer. After 30 minutes remove from the cookie sheet and place in a ziploc bag or airtight freezer safe container. When ready to serve, allow to thaw on counter for at least one hour. Enjoy!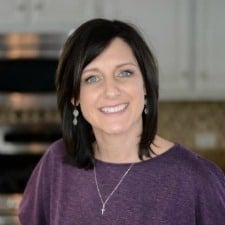 Aimee is a dessert lover (specifically rice krispie treats), workout enthusiast, self-taught foodie, and recipe creator. Her recipes have been featured in over 15 magazines, and her passion is to share her love of cooking with the everyday home cook! Learn more about Aimee.