Orange Sandwich Cookies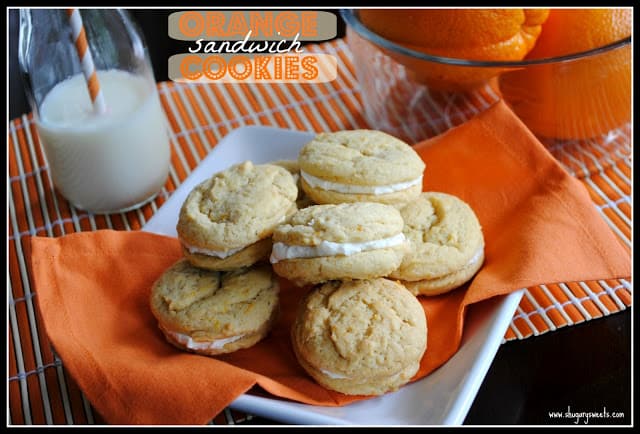 So, typical Shugary Sweets, I make a delicious cookie, eat way too many, then stick them in the freezer for the kids lunches.
But guess what? They are super delicious frozen too! (why yes, yes I did try one frozen). They have a lovely orange dreamsicle quality to them, and the frosting center tastes like ice cream.
This past weekend we have had an awesome time hanging out with some old neighbors of ours. Well, they aren't old, they are "past" neighbors. Not past, as in dead, well, you get my drift.
I wish I can say we enjoyed these cookies. We were supposed to. But like I said, they were good frozen. And every day for a week I ate

three

one. But we had plenty of other delicious food. Some I will be sharing on here soon!
For now? Eat frozen cookies.
Orange Sandwich Cookies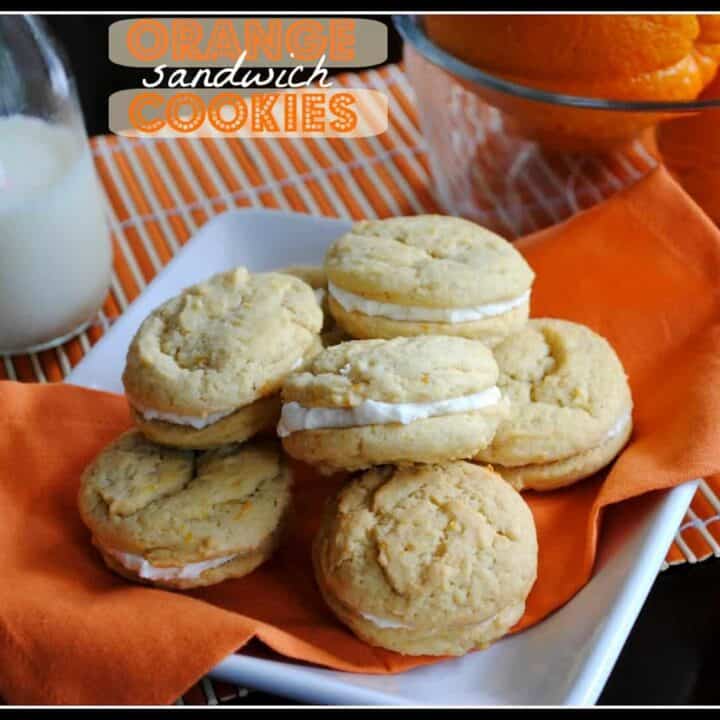 Ingredients
For the Cookie:
1/2 cup butter, softened
1 cup sugar
1 tsp vanilla extract
1/2 tsp orange extract
1 egg
2 oranges, zested and juiced
pinch of salt
2 cup flour
1/4 tsp baking powder
1/2 tsp baking soda
For the Cream Filling:
1/2 cup butter
2 cup powdered sugar
3/4 tsp orange extract
1-2 Tbsp heavy cream
Instructions
For the cookies, cream butter and sugar until smooth. Add vanilla and orange extracts and egg. Beat about 2 minutes. Beat in zest of two oranges (about 1 heaping tablespoon) and 2 Tbsp of fresh orange juice. Scrape sides of bowl and add in dry ingredients.
Line a baking sheet with parchment paper. Drop by tablespoon and bake in a 350 degree oven for 9-11 minutes. Allow to cool completely.
For the frosting, beat butter with powdered sugar, extract and heavy cream. Spread frosting between two cookies of like size. Store in airtight container.
If freezing, store in freezer safe ziploc bag. Enjoy!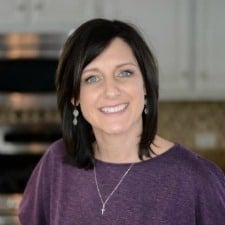 Aimee is a dessert lover (specifically rice krispie treats), workout enthusiast, self-taught foodie, and recipe creator. Her recipes have been featured in over 15 magazines, and her passion is to share her love of cooking with the everyday home cook! Learn more about Aimee.