Artichoke Bread – This appetizer made from crescent rolls and artichoke hearts is oozing with Parmesan cheese! A slice of tomato on top adds the perfect finishing touch to this mouth watering spin on my favorite Artichoke Dip.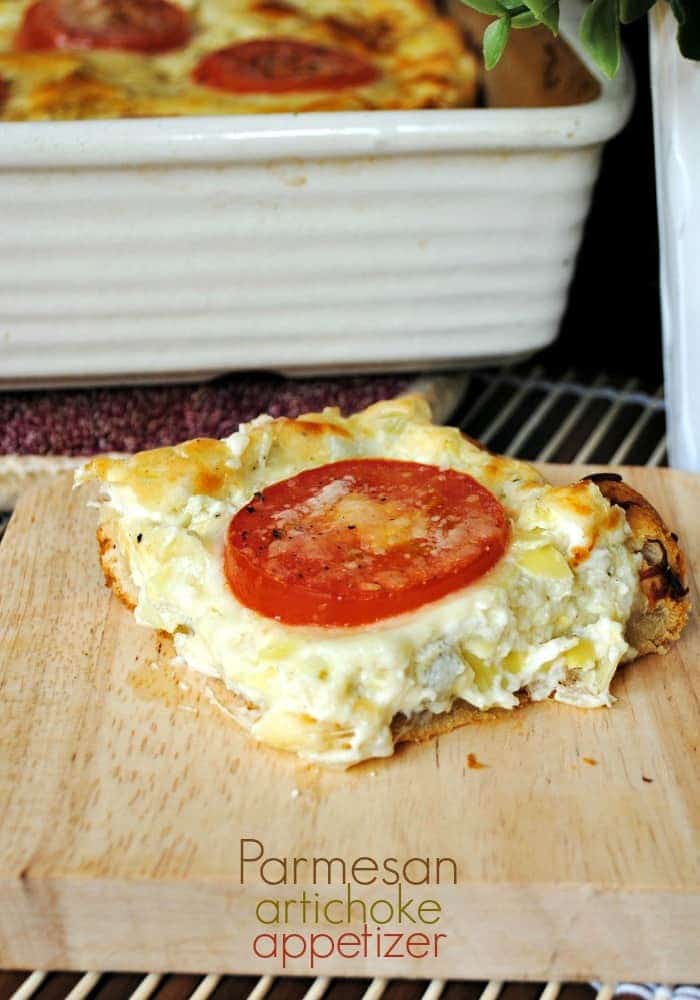 It's a well known fact that I am a little nuts about hot, creamy party dips. Especially Artichoke Dip with extra cheese!
This Artichoke Bread recipe is like that dip in bread form. Creamy, cheesy and full of garlic, there's nothing you won't love about this appetizer.
Bring it to your next potluck or make it for the family to enjoy this weekend. Grab a fork or just eat it with your hands!
Parmesan Artichoke Appetizer
If you love artichoke dip, this bread-y twist on it is going to be the only appetizer you ever make again. It saves you the step of dipping pieces of bread into your artichoke dip; the bread is baked right in.
I've been using crescent roll dough as my hack for turning just about anything into a handheld party food. It's so quick and easy and comes out with the perfect flaky texture here.
To keep the crust from getting soggy, I partially baked the crescent roll first before adding the filling.
The slices of bright red tomatoes on top of the cheese add a vibrant pop of color that makes this appetizer look as impressive as it tastes. Every bite of this cheesy artichoke bread is creamy and garlicky. A little tang from lemon zest adds the perfect complement to salty, savory artichoke hearts and cheese.
This bread is all but guaranteed to steal the show when it has a spot on the table. Although you can bet that Artichoke Jalapeno Dip will give it a run for its money!
Why not make BOTH so you can compare them? And while you're at it, you might as well make some classic Spinach Artichoke Dip, too. Y'know. . .for science.
How to Make Artichoke Dip into bread
Start by opening a can of crescent rolls. Press the dough into a baking dish and pre-bake for about 10 minutes.
Meanwhile, make the filling: beat together cream cheese and mayonnaise until smooth. Add egg, some lemon zest and pressed garlic.
Now, fold in chopped artichoke hearts, parmesan cheese, salt and pepper.
By now, your crust is partially baked. Remove it from the oven and spread the filling evenly over the crescent layer.
Sprinkle Mozzeralla cheese and more parmesan on top of this. (Yes, I like cheese. Why do you ask?)
Finally, arrange slices of roma tomato on top of the whole dish. I space them out evenly so there is about an inch of space between each tomato slice. Crank a little more pepper on top then bake the whole thing for another 25 minutes.
The top layer will get bubbly and gooey while the tomatoes turn a beautiful bright red. And your kitchen will smell like paradise.
Let your artichoke bread cook for about 15 minutes before slicing and serving. Enjoy!
What artichokes to use
Use canned artichoke hearts in this recipe (just like you would for traditional artichoke dip). These are artichokes that are preserved in a brine with salt and citric acid.
Drain and rinse off any excess salty brine, then chop them into bite sized pieces before adding to the filling.
More Tips & Tricks
Doubling: If you're making this for a potluck or party, I highly recommend doubling the recipe! Double the ingredients and bake in a 9 x 13 baking dish.
Serving: This is best served soon after baking while everything is still warm. If it cools off too much and starts to get hard, you can put the baking dish back in the oven for a minute or two to melt the cheese and cream filling again.
Storing: Cover any leftovers in the pan with tin foil or cling plastic wrap. Keep in the fridge. When ready to eat, warm it up in the oven until heated through
Tomato substitutes: Plum tomatoes can also be substituted for the Roma variety in this recipe. If you aren't a fan of tomatoes, feel free to leave them out.
Pepper: For best flavor, I highly recommend using pepper ground fresh from whole peppercorns. That little change (subbing fresh ground for the regular pre-ground pepper) makes a huge difference! It takes no extra effort but once you grind your own pepper, you'll never go back. Want a little bit of heat? A few shakes of crushed red pepper on top will do the trick!
The Parmesan Artichoke Bread recipe puts a new twist on a classic appetizer. If you're in the mood for a bread loaded with creamy filling and topped with cheese, this dish hits the spot!
Whether you eat it on a plate with a fork or as a finger food, I know you'll love this delicious Artichoke dip – turned bread.