Parmesan Halibut with Tomato and Zucchini Orzo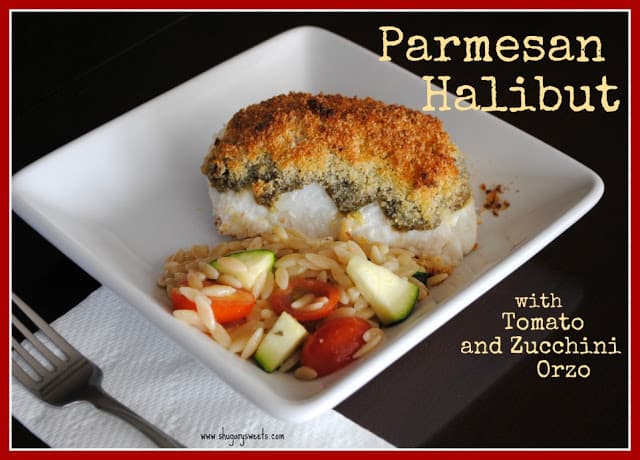 Yep, another dish from the Cuisine Lite magazine. If you remember THIS dish, mmmmmm. Now I have another one worth sharing! I used homemade pesto, but you can certainly use the jarred stuff.
And the side dish? Fantastic. I always forget about side dishes.
I plan my main courses, and that's all well and good, and then dinnertime comes and it's time to think about sides. I draw a blank. I can't wait to make this again with veggies from my garden.
In the Cuisine Lite magazine it says to add in kalamata olives, which would have been wonderful. However, they would have guaranteed me dirty looks from my kids!
One word about the fish, I bought giant thick fillets. WAY too thick. It was good, and it worked just fine, it just didn't give me as much crust to fish ratio as I would have preferred. (just like I enjoy a good thick frosting on my cupcake, or cookie, I also like a good thick crust on my fish)! Enjoy!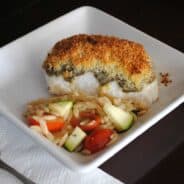 Parmesan Halibut with Tomato and Zucchini Orzo
Ingredients:
For the Halibut:
6 halibut fillets, about 1 inch thick (4oz each)
1/4 cup panko bread crumbs
1/4 cup plain bread crumbs
For the Orzo:
1 pinch red pepper flakes
1 cup cherry tomatoes, halved
Directions:
For the halibut, preheat oven to 450 degrees. Line a baking sheet with foil, spray with nonstick spray (like Pam).

In a bowl, combine panko and bread crumbs with parmesan cheese and lemon zest.

Arrange fillets on baking sheet. Spread pesto on each fillet, dividing it evenly onto the fish. Press panko mixture onto pesto fillets. Spray with cooking spray to lightly coat. Bake fish about 12-15 minutes, until crumbs are golden and fish flakes with a fork.

Meanwhile, for the orzo, saute garlic and pepper flakes in olive oil over medium high heat for 1-2 minutes. Add orzo, broth, tomatoes, zucchini and salt. Bring to a simmer and cook until orzo is tender, about 10 minutes. (add in 1/4 cup sliced olives at this time, optional)
*recipe adapted from Cuisine Lite Magazine
MAKING THIS RECIPE? Share it with me on Instagram using the hashtag #ShugarySweets so I can see what you're cooking up in the kitchen!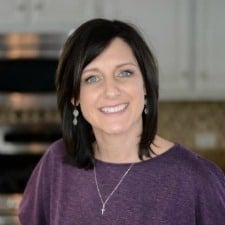 Aimee is a dessert lover (specifically rice krispie treats), workout enthusiast, self-taught foodie, and recipe creator. Her recipes have been featured in numerous magazines, and her passion is to share her love of cooking with the everyday home cook!