Peach Streusel Coffee Cake- and a huge favor from me!
This delicious Peach Streusel Coffee Cake is a "must have" recipe for any time of year. Perfect, moist spice cake topped with peach pie and cinnamon streusel!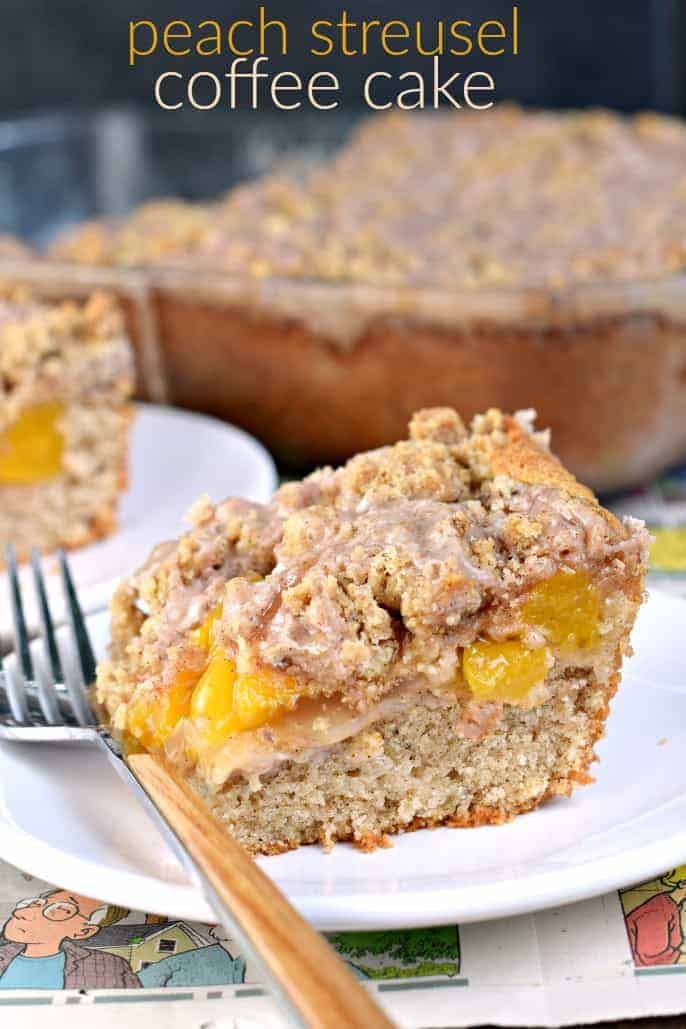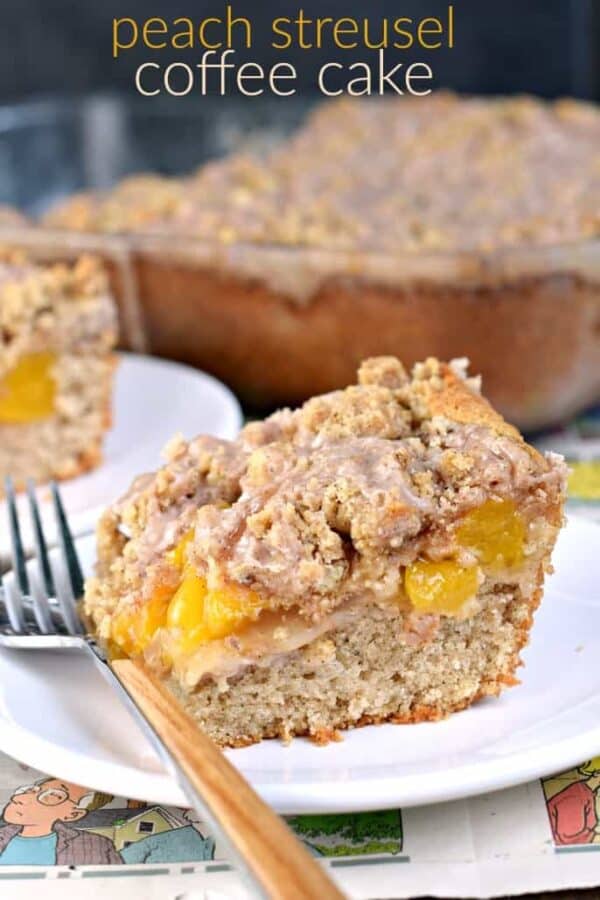 I am so thankful right now. Do you just have days where you feel overwhelmed with all the good in your life?
Last week our son was home on leave (he's in the Marines). And we had to say "see you later" to him as he left our home again. I mentioned last week that we celebrated 4 holidays in one day because we won't be seeing him until next Spring.
I'm often asked "how can I help." "Do you need anything." "How is your momma heart?"
Well, let me tell you! Earlier this year I partnered up with 4 fellow Marine moms and we formed the Chicagoland Blue Star Mothers group. The group is made for all moms and grandmothers of military members (any branch), both active and veteran. We get together every month to not only discuss the business part of our group (volunteering in the community to promote patriotism and support of our military)…but also to support each other as friends. As women who "get it."
One of the things our group is doing is collecting items for care packages to send to our deployed troops this holiday season. This is very close to MY heart, as my own son will be deployed over the holidays. I not only pray for the safety of our military, but that they also find peace while away from their loved ones.
Our group had a goal of collecting enough items for about 50 packages. With only 15 members in our new group, this seemed like a great place to start.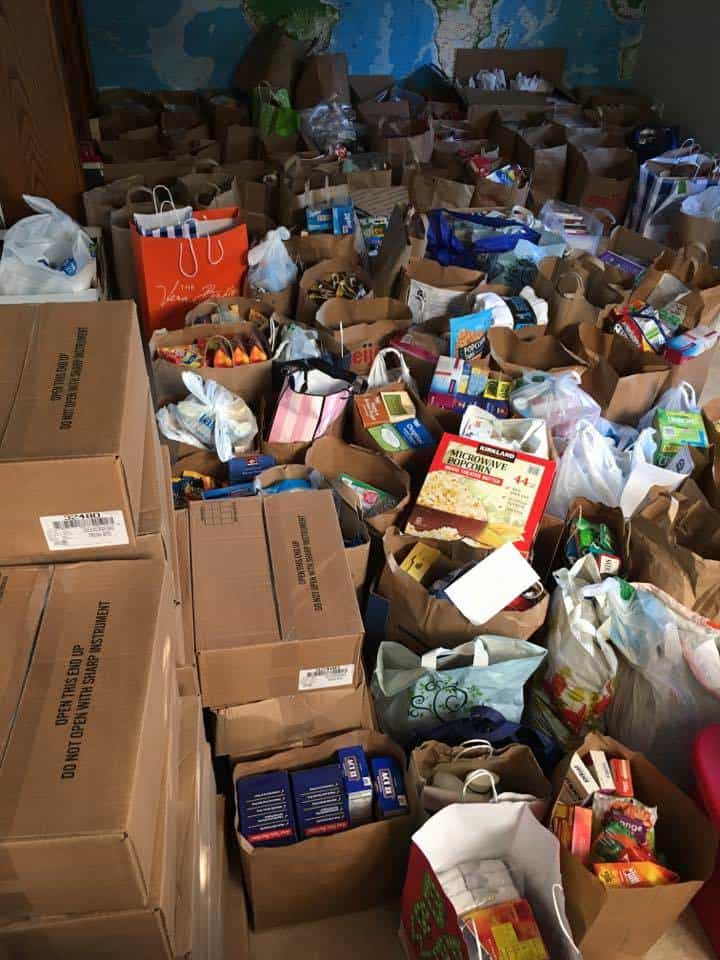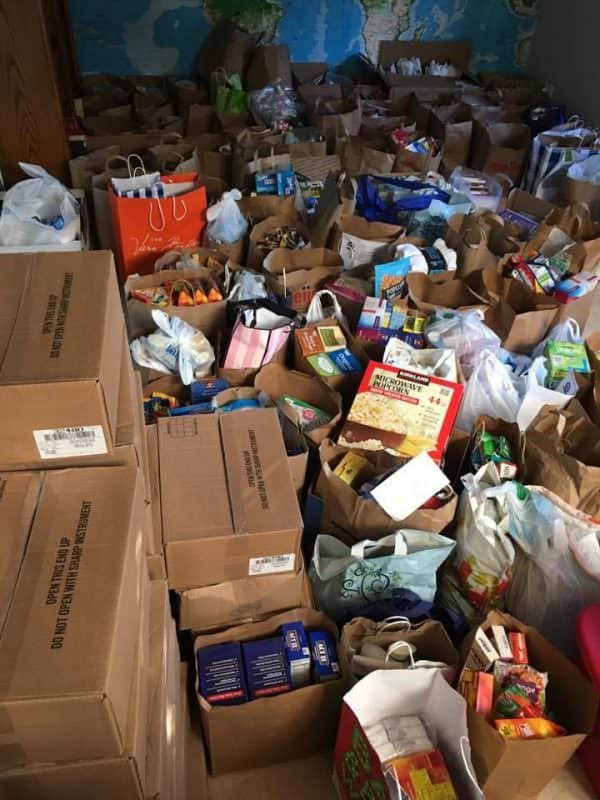 Guess what? We have collected supplies to fill at least 300 boxes. Yes, you read that right! There is a catch…and this is how YOU can help.
Each box costs $16.75 to ship. While we are halfway to our goal financially, we still have a big need. If you want to help by sponsoring one or more boxes, or your business needs a way to give back this holiday season, PLEASE consider our group! You can support us financially by sending money to our PayPal (ChicagolandBlueStarMothers@gmail.com) or send me an email with another way to support (shugarysweets@yahoo.com). I'd love to hear from you! If you prefer to pay with cash/check, send me an email and I'll get you the address for the Chicagoland Blue Star Mothers!
If you have a member of the military who is deployed overseas this holiday, you can also email us at ChicagolandBlueStarMothers@gmail.com and request that a box get sent to your loved one!
We are a 501(c)3 organization and would be happy to send you a letter for tax purposes (be sure to include a mailing address with your paypal note)! Thank you Thank you Thank you!
If you can't help financially this year, I get it. Would you pray for our young men and women? Keep them in your thoughts and don't ever take your freedom for granted!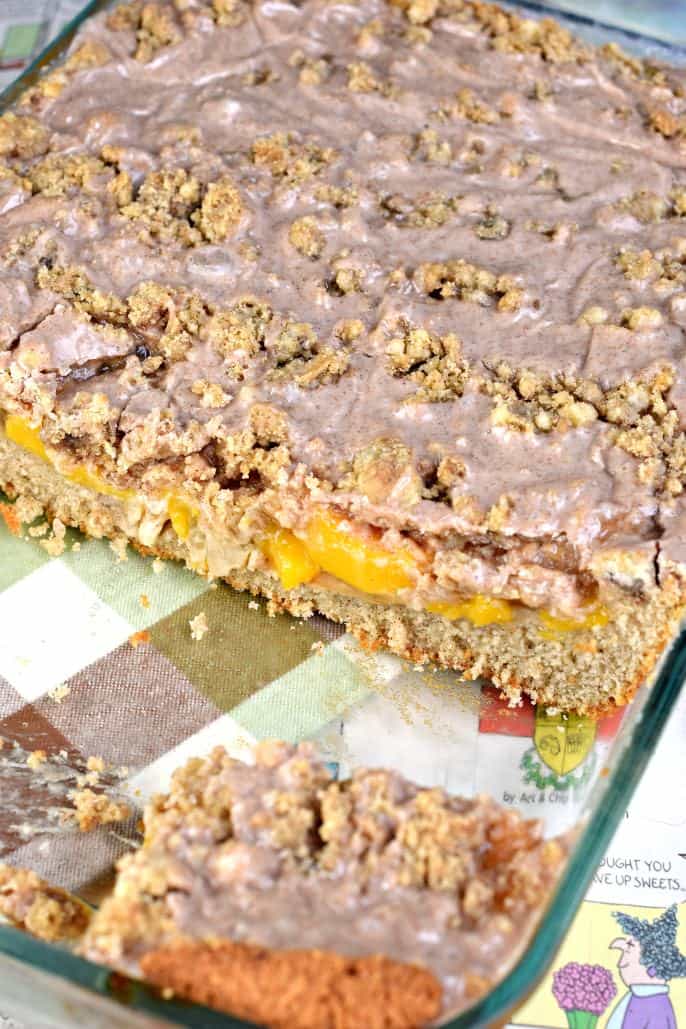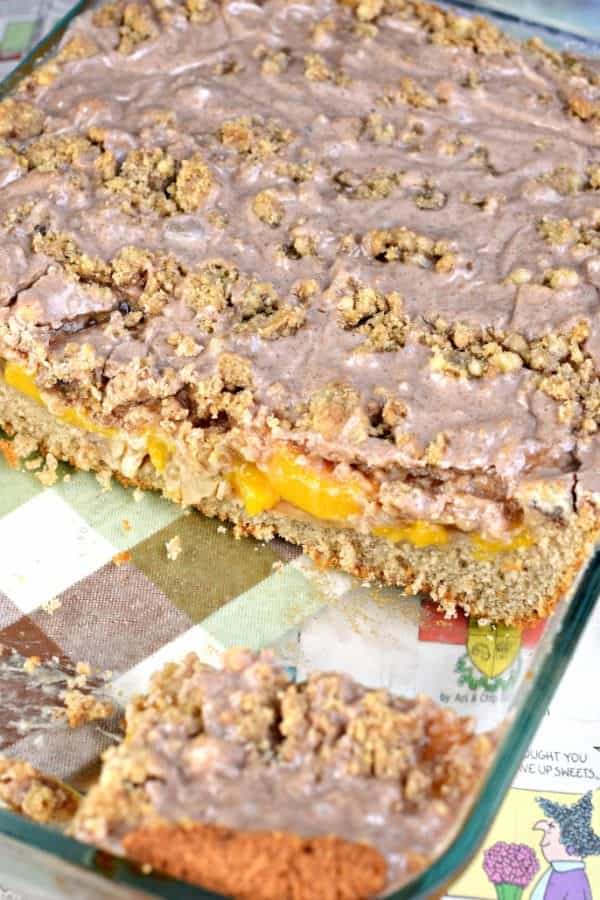 And while you're having those silent reflections, may a suggest a slice of this Peach Streusel Coffee Cake? With a hot cup or coffee or tea, it's a great way to enjoy your morning!
Be sure to follow me on Instagram and tag #shugarysweets so I can see all the wonderful SHUGARY SWEETS recipes YOU make!
Connect with Shugary Sweets! Be sure to follow me on my social media, so you never miss a post!
Facebook | Twitter | Pinterest | instagram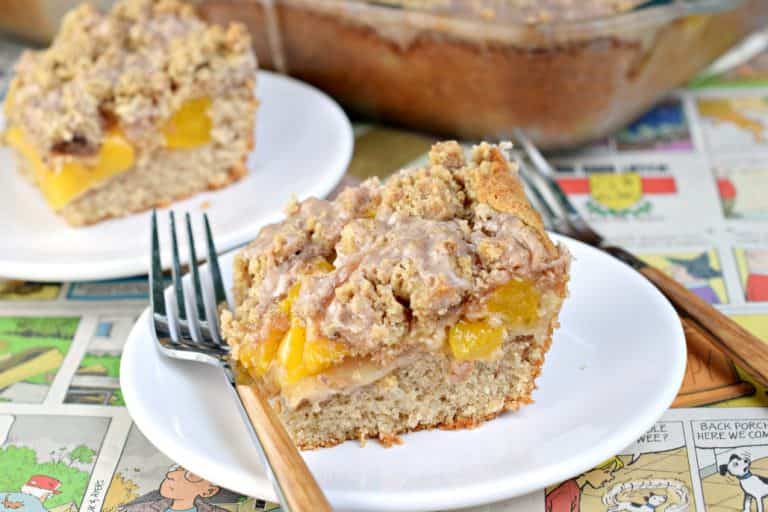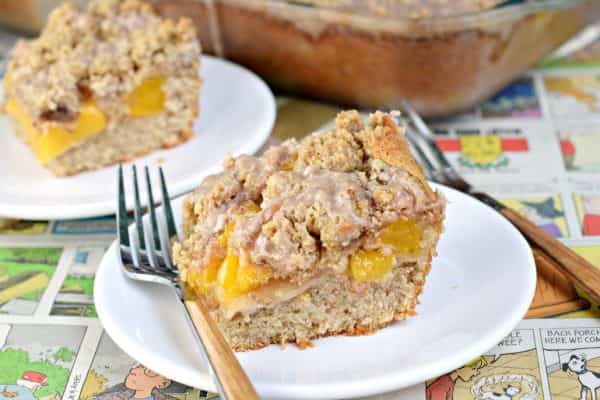 Yield: 16 servings
Peach Streusel Coffee Cake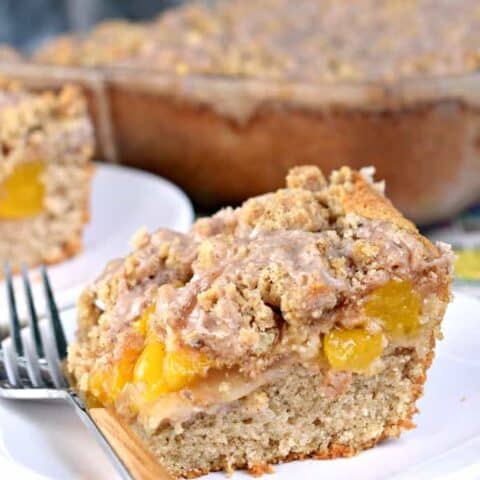 This delicious Peach Streusel Coffee Cake is a "must have" recipe for any time of year. Perfect, moist spice cake topped with peach pie and cinnamon streusel!
Ingredients
For the Cake:
2 1/2 cups all-purpose flour
1 cup granulated sugar
1 tsp baking powder
2 tsp cinnamon
1/2 tsp baking soda
1/4 tsp kosher salt
3/4 cup unsalted butter, softened
3 large eggs
2 tsp vanilla extract
2/3 cup milk
2 cans (21 oz each) peach pie filling
For the streusel:
3/4 cup light brown sugar, packed
2 tsp cinnamon
1/4 tsp kosher salt
1/2 cup unsalted butter, melted
1 1/2 cup all-purpose flour
For the glaze:
1 1/2 cup powdered sugar
1 tsp cinnamon
3 Tbsp milk
Instructions
FOR THE CAKE:
Grease and flour (or use baking spray) a 13x9 baking dish and set aside. In a mixing bowl, beat flour, sugar, baking powder, baking soda, cinnamon, and salt on low until blended.
Beat in softened butter until crumbly. Add in eggs, vanilla and milk and beat for several minutes until fluffy and fully combined. Pour batter into prepared baking dish.
Top batter with peach pie filling.
FOR THE STREUSEL:
Combine sugar with cinnamon and salt. Mix in melted butter, flour and nutmeg with a large fork until crumbly.
Sprinkle evenly over peach layer. Bake cake in a preheated 325 degree F oven for 55-60 minutes.
FOR THE GLAZE:
Whisk the sugar, cinnamon, and milk together until smooth. When cake is removed from oven, pour glaze over warm cake.
Allow cake to cool before serving. Store cake covered in refrigerator for up to 5 days. ENJOY.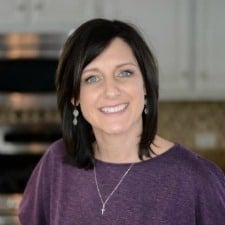 Aimee is a dessert lover (specifically rice krispie treats), workout enthusiast, self-taught foodie, and recipe creator. Her recipes have been featured in over 15 magazines, and her passion is to share her love of cooking with the everyday home cook! Learn more about Aimee.