Peanut Butter Cookie Bites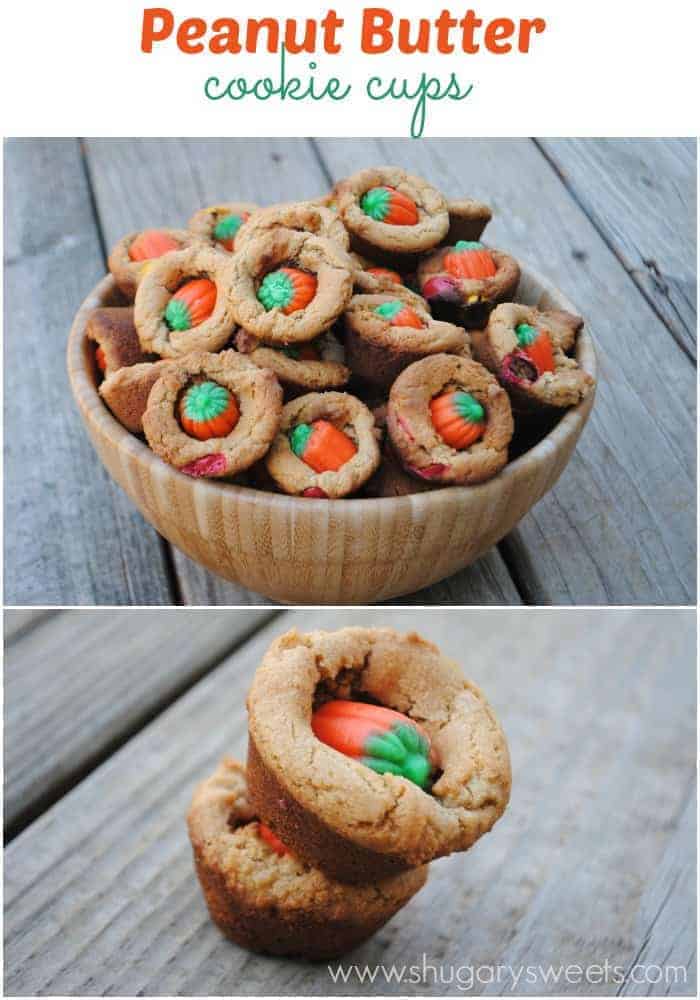 I think I bought too much Halloween candy. And I still have weeks until the actual event. And for whatever irrational reason, I have convinced myself if I put the candy into cookies (or some other treat), I will eat less.
So untrue. Especially when it comes to candy corn. And M&M's. Yes, I could sit and eat a whole bag. But I guess what I have not realized that eating 20 cookies could be far worse calories wise.
How boring would that be though if I just posted a bowl of M&M's on my blog and said, "make these." Recipe: pour in bowl. Eat.
Besides, these cookies are good. And because they are two-bite cookies you can eat more. See. Totally rational.
Peanut Butter Cookie Bites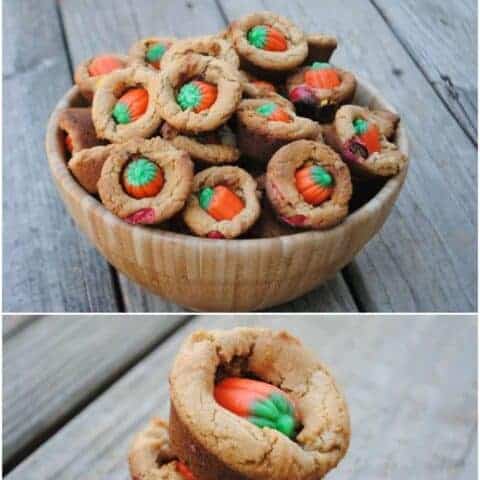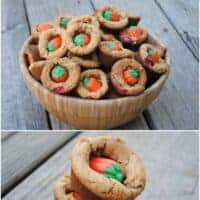 Ingredients
2 1/2 cup brown sugar
1 cup butter flavored Crisco
1 1/2 cup creamy peanut butter
1/3 cup milk
1 Tbsp vanilla
2 egg
3 1/2 cup flour
1 1/2 tsp salt
1 1/2 tsp baking soda
3 cups Peanut Butter M&M's
Candy Corn Pumpkins
Instructions
Combine sugar, crisco, peanut butter, milk, and vanilla. Add egg. Beat in flour, salt and baking soda. Mix in M&M's. 
Drop by small scoop onto mini muffin (or mini tart) pan. I didn't use wrappers, or grease the pans. 
Bake in a 375 degree oven for about 9-11 minutes. Immediately press one candy corn pumpkin in the center. Allow to cool about 3-5 minutes, remove cookie from pan and cool on rack completely. 
This recipe makes a lot of cookies. I baked 48 in the mini muffin pan. Then I used my scoop and make 60 scoops and put them on a cookie sheet. I stuck the cookie sheet in the freezer for about an hour. I put all the frozen cookie dough balls into a ziploc bag, labeled it, and now I have 60 cookies ready to bake at a moment's notice! I can stick these into a mini muffin pan, or right onto a cookie sheet.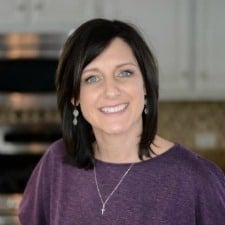 Aimee is a dessert lover (specifically rice krispie treats), workout enthusiast, self-taught foodie, and recipe creator. Her recipes have been featured in over 15 magazines, and her passion is to share her love of cooking with the everyday home cook! Learn more about Aimee.