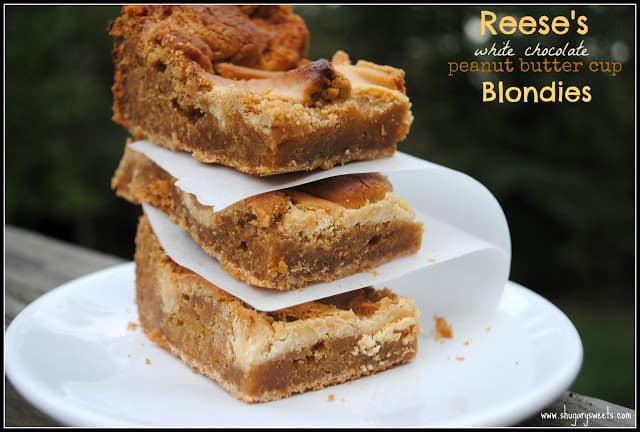 These are so rich and delicious you must make them to understand. They bake up all fluffy, then while it cools the center falls and becomes all gooey and delicious. The edges give the appearance that they are going to be all hard and crusty…but no my friends, they are actually chewy with a rich butterscotch flavor. I topped my blondies with miniature white chocolate peanut butter cups. Loved them!
Now I'm off to find another pumpkin recipe. Happy weekend everyone!
Yield: 24 bars
Peanut Butter Cup Blondies
Ingredients
3/4 cup butter
2 1/2 cup brown sugar
2 eggs
1 tsp vanilla
2 1/2 cup flour
2 1/2 tsp baking powder
1/2 tsp salt
12 oz pkg Reese's miniature white chocolate peanut butter cups, chopped
Instructions
Beat butter, sugar and eggs. Add in vanilla extract. Mix in the flour, baking powder and salt.
Press dough into a parchment paper lined 13x9 baking pan. Top the dough with the chopped peanut butter cups.
Bake in a 350 degree oven for 30-35 minutes. Let cool completely. Enjoy!