Peanut Butter-Finger Bites
Hello! It seems I've been avoiding the baked goods for a stretch of time here. Please understand. It's swimsuit season after all, and all the hard work I have done with p90x is going out the window! I can't seem to stop eating treats. Even though I send them to my husband's work, I keep making more!
Now, I have my husband's coworkers sending me recipes, cookbook files and links of food they like, or think I would like. Yeah, that's bad. But good (if you are a co-worker of hubby please keep sending me ideas)! But it's bad. Because one of those ideas was to make Butterfingers.
I was so determined to make these, that even though I opened my kitchen drawer and found my candy thermometer shattered, I forged on. Afterall, we're talking butterfingers. The same candy bar I used to trade all other candy for on Halloween. Yeah, yum.
These are delicious. Given that I did not use a candy thermometer they still turned out perfect. Hubby thinks I should use less peanut butter next time, but I don't always listen to him. Especially when he talks about food. I mean, c'mon, the guy hates mushrooms but loves peanut butter and garlic sandwiches. He's mine ladies, back off!
Here's what it comes down to though. These are really good, I ate five of them. Okay 6. Now, I must go exercise for the second time today (I had BBQ ribs too, which put me over the top), and I'm positive that while walking I will think about food. And what to bake tomorrow. Cause that's what I do. Don't judge.
One more thing. You could pour this into an 8×8 pan and cut into bites or bars. I however use my silicone brownie bites pan, which I love. You don't need to grease it or anything, they pop right out when set! Perfect too for cookies, brownies, toffee. Yum. (this is what it looks like, you can find it online or at Michael's…Wilton 2105-4923 24-Cavity Silicone Brownie-Squares Baking Mold
. Enjoy!
Peanut Butter-finger Bites
Ingredients
1/3 cup light corn syrup
1/3 cup water
1 cup granulated sugar
1 cup peanut butter, warmed
12 oz chocolate candy coating
Instructions
In saucepan, heat water, corn syrup and sugar until boiling. Boil for 10-12 minutes, keeping it at a continuous boil and stirring constantly. Remove from heat and quickly stir in warmed peanut butter.
I pour these into my silicone brownie pan that has individual bites (24). But you could also pour them into a foil lined, and buttered, 8inch pan. Work quickly as it begins to harden. Press lightly into pan or brownie pan.
Allow to set in refrigerator for 2 hours or overnight. When firm, melt chocolate candy coating according to package directions. I use chocolate candiquik, but you could also use Wilton's candy melts. Dip butter-finger in melted chocolate using a fork. Set on wax paper. Enjoy.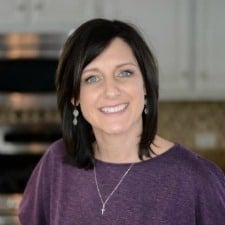 Aimee is a dessert lover (specifically rice krispie treats), workout enthusiast, self-taught foodie, and recipe creator. Her recipes have been featured in over 15 magazines, and her passion is to share her love of cooking with the everyday home cook! Learn more about Aimee.