Peanut Butter and Jelly Muffins from The Recipe Girl Cookbook are so moist and delicious! These are perfect for breakfast, school lunches or after school snacks.
Also, look for the GIVEAWAY at the end of this post for a copy of The Recipe Girl Cookbook!!
Be sure to follow me on Bloglovin'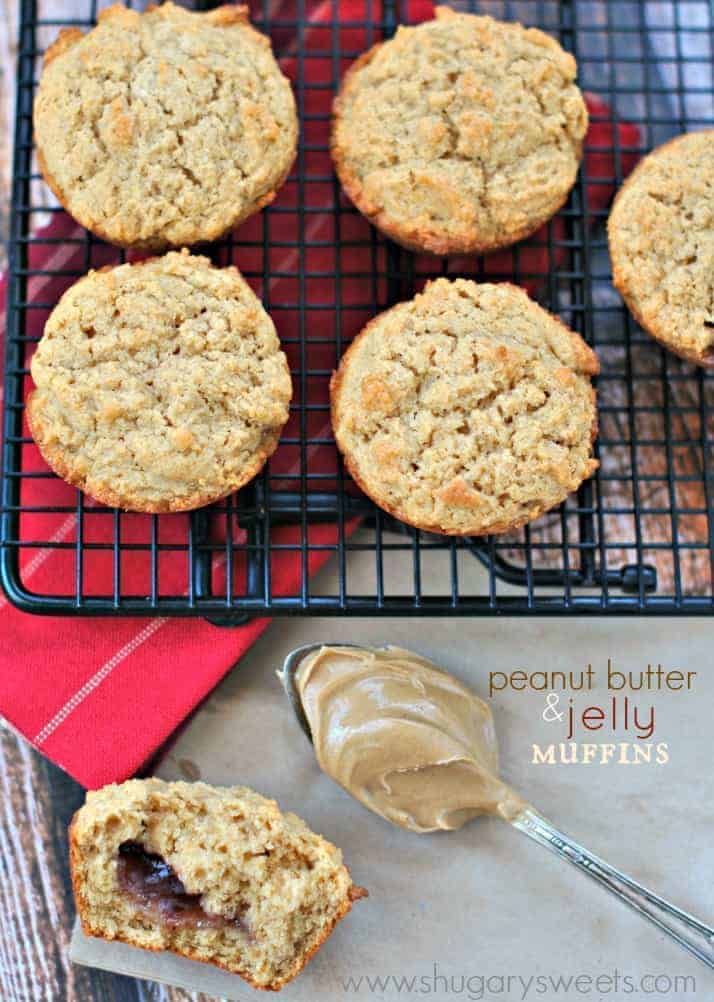 I'm always looking for ways to add more peanut butter to our lives. My kids are all underweight. I know. Weird right? I wish I had that problem.
They are great eaters, they love their fruits and veggies. All but one of them will eat pretty much eat any dinner I put on the table (yeah, I've got one semi-vegetarian who will take ONE "no-thank you" bite of meat).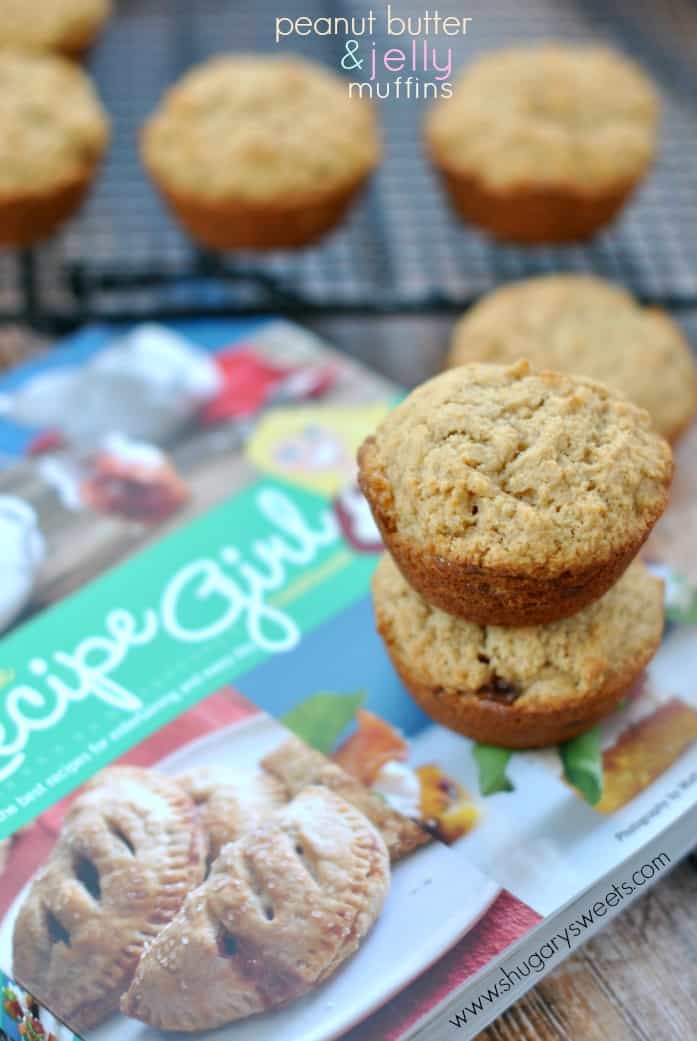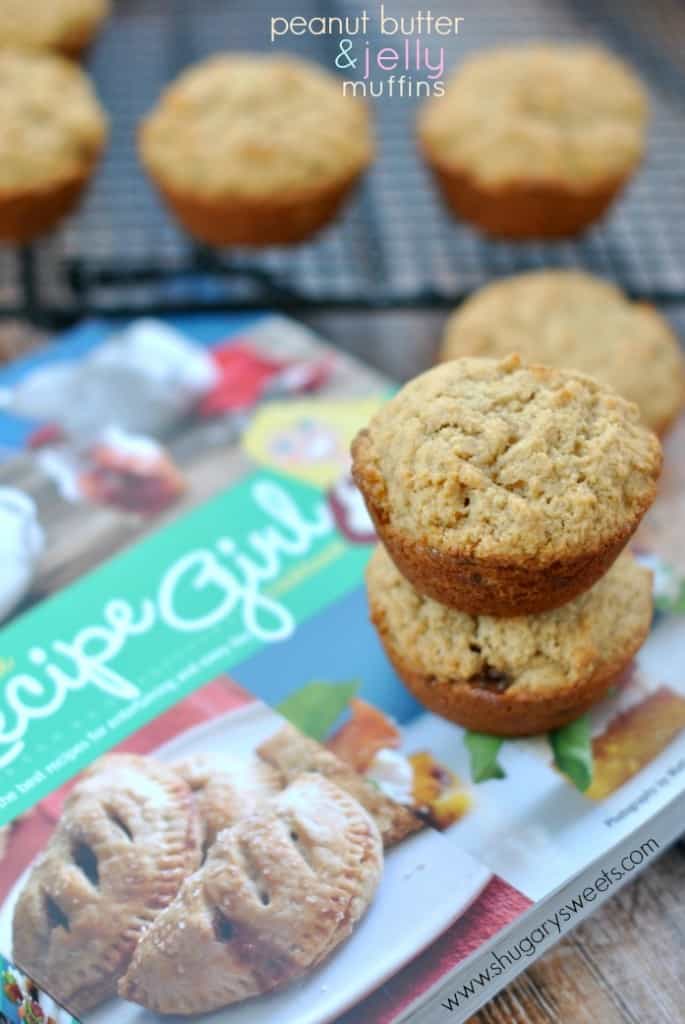 Adding peanut butter to smoothies, baked goods and sandwiches is a great way to give my kids an extra boost of protein and calories. And my kids LOVE peanut butter.
I'll be honest. There are days that I crave a peanut butter & jelly sandwich. I like my sandwiches DRIPPING with PB and jelly.
When Lori gave me a copy of her cookbook, I was in love. I have so many pages dog eared and ready to make. But as I was initially thumbing through this book, the Peanut Butter and Jelly Muffins caught my eye immediately.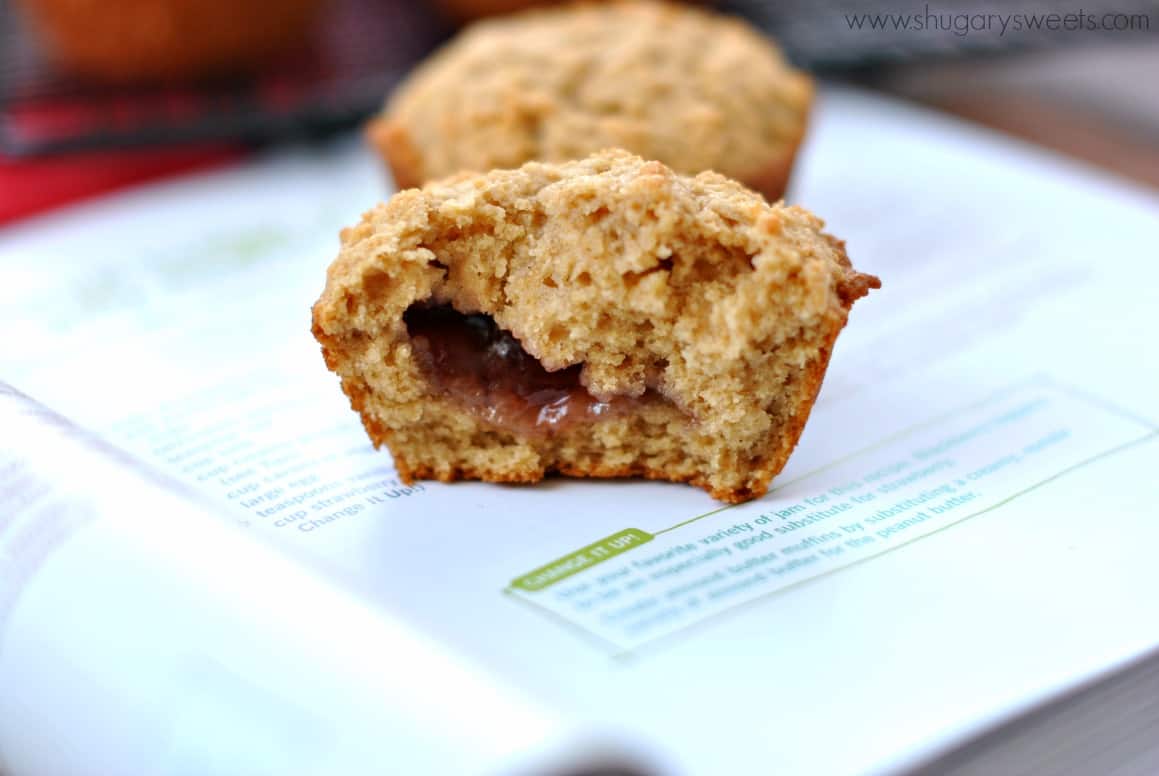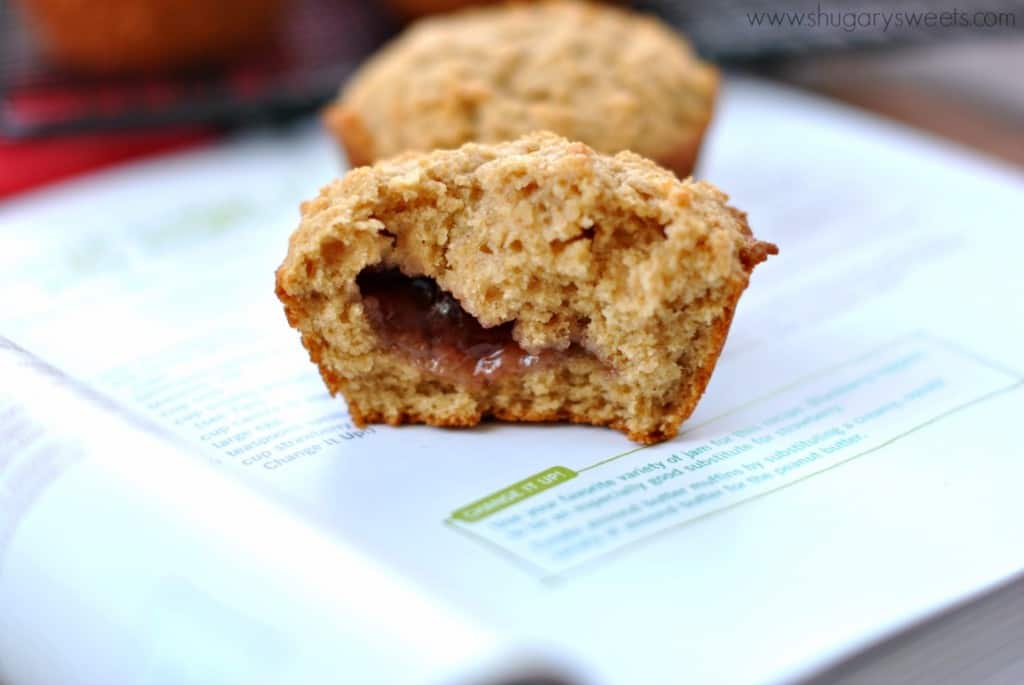 I love how Lori's cookbook is so user friendly. She has "change it up" tips on every recipe to give you a fresh idea using ingredients you may have on hand!
These muffins, as expected, did not disappoint. I love that the recipe made exactly one dozen muffins. Admittedly most of  my recipes call for an odd number of muffins and cupcakes.
For the jelly, I used a natural strawberry preserve to keep the sugar down. However, a couple of my kids thought I should have used either more jelly, or more "sugared" jelly. Yeah, they are my kids, hehe!!
Anyways, I've got great news! Lori and I have teamed up to give one of YOU a copy of her cookbook. How cool is that??? Use the rafflecopter below (you may need to give it a minute to load) and follow the instructions to enter! You've got one week, so enter now…then go back some muffins!
If you don't want to wait to win, go buy yourself a copy on Amazon! Worth it, I promise!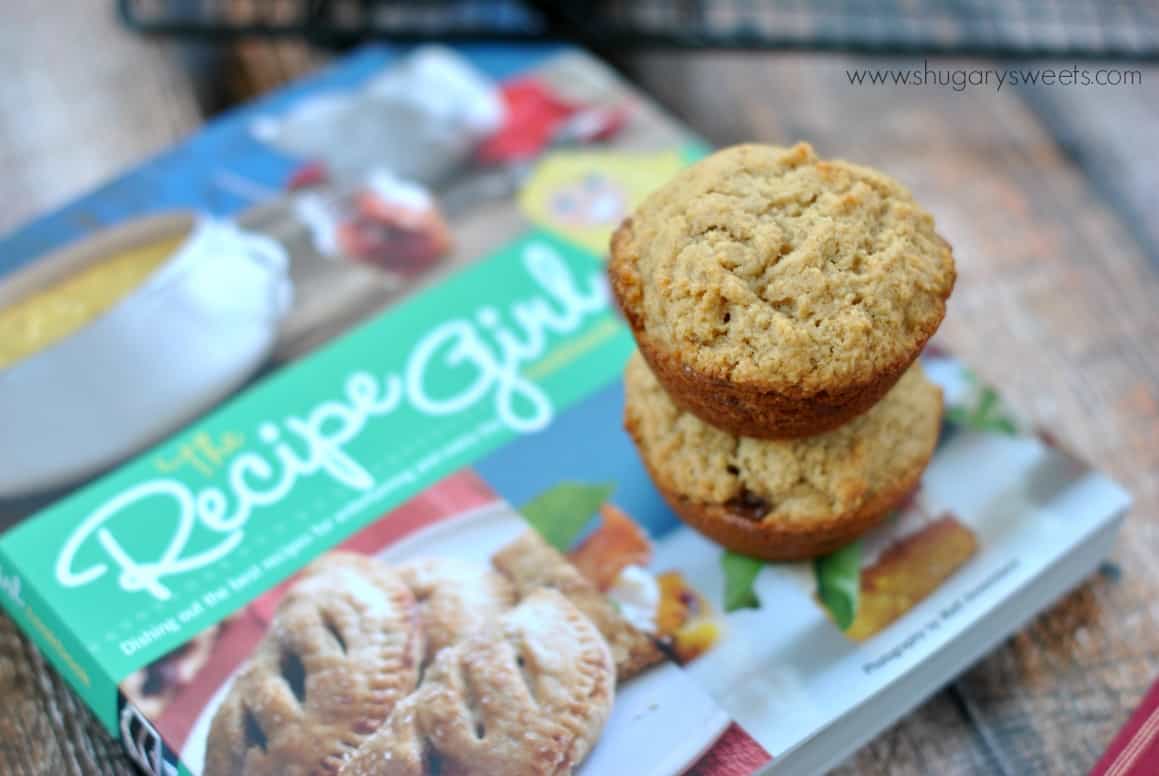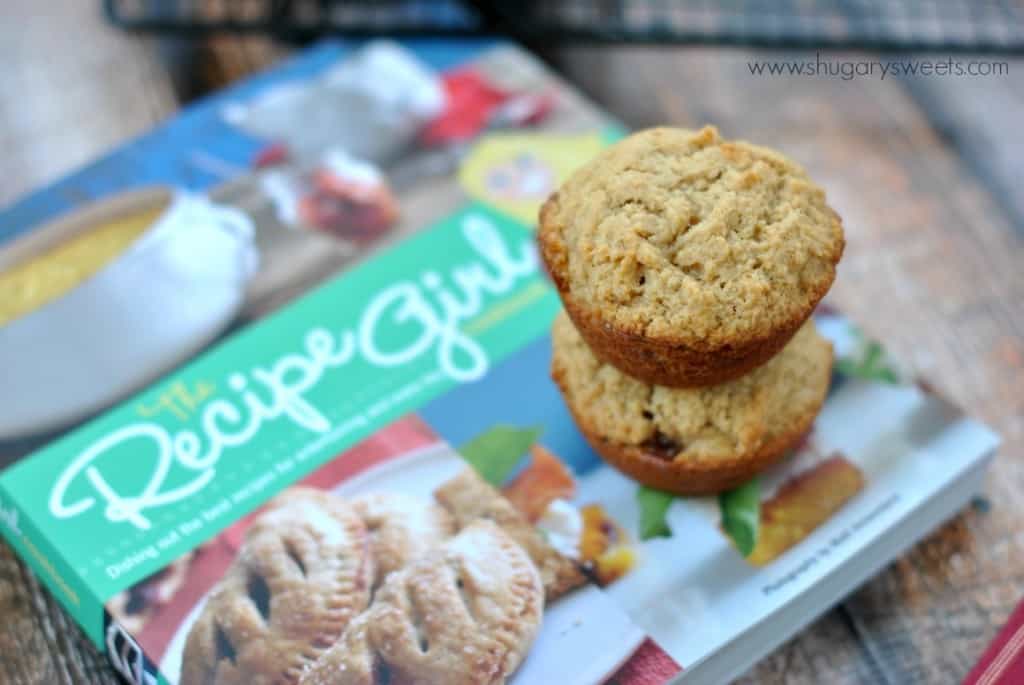 Connect with Shugary Sweets! Be sure to follow me on my social media, so you never miss a post!
Pinterest | instagram | Bloglovin'
Save your favorite recipes to your personal recipe box with the   

  button on all my recipes! Create a Meal Plan with your "favorited" recipes and the ingredients will automatically be added to your own Grocery List!
Yield: 12 muffins
Peanut Butter and Jelly Muffins
Ingredients
1 2/3 cup all-purpose flour
1/2 cup light brown sugar, packed
1 Tbsp baking powder
1/2 tsp kosher salt
3/4 cup milk (I used fat free)
1/2 cup creamy peanut butter
1/3 cup canola oil
1 large egg
1 1/2 tsp vanilla extract
1/2 cup strawberry preserves
Instructions
Spray 12 muffin cups with nonstick baking spray. Set aside.
In a medium bowl, whisk together the flour, sugar, baking powder and kosher salt. Set aside.
In a second bowl, whisk the milk, peanut butter, oil, egg and vanilla together. Stir the wet ingredients into the dry ingredients and mix until combined. Do not over mix.
I used a 2 Tbsp scoop and put batter into the bottom of each muffin cup. Spoon a large teaspoon of preserves onto the batter. Top with remaining batter, dividing evenly among the muffins.
Bake in a preheated 350 degree oven for 20-25 minutes. Remove and cool completely. ENJOY.
Notes
Recipe from The Recipe Girl Cookbook
a Rafflecopter giveaway