Dark Chocolate Brownies layered with mini Rolos and Peanut Butter Krispies. Thanks to Cook's Illustrated for the delicious recipe for the brownie base!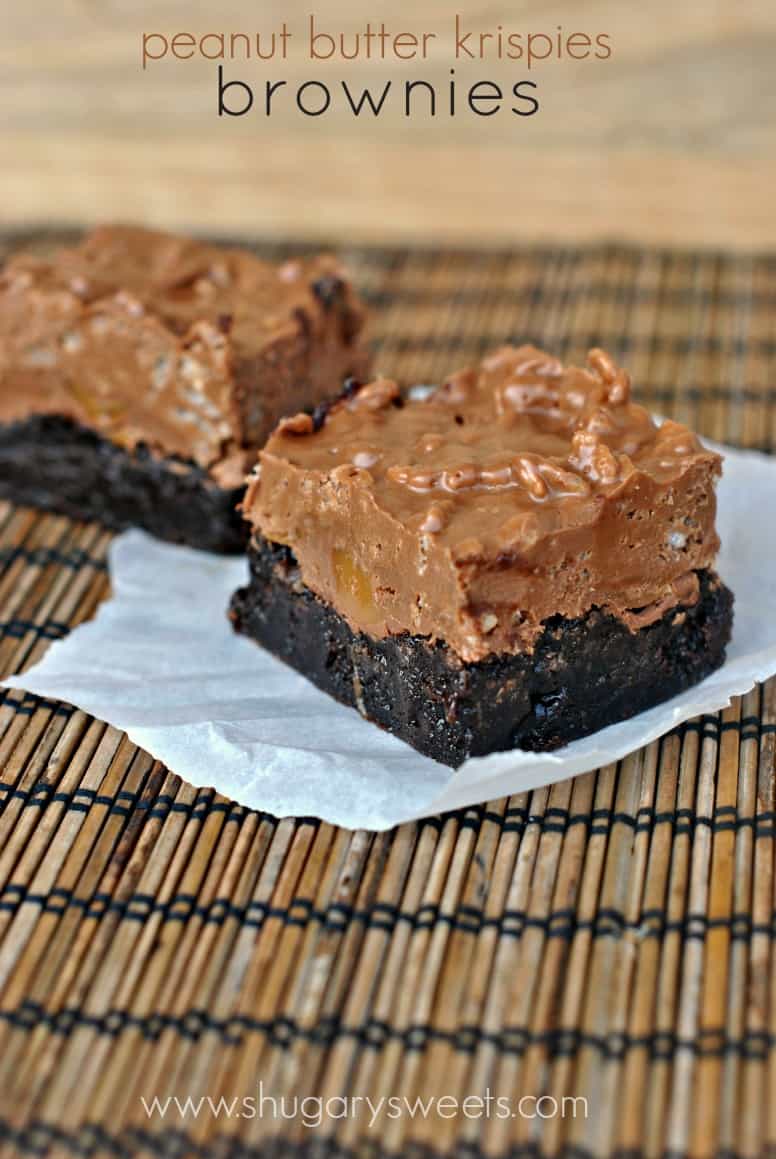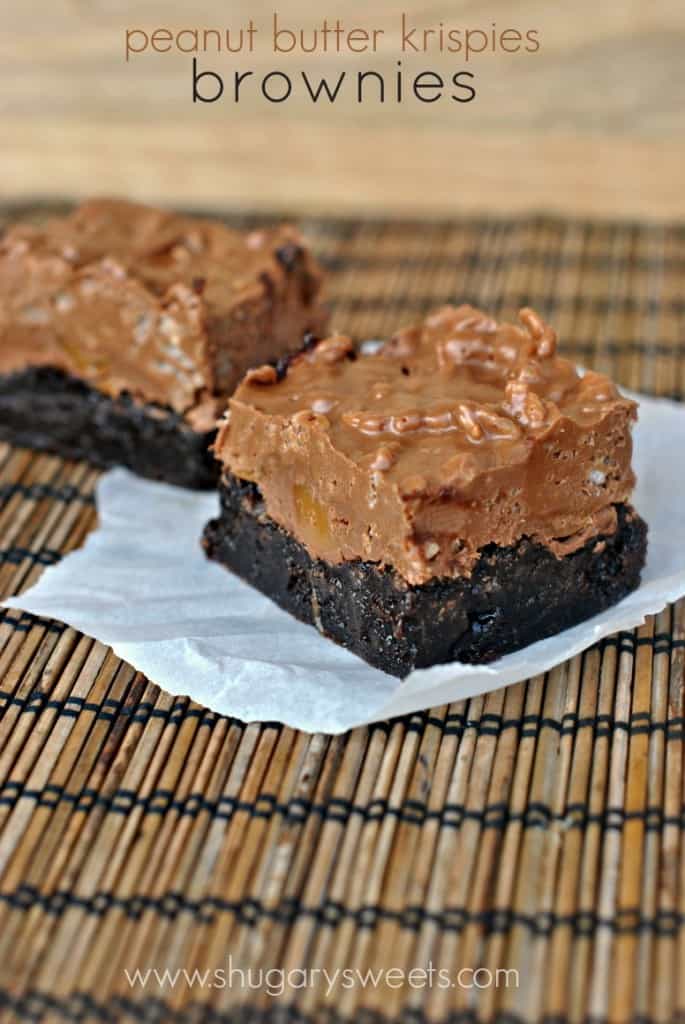 Click HERE to save this recipe to Pinterest!
I'm often asked, where do I get my inspiration for recipes? Seriously, I can't even pin point. They come to me in dreams! I wake up and scribble notes at my bedside.
I keep a list on my phone as I'm walking through a grocery store and an idea may pop into my head.
I go to retreats and hear Chef's talk about products and techniques and stick post it notes all over my computer!
I read dozens of blogs every day.
I subscribe to and read half a dozen food magazines and I have a bookshelf overflowing with cookbooks.
I have spent a lot of money on those cookbooks through the years, only to be sorely disappointed. Some of them are filled with food I would never dream of making, or techniques that are vaguely explained.
Bake the perfect brownies!
When America's Test Kitchen reached out to me and asked if I wanted to review the Cook's Illustrated Baking Book cookbook, I actually jumped at the chance! I have so many friends and family who LOVE their work. And how they explain the what and the why behind using certain ingredients is eye opening!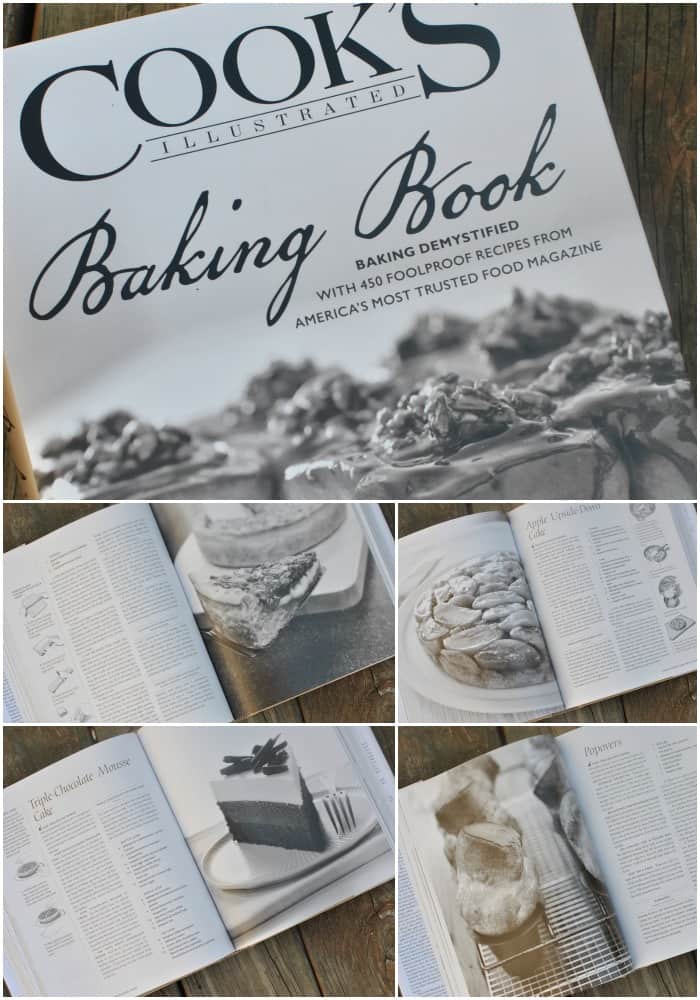 This Baking Book is no different! I am in love with all of the detail put into this book. Seriously, you guys, I kinda feel embarrassed encouraging you to buy this book. You won't ever have to stop by my blog anymore, all the recipes you've dreamed of making are in The Baking Book.
However, I had to find a way to remind you all why I exist.
In my ever loving quest to find the perfect brownie recipe (hey, you can never have too many perfect brownie recipes) I decided to give The Baking Book a try. I am pretty picky when it comes to brownies. I don't like those dried out blocks of chocolate brownies you see in the bakery. I like a gooey, fudgy, undercooked dark chocolate brownie. Any one else?
Today's recipe is the "Chewy Brownies" from page 236. Here are some of the fun tips they tell you about these brownies:
How to make perfect brownies:
for extra chew, add extra yolks
balance the saturated fat of butter with unsaturated vegetable oil
bloom the cocoa powder
for chewiest texture, let brownies cool thoroughly before cutting
use high quality chocolate for best flavor (that's important in all my recipes!!)
To make this recipe even better, I added some Rolo minis on top. And that layer or krispies? It's a peanut butter, chocolate, crispy rice cereal mixture that is amazing!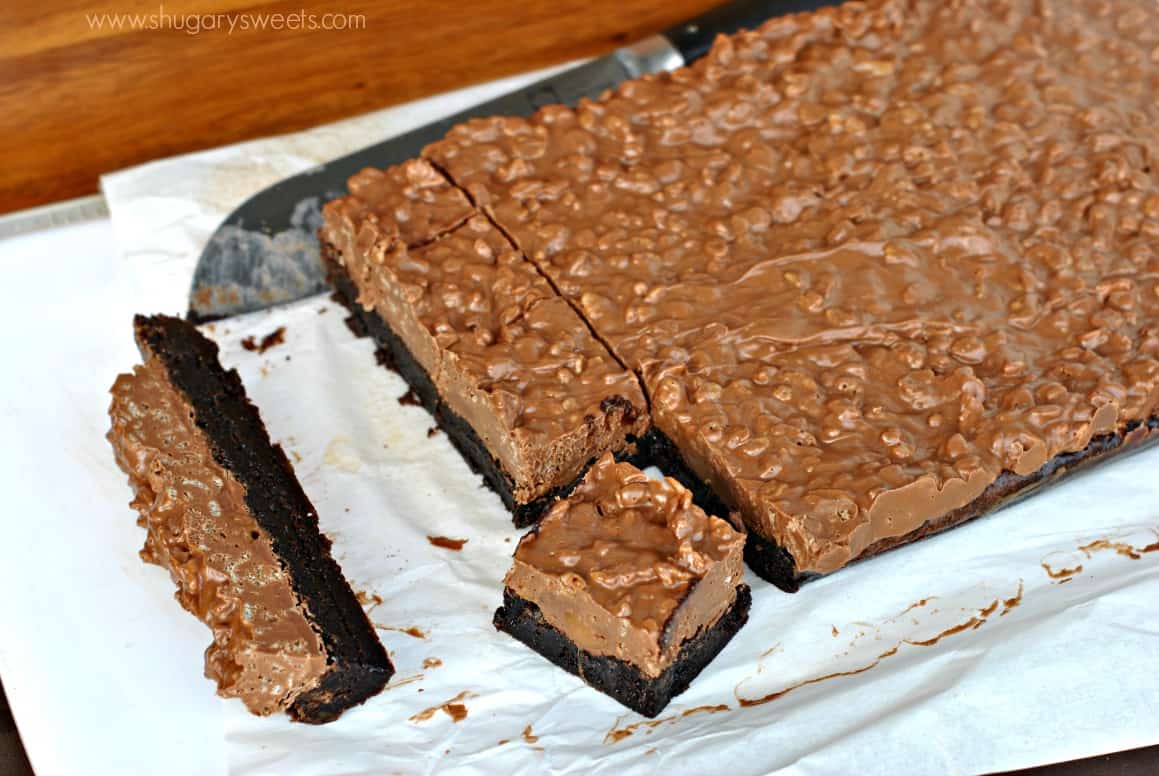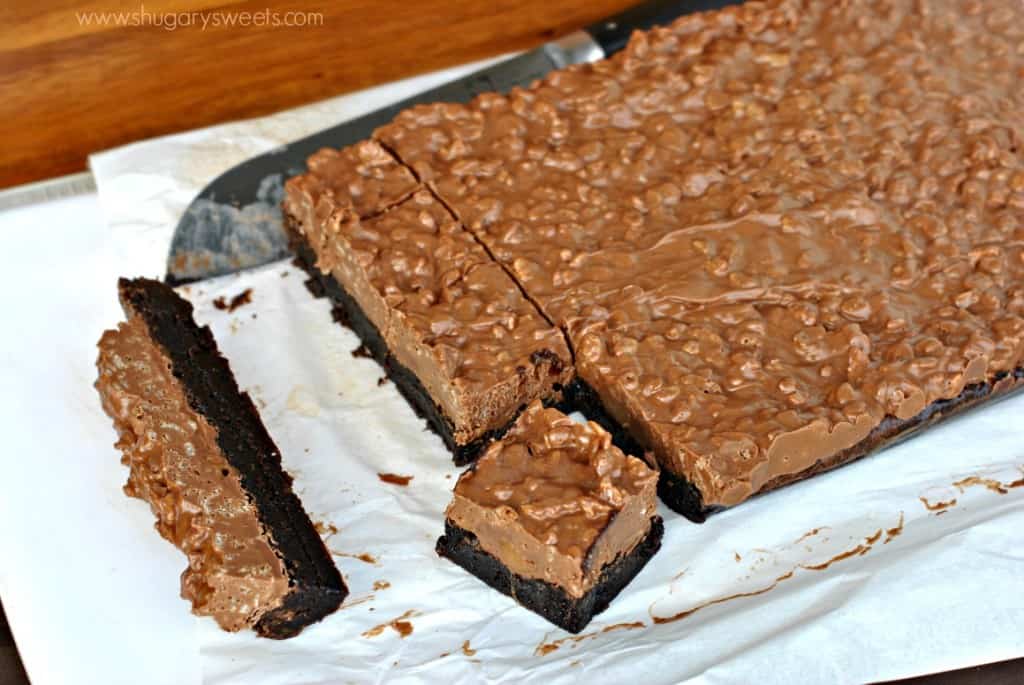 So yes, get a copy of this book for yourself. I highly recommend it! The cookbook is filled with over 450 recipes! 450! But then, be sure to stop by my blog to see my twist and tricks on those recipes, ha!!
Love Brownies? I happen to have a few favorite recipes….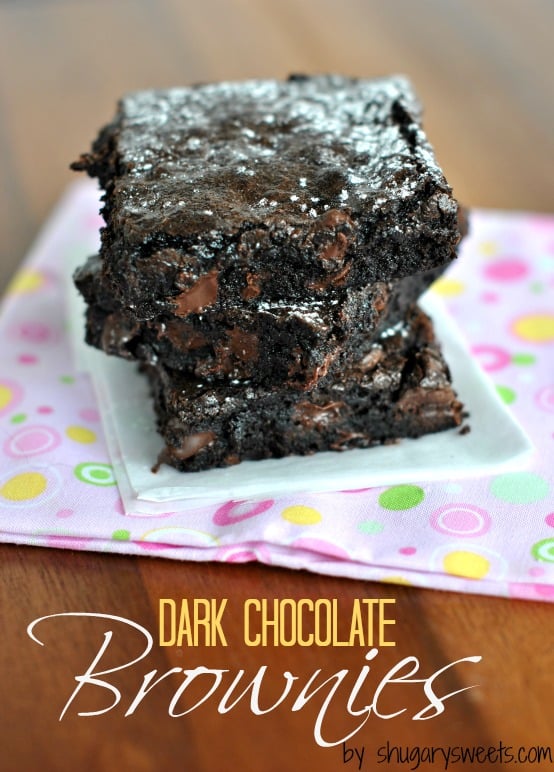 Previously, my favorite Dark Chocolate Brownie recipe!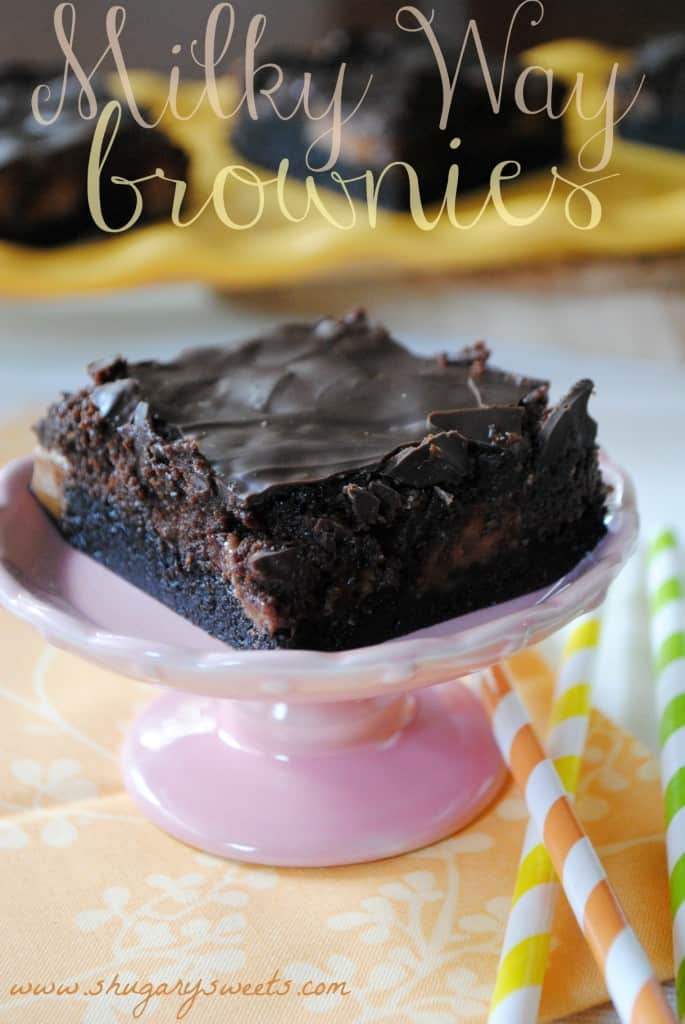 Milky Way Double Fudge Brownies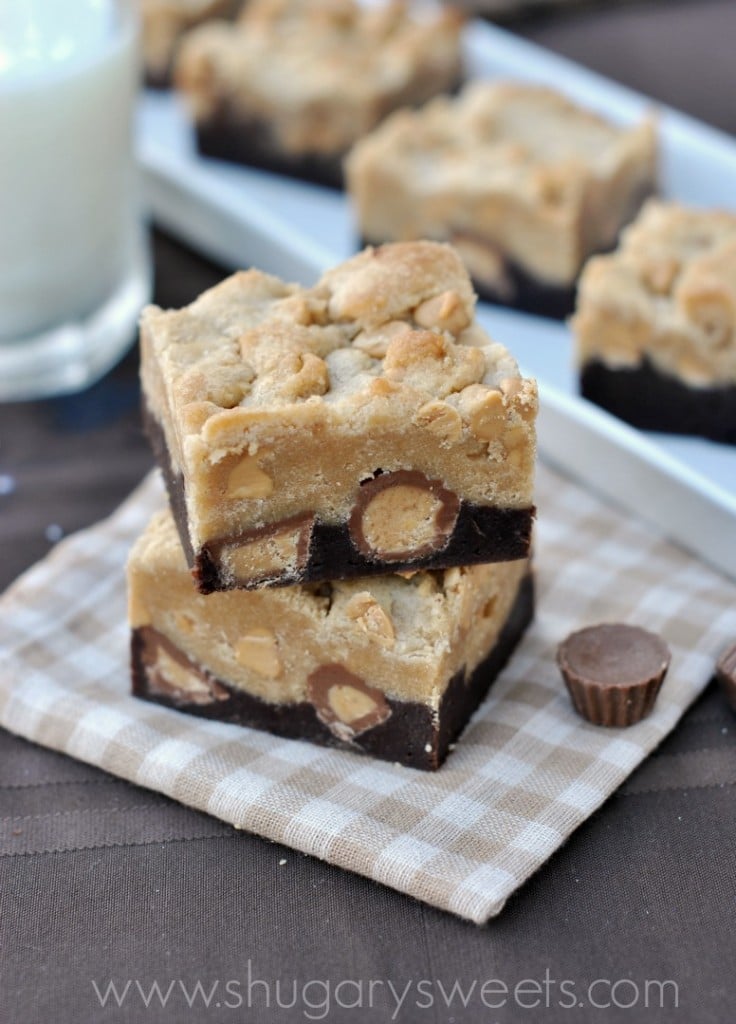 Peanut Butter Brookies: when cookies meet brownies!
I created a fun little group on facebook and I'd love for you to join in! It's a place where you can share YOUR favorite recipes, ask questions, and see what's new with Shugary Sweets (so that you never miss a new recipe)! If you'd like to check it out, you can request to join HERE.
Connect with Shugary Sweets!
Be sure to follow me on my social media, so you never miss a post!
Facebook | Twitter | Pinterest | instagram
Peanut Butter Krispies Brownies recipe:

Today's recipe for Peanut Butter Krispies layered Brownies was originally published on Shugary Sweets on October 14, 2013 and has been republished in September 2018.
**I was provided a copy of the book, Cook's Illustrated Baking Book. No other compensation was received. All opinions expressed are, as always, 100% my own!