Love Peanut Butter? This Fudge is meant for you! Triple Peanut Butter in this Peanut Butter Lover's Fudge recipe!
Be sure to follow me on Bloglovin'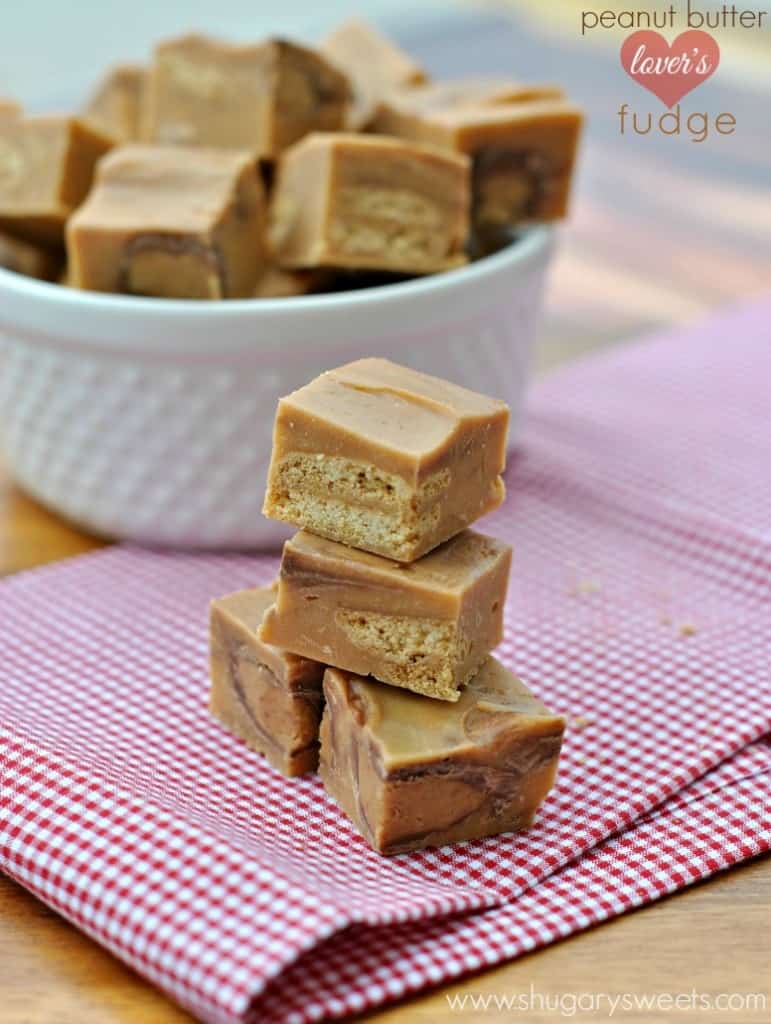 You asked for it, here it is. A delicious, easy, peanut butter fudge recipe. Oh wait, what? I have one of those recipes?
Well then, let's TRIPLE the peanut butter flavor in one incredible recipe.
Remember back in the fall when I made this Halloween Fudge Ring? I used that same recipe, switched some of the ingredients out for Peanut Butter, and poured it into a square pan (instead of a springform). You can totally use the technique in that recipe though if you like the idea of serving this fudge as a ring shape!
I made this recipe back in December to take home for the Christmas holiday. Needless to say it was a big hit. The crunchy Nutterbutter Cookie Bites combined with the soft Reese's peanut butter cups are the perfect pairing.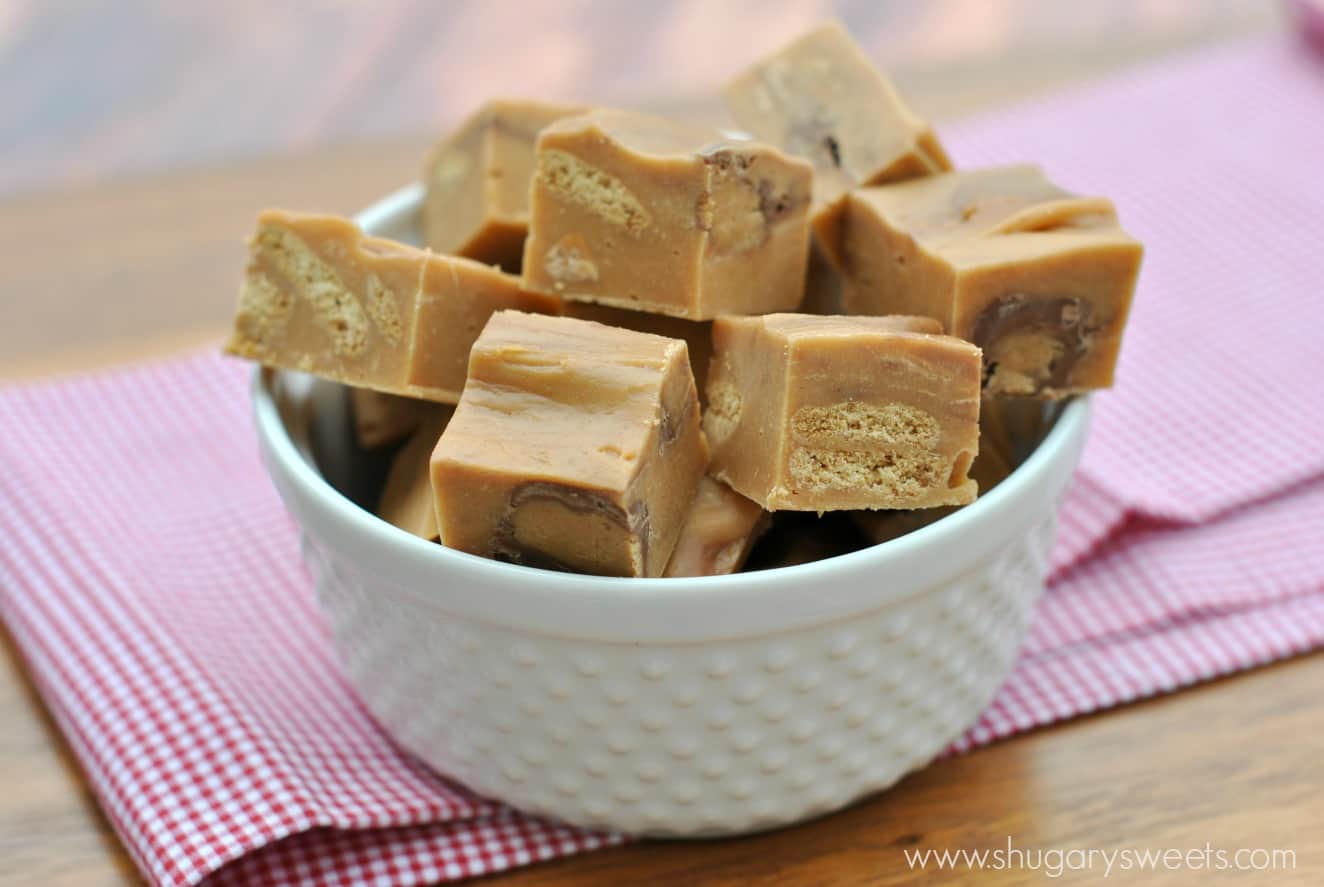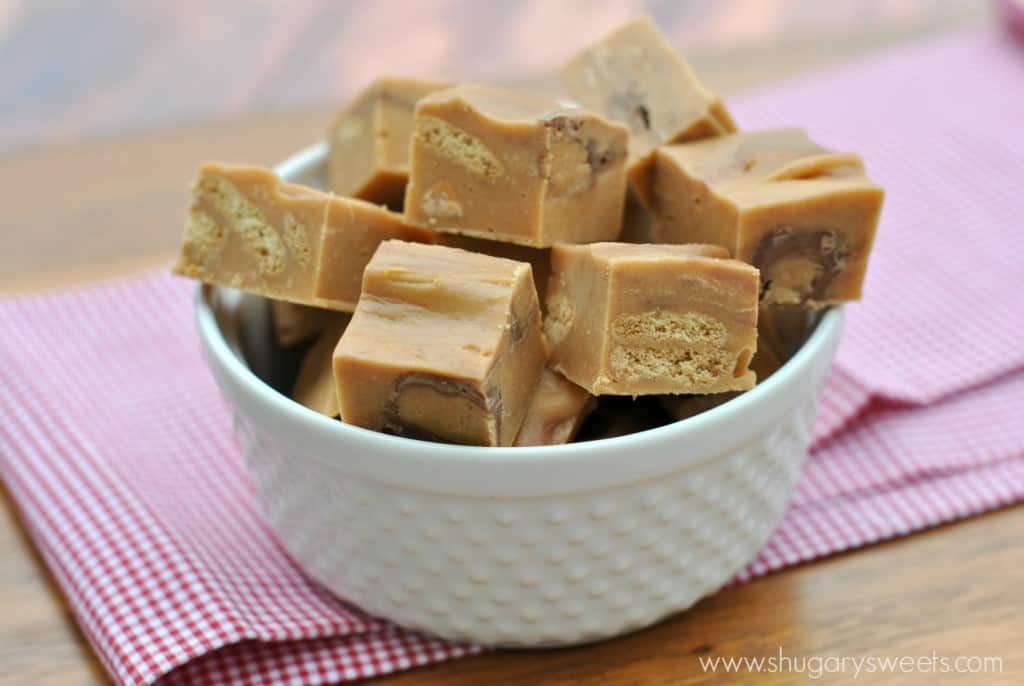 I almost thought about adding a layer of dark chocolate ganache….like I did in the Pistachio Fudge and this Cherry Fudge, but decided to keep this recipe strictly peanut butter. I'm so glad I did too, because ain't nothing going to take away the spotlight in this recipe!!
I know I have a lot of fudge recipes here on the website. Including a couple peanut butter fudge recipes. However, this one is totally easy. No boiling. No candy thermometer. No headache. Just a bunch of easy ingredients to combine in one delicious recipe!
And, with the big day of love coming up soon, wouldn't this make a lovely gift for that someone special in your life? Unless of course they hated peanut butter. Or if they're allergic. Then that would be bad. So don't make it for them.
But, if they LOVE peanut butter, give this easy recipe a try! Package it up in a large mason jar with some ribbon! ENJOY!
Connect with Shugary Sweets! Be sure to follow me on my social media, so you never miss a post!
Pinterest | instagram | Bloglovin'
Yield: 64 pieces
Peanut Butter Lover's Fudge
Prep Time
3 hours
15 minutes
Ingredients
10oz package peanut butter morsels
1 cup butterscotch morsels
1 can (14oz) sweetened condensed milk
1 cup chopped Nutter Butter Cookies
18 Reese's miniature peanut butter cups, cut into fourths
Instructions
Prepare your pan by lining an 8 or 9 inch square baking dish with foil. Set aside.
In a small saucepan, heat peanut butter morsels, butterscotch and condensed milk over medium heat until all the morsels are melted.
Stir constantly until smooth. Remove from heat.
Fold in chopped cookies and chopped peanut butter cups. Pour into prepared pan. Cover with plastic wrap and refrigerate about 3 hours until firm. Cut into bites and enjoy!
Store in an airtight container in the refrigerator for up to two weeks.
Let's explore some more of my favorite Peanut Butter recipes….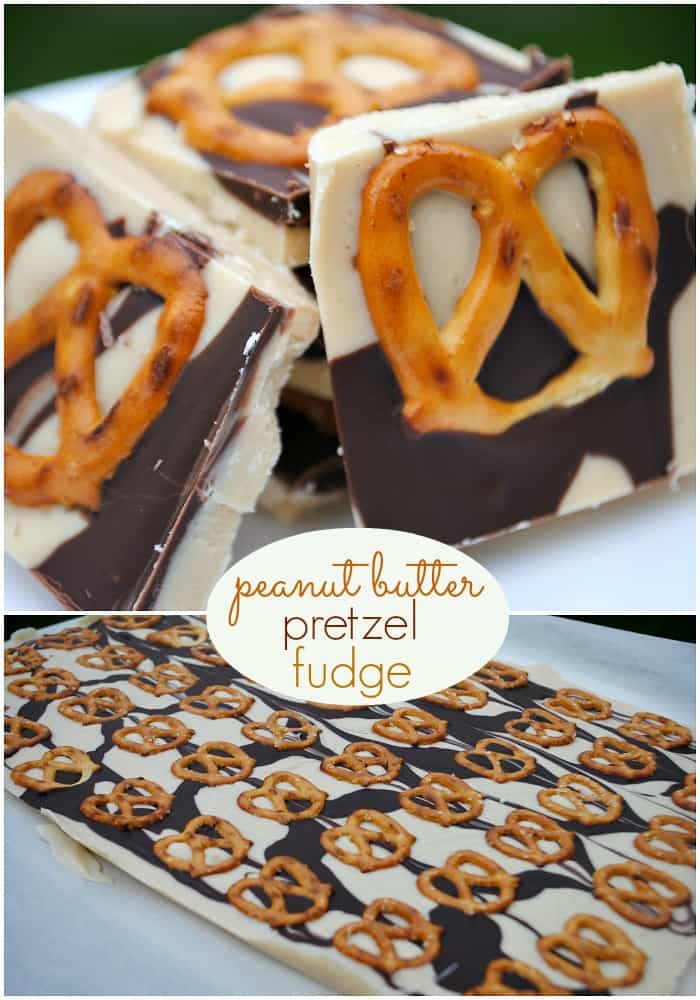 Super easy Peanut Butter Pretzel Fudge (aka Tiger Butter)!!!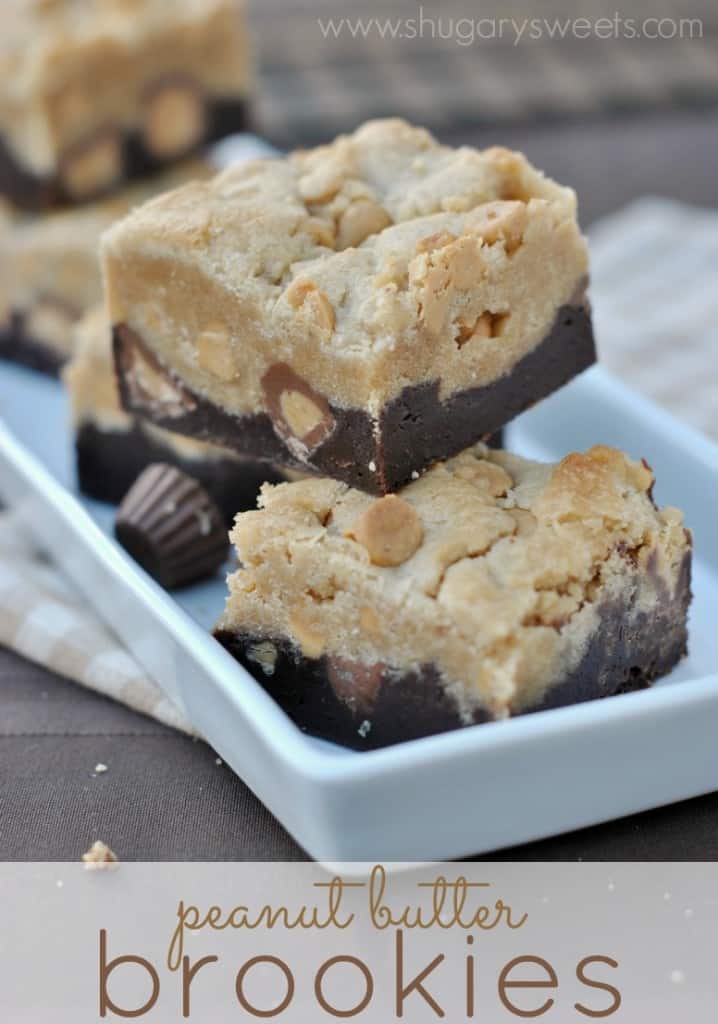 Peanut Butter Cookies meet Brownies in this delicious recipe!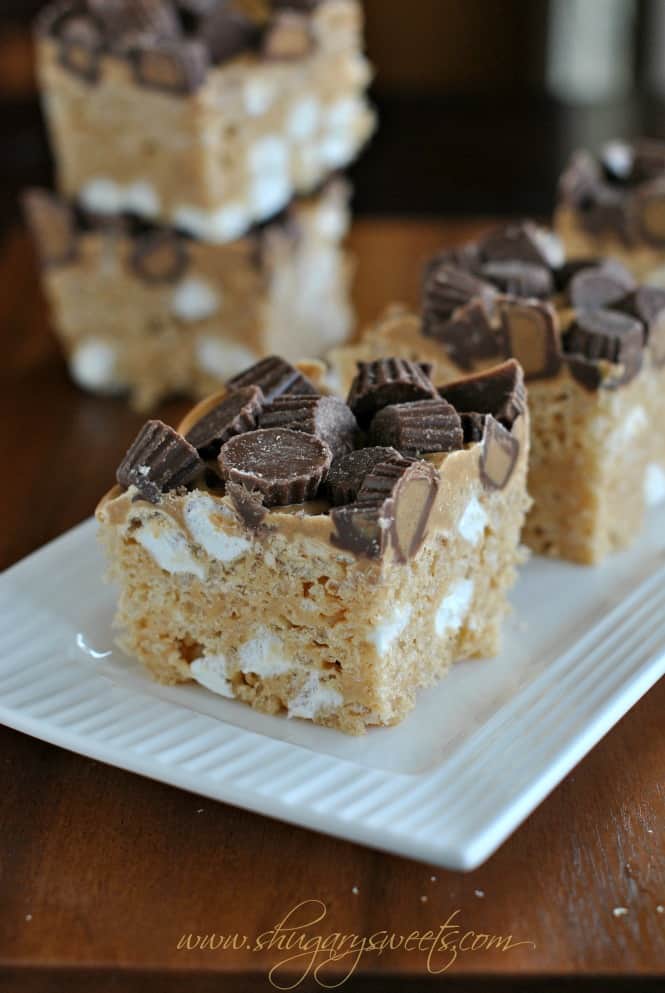 Fluffernutter Rice Krispie Treats...peanut butter and marshmallow collide!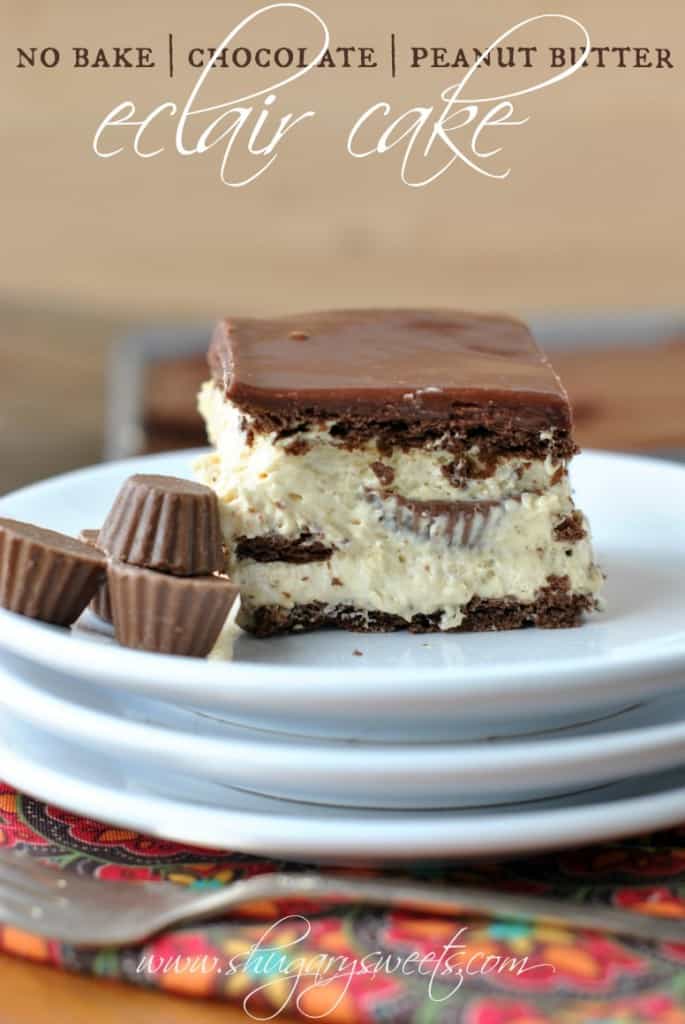 No Bake Peanut Butter Eclair Cake