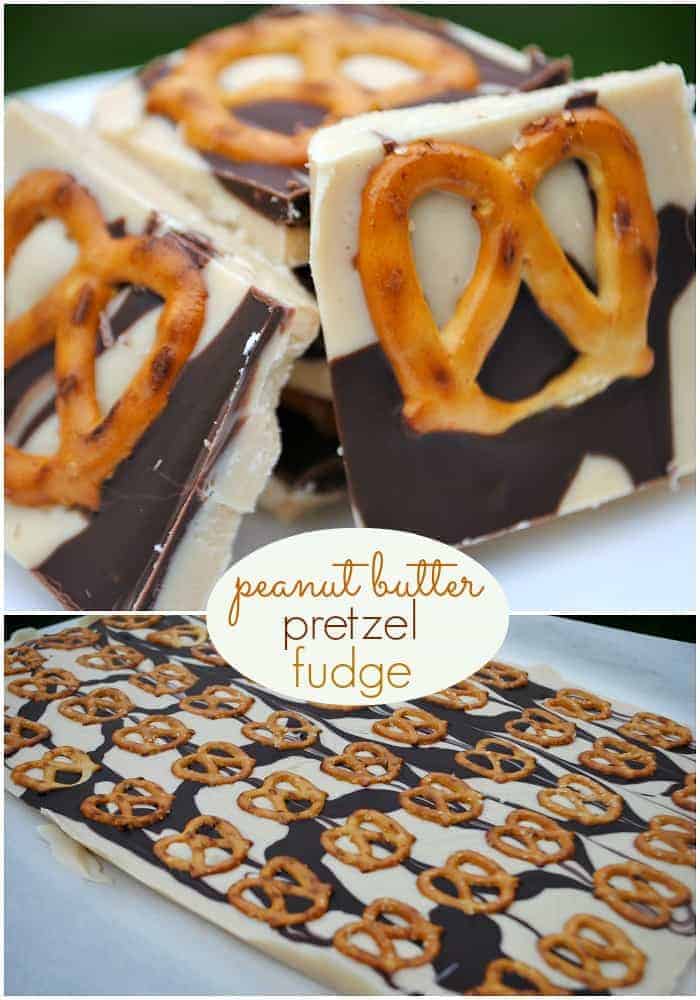 Have you ever been to a good chocolate store? I like to visit and get ideas. Is that odd? Back in Illinois I used to frequent Rocky Mountain Chocolate Factory. Oh yum. You may remember me making these treats. Well, have you heard of Tiger Butter? It's basically a peanut butter and chocolate fudge treat.
I have taken it a step further and added in the pretzels. Why not?
These are so easy to make. I just cut them into squares and they are a perfect sweet treat to put in the kid's lunchboxes! Hope you enjoy them as much as we are!
Peanut Butter Pretzel Fudge
Ingredients
2- 11oz bags quality white chocolate morsels (I used ghiardelli)
1/2 cup creamy peanut butter
4 oz milk chocolate (good quality)
80 mini pretzel twists
Instructions
Melt white chocolate and peanut butter together until creamy. I do this in the microwave. Starting at one minute, stir, add 30 second intervals of heating, then stirring until smooth. Spread on parchment lined cookie sheet.
Melt milk chocolate and drizzle over white chocolate. Using knife you pull chocolate so that the two blend together. Immediately press in pretzel twists. Allow to cool and set. Cut into squares. Eat and enjoy!