Pepper Steaks with Sauteed Zucchini
This may be hard to believe, but we do eat real food in our house. Not just junk. And treats. And "Shugary Sweets."
We like meat. LOVE meat I should say. Two years ago we found out that the farm behind our home sold their cattle for beef locally. Meaning, I called them and they took a cow to the butcher and I have hundreds of beautiful white packages in my freezer. We have now done this 3 times in the past two years. It is the most amazing meat too. I think it's good to know where it's come from as well.
Which leads me to the steak. I used 4 T-bone steaks to make this dinner, but then we sliced the meat so we can all share (there are 6 of us). Within about 3 minutes the meat was GONE. I don't think anyone talked, swallowed, or chewed for that matter. It's so good and buttery, and tender.
I just cooked it in a big skillet on the stove top, but you could easily put it under the broiler or on the grill. It was too hot to cook outside or turn on the oven. Plus, I'm lazy like that. I can stand in one place and make all the sides too!
Speaking of sides, my garden is exploding with zucchini this year and I couldn't be more thrilled! You, my faithful viewers, will find yourself reading several zucchini recipes in the upcoming weeks! Or, if your garden is exploding right now, you can make Crunchy Zucchini Bread or Cinnamon Frosted Zucchini Bars today and wait for the other recipes with your next batch! Enjoy.
Pepper Steaks with Sauteed Zucchini
Ingredients
1/4 cup olive oil (for heating pan)
2 Tbsp butter
4 T-bone steaks (or your favorite cut, 1/4-1/2 inch thick)
4 Tbsp grill seasoning mix
3 cloves garlic, chopped
1 small onion, sliced thin
1/2 tsp salt
2 zucchini, sliced thin
2 roma tomatoes, seeded and cut in thin strips
1/2 cup parsley, chopped
1 Tbsp ground mustard powder
1 cup chicken broth
3/4 cup heavy cream
Instructions
Heat large skillet with about 1 Tbsp olive oil and butter. Season steak on both sides with grill seasoning. Add steaks to skillet and cook about 6 minutes per side. Remove from skillet.
While steaks are cooking, in separate skillet, heat 2 Tbsp olive oil. Add zucchini and cook for 2-3 minutes without stirring. Stir and add in garlic, 1/2 onion and salt. Cook 5 minutes, stirring occasionally. Add tomato and 1/2 parsley. Cook about 1-2 minutes until veggies are hot.
Meanwhile, after steak is finished, remove and add 1 Tbsp olive oil to pan with dry mustard and 1/2 onion. Cook 1-2 minutes, add stock and cream and cook about 3-4 minutes until thickened. Add remaining parsley.
To serve, slice steak and drizzle sauce over the meat. Serve with cheesy garlic biscuits and sauteed vegetables. Enjoy!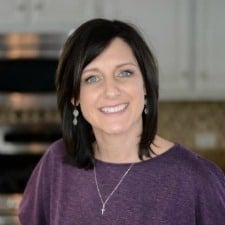 Aimee is a dessert lover (specifically rice krispie treats), workout enthusiast, self-taught foodie, and recipe creator. Her recipes have been featured in over 15 magazines, and her passion is to share her love of cooking with the everyday home cook! Learn more about Aimee.