Peppered Lime Chicken with Avocado Salad and Creamy Lime Dressing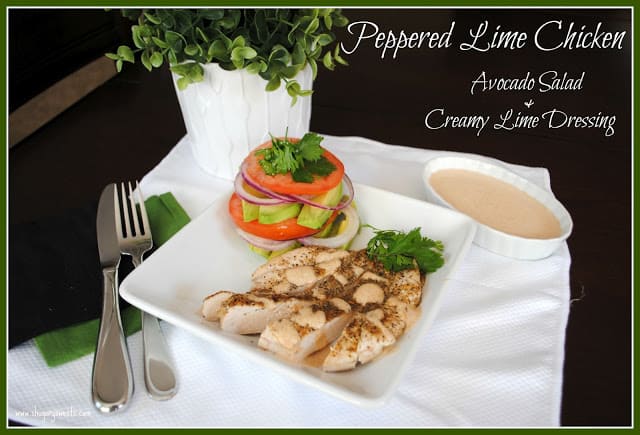 These are my favorite kinds of dinners, the ones that just sort of happen. Here's how this one happened:
I'm on the treadmill, running at a 7.8 speed (yes, I exaggerate a little bit, but can you prove otherwise?), and I'm watching the television that plays at the gym. Suddenly a commercial for California Avocados appears and I'm thinking, "get in my face now."
I slowed my speed, grabbed my handy little iPhone and wrote a shopping list on my notepad, all while running at a slow 6.5 mph pace.
Wow, all the running talk makes me tired.
Back to the recipe….this is one delicious springtime dinner. I drizzled the creamy sauce on my chicken, and then dipped my "deconstructed guacamole" into the dressing as well. Then I think I slurped the remaining sauce with a straw. True story.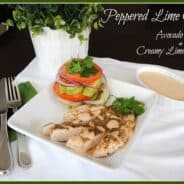 Peppered Lime Chicken with Avocado Salad and Creamy Lime Dressing
Ingredients:
For the Chicken:
6 boneless, skinless chicken breasts
1 pinch crushed red pepper flakes
For the Avocado Salad:
2 large tomatoes, sliced thin
2 avocados, cored, sliced
1 small red onion, peeled and sliced thin
For the Creamy Lime Dressing:
1 tsp worcestershire sauce
2 cranks fresh ground black pepper
1 pinch crushed red pepper flakes
Directions:
For the chicken, mix pepper, salt, onion powder, garlic powder, coriander, red pepper and cumin together in a small bowl. Put chicken breasts in large ziploc bag and pound to 1/4 inch thin.

Lay chicken breasts on foil lined baking sheet. Sprinkle generously with pepper mixture. Juice half a lime and drizzle over chicken. Bake in a 375 degree oven for 15-20 minutes, until fully cooked.

Meanwhile, make dressing. Whisk together the dressing ingredients until smooth, set aside.

To serve, layer avocado salad with slices of tomato, onion and avocado. Sprinkle with kosher salt, cilantro and juice of lime. Serve with chicken and a side of creamy lime dressing. Enjoy!
MAKING THIS RECIPE? Share it with me on Instagram using the hashtag #ShugarySweets so I can see what you're cooking up in the kitchen!