Peppermint Cheesecake Trifle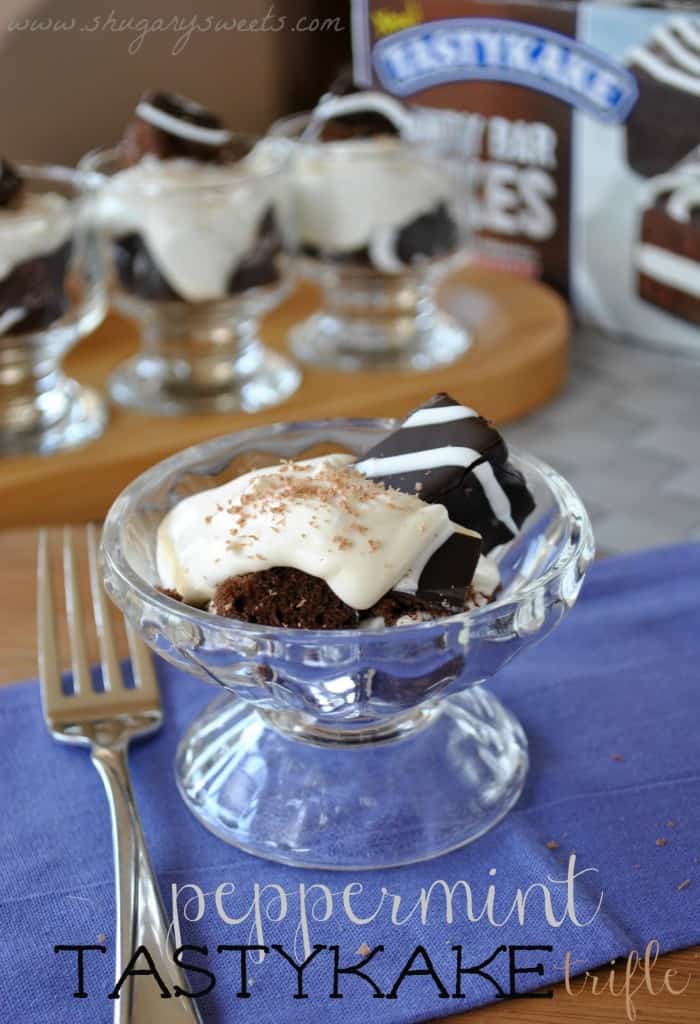 I am not the best cook in the world. Dinner at our house is usually some sort of comfort food that I grew up making. Meat, potato, veggie, bread. Sometimes I get all creative and make something wonderful and new, but usually we have some classic standbys.
So when company comes over, I pull out those new and wonderful foods to try to impress. Usually though it's my desserts that leave the lasting impression.
So imagine my dilemma when I spent an entire afternoon making a wonderful meal for family, only to realize I FORGOT TO PLAN DESSERT!
Enter: Tastykakes.
Have you tried these yet? I know, you think they are just kids lunch snacks. My friends, these are so much more. Adult friendly!
Tastykake has teamed up with Hershey's chocolate to bring you the most moist snack cakes on the market (in my opinion). Not only do they have Hershey's chocolate in them, but they have paired them with other candy bar flavors…Reese's, York Peppermint, and S'mores.
When I realized I had not planned dessert, and I checked my pantry, I found a box of Peppermint Tastykakes. I chopped them up and made a creamy cheesecake filling. Once assembled, these were delicious and impressive individual trifles! And it only took me about 15 minutes! I stuck them in the fridge so they could chill while we ate dinner! I hope you enjoy them too!
Tastykake is also holding a fun sweepstakes over on their facebook page! Give them a like and tell them I sent you!
Peppermint Cheesecake Trifle
Ingredients
1 box (8.5oz) Tastykake Peppermint Kandy Bar Kakes
4 oz cream cheese, softened
1/4 cup sweetened condensed milk
2 oz cool whip (1/4 of an 8oz tub)
1/8 tsp peppermint extract
Instructions
Chop each tastykake into 8 pieces. Using 8 individual sized bowls (about 4 oz sized), put a few pieces of cake in the bottom. Set aside.
Beat cream cheese with milk for 5 minutes. Beat in extract. Fold in the cool whip. Divide evenly among bowls, spooning it on top of the chopped tastykakes. Top with remaining kakes. I sprinkled a little bit of grated chocolate on top for garnish, totally optional!
Disclosure: I was given Tastykake samples and compensated for this post. HOWEVER, all opinions are my own!
Linked To: