Pomegranate Scones with #AmericasTea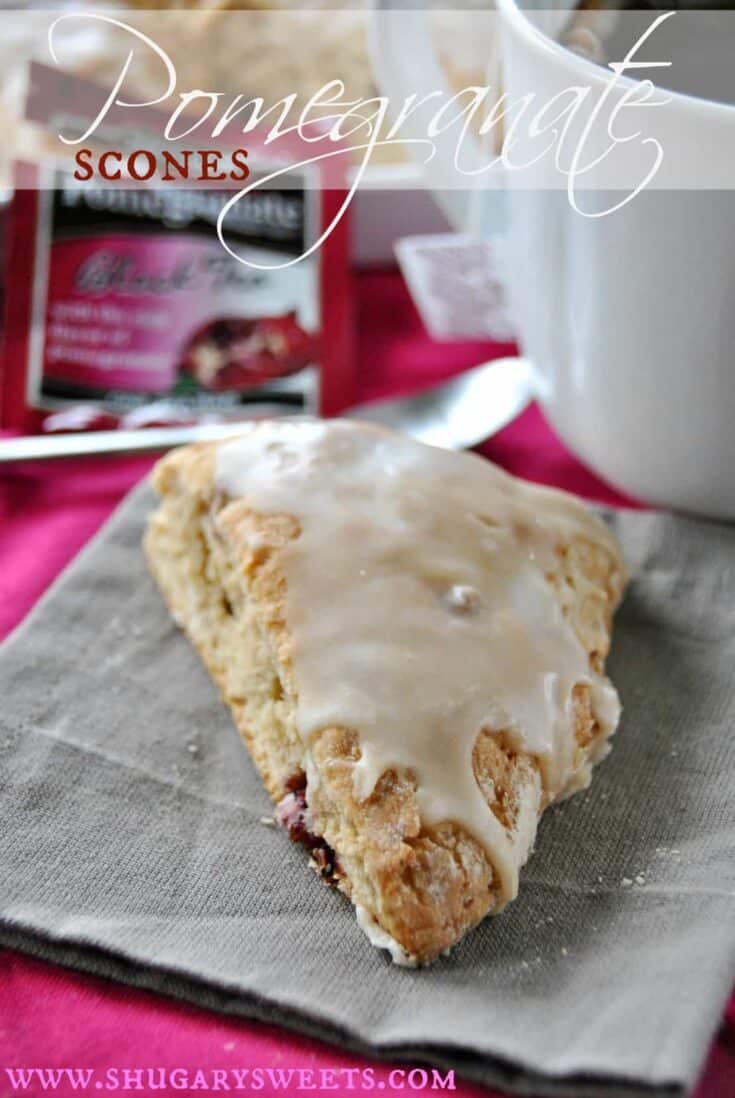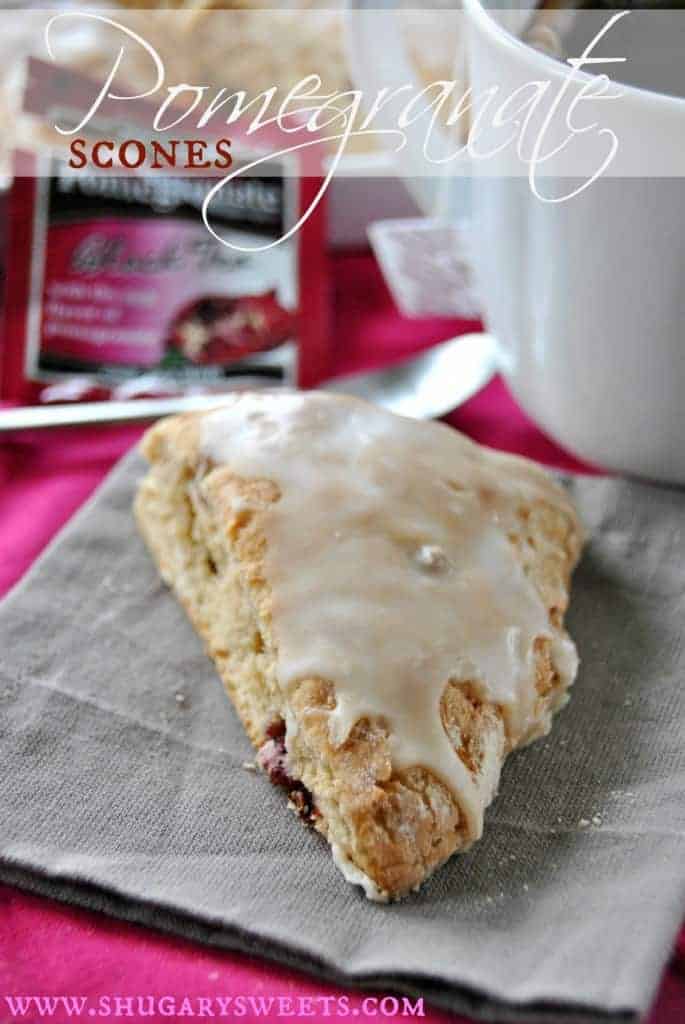 My husband and I have this nightly ritual of getting our kids tucked in and enjoying a cup of tea. We may not necessarily sit near eachother, one of us (AHEM, me) might be on the computer while the other is reading a book. But we enjoy our tea in this house! His favorite is Earl Grey. Mine is anything fruity.
I enjoy drinking green tea throughout the day, I heard it's good for you! I've even replaced some of my cups of coffee with green tea! So when I was asked to try Bigelow tea I knew I was going to love it.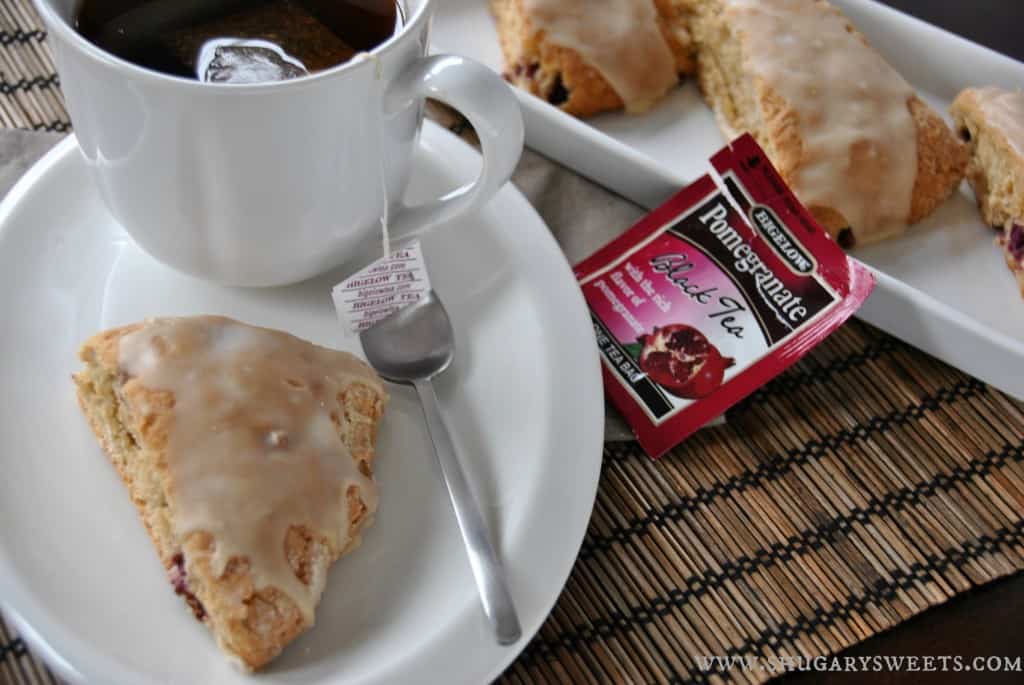 Because I already drink it! I love how each packet is individually wrapped. I like to keep a bowl of assorted teas on my counter so I can choose which one I'm in the mood to drink (my hubs is always in the mood for Earl Grey, have I mentioned that yet?)! I also love that Bigelow is a family owned company. The Constant Comment flavor (which is one of my favorites) is their original tea and brand name. The company has such a deep family history that I enjoyed learning more about, HERE. Walmart has a great selection of all their flavors at a great price, in case you're interested! You can see my shopping experience HERE.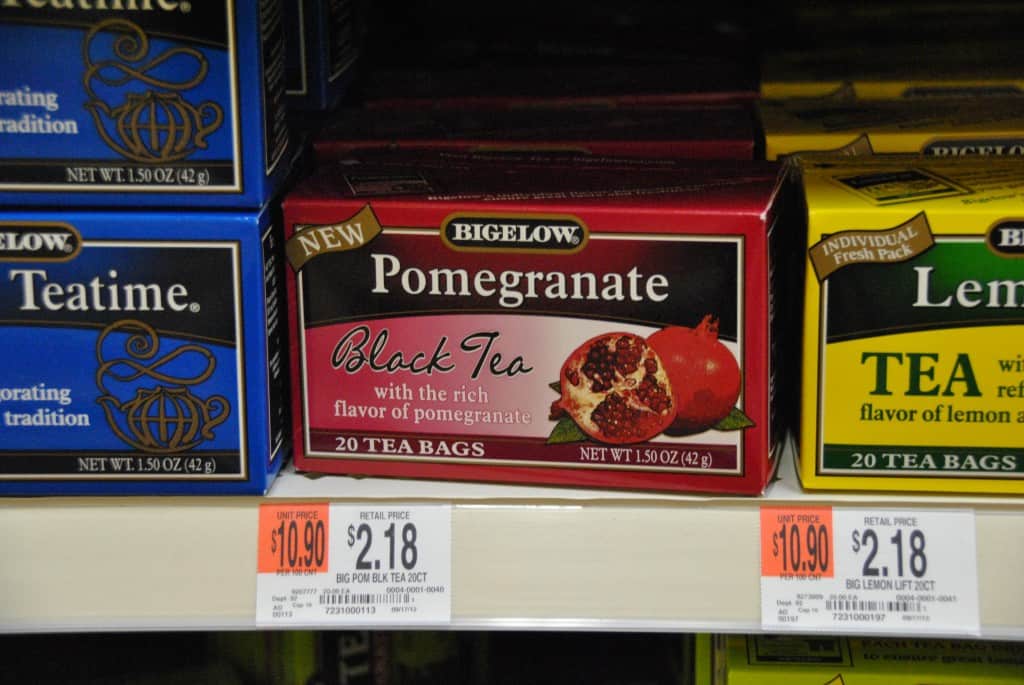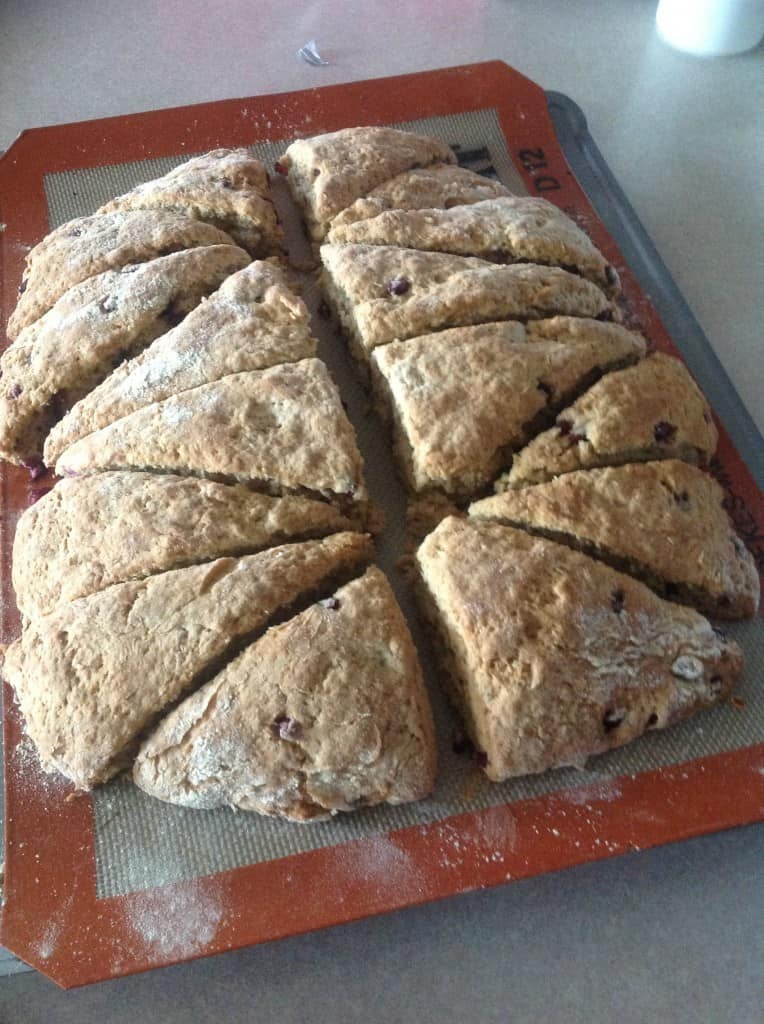 I don't make scones very often. I have always been a coffee drinker and biscotti pairs so nicely with coffee. But since I'm trying to drink more tea (and I can't give up my sweet tooth) I thought I would create a delicious scone for you to enjoy. Look how fluffy these came out! Better than Panera's Orange Scone. In case you were wondering.
Pomegranates are in season right now, so it was a perfect choice to pair with the Bigelow Pomegranate Tea. I infused some of the tea into the scone AND the glaze. I also used greek yogurt to add some nice texture to these scones. I think you are going to love them!
I know when it was my turn to make tea the other night, it was a nice surprise for my husband to see a plate of these show up!
Connect with Bigelow Tea:
Website | Facebook | Twitter | Blog
Yield: 16 scones
Pomegranate Scones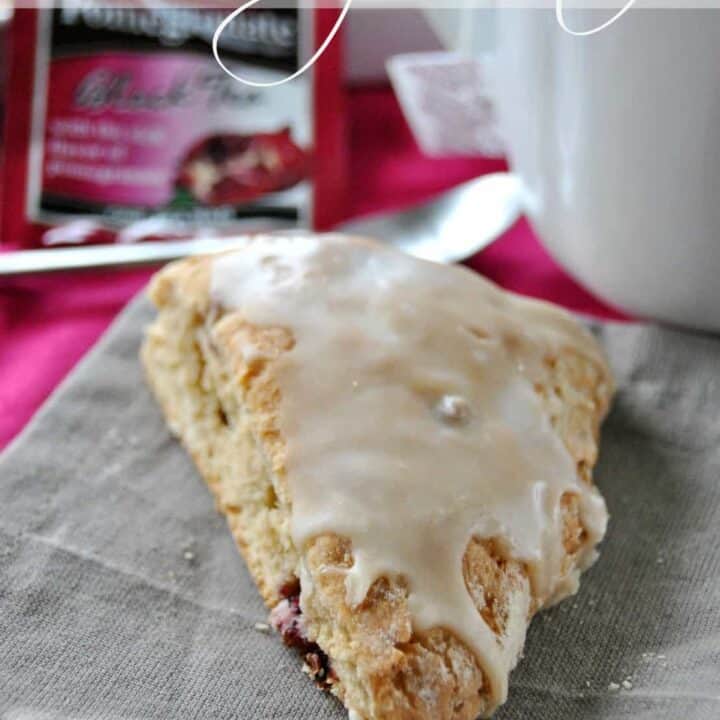 Prep Time 30 minutes

Cook Time 40 minutes
Ingredients
For the Scone:
3 cup all purpose flour
3/4 cup granulated sugar
1/4 tsp kosher salt
1 Tbsp baking powder
3/4 cup unsalted butter, cubed
2 eggs
1/2 cup plain Greek yogurt
1/2 cup tea (see note below)
2 tsp vanilla extract
1 pkg (4.3oz) Pom Poms Wonderful fresh arils (pomegranate seeds)
For the Glaze:
1 1/3 cup powdered sugar
3 Tbsp tea (See note below)
Instructions
NOTE: Prepare tea for scones by boiling 1/2 cup water. Add 4 Pomegranate Bigelow tea bags and steep for 3-4 minutes. Set aside.
Meanwhile, combine flour, sugar, salt and baking powder in a large mixing bowl. Add in butter (I used the beater blade of my mixer- you can also use a pastry cutter). Mix until it resembles course crumbs.
Add in eggs, greek yogurt, 1/2 cup pomegranate tea and vanilla. Combine completely. Fold in pomegranate seeds.
On a large baking sheet with parchment paper (or silpat), shape dough into a large rectangle using your hands. I dusted my hands with extra flour to keep it from sticking to me.
Press your rectangle to about 1/2 inch to 3/4 inch thick...mine measured about 12inx8in. Cut into 3 even sections vertically, and cut in half horizontally. You will now have 8 squares. Make 2 large X's on each half of the dough, resulting in 16 triangles. bake in a 350 degree oven for 35 minutes. Remove from oven and using a pizza cutter, slice again over your previous cuts. Return to oven for an additional 5 minutes.
Remove and cool completely before applying glaze.
For the glaze: boil 1/2 cup water with 4 pkg of tea bag and steep for 3-4 minutes. Remove 3 Tbsp of tea and add to a bowl with the powdered sugar. Whisk together until smooth (discard remaining tea). Spoon glaze over each scone, allow to set, about 30 minutes. ENJOY!
I am a member of the Collective Bias® Social Fabric® Community.  This shop has been compensated as part of a social shopper insights study for Collective Bias® and Bigelow Tea #CBias #SocialFabric #AmericasTea"