Pumpkin Blondies
Chewy Pumpkin Blondies with White Chocolate, Toffee Bits and Pumpkin Spice Hershey Kisses.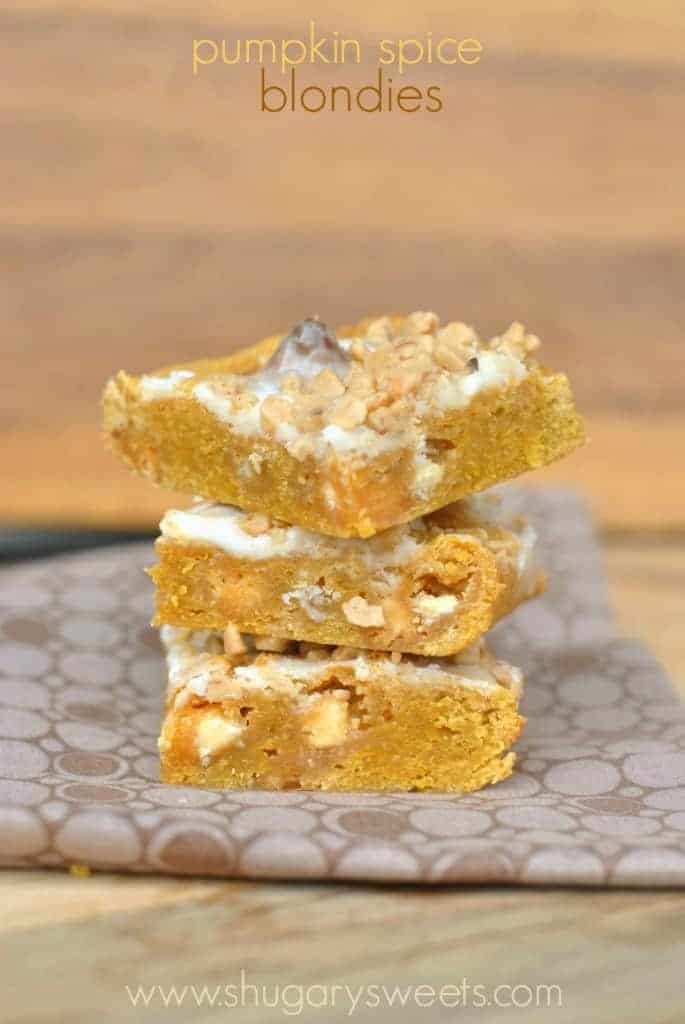 Please tell me you're not sick of pumpkin yet. PLEASE. Just be nice, this is my last pumpkin recipe.
This week.
I'm sorry. Actually no.
I'm not going to apologize for my insane love of pumpkin. I'm going to embrace it. And make more.
Well, not today anyways. While you all are enjoying these Pumpkin Blondies, I actually broke out the peppermint. I know. Can you believe it?
These are the problems of food bloggers. We are much like the retail stores…we start early in sharing holiday themed recipes, and just when you're looking for mittens in December, we've moved on to Easter stuff and swimsuits.
It's wrong. I know. But  it's my job and I wouldn't change it!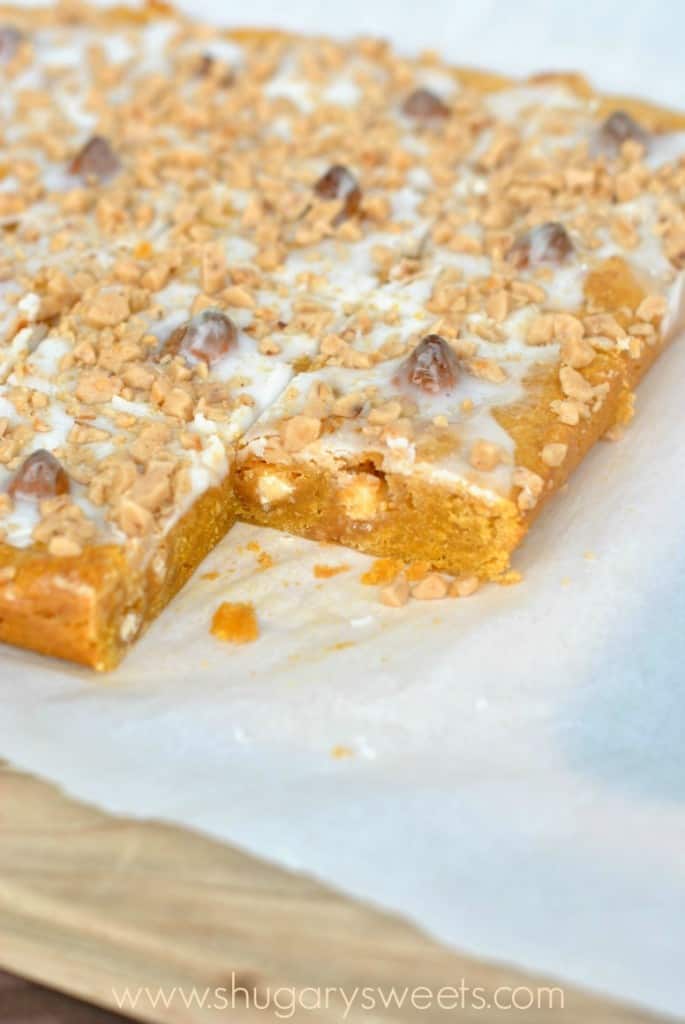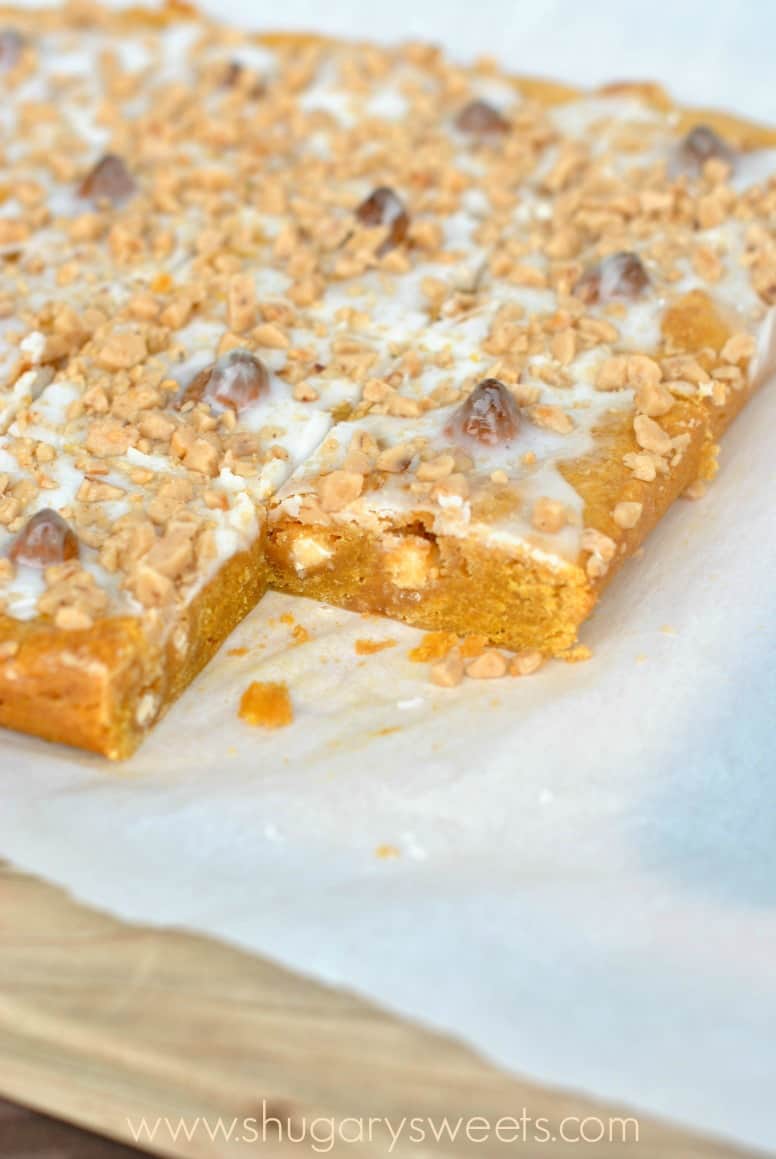 So, let's talk about this insanely delicious pumpkin blondies. Your first question I'm sure is "why is there a lump on each blondie." It's awkward and weird. Much like myself (no true story, I'm kinda an awkward person).
That "LUMP" is actually a Pumpkin Spice Hershey Kiss. You get to the center of your Blondie and encounter the kiss, I'm telling you it's awesome.
If it's too awkward looking you can totally chop up the Hershey Kisses…but somehow that seemed harmful. I know, I'm weird.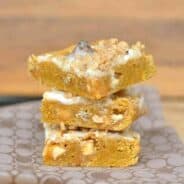 Pumpkin Blondies
Yield: 16 bars
Prep Time:1 hour
Cook Time:25 minutes
Chewy Pumpkin Blondies with White Chocolate, Toffee Bits and Pumpkin Spice Hershey Kisses.
Ingredients:
For the blondies:
1 cup light brown sugar, packed
1/2 cup unsalted butter, melted
1/2 cup pumpkin puree (NOT pumpkin pie filling)
1 egg yolk
pinch kosher salt
1 cup all-purpose flour
1/2 cup white chocolate morsels
16 Pumpkin spice Hershey Kisses
For the Glaze:
1 cup powdered sugar
1 1/2 Tbsp milk
1/2 cup toffee bits
Directions:
Line a 9inch square baking dish with parchment paper. Set aside.
In a large mixing bowl, beat brown sugar with melted butter and pumpkin until smooth. Beat in egg yolk, salt and flour. Fold in white chocolate chips. Pour batter into prepared pan. Press in the Hershey Kisses.
Bake in a 350 degree F oven for 25-30 minutes. Remove and cool completely before adding glaze.
For the glaze, whisk the sugar and milk together until smooth. Pour over cooled blondies. Sprinkle with toffee bits immediately. Refrigerate for one hour (or until ready to serve). Cut and enjoy!
MAKING THIS RECIPE? Share it with me on Instagram using the hashtag #ShugarySweets so I can see what you're cooking up in the kitchen!
Are you following me on Bloglovin'? It's my favorite way to keep up with the blogs I want to read!
Connect with Shugary Sweets!  
Facebook | Twitter | Google+ | Pinterest | instagram | Bloglovin'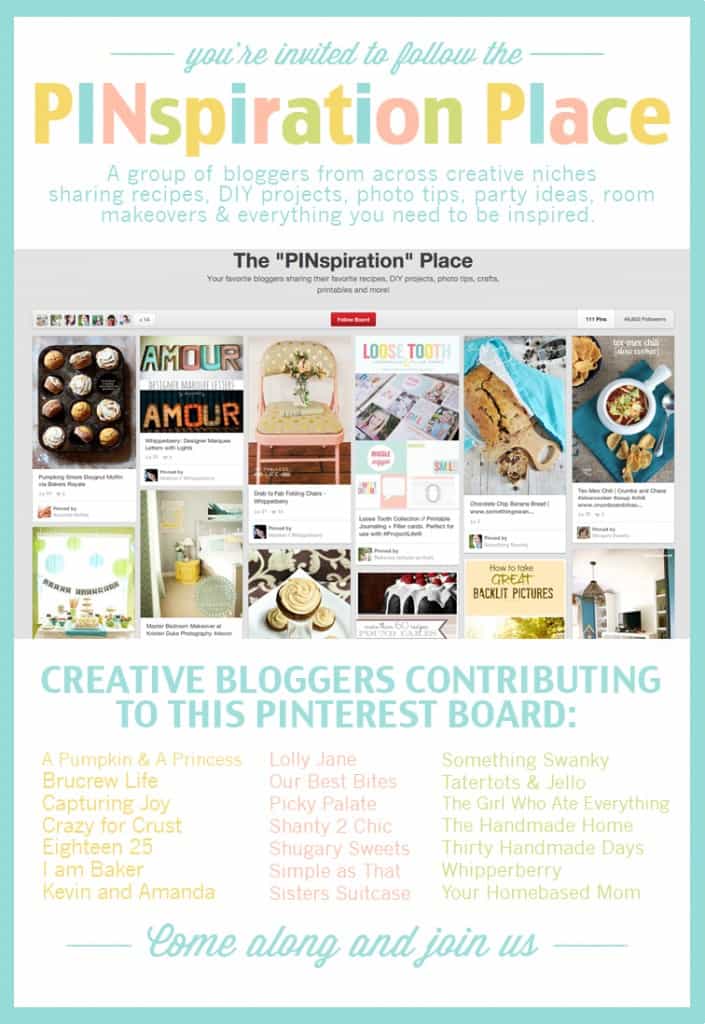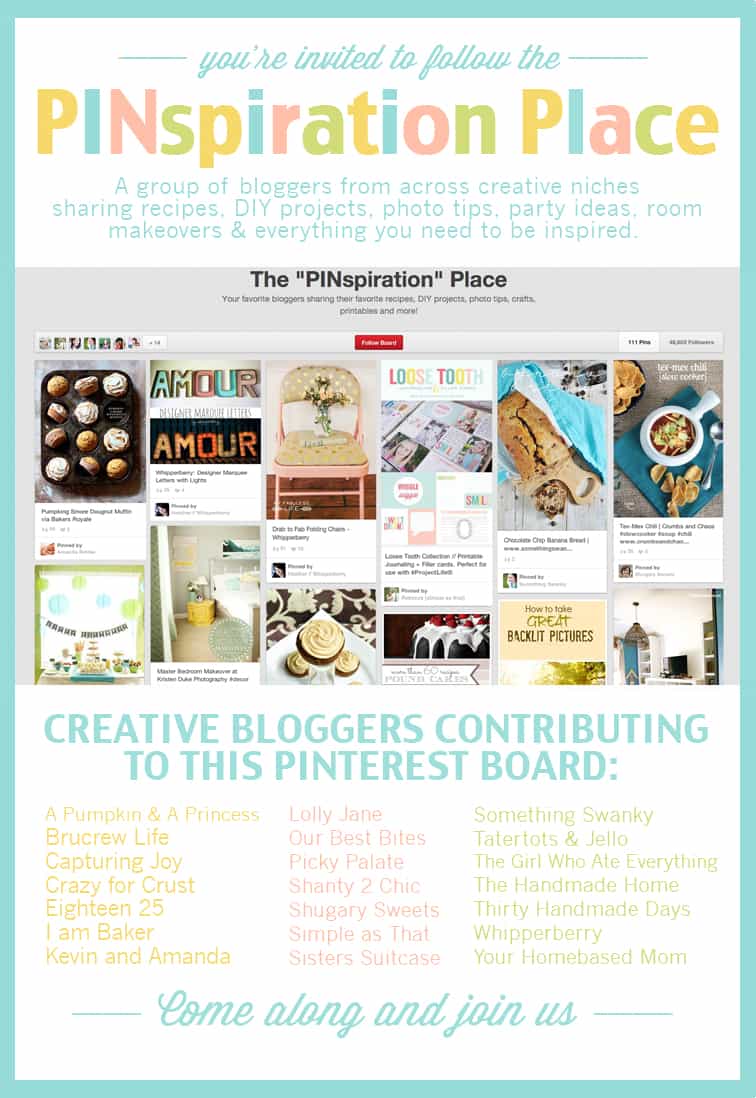 Love Pinterest? Check out this new group board with so many delicious and crafty ideas from some of your favorite bloggers!
Want more BLONDIE recipes?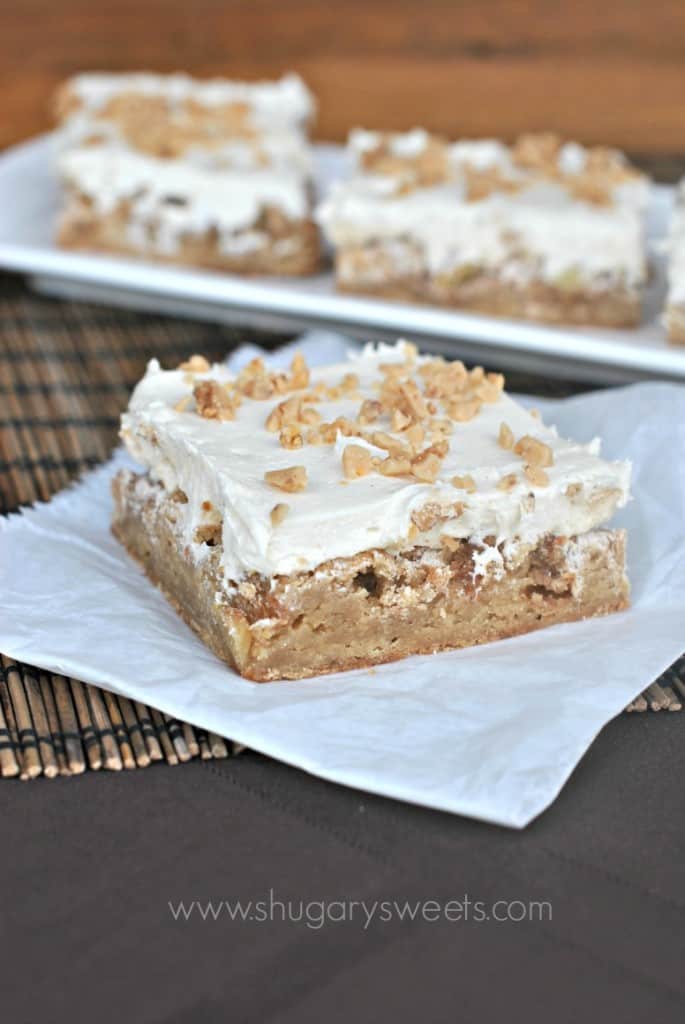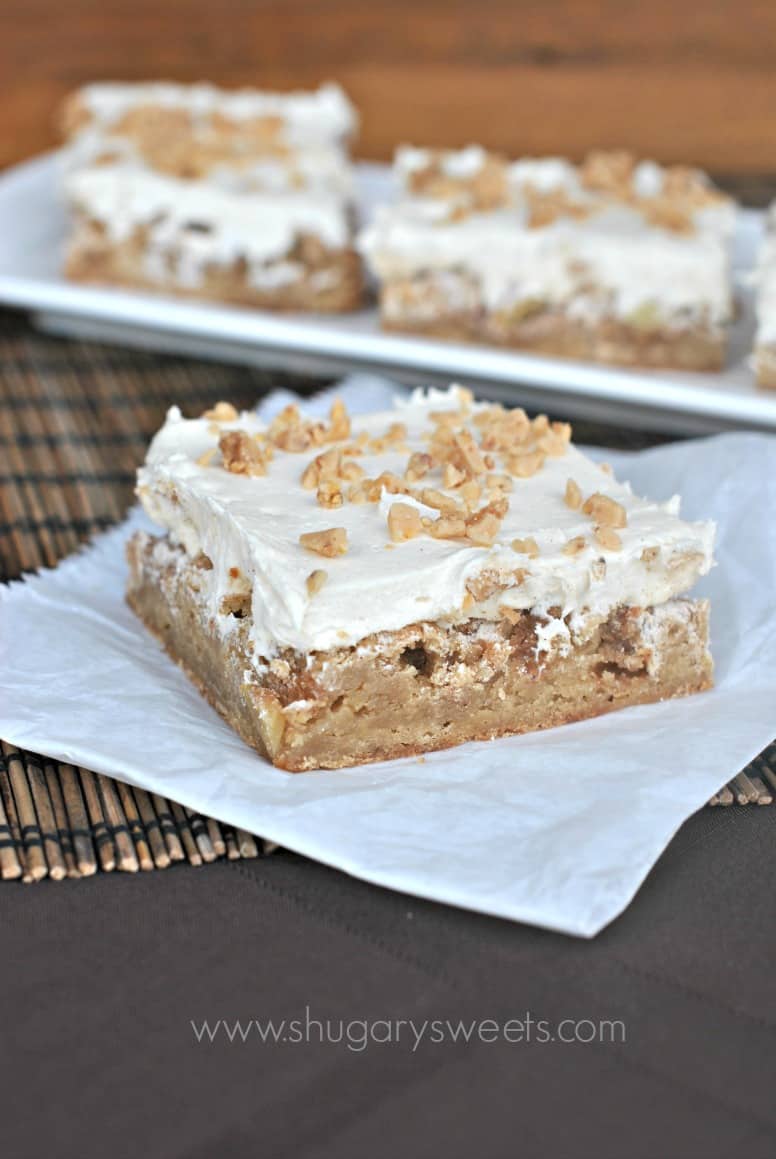 Apple Blondies with Caramel Buttercream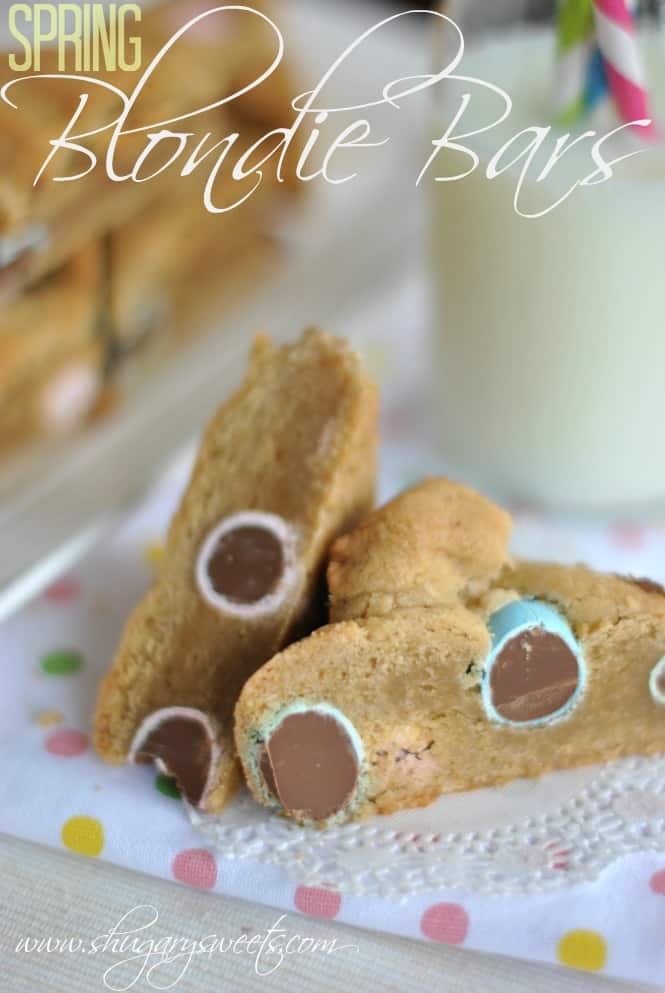 Chewy Blondies with Hershey Eggs for Spring. Feel free to substitute m&m's in this recipe!
So tell me, are you a blondie or brownie fan???