Pumpkin Butter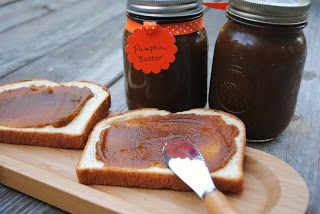 I love a good food challenge. Especially when it involves pumpkin. I had been having the shakes lately, and realized it's because I have been in pumpkin withdrawal. However, all was calmed when I went to my friend Jen's house to sample some pumpkin butter. Sweet, creamy pumpkin butter. Spread it on a graham cracker, a piece of toast, or drop a dollop onto some yogurt or oatmeal.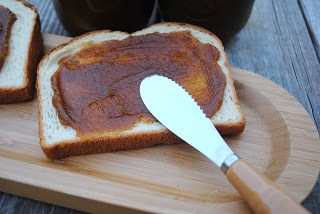 Back to the challenge. I'm cheap. I see a jar of pumpkin butter, and think to myself, "I can make that." My version definitely has more spice in it, which is the way I prefer my pumpkin treats!
Just a warning though, this needs about 24 hours to make. I made in the morning, refrigerated it the rest of the day and overnight, and by breakfast…oh wow, the flavors were amazing! The best part? It makes 2 pint sized jars (plus a little extra). You can give one away as a gift (if you're not too greedy)!! Yes, Jen, I have a jar for you!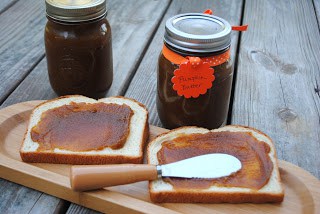 Ingredients
29 oz can pumpkin puree
3/4 cup apple cider
1 cup sugar
1 cup brown sugar
1 tsp nutmeg
2 1/2 tsp cinnamon
1/2 tsp ground cloves
2 tsp ground ginger
Instructions
In large saucepan mix all ingredients together. On medium heat, bring mixture to a boil. Continue to simmer (on low-medium) heat for one hour, stirring occasionally.
Remove from heat and allow to cool. Pour into mason jars and refrigerate for 12-24 hours. Enjoy cold!
Notes
Do not attempt to "can" this recipe as I know there are USDA/FDA/CNN/MSNBC/LOL rules about canning pumpkin. So just don't do it.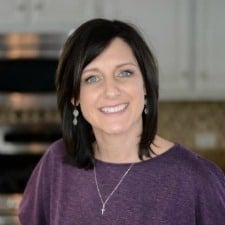 Aimee is a dessert lover (specifically rice krispie treats), workout enthusiast, self-taught foodie, and recipe creator. Her recipes have been featured in over 15 magazines, and her passion is to share her love of cooking with the everyday home cook! Learn more about Aimee.