Pumpkin Cheesecake Cake
Pumpkin Cheesecake Cake: two layers of delicious pumpkin cake with a creamy cheesecake center. Frosted with cream cheese frosting!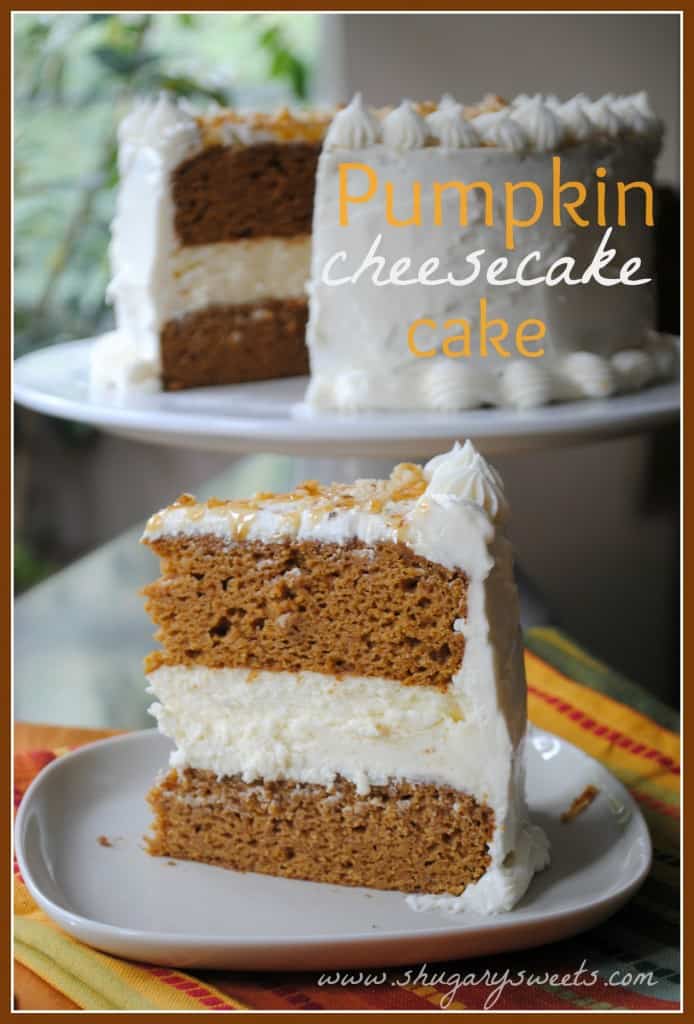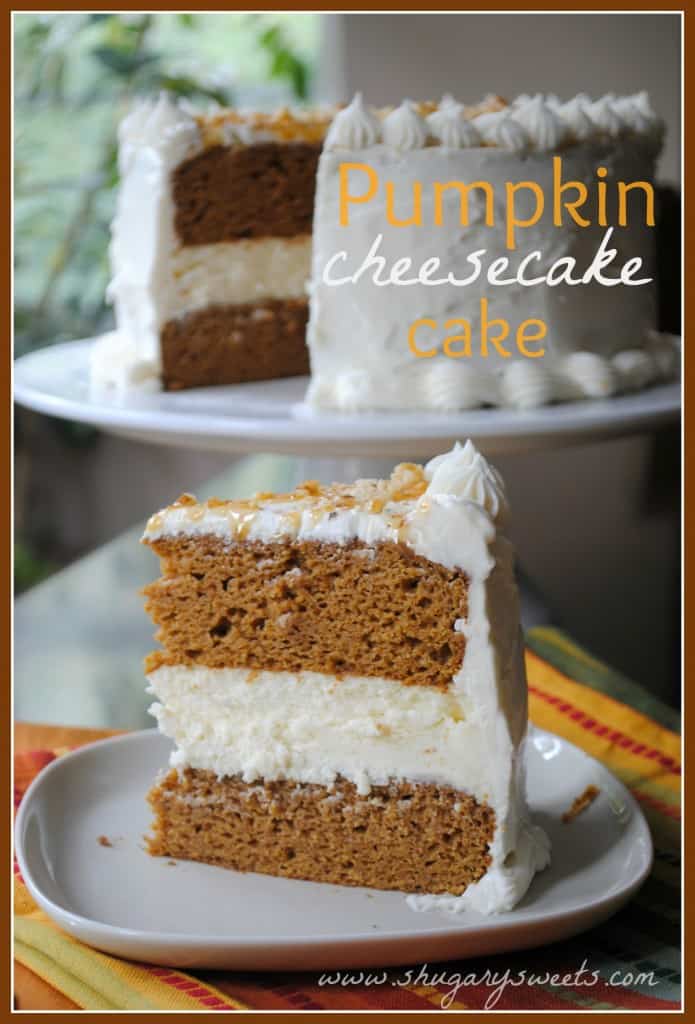 So, yes, it is only September and I've pulled out the pumpkin.
Get my point? Pumpkin is popping up everywhere and I don't want to be left behind.
I already have bad memories from high school as the one without penny loafers. And Guess jeans. And a Benetton striped sweater.
I've been watching all my friends day after day post pumpkin recipes. Then, while walking through Kroger, two cans JUMPED into my cart.
Then something even better happened. 
I got a text from a friend (HI JOCELYN) saying she was headed out my way. For dinner. And dessert.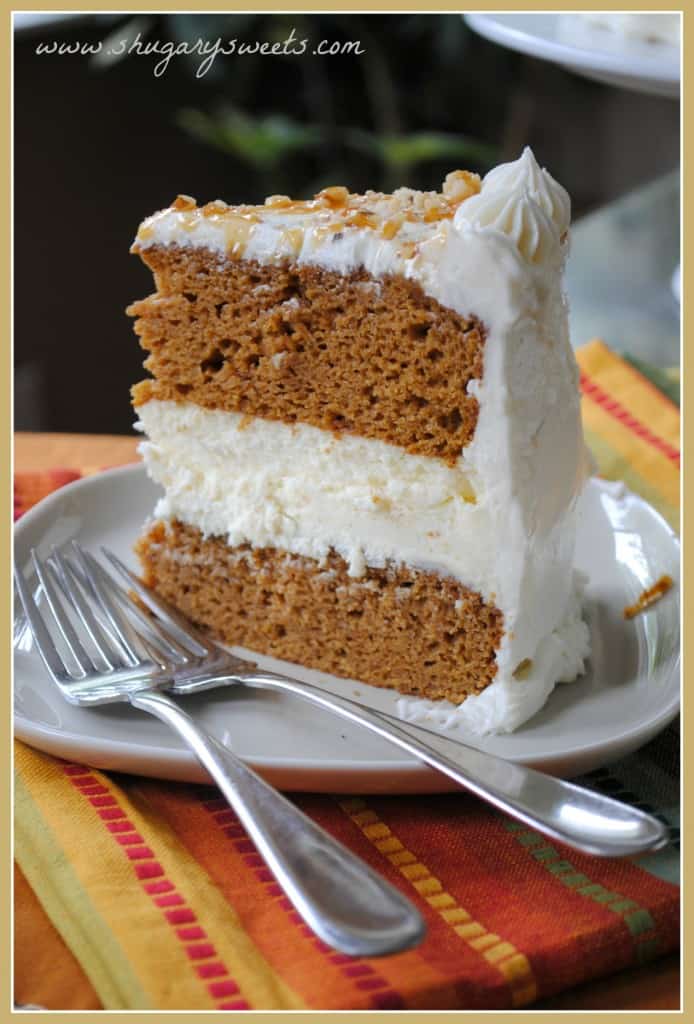 So I figured I better just make some pumpkin for her.
This cake is so moist, and the layer of cheesecake is delicious. I frosted this beauty in cream cheese frosting and topped it with a little bit of chopped walnuts and drizzled caramel.
Don't be a hater on my cake decorating skills. 
I am NOT a cake decorator. 
I repeat. 
I am NOT a cake decorator.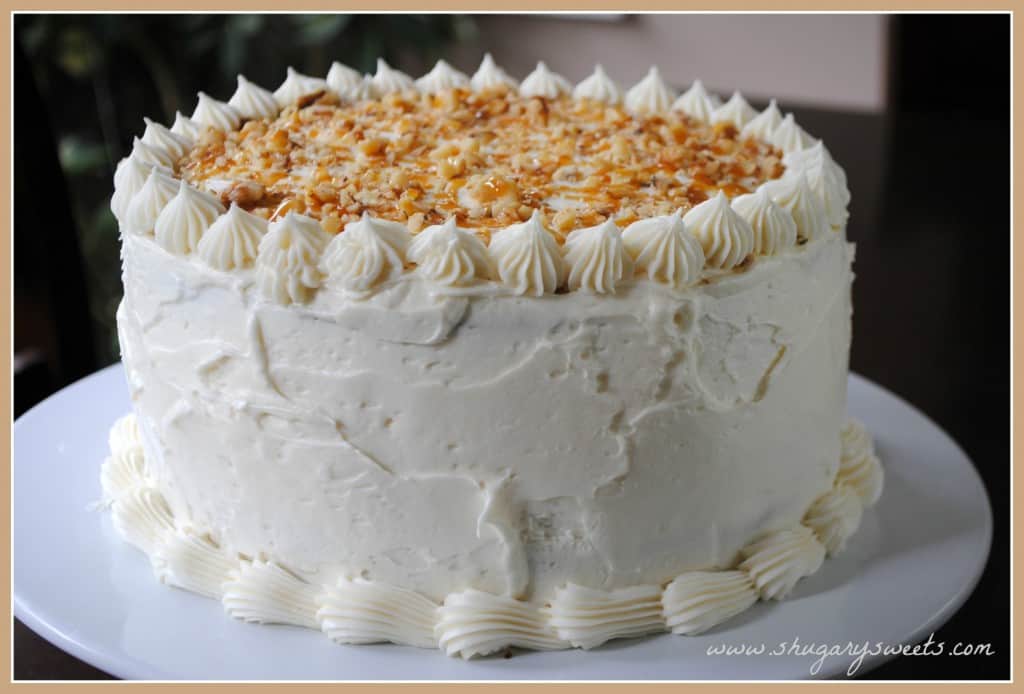 Like this recipe? You may also enjoy….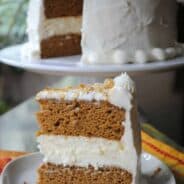 Pumpkin Cheesecake Cake
Yield: serves 12-15
Prep Time:4 hours
Cook Time:1 hour
Pumpkin Cheesecake Cake: two layers of delicious pumpkin cake with a creamy cheesecake center. Frosted with cream cheese frosting!
Ingredients:
For the Pumpkin Cake Layers:
1 can (15oz) pure pumpkin puree
1 cup granulated sugar
1 cup brown sugar
3/4 cup apple sauce
4 eggs
2 1/4 cup all purpose flour
2 tsp baking powder
2 tsp baking soda
1 tsp kosher salt
1 Tbsp ground cinnamon
1/2 tsp ground cloves
1 tsp ground ginger
1 tsp ground nutmeg
For the Cheesecake Layer:
2 pkg (8oz each) cream cheese, softened
2/3 cup granulated sugar
pinch of salt
2 eggs
1/3 cup sour cream
1/3 cup heavy cream
1 tsp vanilla extract
For the Frosting:
1/2 cup butter, softened
8 oz cream cheese, softened
1 tsp vanilla extract
4 cup powdered sugar
3 Tbsp heavy cream
3 Tbsp walnuts, chopped
1 Tbsp caramel sauce (Hershey's caramel ice cream topping)
Directions:
For the Cheesecake Layer:
Preheat oven to 325 degrees. Using a large roasting pan on the lower 2/3 of the oven, preheat the pan too!
Prepare springform pan by wrapping bottom of pan (outside) with double layer of foil. Spray pan with nonstick baking spray and line bottom (inside) with a circle of parchment paper.
Meanwhile, boil a kettle of water to use later.
Beat cream cheese with granulate sugar for 2-3 minutes until creamy. Add in salt and eggs, one at a time, beating well after each addition. Beat in sour cream, heavy cream and vanilla.
Pour into prepared 9inch springform pan. Place pan in center of preheated roasting pan in the oven. Pour boiling water slowly into the roasting pan, until there is about an inch of water coming up the sides of the springform pan.
Bake cheesecake for 45 minutes. Turn oven off and let cheesecake sit in oven for an additional 30 minutes. Remove and cool completely on counter.
When cooled, transfer entire springform pan into the freezer for several hours or overnight. I put it in freezer for about 2 hours. **If using within 24 hours, feel free to just refrigerate cheesecake!
For the Cake Layers:
Preheat oven to 350 degrees. Prepare two 9inch round cake pans by spraying generously with baking spray. Line bottom of each pan with a circle of parchment paper. Set aside.
Beat pumpkin, sugars, applesauce and eggs until fully blended. Add in flour, baking powder, baking soda, salt and seasonings. Pour batter into prepared pans.
Bake cakes for 30-35 minutes, until toothpick comes out clean. Cool in pans 15 minutes. Flip onto wire rack and cool completely. When cooled, wrap each layer in saran wrap and freeze for two hours, or overnight. **If using within 24 hours, just wrap cake in saran wrap and keep on counter.
For the Frosting:
Beat butter and cream cheese for 3 minutes until smooth and creamy. Beat in vanilla, powdered sugar and heavy cream.
To assemble cake, lay one layer of pumpkin cake on cake plate. Top with cheesecake and second layer of pumpkin cake. Frost sides and top with a thin layer of frosting to apply a crumb coat. Refrigerate 30 minutes to an hour. Remove from refrigerator and frost remaining cake, decorating using a tip if deisred. Sprinkle walnuts on top of cake and drizzle with caramel sauce. I keep the cake covered in the refrigerator until ready to eat. Remove and allow to sit about 15 minutes before slicing. ENJOY!
**cheesecake layer recipe from RecipeGirl
MAKING THIS RECIPE? Share it with me on Instagram using the hashtag #ShugarySweets so I can see what you're cooking up in the kitchen!