The most delicious layered cookie bars you'll eat this year! Graham cracker crust topped with a creamy pumpkin cheesecake and chocolate chip cookie dough. Baked to perfection, these Pumpkin Chocolate Chip Cheesecake Bars NEED to be on your dessert table.
Pumpkin and Chocolate go hand in hand. Love this Chocolate Chip Pumpkin Bread recipe!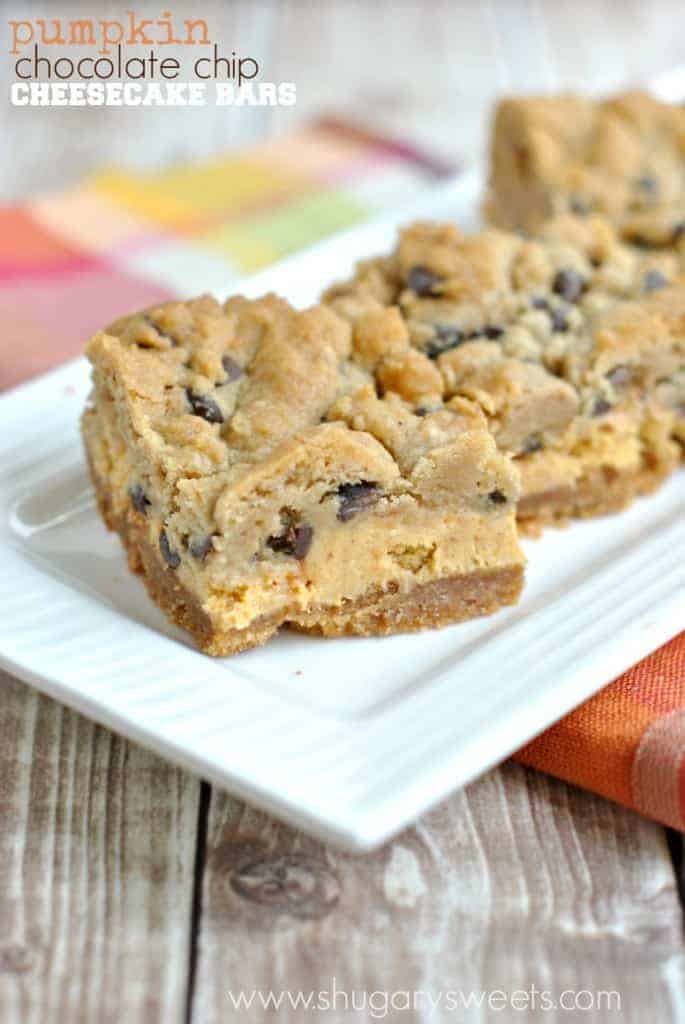 Easy Cheesecake Bars
Cheesecake Bars, how do I love thee? Let me count the ways. Eggnog Cheesecake Bars and Pecan Pie Cheesecake Bars and Perfectly Easy Pumpkin Cheesecake Bars Recipe and . . .
Okay, I'm getting off track. Today, we're not just talking about any cheesecake bar recipe. We're talking about PUMPKIN Chocolate Chip Cheesecake Bars!
I wanted to make a batch of these cheesecake bars last year, but never got around to it before pumpkin season. Pumpkin desserts just aren't the same in February, you know?
So instead, I made this chocolate chip cheesecake bars with pastel candies. In that version I also used a homemade chocolate chip cookie recipe.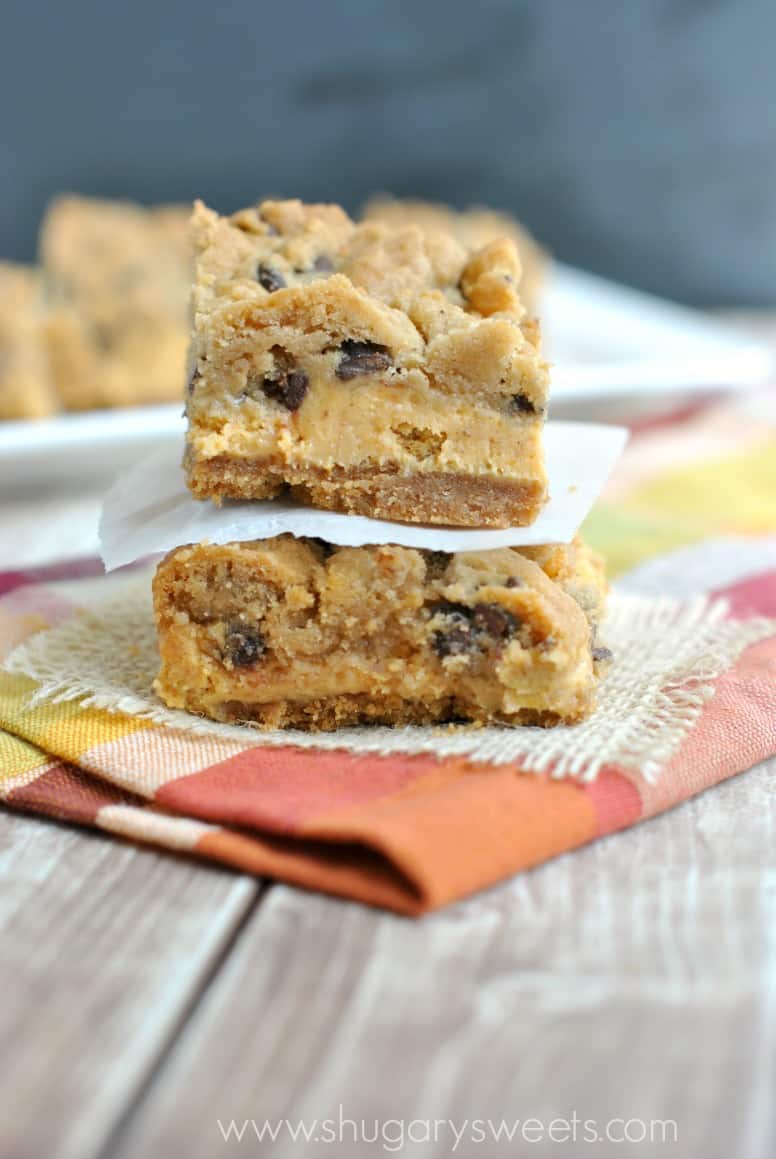 Why these are the best
Now, my friends. The time has come. I finally made Pumpkin Chocolate Chip Cheesecake bars. The wait was worth it.
I was so excited to finally bite into a cheesecake bar packed with pumpkin and chocolate morsels, that I didn't even have the patience to make my own cookie dough.
PRO TIP: For a quick treat, use a family size roll of Pillsbury Chocolate Chip Cookie Dough instead of homemade cookie dough.
And you better not even think about judging me, because one bite of these cookie bars and you'd never know I cheated.
The middle cheesecake filling is sweet and creamy like cheesecake should be! It also has a delicious pumpkin flavor with all the great spices that pair so nicely with pumpkin pie.
And of course, these bars are not complete without the crunch of the graham cracker layer holding it all together.
If ready made cookie dough is what it takes to get these amazing bars into your mouth, then the "cheating" is worth it. You're going to love how easy these are to make as much as you love how good they taste.
Step by Step
STEP 1. Make a graham cracker crust
Pulse graham crackers in a food processor until they turn into fine crumbs. Add sugar and melted butter, pulse until blended. Press crumbs into bottom of pan lined with parchment paper until evenly pressed.
STEP 2. Make the pumpkin cheesecake layer
In a large mixing bowl, beat all the cheesecake ingredients for 3-5 minutes until blended and smooth. Pour over the graham cracker crust.
STEP 3. Add the cookie dough
You can either make your own chocolate chip cookie dough or grab a tub of refrigerated cookie dough and crumble the dough over the cheesecake layer.
Bake the bars for a 30 – 35 minutes. Don't worry if the center seems a little wiggly! That's how it's supposed to be.
STEP 4. Chill
Cool pan completely, then refrigerate for 3-4 hours (or overnight). Once completely chilled, cut into bars and enjoy!
These taste amazing COLD with a cup of coffee. Then again, I think everything tastes better with a cup of coffee.
Recipe FAQs
How long do cheesecake bars last?
Store cheesecake bars in an airtight container in the refrigerator for up to 4 days.
Can you freeze Pumpkin cheesecake bars?
Pumpkin Chocolate Chip Cheesecake Bars keep beautifully in the freezer! After cutting, place them in a freezer safe bag or container with wax paper between layers. When ready to eat, let thaw in the fridge and serve. You could even freeze these in single serving bags to pack for trips or lunch boxes.
How can you tell chocolate chip cheesecake bars are done cooking?
The center of the bars will look a little undone and wiggly. However, everything will continue to set and firm up as it cools and refrigerates.
Tips & Tricks
To make this into a regular cheesecake, press the graham cracker crumbs into a pie plate instead or use a ready made graham cracker crust from the store!
For a white chocolate variation, substitute white chocolate morsels in your cookie dough.
If you want a plain pumpkin cheesecake bar without chocolate, make the cookie dough and omit the chocolate chips entirely.
To change up the bars, you can also swap the graham crackers. Cinnamon or honey graham crackers are both delicious here but if you want MORE chocolate, go ahead and swap them for chocolate grahams.
How many kinds of cheesecake bars have you tried? Whether you're an experienced cheesecake maker or brand new to homemade bars, this recipe is a must try.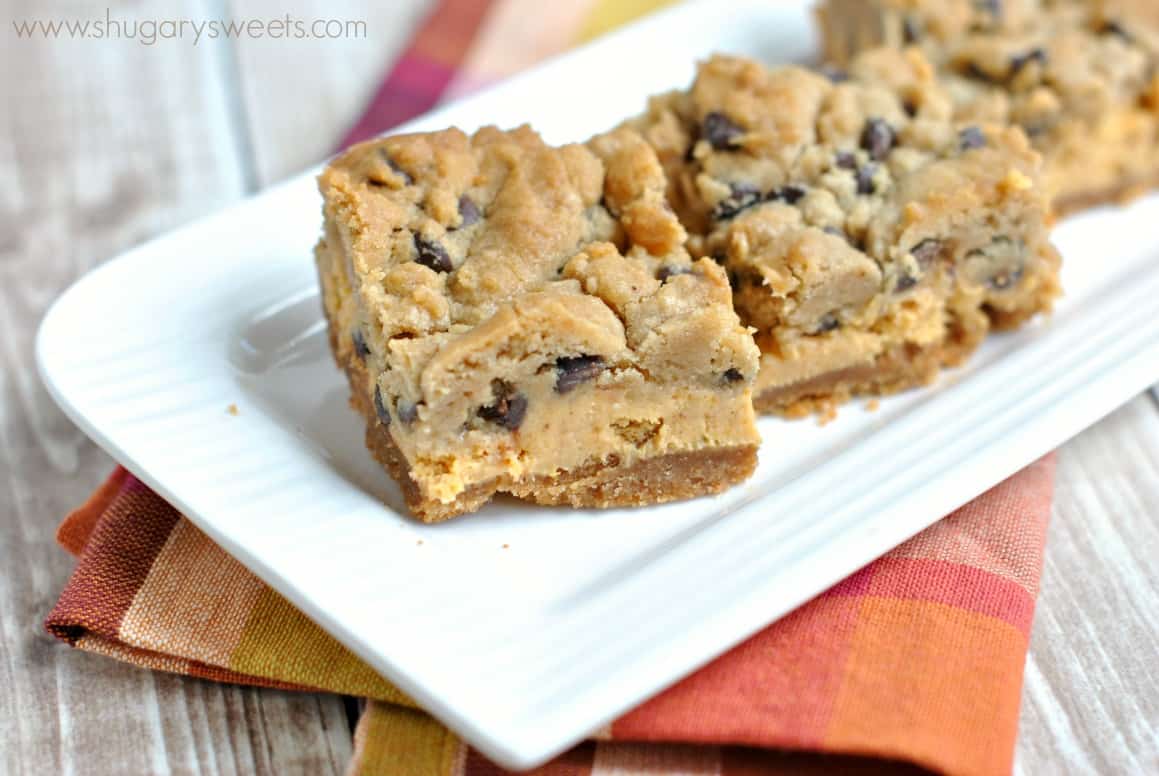 Add these Pumpkin Cheesecake Bars packed with chocolate chips to your fall baking list now! Whether you use store bought cookie dough or make your own from scratch, this is one decadent dessert that's as easy as it is delicious.