Are you ready for some FOOTBALL?? These Pumpkin Football Blondies are chewy and flavorful, with the perfect amount of chocolate frosting on top!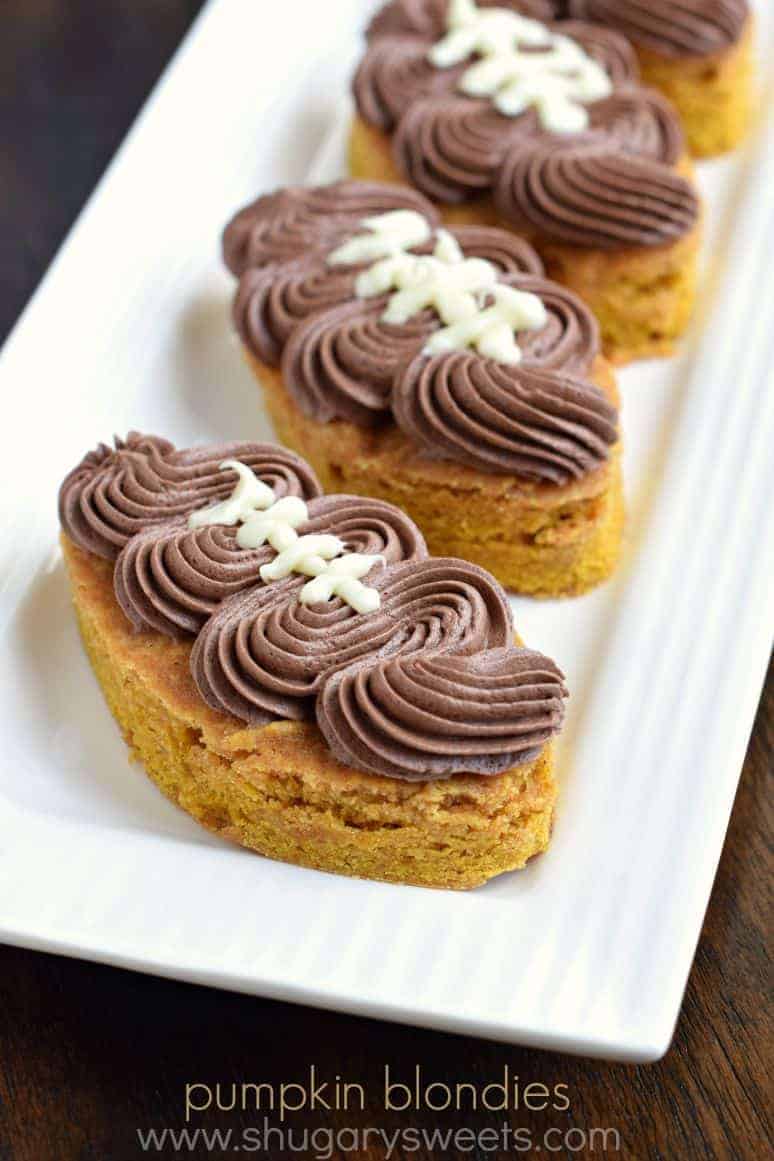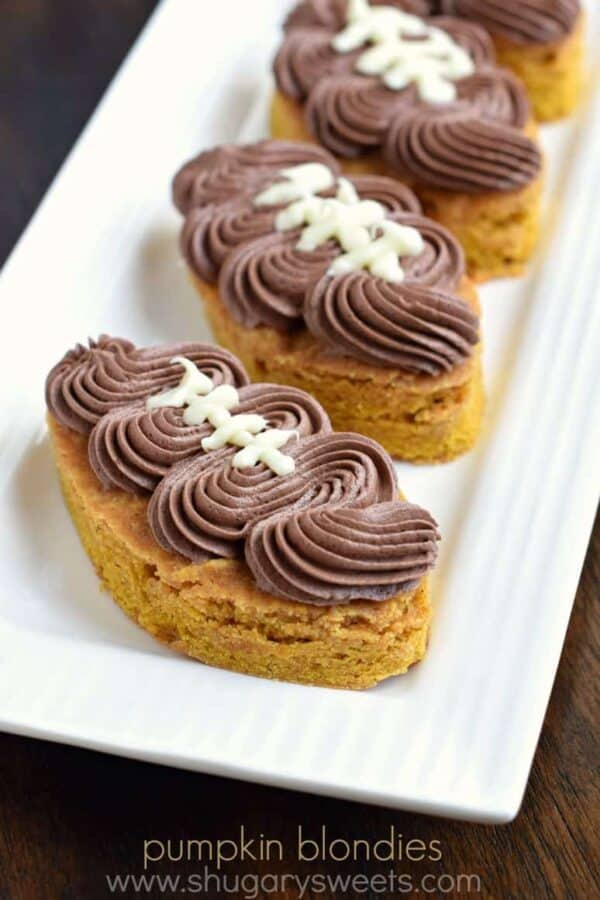 It's that season again. The time of year when I read tons of books, watch all my trashy shows on Netflix, and exercise like a crazy person. Yep. Football Season.
I guess I'm fortunate that it's not like basketball or baseball where they play 1 million games per season, every night of the week.
However, with my son being out of the house now, it's just my husband, me, and our three daughters. Needless to say, I feel sorta obligated to at least sit in the same room as him.
So, if that's going to happen, then so are these delicious football treats.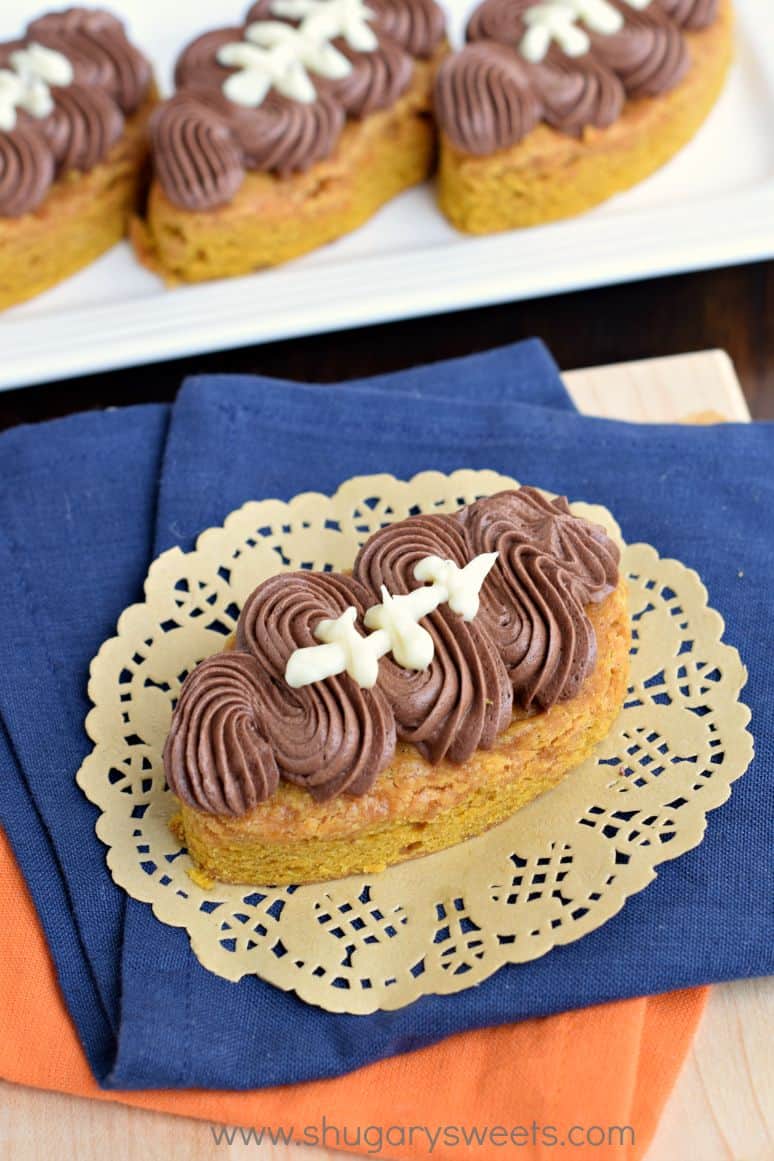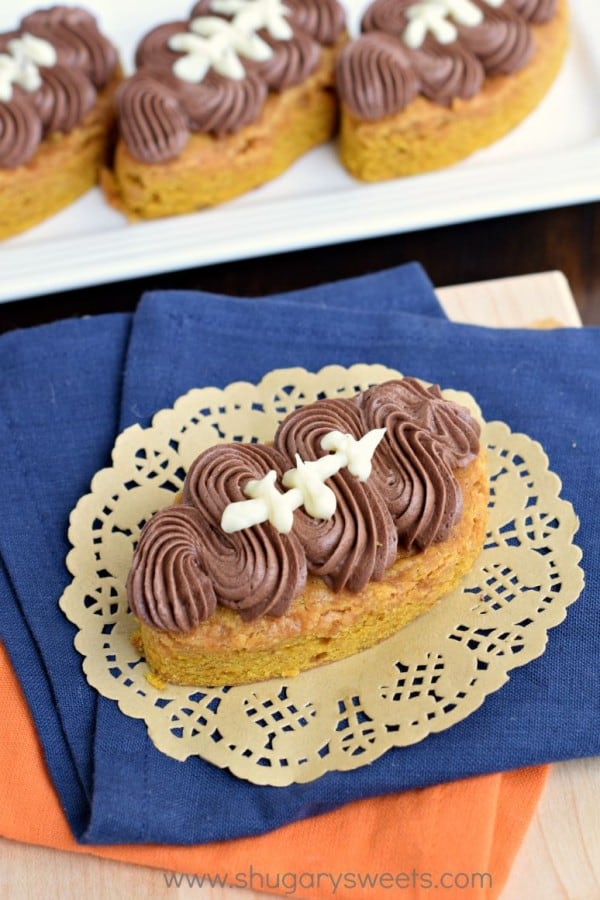 Pumpkin and Football go hand in hand. They are basically the same season. So why not try to combine them?
I made a batch of pumpkin blondies (chewy delicious cookie bars, with the texture of a brownie). I topped these with a creamy chocolate frosting, that I piped onto each cookie (using this open star tip
). I used a football cookie cutter to make the shape (ok. lie. I used an egg shaped cookie cutter, and pinched the one side together…because my football cookie cutter disappeared a few years ago).
If you want to just enjoy a chocolate pumpkin treat…forget cutting them in shapes. Forget piping on the frosting. Instead, spread your frosting on nice and thick and then cut into bars. Easy peasy.
So…which team do you root for? Or are you just a fan of the game day food?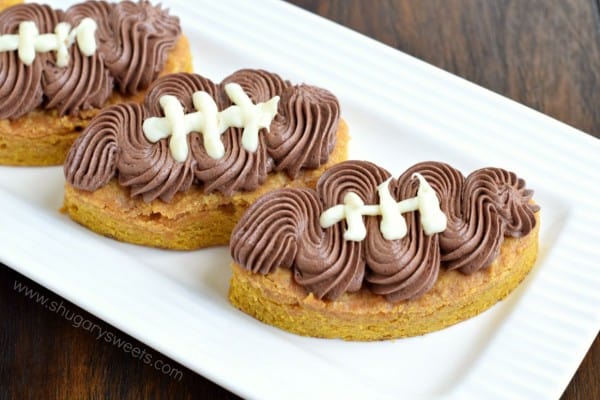 Connect with Shugary Sweets!
Facebook | Twitter | Pinterest | instagram
Yield: 10 footballs or 16 bars
Pumpkin Football Blondies
Ingredients
For the blondies:
1 cup light brown sugar, packed
1/2 cup unsalted butter, melted
1/2 cup 100% pure pumpkin (not pie filling)
1 egg yolk
1/2 tsp cinnamon
1/4 tsp allspice
1/4 tsp kosher salt
1 cup all-purpose flour
For the Frosting:
1/2 cup unsalted butter, softened
2 cup powdered sugar
1/4 cup unsweetened dark chocolate cocoa powder
2 Tbsp milk
1/4 cup white chocolate chips, melted (for the laces), optional
Instructions
Preheat oven to 350F. Line a 9-inch square baking dish with parchment paper. Set aside.
In a large mixing bowl, combine brown sugar with melted butter and pumpkin. Beat until smooth. Add in egg yolk.
Add spices and flour, mixing until well combined. Pour into prepared baking dish.
Bake for 25-30 minutes, until edges are lightly browned and toothpick comes out clean. Cool completely before adding frosting.
For the frosting, beat butter, powdered sugar, cocoa powder and milk for 3-5 minutes until light and fluffy. Spread over cooled blondies.
For footballs: using a cookie cutter, cut shapes out of cooled blondies. Using an open star tip, pipe football pattern onto each blondie. Pipe on laces using melted white chocolate. ENJOY.
Here are some more game day favorites: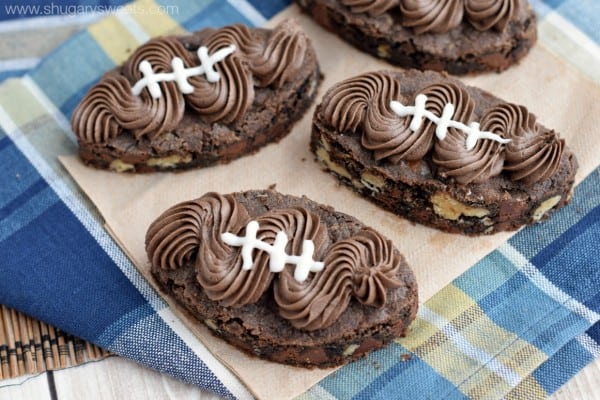 Chocolate Nut Football Bars: add these with the pumpkin bars to your dessert table. Options are good!!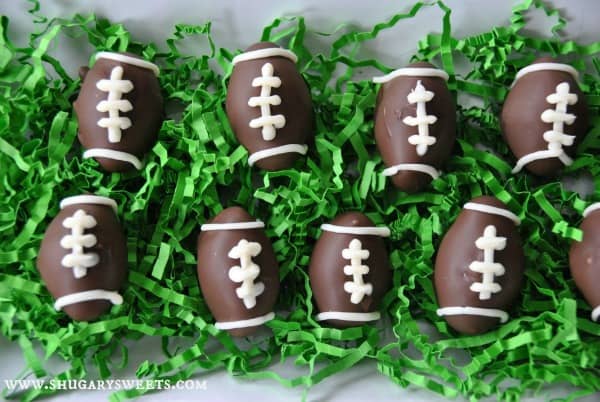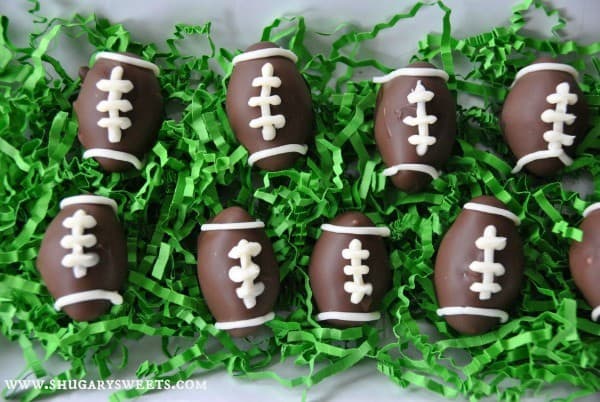 Peppermint Patty Footballs: homemade peppermint patties in the shape of footballs. These are a great after dinner mint!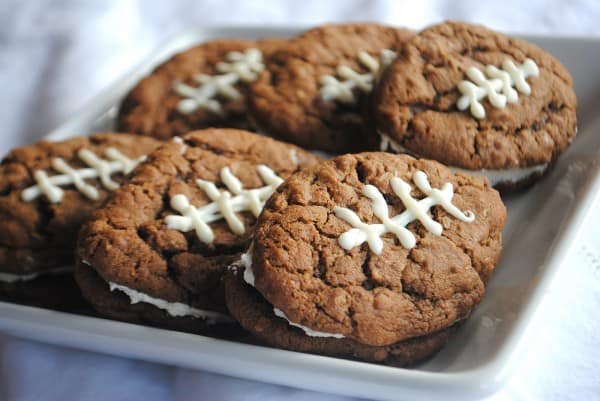 Chocolate Oatmeal Cream Pies: love Little Debbie? These chocolate footballs are amazing!!!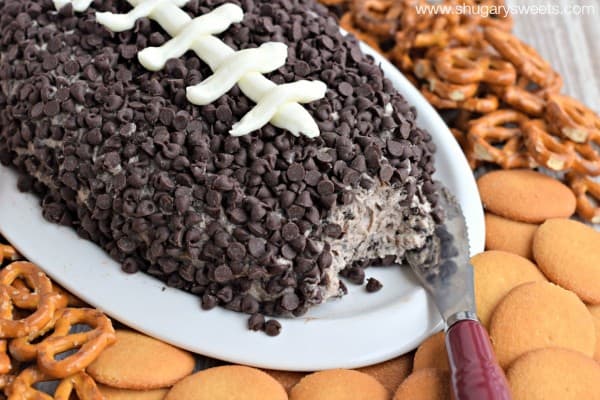 Cookies and Cream Football Dip: This "cheese ball" is sweet and scrumptious. You'll want one for game day!
If you love Football treats…here are a few from my friends:
**There may be affiliate links in this post! By clicking on them, or purchasing recommended items I may receive a small compensation. However, I only recommend products I love! Thank you for supporting Shugary Sweets! See my disclosure policy for more info**