Rich, fudgy bars that are perfect for Fall. These Pumpkin Fudge Brookies are so easy to make using some of your favorite Pillsbury products!
Be sure to sign up for my email…new recipes in your inbox
**I've partnered with Pillsbury to bring you some great recipes! All opinions are 100% my own, of course!!**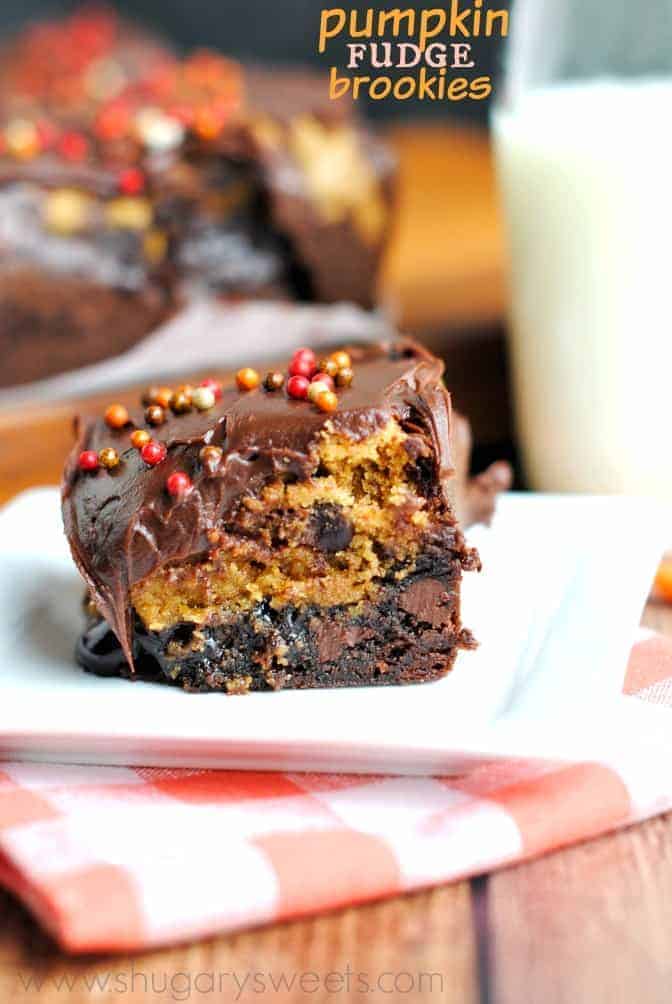 It's no secret I love Brookies.
You know…the "brownie cookie" combination?!? I love all the possible flavors you can make with this tasty treat.
And today, I've not only made it a whole lot easier, but it's also perfect for Fall.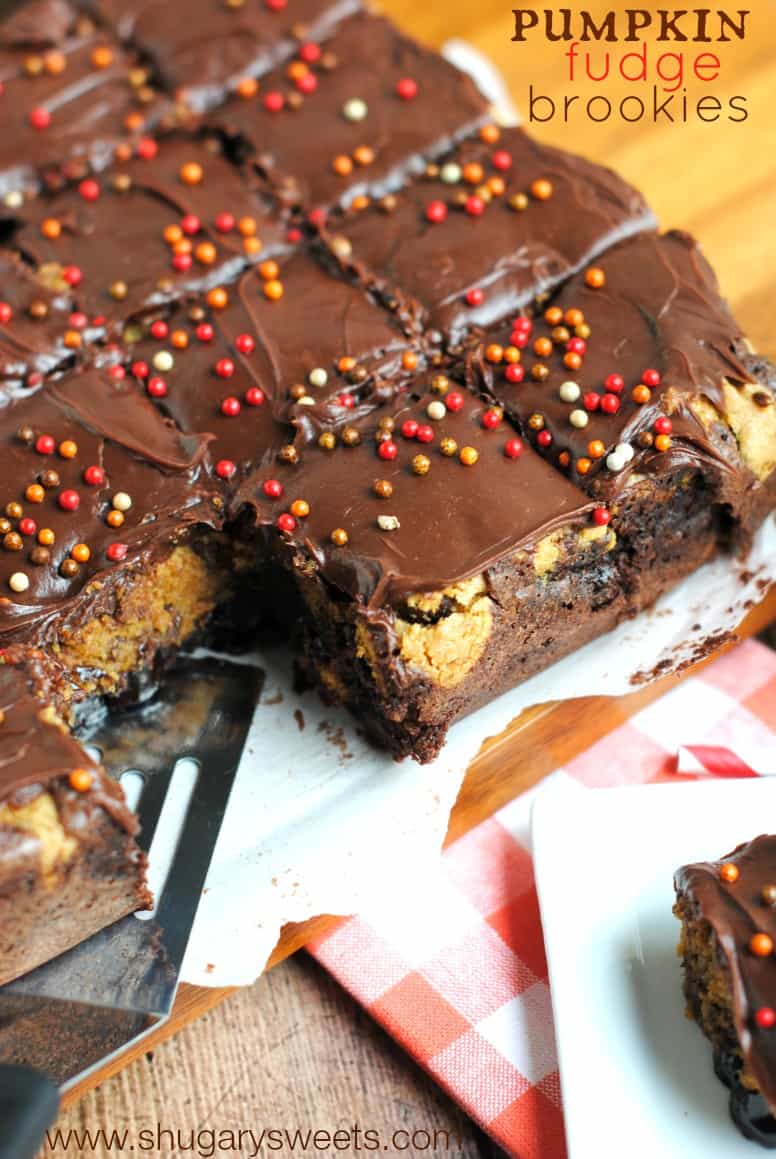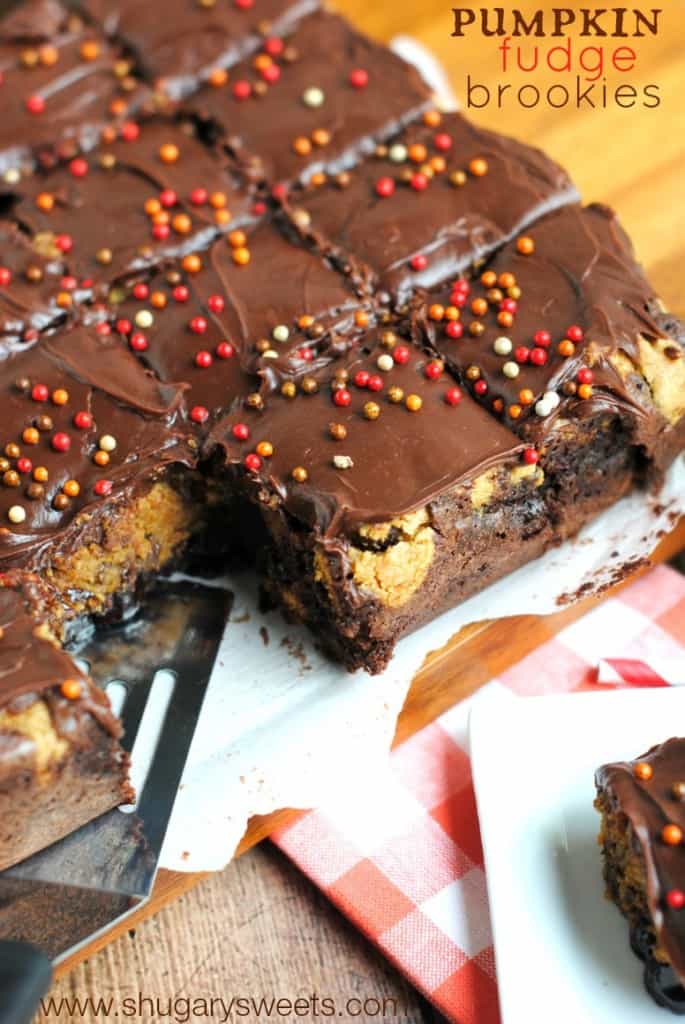 I've partnered up with Pillsbury to bring you some great holiday treats this year. While I love cooking from scratch, having a busy home life can hinder those plans sometimes. And who doesn't have a pantry full of Pillsbury cake mixes and frosting?
Have you seen the new holiday flavors on the shelves? The Pumpkin Cookie Mix? The Caramel Apple Cookie Mix?
Today, you get to try (or I guess, drool) over these fantastic bars.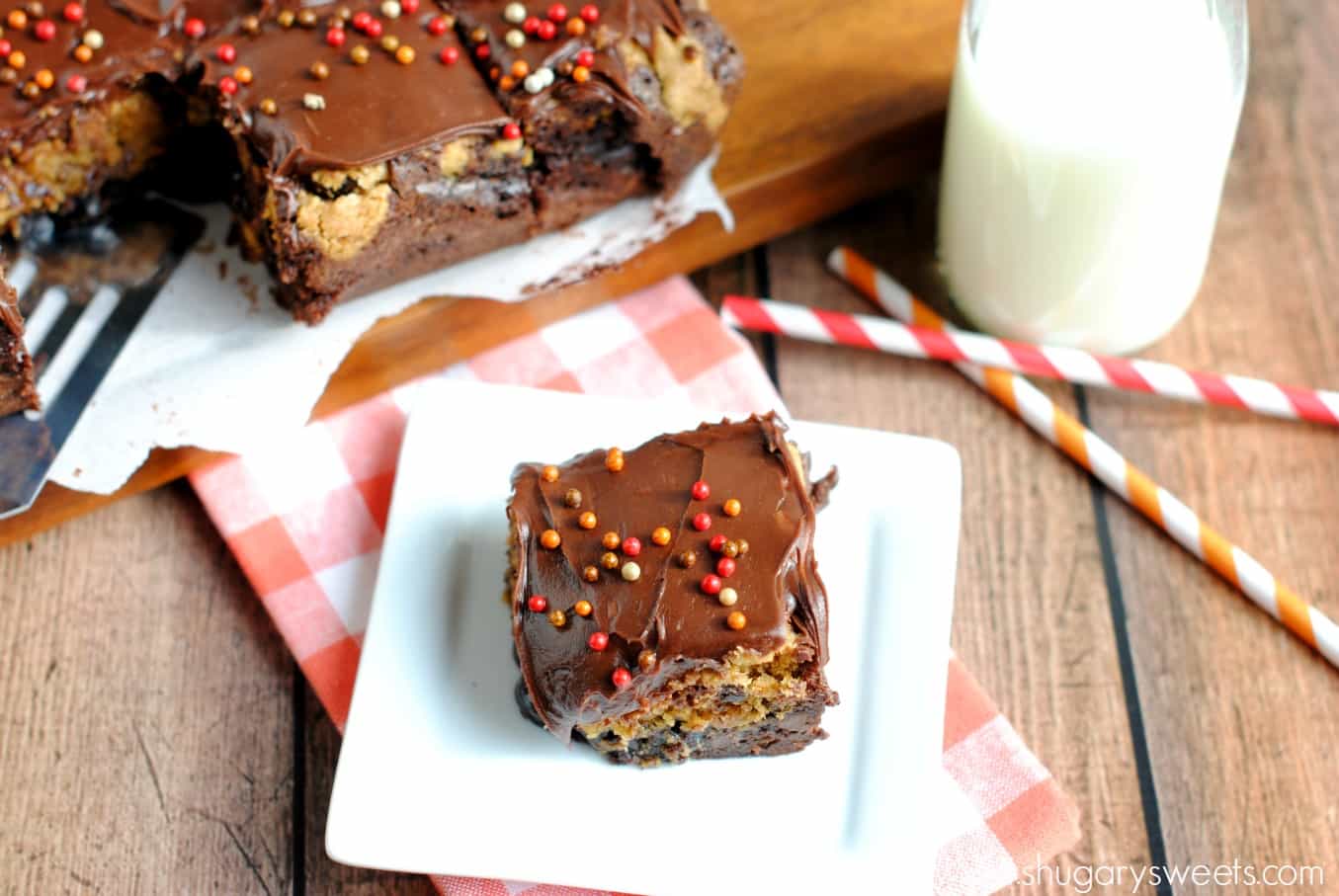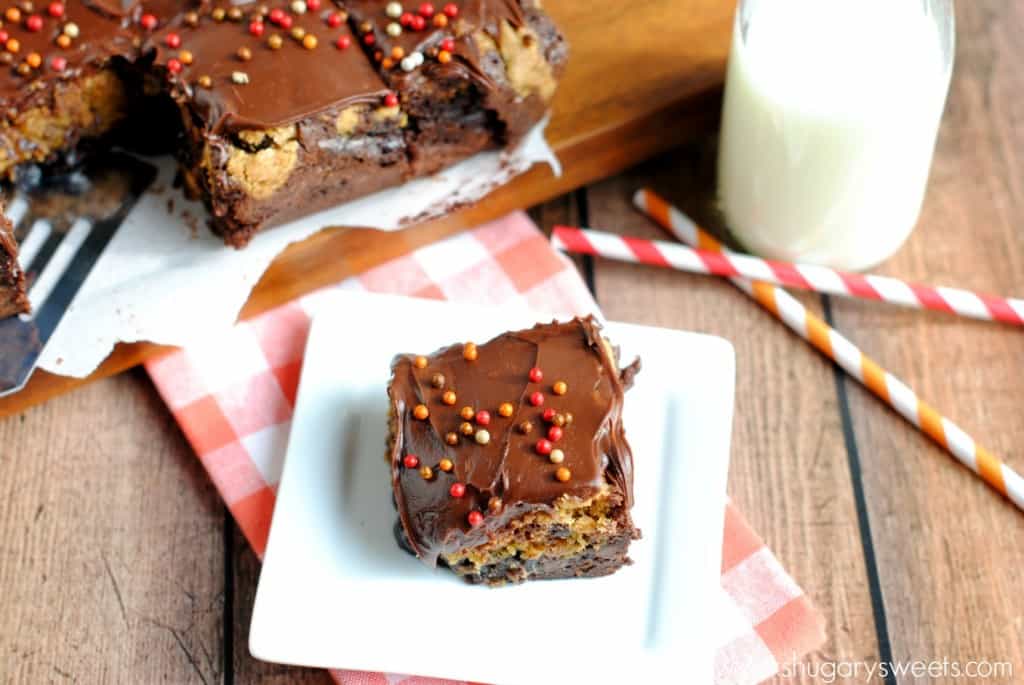 I originally named these bars Pumpkin Brookies. But after trying them, and eating nearly the entire batch myself, I think the name "FUDGE" had to be included.
From the fudgy brownie layer, to the rich Fudge frosting….these will leave your sweet tooth satisfied!
And oh my gosh they are so thick too! Mine took about 40-45 minutes to bake, and they still had a little soft gooey layer in the brownie. Once you stick them in the refrigerator, this layer will harden and be like a fudge consistency. I'm telling you, make these today!! Seriously. Head to the grocery store, get what you need and make them today.
Oh. Did I mention one lucky Shugary Sweets reader can win their own Celebration Starter Kit? This includes some Pillsbury product and a $100 Visa card. Thank you Pillsbury!! Be sure to scroll down past the recipe to enter the Rafflecopter form. So easy!! Good luck.
Connect with Pillsbury:
website | facebook | pinterest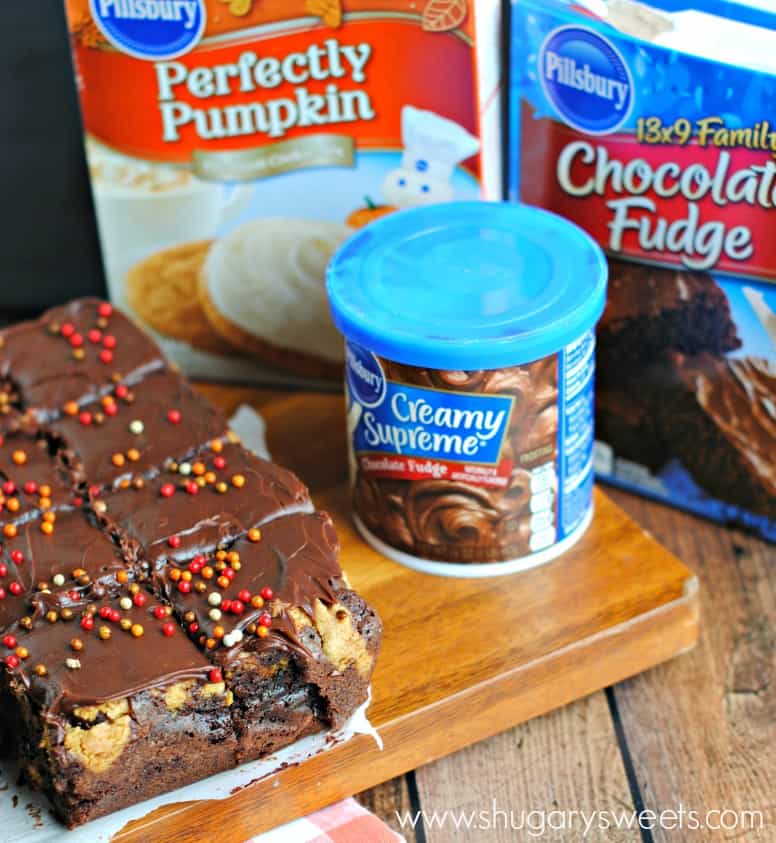 Yield: 16 bars
Pumpkin Fudge Brookies
Prep Time
4 hours
30 minutes
Ingredients
For the brownie layer:
1 box (18.4 oz) Pillsbury Chocolate Fudge brownie mix
2/3 cup canola oil
1/4 cup water
2 large eggs
1 cup semi-sweet chocolate chips
For the cookie layer:
1 box (17.5 oz) Pillsbury Perfectly Pumpkin Premium cookie mix
1/2 cup unsalted butter, melted
1 large egg
1 cup semi-sweet chocolate chips
For the frosting:
1 can (16oz) Pillsbury Creamy Supreme Chocolate Fudge frosting sprinkles, optional
Instructions
Preheat oven to 350 degree F.
Line a 9inch square baking dish with parchment paper. Set aside.
For the brownie layer, combine brownie mix, oil, water and eggs in a large bowl. Mix about 50 strokes by hand. Fold in chocolate chips. Pour brownie batter into bottom of baking dish.
For the cookie layer, combine cookie mix with melted butter and egg. Mix until fully blended.
Fold in chocolate chips. Drop by tablespoon over brownie layer until completely covered.
Bake in oven on middle rack for 40-45 minutes. It's okay if middle is not quite set. Cool on counter for 20 minutes and refrigerate for 4 hours, or overnight.
When ready to serve, frost with Pillsbury fudge frosting and sprinkles. Cut and enjoy!
Ready to win a fun prize? Be sure to enter the rafflecopter below to be entered! Visit Pillsbury on Facebook to vote for your favorite recipe name in the "We Bake it, You Name it" program!!
**I am part of the Pillsbury Celebrate More Blogger Ambassador program. The J.M. Smucker Company has sent me free product samples and compensated me to develop a Fall recipe. All opinions are 100% my own. I'm so thankful to my sponsors who help keep my cost down, and the food on the table!**