Looking for a fall snack idea? This Pumpkin M&M'S® Biscotti has the perfect crunch and tastes amazing dunked in your cup of coffee!
**This post is sponsored by M&M'S®. I am excited to partner with them in creating delicious recipes, all opinions are 100% my own***

Are you a dunker? I didn't realize there are some people who HATE dunking food in their coffee or milk?
I recently found out my dad is one of those anti-dunkers. He hates the soggy food and stray crumbs.
Where I, on the other hand, LOVE to dunk cookies and biscotti in my coffee. And I LOVE to have cake soup (which is a slice of cake in a bowl with milk poured all over it).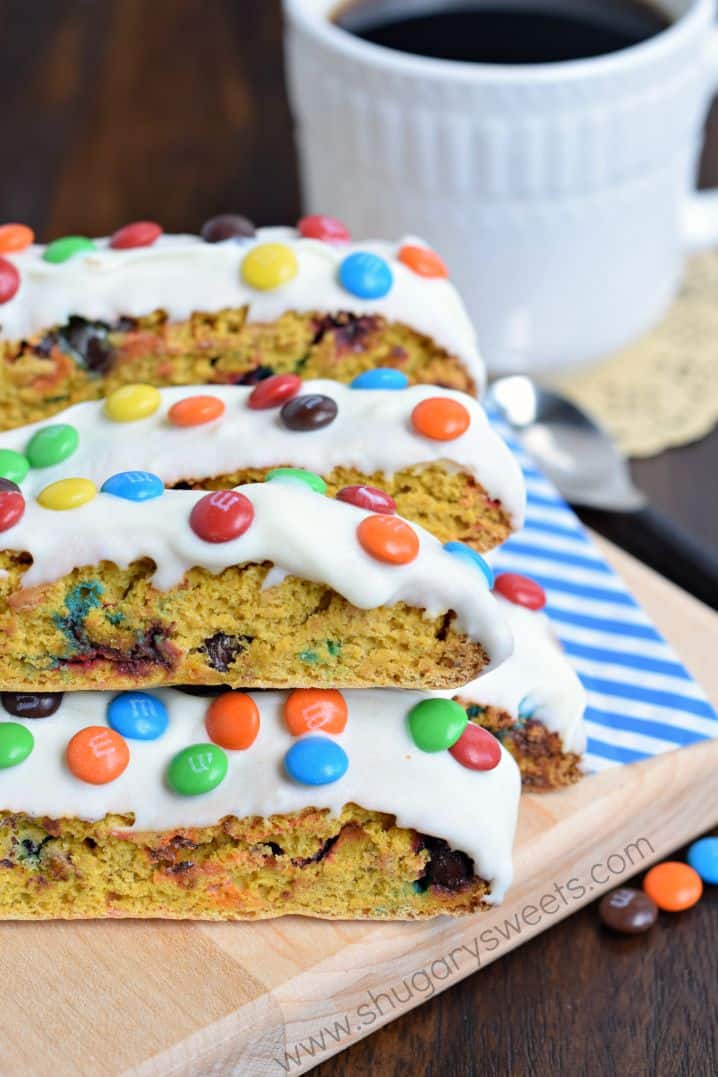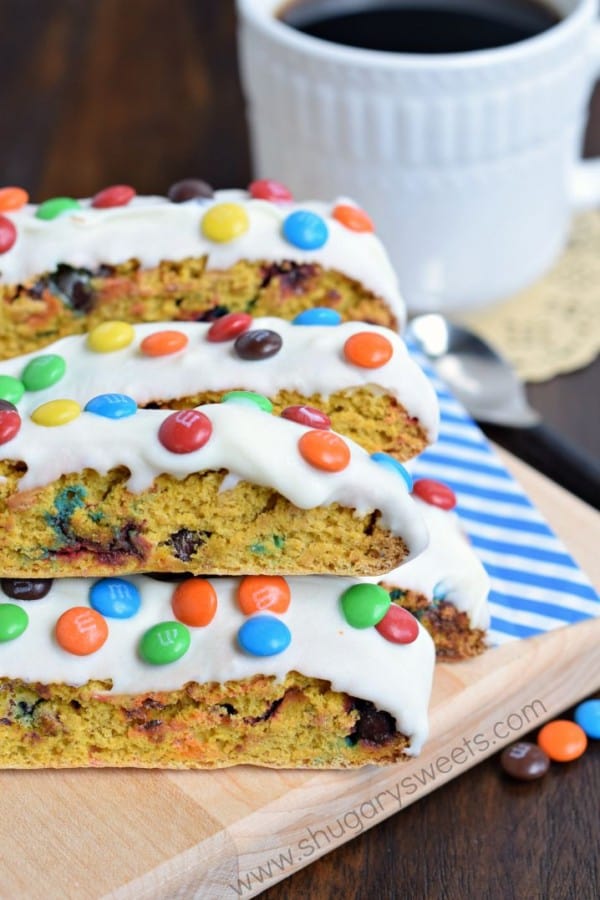 I learned years ago that biscotti is actually rather easy to make. I had always loved this morning treat, but it wasn't until I began making it at home that I realized how simple it is to create! The best part? You can create so many different flavors imaginable. The end result is crunchy cookies begging to be dipped in coffee or hot cocoa.
Yes, your heard that correctly. Biscotti is basically a cookie meant for dunking. Genius right?
Know what else is genius? Making a pumpkin biscotti with M&M'S® Baking Bits.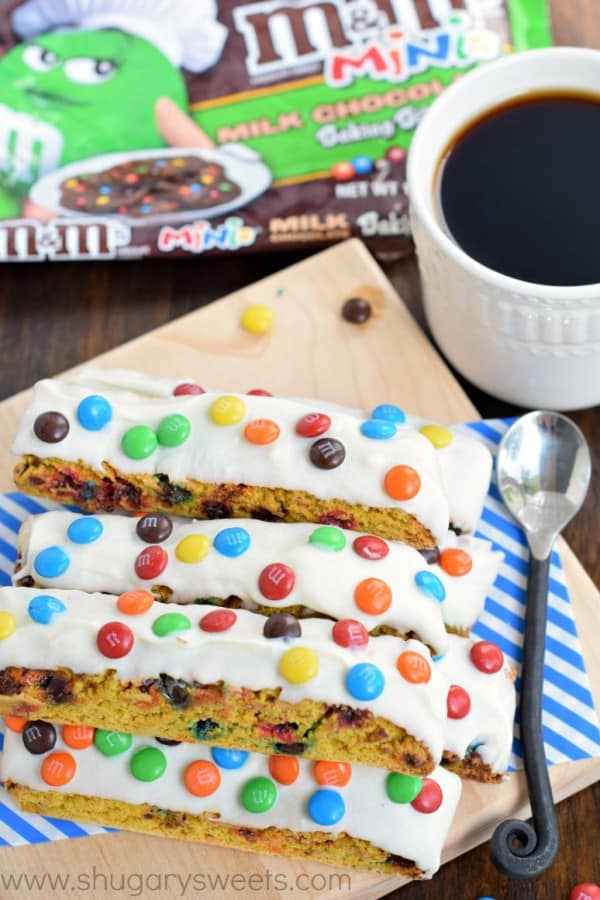 It's the perfect fall snack. You can find the colorful M&M'S® Baking Bits in your baking aisle at your local grocery store, Target, or Walmart. They come in a semi-sweet version or milk chocolate. I used the M&M'S® Minis Milk Chocolate Baking Bits in today's recipe.
I love the chocolate paired with the pumpkin. And the little "crunch" of the candy coating adds a great texture to these biscotti.
A few tips about making biscotti:
Use parchment paper on your baking sheet. This prevents your biscotti from sticking to your baking sheet and helps with easy clean up!
Use your hands to pat the biscotti into two logs, measured 2-inch by 12-inch. Add a little extra flour to hands if they begin to stick. Make sure to pat them so they are even in height, this helps ensure an even baking time.
Use a serrated knife to cut the biscotti after baking. This helps to not only cut through the candy inside, but prevents the biscotti from "tearing" during the cutting process. Use tongs to place each piece on it's side for the next part of baking.
I melt my white chocolate morsels for 30 seconds in the microwave and stir until smooth (adding an additional 30 seconds to melt completely). I pour this melted white chocolate onto a pie plate and then dip my cooled biscotti into the melted chocolate. Immediately sprinkle with your M&M's Baking Bits.
Store biscotti in an airtight container (or resealable plastic bag) for up to two weeks. ENJOY.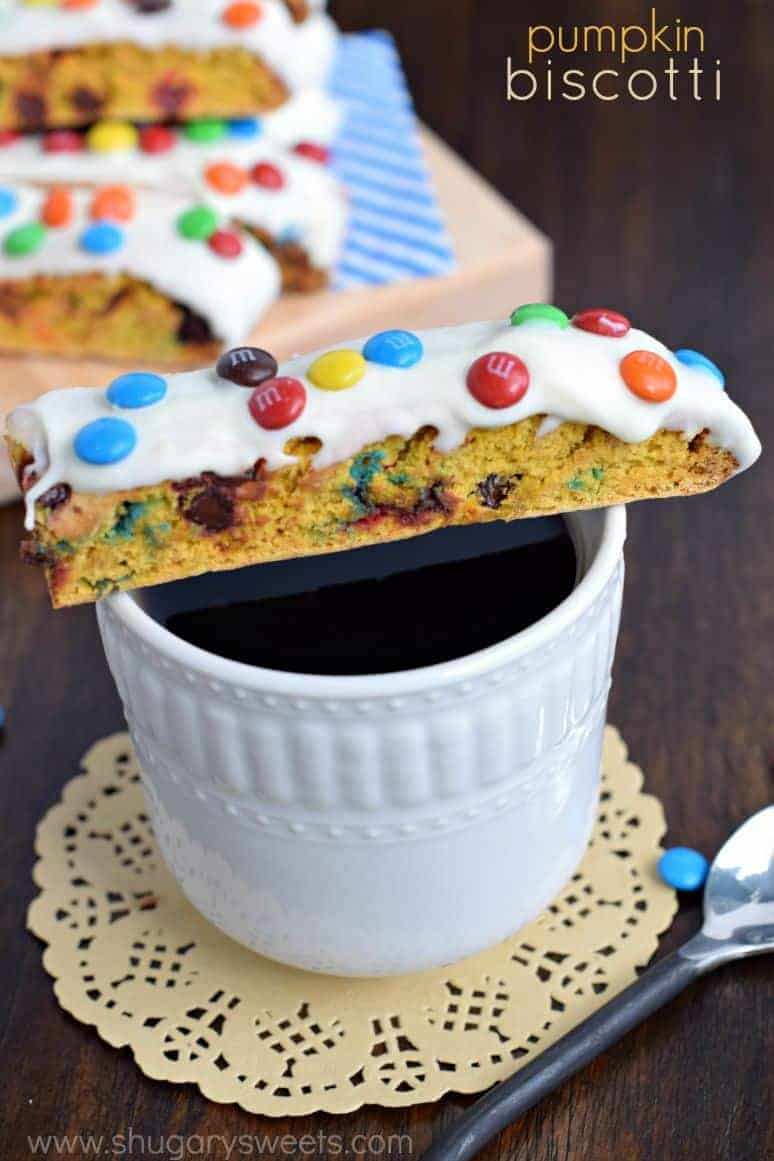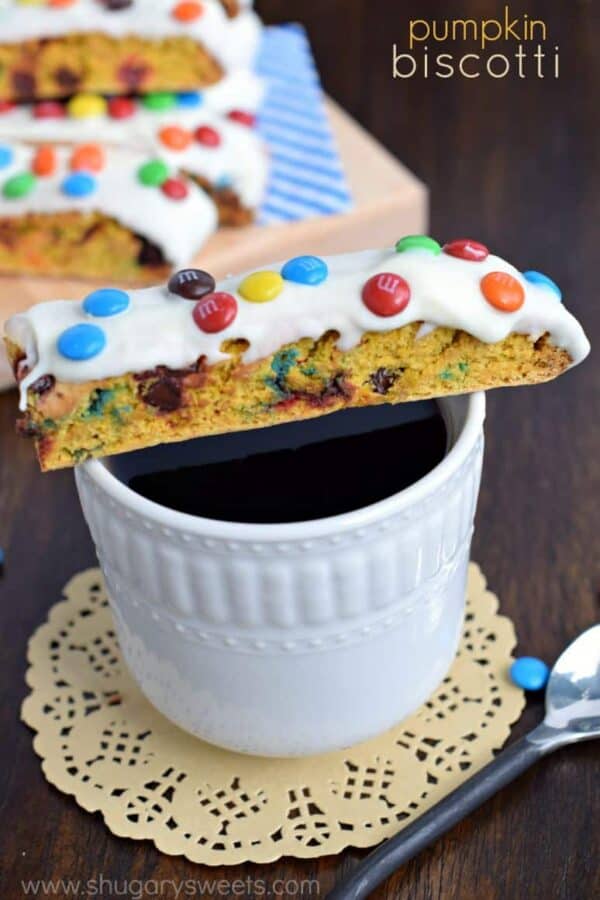 I've partnered up with M&M'S® to help create delicious content for their new Pinterest page! Be sure to head on over there for some great recipe ideas using your favorite candy!!
Connect with M&M'S®:
website | pinterest | facebook | twitter

Disclaimer: This post is in partnership with M&M's. All thoughts and opinions are 100% my own. Thank you for supporting the brands that make Shugary Sweets possible.