Pumpkin Pie Cupcakes with Cool Whip Frosting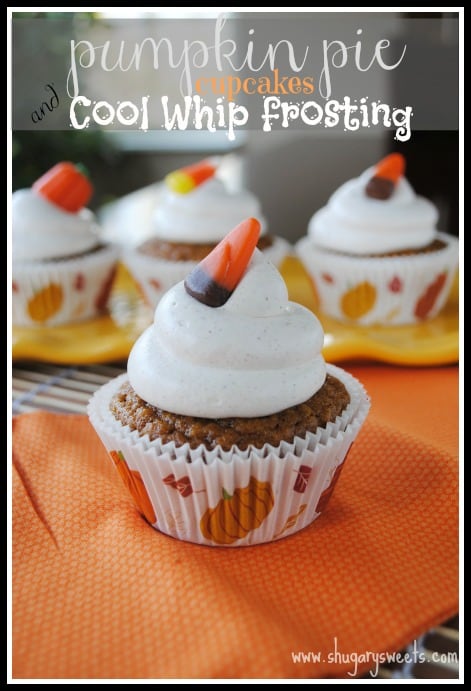 Have you tried the new Cool Whip Frosting yet? Did you even know it existed?
I happen to LOVE Cool Whip. So when I heard there was a frosting, I knew I wanted to try it!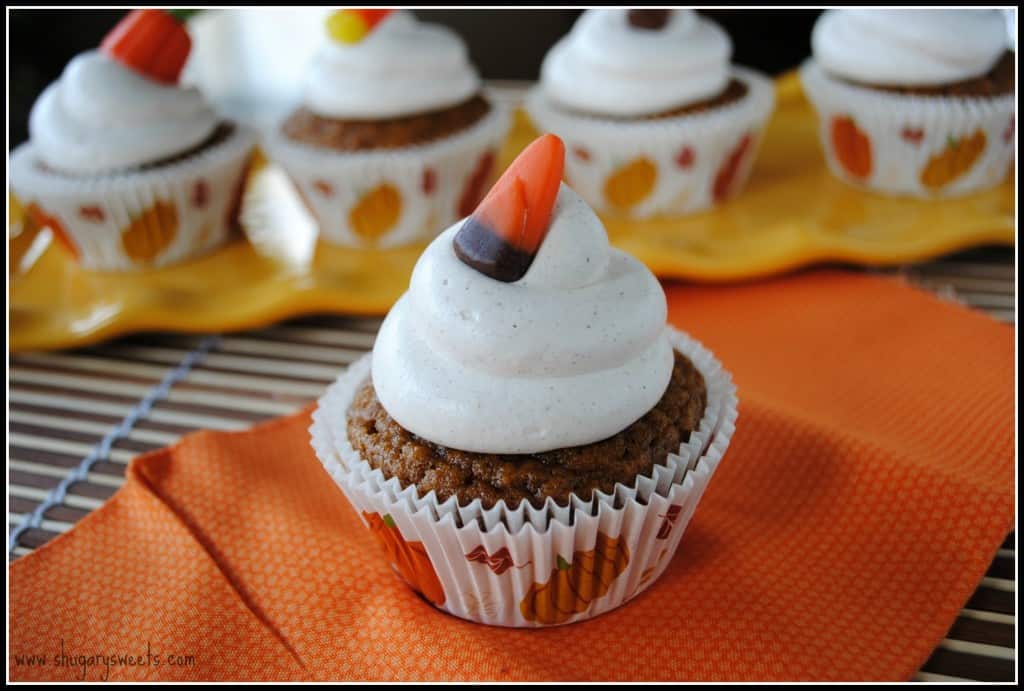 Our family is busy. Our weeknights are filled with sports, music and homework. Oh yeah, don't forget dinner.  I haven't had much time lately to bake! I know, you all are seeing treats here, but sometimes these treats are for other people. I wanted to bake something for my own family for dessert, to share around the table on a night we actually were all going to be together! It's a celebration!
As you all know I love pumpkin desserts. So these cupcakes had to be made. But I wanted to try a new frosting on them. Something delicious. I had seen Cool Whip Frosting on facebook (yes I follow most of my favorite brands, don't you?). So I was happy when I tasted this frosting and realized how smooth and creamy it is! And so convenient.
Admit it.
Sometimes convenience trumps homemade.
And, sometimes Cool Whip Frosting NEEDS to trump the canned stuff. TRY IT.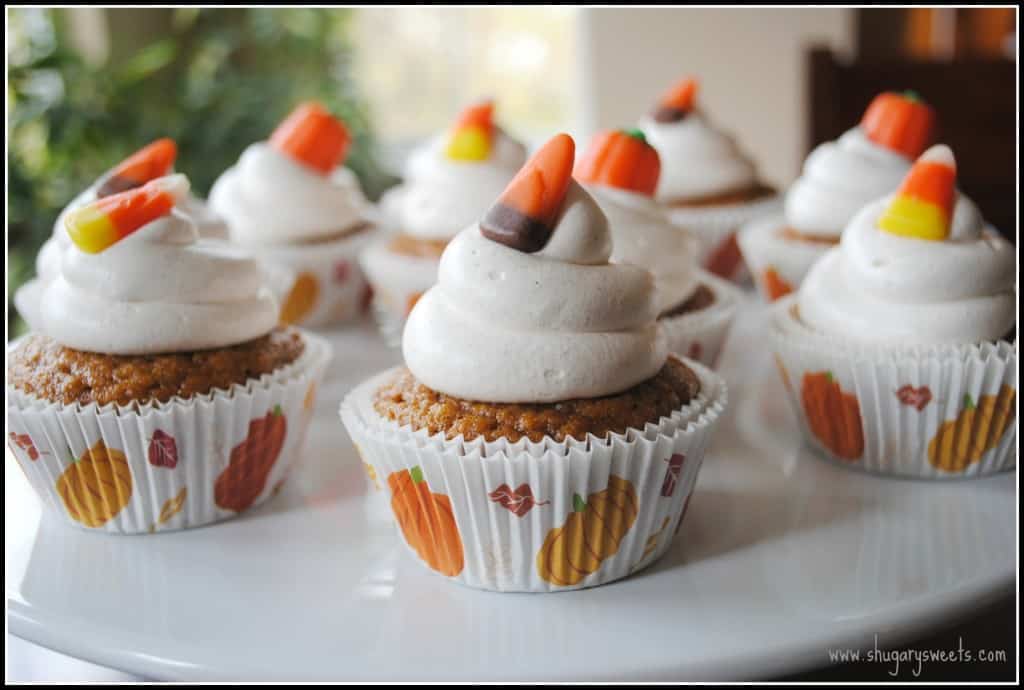 Typically I make my own cream cheese frosting to go with a pumpkin dessert.  Nobody will know this isn't homemade frosting. I added some cinnamon to my Cool Whip Frosting for a little added flavor. Amazing.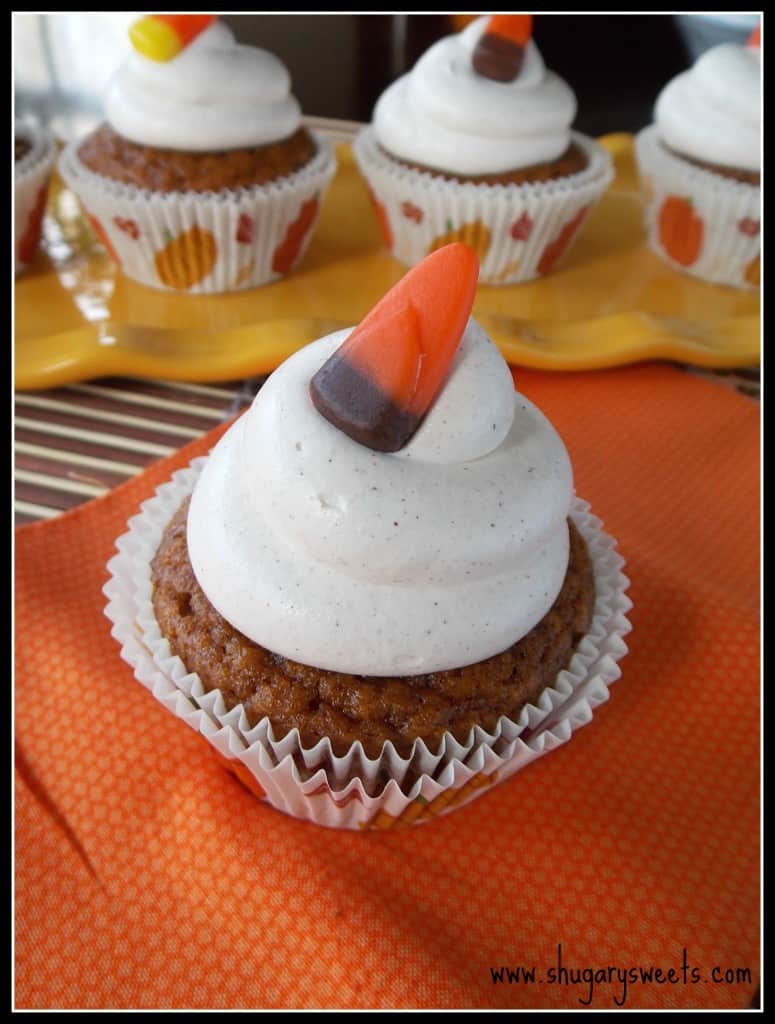 My recipe makes 18 full size cupcakes. One tub of Cool Whip Frosting says it should frost 24 cupcakes. However, I pipe mine a bit higher than the average person so I used two cartons of frosting for this recipe. ENJOY!
Keep these cupcakes stored in the refrigerator. Best when served cold!
If you're on Twitter, check out #CoolWhipFrosting for more recipes!
How does your family celebrate everyday occasions?
 Like this Pumpkin Pie Cupcake with Cool Whip Frosting? Then check out these Pinterest Boards…
Pumpkin Pie Cupcakes with Cool Whip Frosting
Ingredients:
For the Cupcakes
1 cup canned 100% pumpkin puree
1/2 cup granulated sugar
1/2 cup brown sugar
1/2 cup applesauce
2 eggs
1 cup all purpose flour
1 tsp baking powder
1 tsp baking soda
1/2 tsp kosher salt
1 1/2 tsp ground cinnamon
1 1/2 tsp pumpkin pie spice
For the Frosting:
2 cartons (10.6oz each) Cool Whip Vanilla Frosting, thawed
1 tsp ground cinnamon
candy corn
Directions:
For the cupcakes, mix all ingredients together until completely combined. Fill cupcake tin with paper liners. Fill liners 2/3 full. Bake in a 350 degree oven for 20 minutes. Cool completely.
In a large bowl, mix cinnamon into the thawed Cool Whip Frosting, folding with a spatula. Pipe onto cupcakes. Top with a piece of candy corn.
MAKING THIS RECIPE? Share it with me on Instagram using the hashtag #ShugarySweets so I can see what you're cooking up in the kitchen!
 **See my Shopping Story on Google+ here: #CoolWhipFrosting Shoppertunity
I am a member of the Collective Bias™ Social Fabric® Community.  This content has been compensated as part of a social shopper insights study for Collective Bias™ and Kraft Cool Whip.  #CoolWhipFrosting #CBias #SocialFabric  All opinions expressed are my own.