Pumpkin Pound Cake with Caramel Walnut Sauce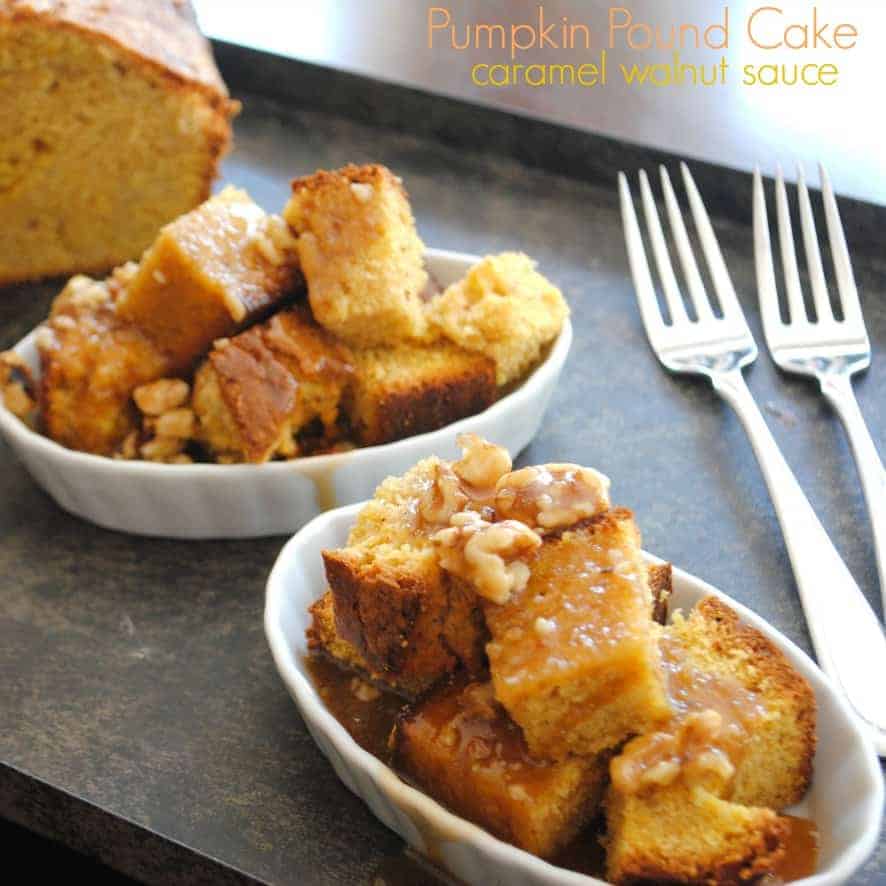 I joined a gym today. I realized doing P90X in my basement isn't going to cut it anymore. See, I have a problem. I go downstairs, start the video, conveniently forget to bring water, go back upstairs for water, and never return to the video.
So today, I decided it's time to go join a gym again. I worked out for a little over an hour. I'm talking a good workout, a painful workout. Then I came home and decided I didn't have enough pumpkin in my life. So I made you this lovely dessert (while munching on 3 pumpkin biscotti).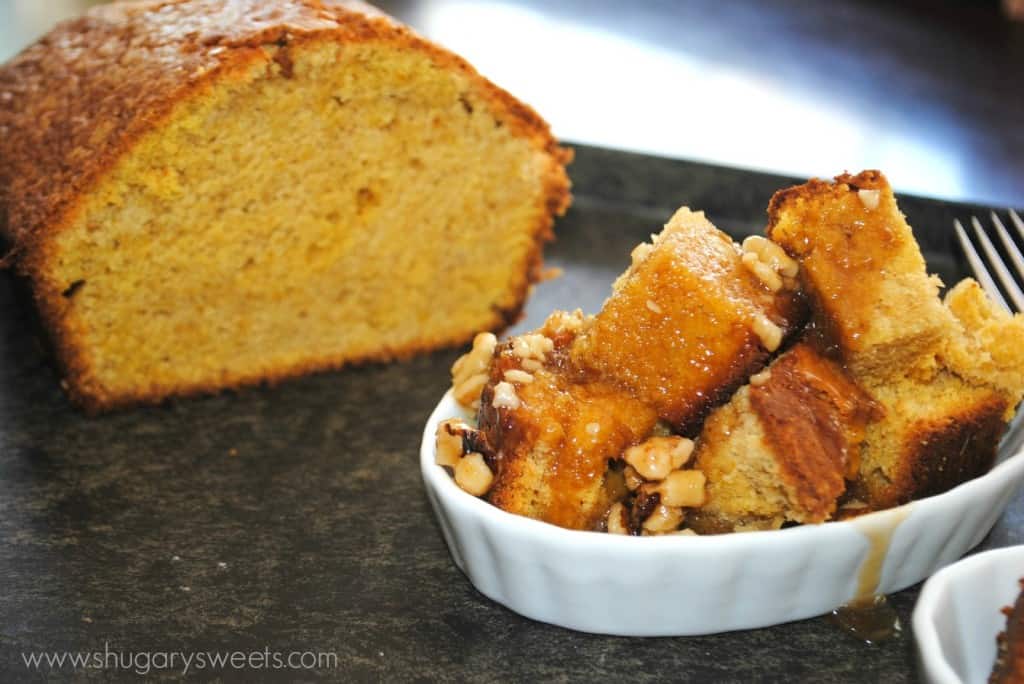 Here's the bigger problem in my story. Remember the story yesterday, and my husband admitting he doesn't love pumpkin? Well, I went and made more pumpkin desserts today. Why? WHY? I made an attempt to get healthy this morning, and now I'm ruining it by eating a big bowl of this pound cake. Which by the way is pretty amazing.
But don't worry about me. I made an appointment today to work out with my free personal trainer for the day. I wonder if he likes pumpkin?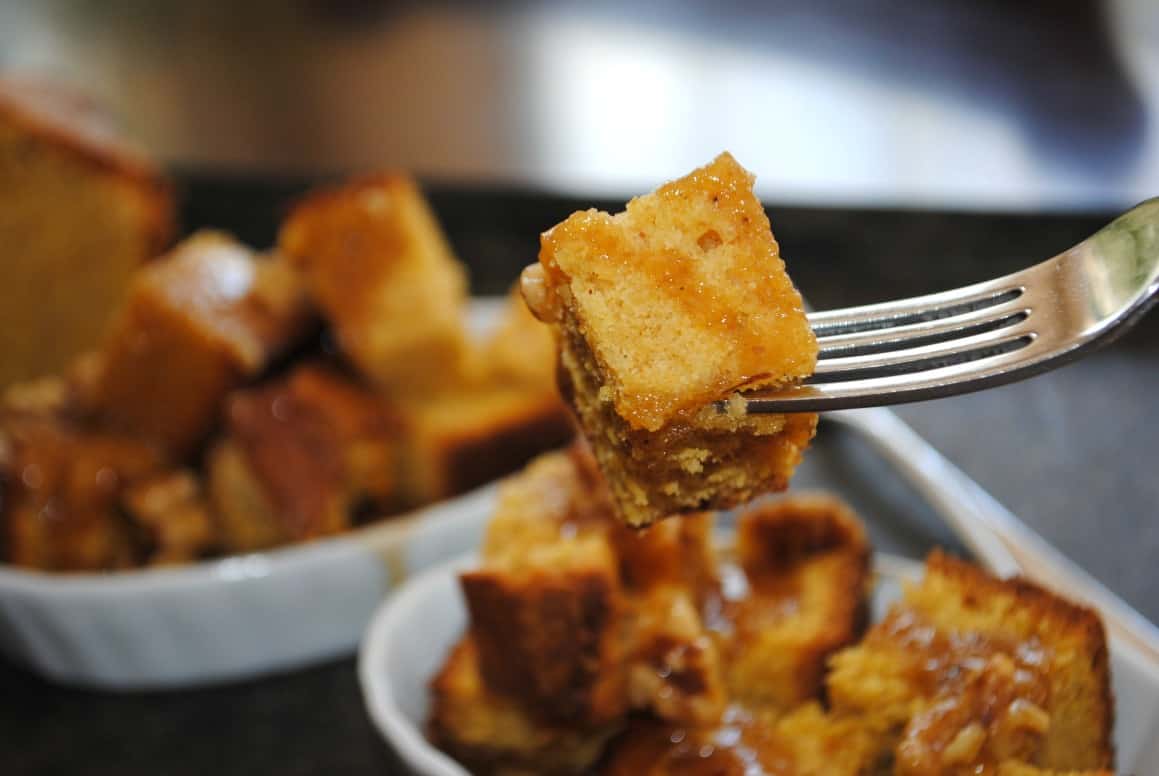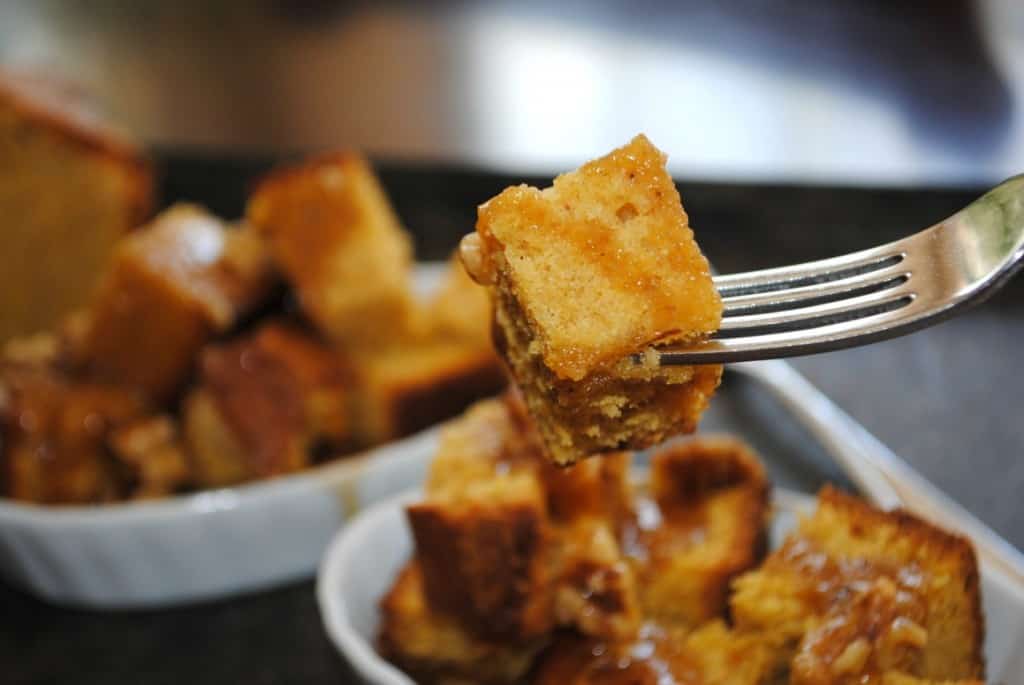 Pumpkin Pound cake with Caramel Walnut Sauce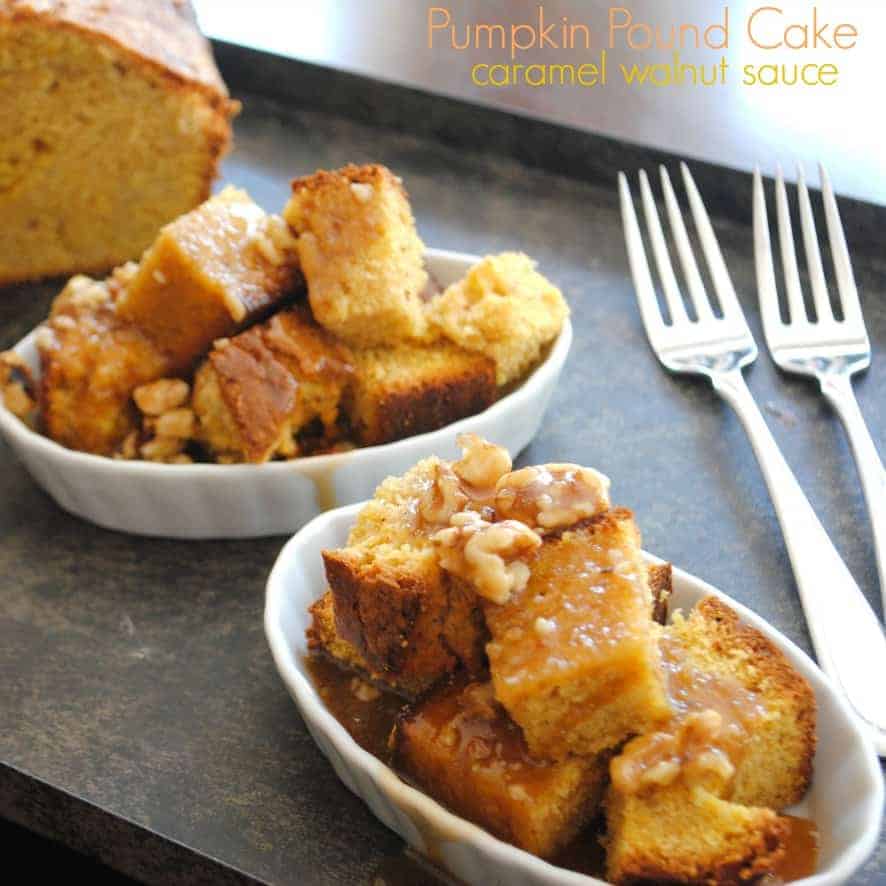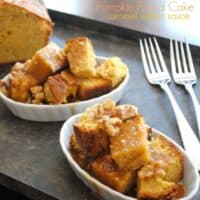 Ingredients
For the Pound Cake:
1 1/2 cup butter, softened
2 3/4 cup sugar
6 eggs
2 tsp vanilla extract
3 cup flour
1 tsp cinnamon
1/4 tsp ground nutmeg
1 tsp baking powder
1/2 tsp salt
1/2 tsp ground ginger
1/4 tsp ground cloves
3/4 cup canned pumpkin puree
For the Caramel Sauce:
1 cup brown sugar
1/2 cup heavy cream
1/4 cup corn syrup
2 Tbsp butter
1 tsp vanilla extract
1 tsp pumpkin pie spice
1/2 cup walnuts, chopped
Instructions
In large bowl, cream butter and sugar. Beat in eggs, one at a time. Add vanilla extract. In separate bowl, mix flour, cinnamon, nutmeg, baking powder, salt, ginger and cloves. Add dry ingredients slowly, alternating additions with the pumpkin. Mix just until combined.
Pour into two greased and floured loaf pans. I like to put parchment paper on the bottom of the pans to be sure they come out well.
Bake in a 350 degree oven for about 70 minutes, until toothpick comes out clean. Cool in pans for about ten minutes, then remove to wire rack.
Meanwhile, make sauce by combining brown sugar, cream, corn syrup and butter. Bring mixture to a boil and continue to boil on low for 5 minutes. Remove from heat and add in vanilla, pumpkin pie spice and walnuts.
To serve, slice or cube pound cake and drizzle generously with caramel sauce. Enjoy!