Pumpkin Snickerdoodle Cake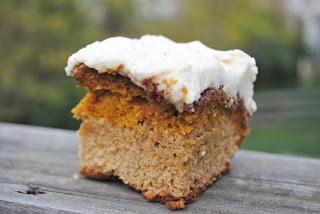 Yep, it's Monday. Another reveal day for the Secret Recipe Club. Thanks to Amanda for putting together such an awesome idea. Each month you get assigned a blog and you pick a recipe, make it, and share. Like a   Secret Santa! Only better, cause you're not stuck with some goofy socks or a tie, you CHOOSE the recipe you want to make!
This month I was assigned Heather's blog, Hezzi-D's Books and Cooks. Naturally, I searched out a pumpkin recipe. Duh. Heather has a bunch of recipes I'd like to try, but when I came across her recipe for a  pumpkin snickerdoodle cake, I knew immediately this was the one!
And I'm so glad I found it. My only change was I like frosting. I LOVE frosting. So instead of drizzling the top of the cake with white chocolate like Heather suggested, I made a white chocolate buttercream frosting. To. Die. For. This recipe makes giant bars, next time I might play around with baking it in a jelly roll pan, or two 13×9 pans. Just an idea.
Anyways, enjoy!
Pumpkin Snickerdoodle Cake Recipe:
Ingredients
for the snickerdoodle layer:
3 cup flour
1/2 tsp baking soda
1/2 tsp baking powder
1 tsp salt
1 1/2 cup brown sugar
1/2 cup butter, softened
1/2 cup applesauce
2 eggs
1 tsp vanilla
for the pumpkin layer:
1 cup flour
3/4 cup sugar
5 Tbsp butter, softened
1/2 tsp baking powder
1 tsp baking soda
1 tsp salt
1 tsp pumpkin pie spice
1 egg
15 oz can pumpkin puree (about 1 1/2 cup)
1/4 cup sugar
2 tsp cinnamon
for the frosting:
1 cup butter, softened
12 oz white chocolate, melted
2 cup powdered sugar
1 tsp vanilla
Instructions
Grease 13x9 pan with butter. In large bowl beat 1/2 cup butter, applesauce, 2 eggs and vanilla. Add in the dry ingredients for the snickerdoodle layer. Mix until well blended and spread evenly in bottom of 13x9 pan.
For next layer, mix butter and 3/4 cup sugar. Add in pumpkin, flour, baking powder, baking soda, salt and pumpkin pie spice. Mix until well blended and spread over the snickerdoodle layer.
In small bowl mix 1/4 cup sugar with 2 tsp cinnamon. Sprinkle over top of pumpkin layer.
Bake in a 350 degree oven for 40-45 minutes, until toothpick comes out clean. Cool completely.
For frosting, beat butter with melted white chocolate, powdered sugar and vanilla until smooth. Spread over cooled cake. Cut and enjoy!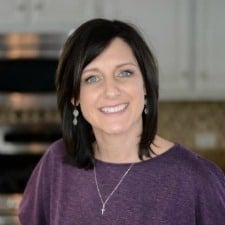 Aimee is a dessert lover (specifically rice krispie treats), workout enthusiast, self-taught foodie, and recipe creator. Her recipes have been featured in numerous magazines, and her passion is to share her love of cooking with the everyday home cook!