Reeses Nutter Butter Cookies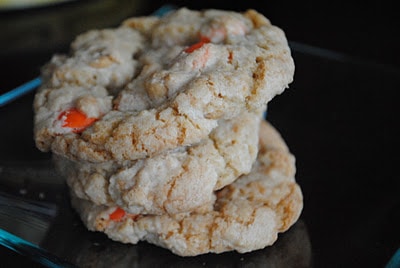 Do you remember these double chocolate Oreo cookies and these cookies and cream cookies? It occurred to me that I like my cookies best with a little crunch. And that crunch tends to come in the form of an Oreo.
But, what if it came in the form of NutterButters? Woah. Imagine the possibilities? First up though, I had to test the recipe. You know, all in the name of testing. And, while I was at it, I had to throw in some leftover Halloween candy. (do you know how many mini bags of Reese's pieces it took to get 1 1/2 cups? totally don't see how a little bag is bad for you anymore)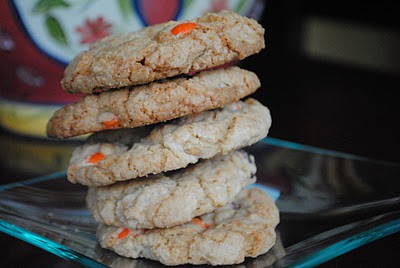 Our family gave these a huge thumbs up, crunchy, chewy, perfect. Hope you enjoy them too! And if you want them to look more holiday-ish you could easily substitute the peanut butter m&m's in the holiday colors. Enjoy!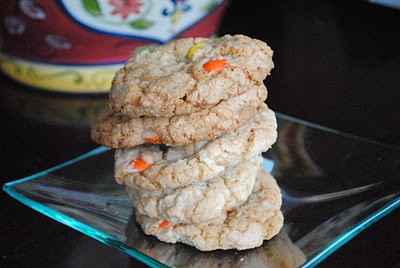 Reese's Nutter Butter Cookie Recipe:
Ingredients
1 1/2 cup butter, melted
2 cup brown sugar
1 cup granulated sugar
3 eggs
1 Tbsp vanilla extract
4 cup flour
1 tsp salt
1 tsp baking soda
16 nutterbutter cookies, crushed
1 1/2 cup Reese's pieces candy
1 cup peanut butter morsels
Instructions
Beat butter and sugars for 2 minutes, until smooth and creamy. Add in eggs one at a time. Beat in vanilla.
Slowly beat in flour, salt and baking soda. Fold in the cookies, candy and peanut butter morsels.
Drop by large tablespoons on cookie sheet. Bake in a 375 degree oven for 10-12 minutes. Enjoy.
If you enjoyed these Reese's Nutterbutter Cookies, you might also enjoy….


Reese's Popcorn Munch from Inside BruCrew Life
Payday Cookies from ShugarySweets
Better than Crack Brownies from How Sweet It Is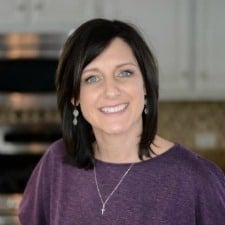 Aimee is a dessert lover (specifically rice krispie treats), workout enthusiast, self-taught foodie, and recipe creator. Her recipes have been featured in over 15 magazines, and her passion is to share her love of cooking with the everyday home cook! Learn more about Aimee.