Rolo Turtle Fudge
I love turtles. Not the reptile kind. I mean, I don't have anything against those, I just would never say I love them. Nor would I want one in my house. We have two dogs. And 5 hermit crabs. A few spiders. A snake that lives in my strawberry patch. And of course, the 6 of us.
My kids however have been begging for turtles.
So I made fudge. Turtle fudge. They didn't find that very funny. Delicious, but not funny.
Rolo Turtle Fudge
Ingredients:
40 Rolo candies, cut in half
1 1/2 cup Marshmallow Cream
3 cup milk chocolate chips
1 can (14oz) sweetened condensed milk
1 tsp vanilla extract
2 cup pecans, chopped
Directions:
In a saucepan over low heat, melt marshmallow cream, milk and chocolate chips. Stir constantly until completely melted and creamy. Stir in vanilla and pecans. Fold in Rolo candy.
Pour into a foil lined 13x9 pan. Refrigerate until cool, cut into squares. Enjoy.
MAKING THIS RECIPE? Share it with me on Instagram using the hashtag #ShugarySweets so I can see what you're cooking up in the kitchen!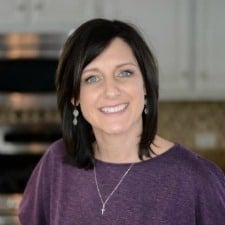 Aimee is a dessert lover (specifically rice krispie treats), workout enthusiast, self-taught foodie, and recipe creator. Her recipes have been featured in over 15 magazines, and her passion is to share her love of cooking with the everyday home cook! Learn more about Aimee.