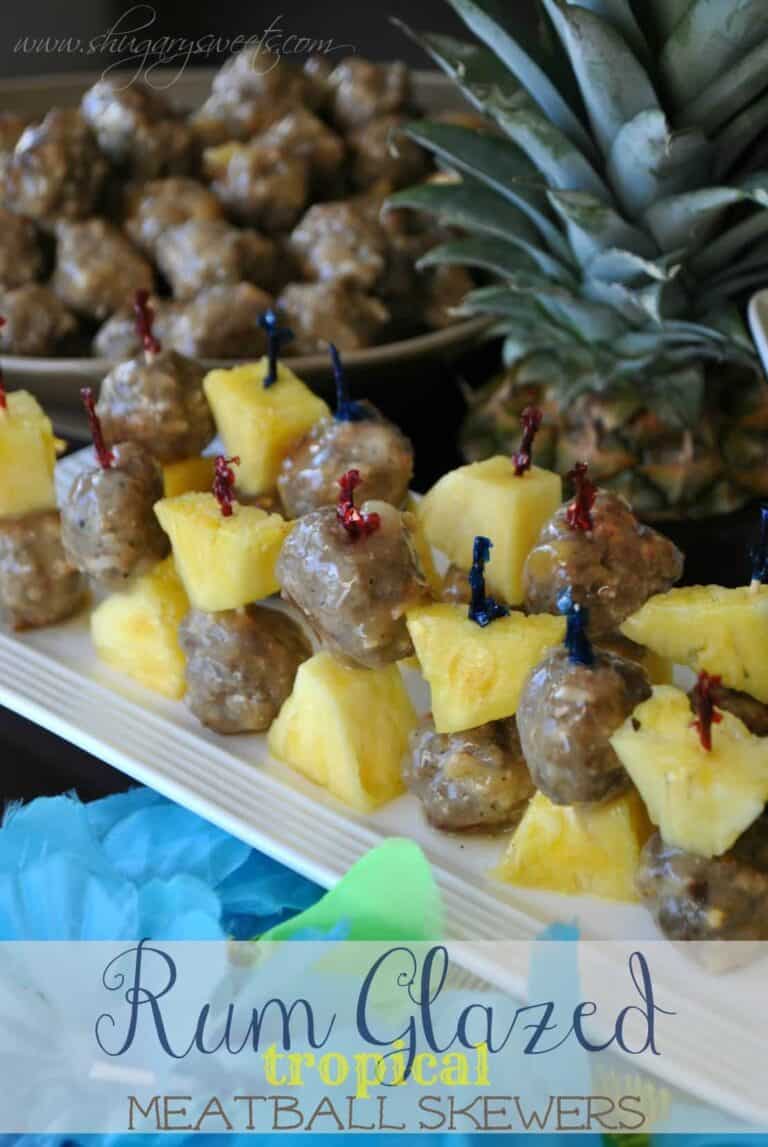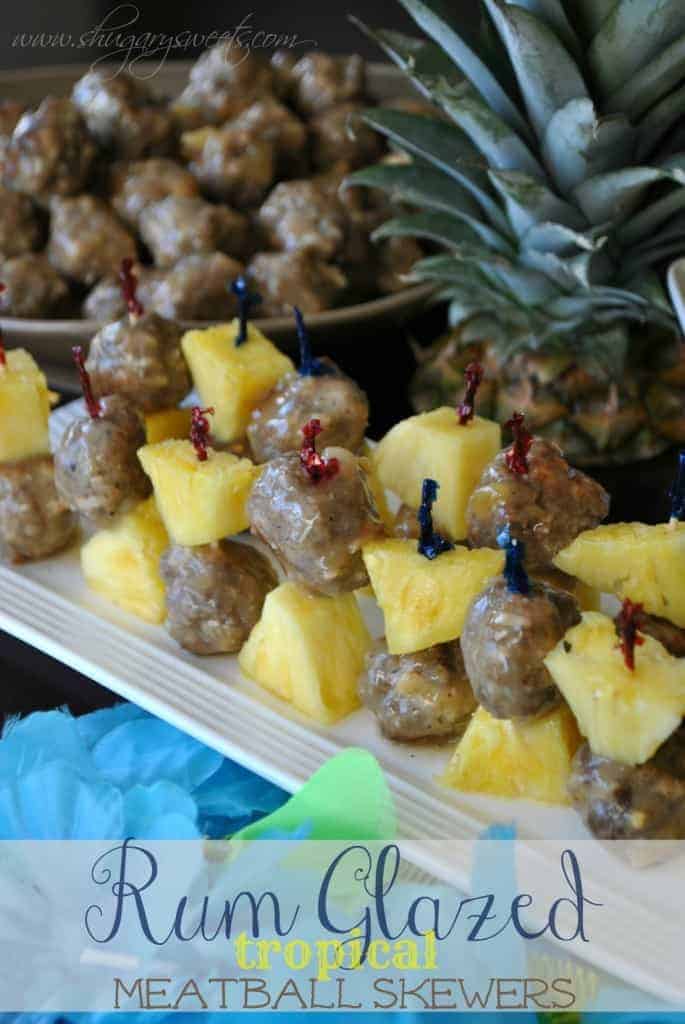 I'm back with another AWESOME Captain Morgan Rum recipe! Last week I shared with you my Hot Choc-Colada recipe and asked for you to submit ideas to me about stress free holiday entertaining (as well as rum recipes)!
Thank you to everyone who emailed me tips and recipes!! You all are creative, boozy entertainers!
Guess who else has some tips for entertaining?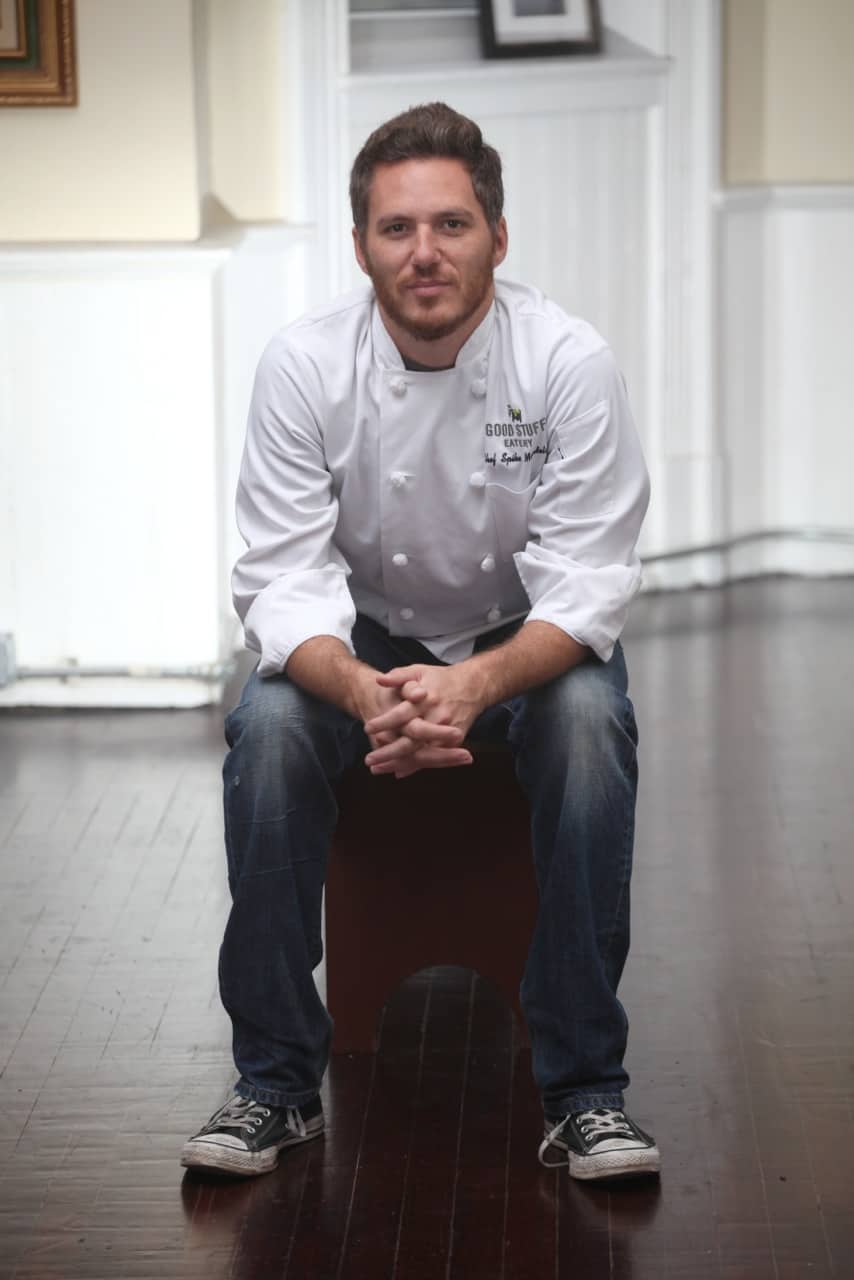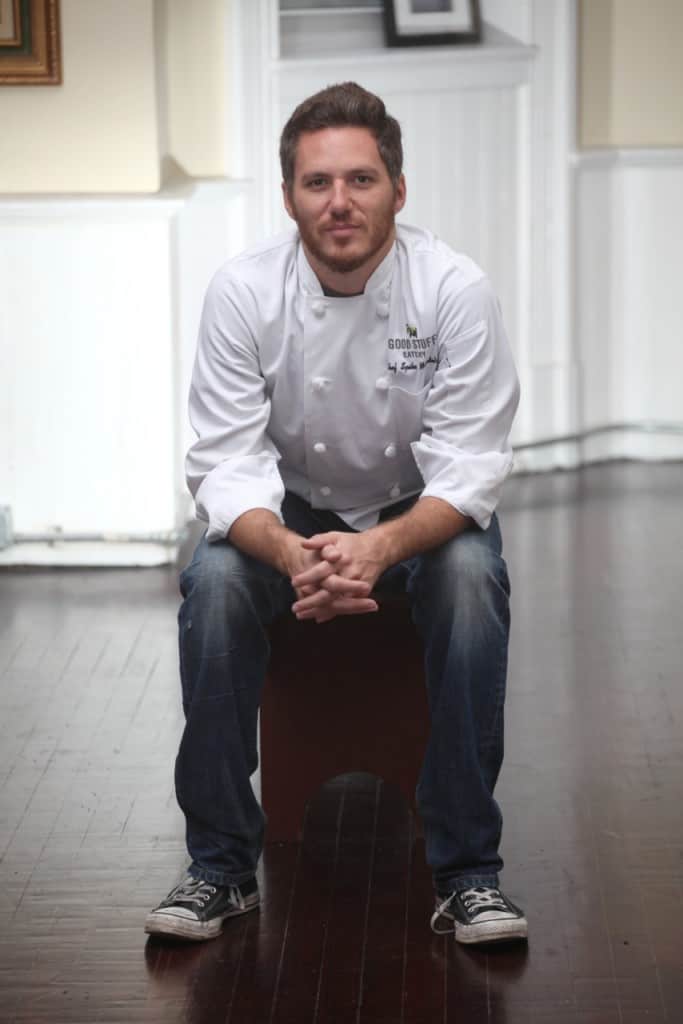 My friend, Spike Mendelsohn. I can say he's my friend now, he called me. On the telephone. And we had a conversation. Phone call + Conversation = Friendship
Granted my 3 minute conversation went something like this:
Spike: (he goes first, cause he called me!) "Congrats on being a part of the Captain Morgan competition."
Me: "Thanks!! (I may have called him buddy here…awkward, right? I was a little pressed for time and wanted to fast forward our friendship to the "buddy" phase)
Me: "So I'm told I get one question with you" (it was supposed to be more, but again, my "buddy" Spike has a busy schedule and was pressed on time)
Spike: "Yes! Ask away!"
Me: "Do you take bribes?" (remember, there are prizes in the competition…including $1000 to my charity of choice!!! And, I'm a bit competitive)
Spike: "Of course! Any good judge would take bribes, right?" (I'm glad he said yes. The alternatives would be sad…a) actually coming up with the best recipes- I mean, really, there is some amazing talent I'm up against or b) getting kicked out of the competition for asking)
Me: "Kidding. I'm just kidding." (just in case YOU weren't kidding Spike, call me back and I'll bribe you for realz. Just sayin. You got my number!)
Me: "Actually, I'd love to know your number one tip for stress free entertaining" (this is where I got all serious and professional sounding…and awkward)
Spike: "I love to get the guests involved. Encourage them to bring a dish, or wine, or help with drinks! By making them a part of your party you take some of the pressure off yourself and you can enjoy the event more!"
Then we said our goodbyes. I know he didn't want to go at this point, but I understood. He's got my number.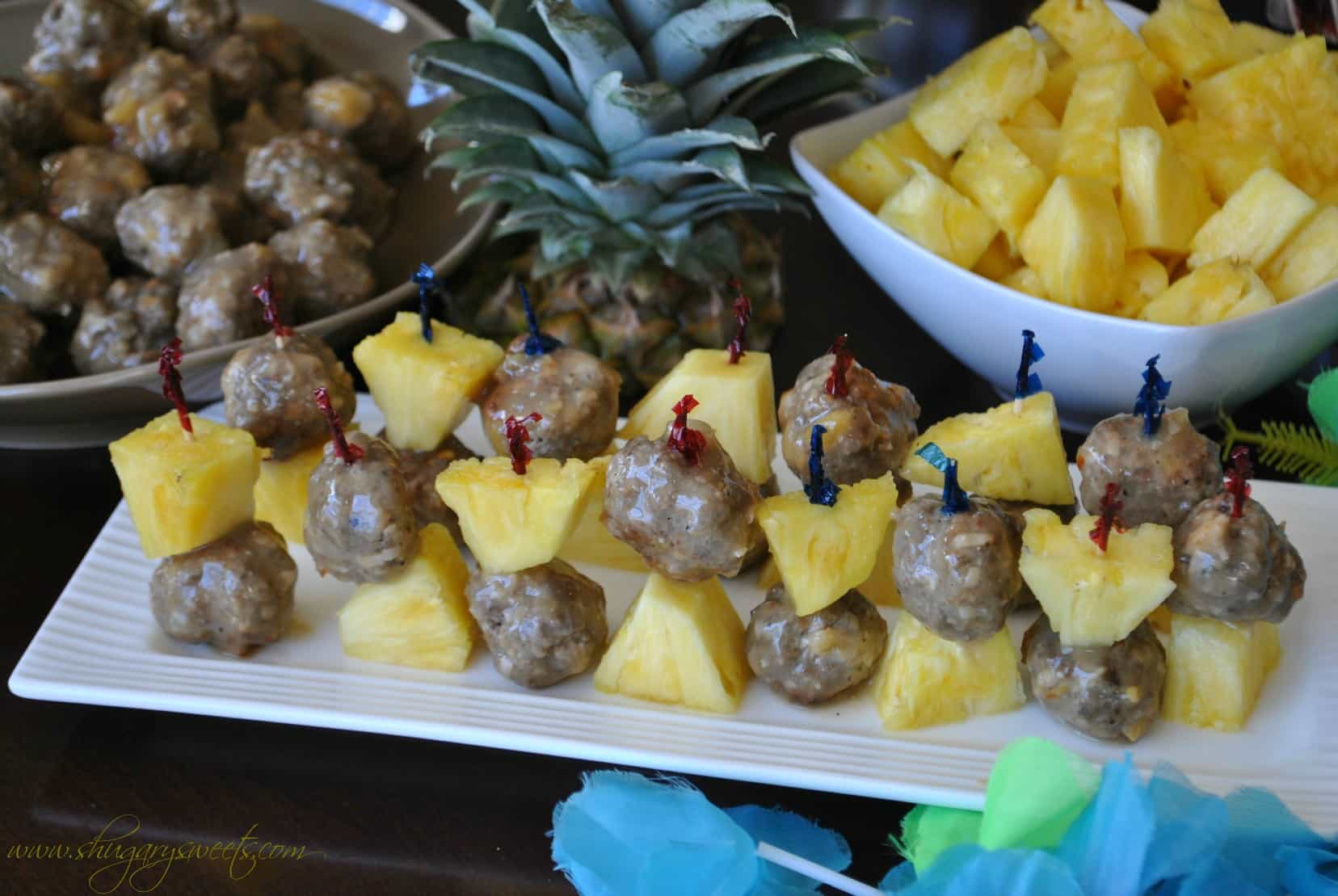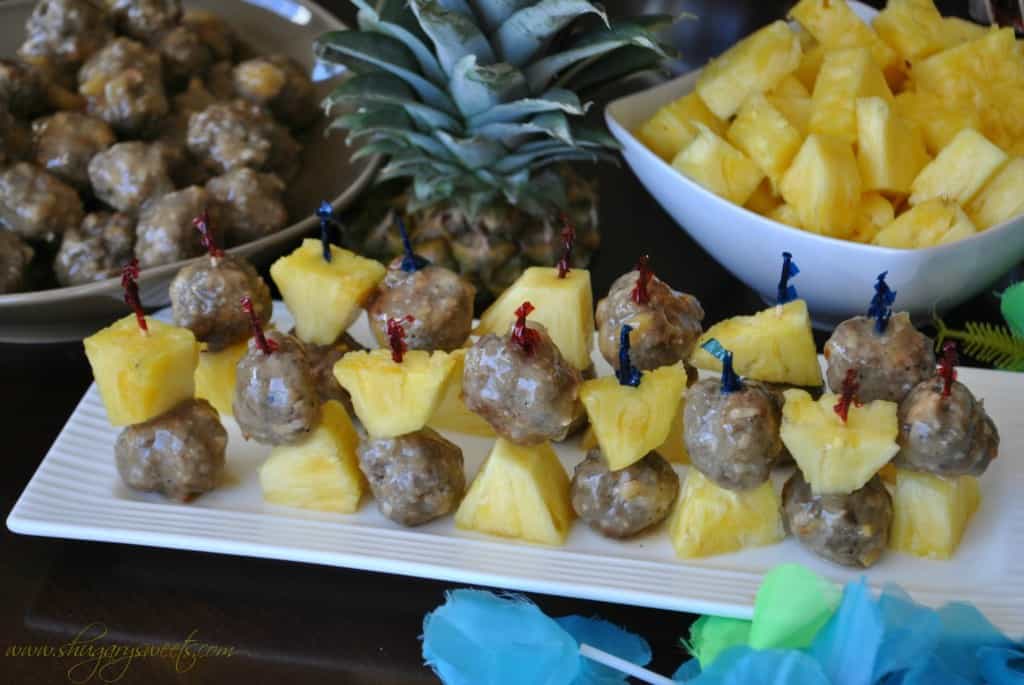 So I have tried several recipes out ahead of time for my upcoming party! I'm afraid to try recipes the day of an event. I'm not brave like that! Plus, it gives me an idea of how much time things take to cook and prepare!
When it comes to simplifying for the holidays, I'm all about planning ahead. I make my list of recipes, and try to make as much in advance as possible! That way, when it's the day of the event, I can focus on the fun, extra special touches, like decorations (and getting rid of the dog smell in my house)!  For my upcoming Captain Morgan party I have decided to go with a Tropical Christmas theme. There is nothing more I enjoy than laying on a beach drinking a pina colada in the warm sunshine!  But here in Ohio, in the middle of winter, there is nothing warm or tropical about our weather! So I am creating some warmth by bringing in the flavor of the tropics to my holiday party!
Do you have some great tips for creating a stress free holiday? Here are a few of mine, leave a comment with some more of your great ideas!
Plan ahead. Make your menu, complete with shopping list, well ahead of time! If there is something you can make before the actual party, do it!

Don't go overboard on food. This is one thing I am still learning, but sometimes a simple menu is better. One that doesn't have 10 appetizer choices. 

I'm not one to over decorate for an event, so keep it simple! A few decorations to match your party theme is enough! No need to go crazy. For my Tropical Party using a fresh pineapple in the centerpiece goes a long way! Add a few flowers and people get the idea!

Encourage people to serve themselves. Provide a drink station where your guests can mix and make their own drinks. I like to provide one "signature" drink!
The Hot Choc-Colada from last week combines my love of pina coladas with a delicious hot chocolate! Warm drink + tropical. Perfect for this theme!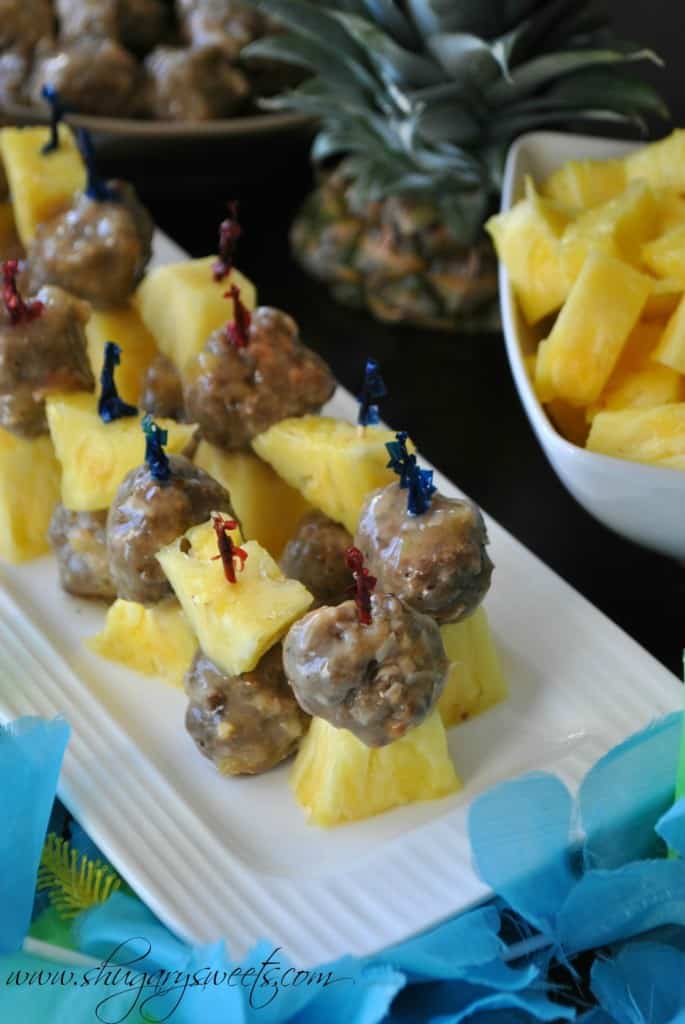 Today I'm sharing my appetizer recipe for the party. Rum Glazed Tropical Meatball Skewers! These tasty bite sized meatballs have toasted coconut and pineapple in the meatball, and are topped with a boozy tropical glaze! Plus, the meatballs can be made and baked ahead of time and frozen. Just heat up in oven and top with the hot Rum glaze before serving! ENJOY!!!!
Next week I will be sharing my dessert recipe with you all (WHICH OF COURSE I'm super excited about, after all, this is Shugary Sweets)!! I will also share highlights of my Tropical Christmas Party!! And, if Spike and I talk again, (or if he shows up at my party…call me Spike, I will give you my address) I'll share that with you all too!!!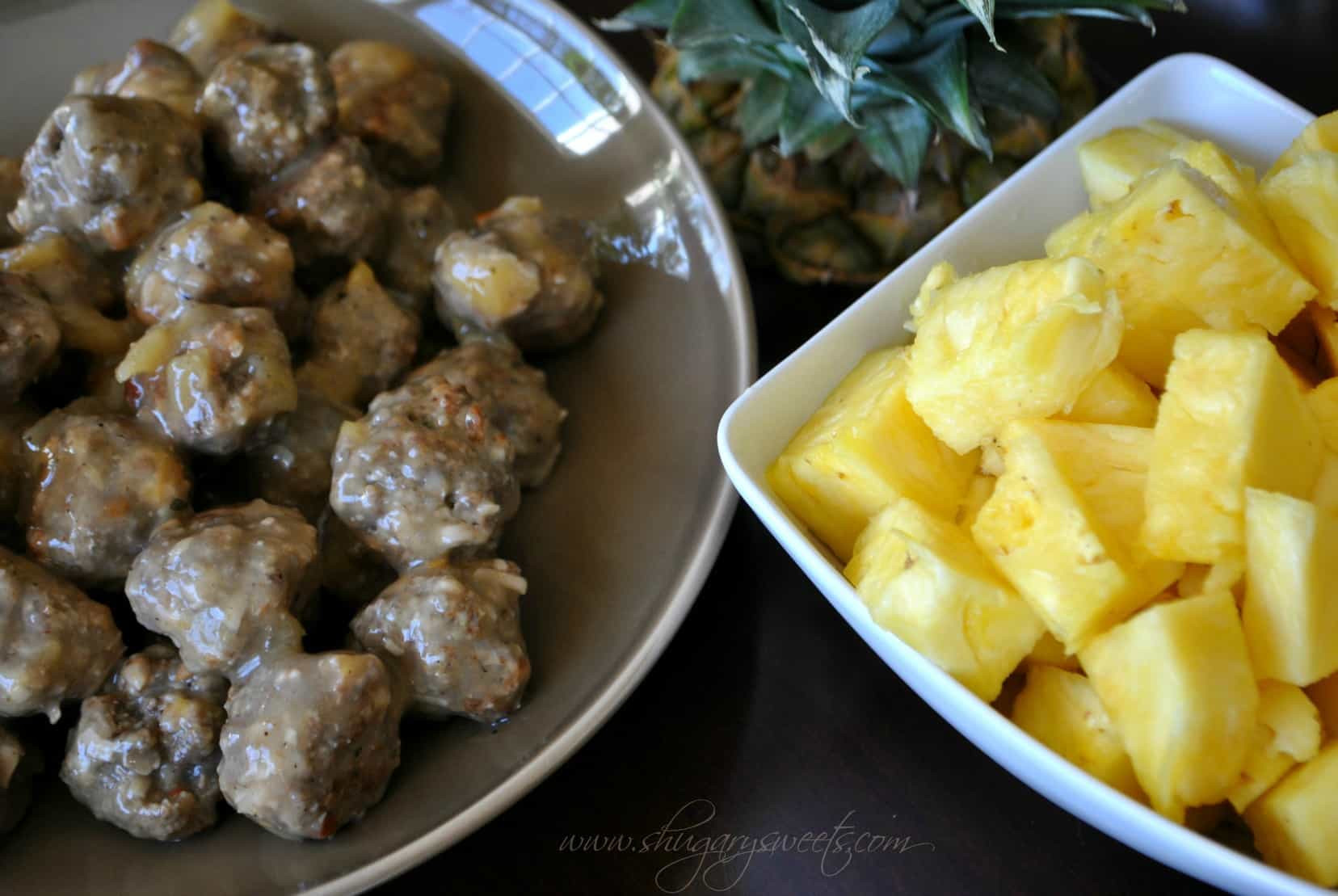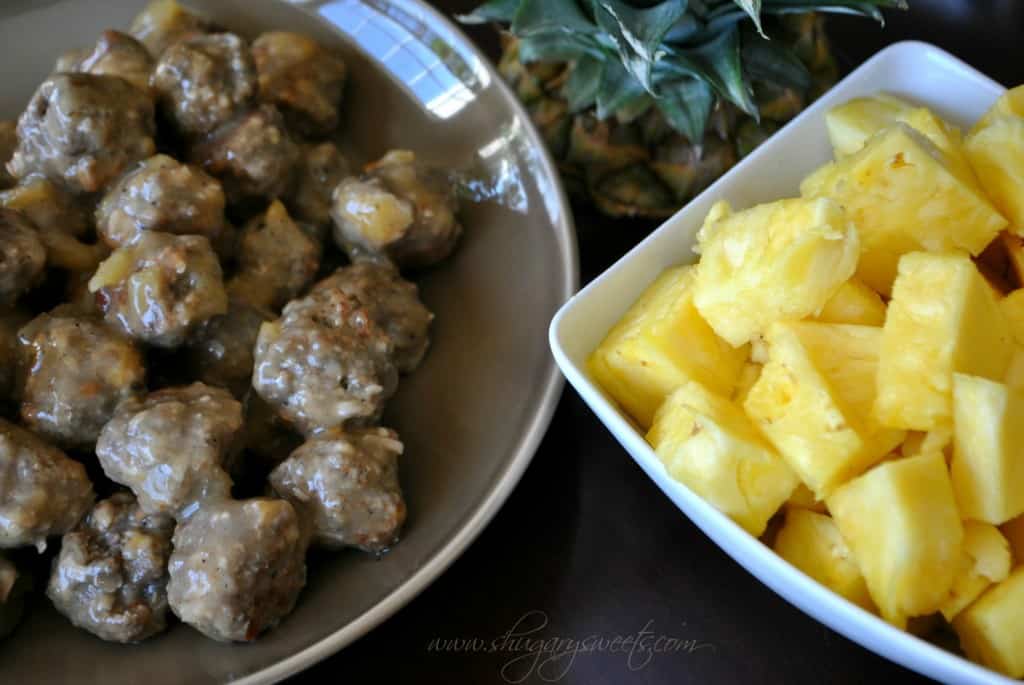 Be sure to stop over on Captain Morgan's facebook page, so many delicious recipes shared over there! And follow along on my Twitter and Instagram with the hashtag #CaptainHolidays 
Yield: 60-70 meatballs
Rum Glazed Tropical Meatball Skewers
Ingredients
For the Meatballs:
2 lb lean ground beef
3/4 cup plain bread crumbs
1/2 cup toasted coconut
1 egg
1 tsp worcestershire sauce
1/4 cup crushed pineapple (drained VERY well)
3/4 tsp garlic salt
2-3 pinches crushed red pepper flakes
1/2 tsp kosher salt
8 cranks fresh ground black pepper
For the Glaze:
1/2 cup brown sugar
1/4 cup Captain Morgan Spiced Rum
1 Tbsp lemon juice
1 Tbsp worcestershire sauce
1/2 tsp kosher salt
1 1/2 Tbsp cornstarch
1/2 cup water
3/4 tsp garlic salt
2 pinches crush red pepper flakes
1/2 cup lit coconut milk
4 cranks black pepper
1/4 cup crushed pineapple (drained VERY well)
1 fresh pineapple, chopped into chunks
Instructions
For the meatballs, preheat oven to 425 degrees. Line two baking sheets with foil. Set aside.
In large mixing bowl, combine all meatball ingredients, using hands to combine completely. Roll into bite sized balls (I made about 60-70 meatballs, 1 1/2 inch). Lay meatballs one inch apart on foil lined pans and bake for 22-30 minutes, until completely cooked. Remove from oven.
In the meantime, combine brown sugar, rum, lemon juice, worcestershire sauce, salt, cornstarch, water, garlic salt, red pepper, coconut milk and black pepper in a saucepan over medium heat. Use a whisk to combine completely and heat until sauce begins to thicken, about 5-8 minutes. Reduce to simmer and add crushed pineapple. Stir occasionally until heated.
To serve, pour hot glaze over hot meatballs. Serve in a bowl with a container of toothpicks. OR, for a special touch, skewer one meatball with one piece of fresh pineapple and place on a platter. ENJOY!
**Shugary Sweets was given free product for this post and a gift card to cover my party expenses, however all opinions are my own!**