Rustic Peach Galette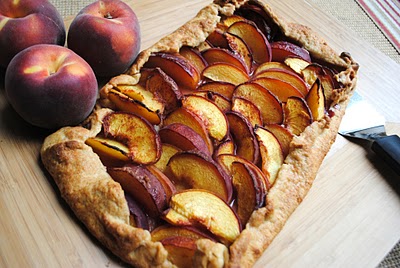 It's that time again for Secret Recipe Club reveals! If you haven't yet joined this group, it's pretty awesome. This is my second month, and this month I was assigned the blog, Barefeet in the Kitchen. Mary is a great cook, and all her recipes look delicious and wholesome.
I chose to make her recipe for Peach Galette. I have wanted to make a galette for a long time now. What a perfect opportunity. I loved the simplicity of this recipe, and the rustic appearance. And the taste? Amazing! Exactly what I had hoped for! Thanks Mary!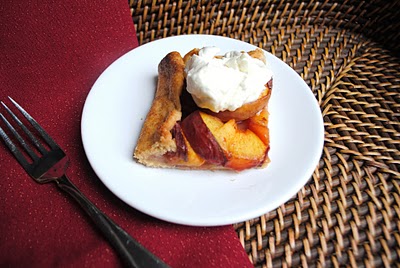 Yield: 6 servings
Rustic Peach Galette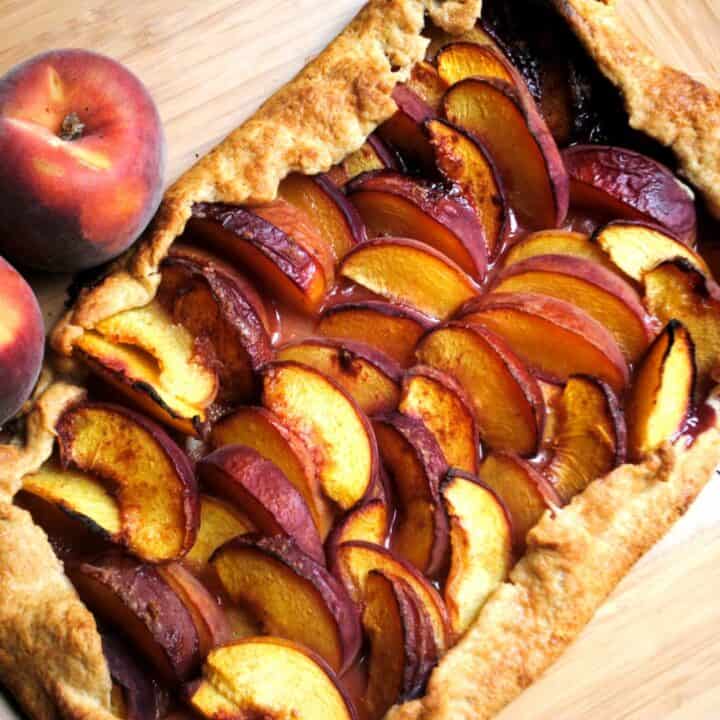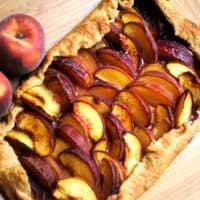 Ingredients
for the crust:
2 cup flour
1/2 tsp salt
1 Tbsp sugar
3/4 cup butter, cubed
1/3 cup water (very cold)
for the filling:
5 peaches, medium sized
2 Tbsp sugar
1 tsp cinnamon
2 Tbsp butter, melted
1 Tbsp raw sugar, for dough
Instructions
Combine flour, salt and sugar in mixer bowl. Add cold cubed butter and mix with paddle attachment until dough is crumbly. Slowly add cold water and mixing until dough comes together.
Wrap dough in saran wrap and refrigerate for at least 15 minutes. While chilling, wash and slice peaches. I kept the skin on because I like the way it looks (and tastes). You can certainly peel yours if you like. Sprinkle the cinnamon and sugar evenly over the peaches, set aside.
Roll dough out into a 14in circle. I made mine rectangular, about 15x9. Brush with half of the melted butter, then layer on the peaches. Leave room along the edges to fold over the dough. Brush the edges of the dough, after being folded, with butter. Sprinkle with the raw sugar. Bake in a 425 degree oven for 15 minutes, reduce the temperature to 375 degrees. Bake for about 35 minutes. Remove and cool slightly. Delicious with whipped cream or ice cream! Enjoy!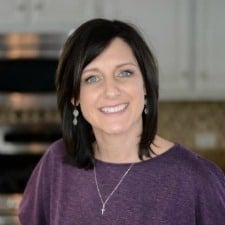 Aimee is a dessert lover (specifically rice krispie treats), workout enthusiast, self-taught foodie, and recipe creator. Her recipes have been featured in over 15 magazines, and her passion is to share her love of cooking with the everyday home cook! Learn more about Aimee.