All the coziness of a cup of cocoa baked into a luscious dessert bar. Salted Caramel Hot Cocoa Bars are filled with mini marshmallows and caramel, then topped with chocolate drizzle and sea salt. Perfect for a cold winter's day!
Hot chocolate mix isn't just for making a warm drink! Did you know you can use it in your baking too? Try our hot cocoa muddy buddies for a fun use of cocoa mix.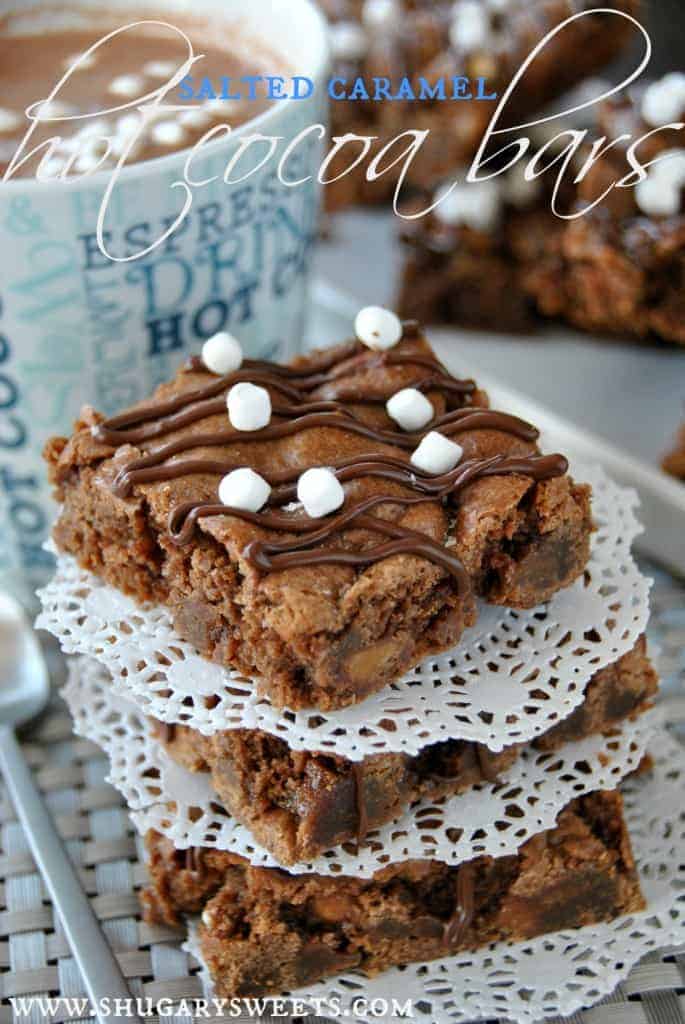 Why this Recipe Works
This recipe for Salted Caramel Hot Cocoa Bars has it all: chocolate, caramel, a hint of saltiness and, of course, lots and lots of marshmallow-y goodness.
With hot chocolate powder baked right into the batter, the bars have a distinct chocolate flavor that tastes exactly like a cup of cocoa. The blend of sweet and salty is made even better with the addition of both mini marshmallows AND marshmallow bits!
They come together as easy as a pan of brownies and taste delicious chilled, straight out of the fridge. If you're looking for a salted caramel dessert that's a little different from the norm, you'll love these Hot Cocoa Bars!
Ingredient Notes
Hot Chocolate Mix. Any sweetened powdered cocoa mix you enjoy will work here, though you'll want to avoid flavored varieties. Save some mix to make a batch of hot cocoa bombs next!
Marshmallow bits. The topping on these bars is made from marshmallow bits NOT mini-marshmallows. You can find them, usually in jars, near the hot chocolate mix section of the grocery store.
Caramel bits. I use the Kraft brand. You'll find them near the chocolate chips in the store.
Chocolate morsels. This recipe uses semisweet chocolate chips in the dough and melted milk chocolate for drizzling on top.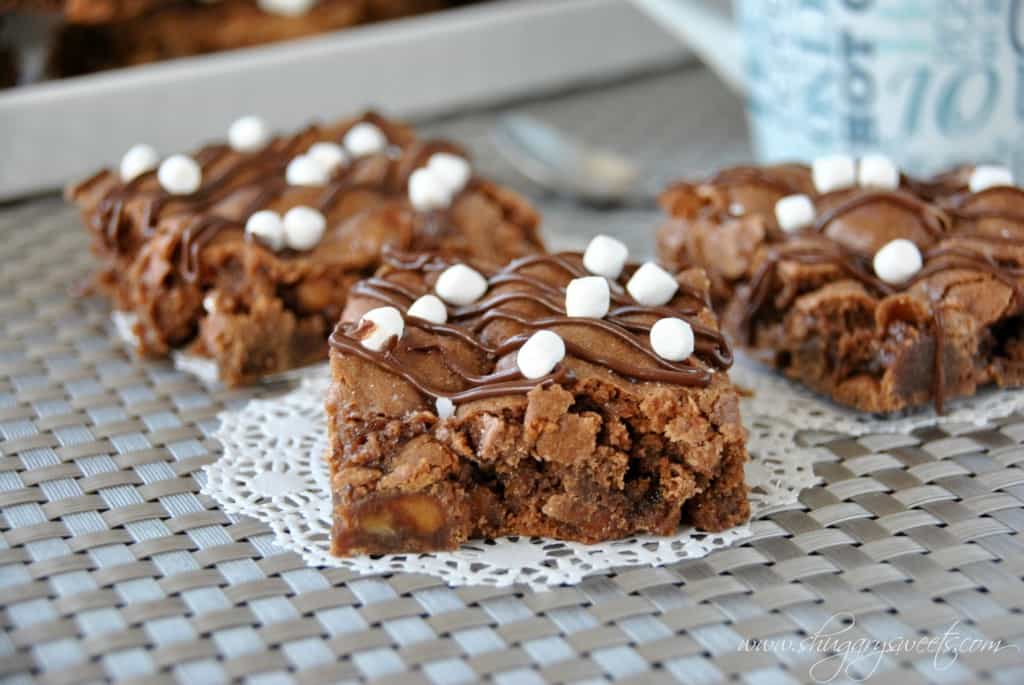 Easy Instructions
These bars start by blending brown sugar with cocoa mix, eggs and vanilla, then adding a mixture of melted chocolate and butter. You'll mix in the dry ingredients, then fold in Kraft caramel bits and mini marshmallows.
Pour the batter into a parchment lined baking dish, bake and cool. Finally, you drizzle melt chocolate over the bars, toss on the marshmallow bits and finish it off with a sprinkle of coarse salt.
Cut into squares and stash in the fridge until you're ready to eat–that is, if you can resist grabbing one from the pan right away!
Tips and Tricks
A 13 x 9 inch pan works best for this recipe. Line the pan with parchment paper for easier cutting and clean up, and to prevent them from sticking.
Best enjoyed cold. Salted Caramel Hot Cocoa Bars are a little gooey when they first come out of the oven (in the best possible way!). Keeping them chilled helps them hold their shape while still staying moist and chewy. The flavors shine even more when the bars are eaten cold, too.
Make sure to use kosher salt or sea salt. Table salt will not work on these bars; it'll dissolve into the bars as they bake and the salty flavor is less strong than coarse salt, so you'll lose the "salted" element of "salted caramel."
Recipe FAQs
What are Kraft caramel bits?
Kraft caramel bits are miniature versions of the classic caramel candy squares. They soften as they bake in these bars so you'll get ribbons of silky caramel in each bite.
It's well worth picking up a couple of bags so you can make Caramel and Chocolate Rice Krispie Treats or a batch of Turtle Brownies after the Hot Cocoa Bars!
Can I make this recipe in a square brownie pan?
You can make this in a square brownie pan but the finished bars will be thicker and you will likely need to add a few more minutes of baking time. I haven't tested the recipe in a square pan, so I can't vouch for the results.
How do you store these bars?
You should store these Salted Caramel Hot Chocolate Bars sliced in squares, covered in the fridge. They are best enjoyed within 3 – 4 days, but in my house they disappeared much faster. Maybe that's because I couldn't resist sneaking a square every time I walked past the fridge!
Can I substitute mini marshmallows for the marshmallow bits?
You can substitute mini marshmallows for the bits, but I much prefer the consistency and look of the smaller bits on top.
Why just drink your hot chocolate when you can eat it too? This Salted Caramel Hot Cocoa Bars recipe makes it easy to have a decadent dessert