Shogayaki Chicken and Apricot Rice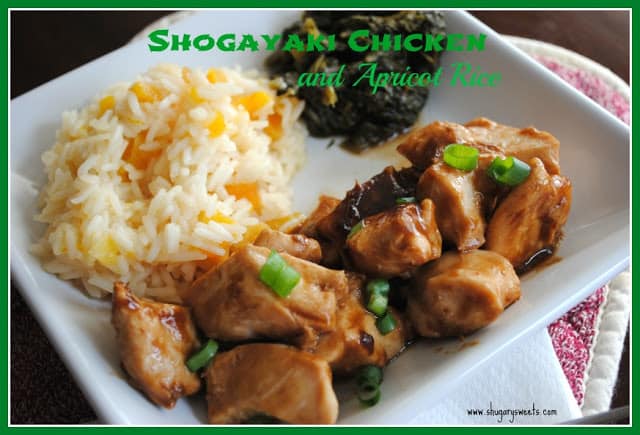 I always know when I get home and unpack my groceries if I had to stand in the check out lane too long. I come home with magazines. Some girls like People, Us, and Cosmo…I like Saveur, Taste of Home, and Everyday Food!
But I found a new one that I had never seen before. It's called "Cuisine Lite." Not to be mistaken with Cooking Light (another great one). This one though on the cover says "78 recipes under 390 calories."
YES!
See, I'm going on vacation in just over a week. A vacation which will require a swimsuit. Said swimsuit that I haven't worn since last summer. UGH. I've been working my tail off (LITERALLY), but I still need help.
Back to the magazine. The pictures are gorgeous and I dog eared  nearly half the magazine (did I mention there are no ads?). I changed up this recipe of course, based on the ingredients I had on hand. This one is going in the rotation. AND it's blog worthy. That's what my kids refer to as a great dinner that mom should put on the blog. As you may have noticed I tend to blog my sweets and pastries, and not as many dinners. So you should know when a dinner recipe appears on the blog…IT'S GOOD! Enjoy!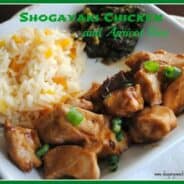 Shogayaki Chicken and Apricot Rice
Ingredients:
For the Chicken:
1 1/2 lb boneless, skinless chicken breasts
1/2 cup low-sodium soy sauce
For the Rice:
2 cup low sodium chicken broth
1/2 cup dried apricots, diced
1/4 cup rice wine vinegar
Directions:
Cut chicken into one inch pieces. Set aside.
In small bowl, whisk together the soy sauce, ginger, vinegar, garlic and cornstarch. Add chicken, toss to coat.
Heat sesame seed oil in large skillet over medium high heat. Add chicken and soy mixture to skillet. Cover and cook for about 10-12 minutes, turning occasionally.
Garnish with chopped green onion. Serve with apricot rice and vegetables. Enjoy!
In large saucepan, bring to a boil the broth, ginger and salt. Add rice and cook according to package directions (mine says to cover and simmer for 20 minutes).
While cooking, in a small saucepan add apricots, rice wine vinegar and orange zest. Simmer on low until rice is done cooking.
When ready to served, pour apricot mixture into rice, stir until combined and serve.
MAKING THIS RECIPE? Share it with me on Instagram using the hashtag #ShugarySweets so I can see what you're cooking up in the kitchen!