S'mores Cupcakes: rich, fudgy chocolate cupcakes with chocolate ganache, marshmallow frosting and graham cracker crumbs for the perfect indoor s'mores treat!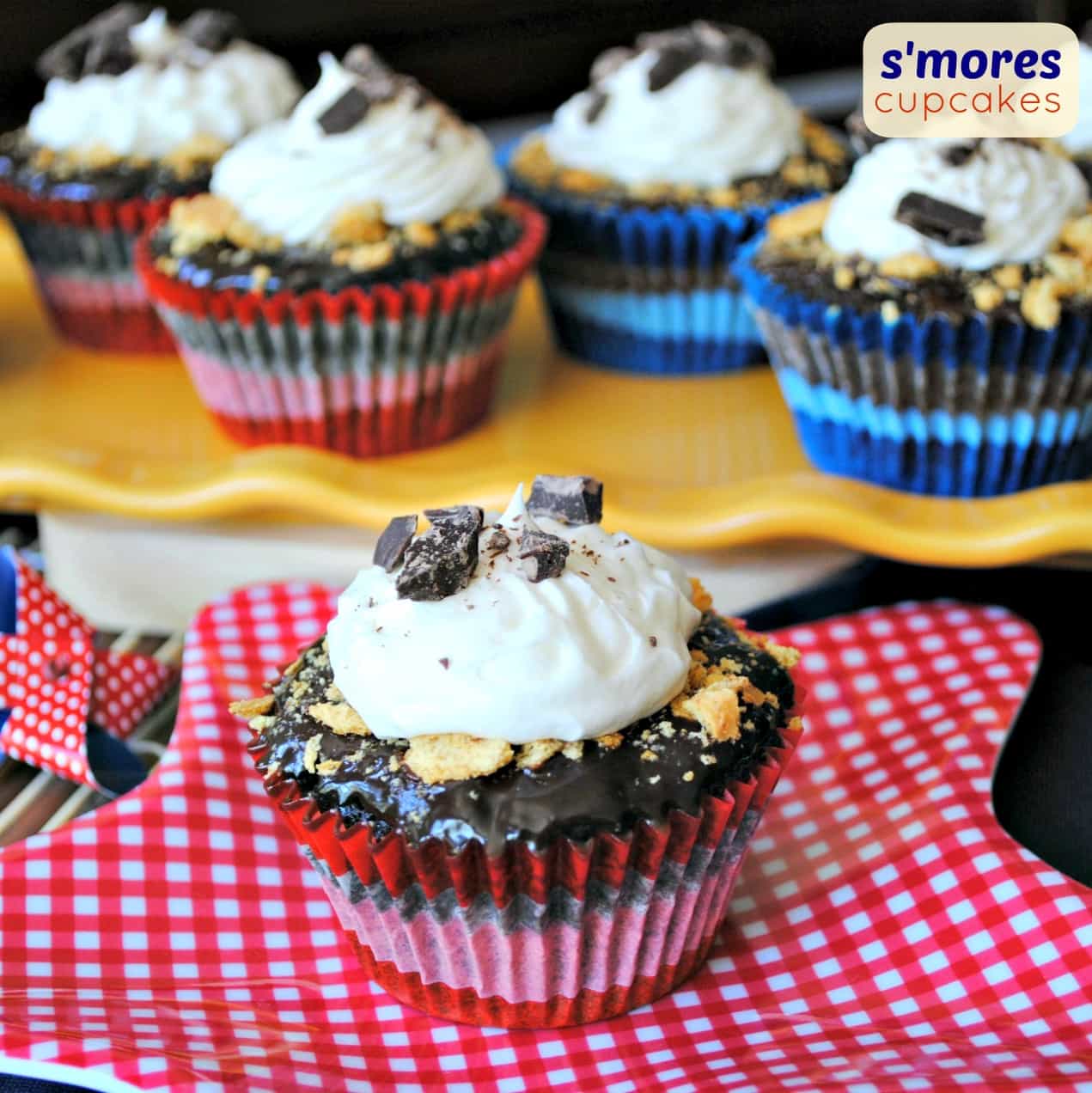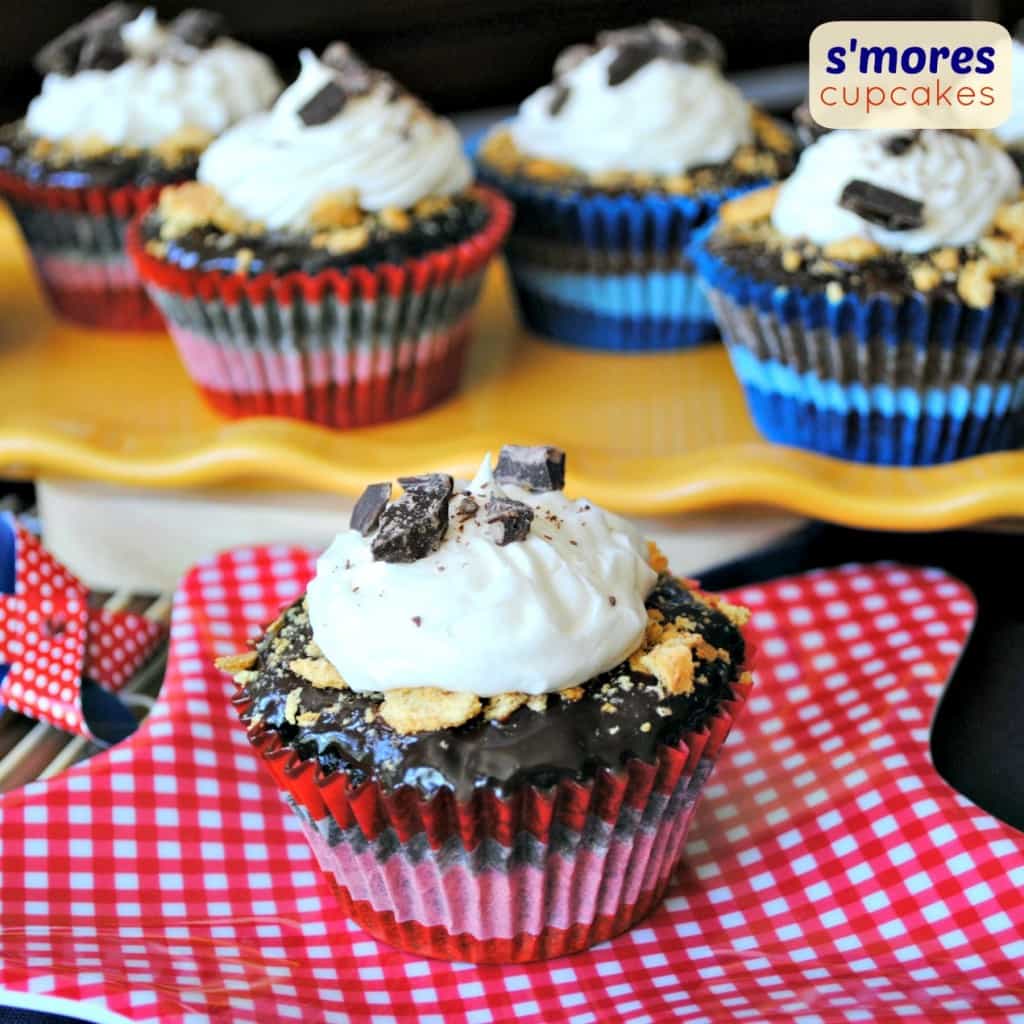 Click HERE to save recipe to Pinterest
So, I bought a kitchen blow torch.
I had every intention of torching the tops of these cupcakes. But I'm home alone. And I got scared.
No, true story. I have a fear of fire, and since I have no idea how to fill the torch with the butane, much less USE the torch, I put it aside and took photos anyway.
Totally would have been cute with toasted marshmallow frosting, but I can hear the kids grumbling now. "but mom, mine is too brown." "mom you didn't burn mine enough."
This is why camping is more fun WITHOUT s'mores.
Okay fine, go call the camping police on me. I prefer to accidentally forget the marshmallows at home.
I've said it before on this blog, and I'll say it again…I hate cooking s'mores over an open fire with my 4 children.
Besides the fact that they are a gooey disaster, I end up having to cook them myself because the kids marshmallows conveniently go up in flames EVERY TIME…or how about the fact that when they do finally get a good marshmallow perfectly browned, it falls in the dirt with a child erupting in tears.
But these cupcakes? No tears involved. Just the sweet goodness of indoor s'mores in a disposable wrapper. Dark chocolate cupcakes dipped in chocolate ganache, sprinkled with graham crackers and topped with marshmallow frosting.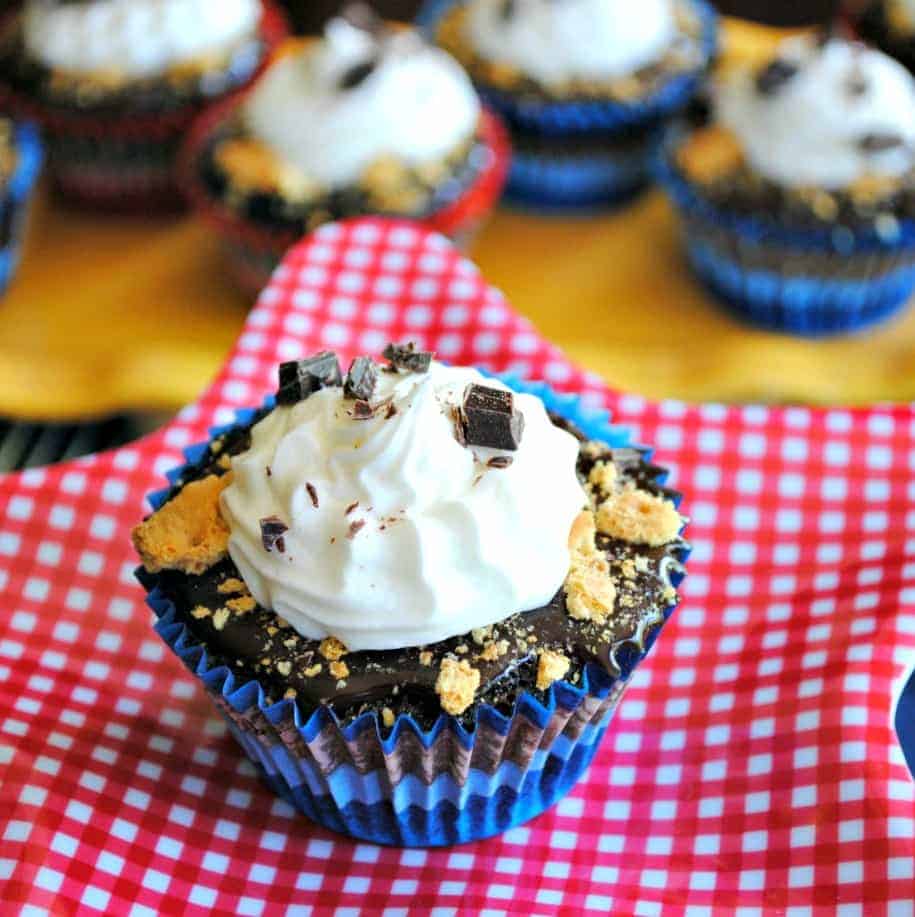 How to make S'mores Cupcakes
Start by making the delicious chocolate cupcake base.
Preheat oven to 350 degrees F. Line cupcake tin with your favorite liners!
In a bowl, combine flour, cocoa powder, salt, baking soda, and baking powder. Set it aside.
In a mixing bowl, beat softened butter and sugar for 5 minutes. Add eggs, one at a time. Slowly add in dry ingredients, alternating with coffee (about 3 additions of each). Spoon batter into cupcake liners, about 1/2-2/3 full.
Bake for 15-20 minutes, then remove and cool completely.
How to make Chocolate Ganache
Melt chocolate with heavy cream in a double boiler until smooth. Spoon ganache over cooled cupcakes, and immediately sprinkle with crushed graham crackers. Set aside to set.
For the frosting, beat butter with marshmallow cream, powdered sugar, and heavy cream for 3-5 minutes, scraping down the sides of the bowl as needed. Add more cream to get desired consistency, if needed.
To frost, fill decorator bag and pipe onto cupcakes. Sprinkle immediately with chopped chocolate. Enjoy.
Can I substitute anything for the coffee?
Yes.
The coffee does not flavor the cupcakes at all, but it does bring out the richness in the chocolate. If desired, use water instead of coffee.
More S'mores Recipes
As someone who loves indoor S'mores, here are some of my favorites!
Mouthwatering and perfect, this S'mores Cheesecake recipe is made with marshmallow cream and homemade chocolate ganache. Make the cheesecake ahead of time and top it when you're ready to enjoy!
S'mores Cracker Toffee is layers of graham cracker toffee, marshmallows, and chocolate. What more could you want in life?
Summertime means frozen desserts! My family love this S'mores Coffee Milkshake for an afternoon treat!