Soccer Sugar Cookies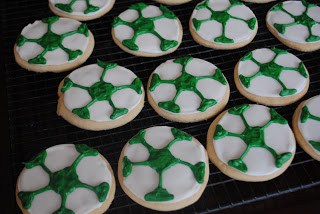 I love sugar cookies. And I love frosting. What I do NOT love is decorating. There are some super talented cookie and cake decorators in the food blog world, I am so not one of them.
Do you remember THIS COOKIE I made for my daughter's softball team? Turned out cute, but the game was cancelled.
There was also a time when I helped my son by baking over 2 dozen flag shaped cookies (spending 4 hours), decorating them for Germany and Netherlands, only to find out they weren't to be due to school for another week!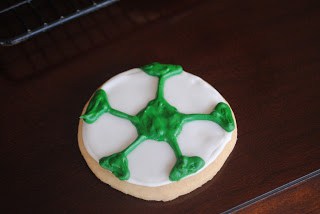 So when I decided to make soccer cookies for my youngest, I pretty much planned to do it the entire afternoon, and I figured something would go wrong!
Well, I'm happy to say, not a whole lot went wrong. I didn't have any black food coloring left, so I made the balls green (her color). And unfortunately the green frosting was a little thick, but I was too lazy to thin it out after the first cookie. But otherwise, I'm okay with it. I'm not a decorator, and my daughter loved them!
Plus, they taste great. And in my opinion who wants to eat a pretty cookie that tastes bad?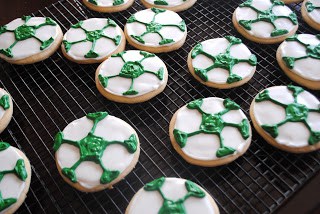 Ingredients
FOR THE COOKIE:
1 cup butter, softened
1 1/4 cup sugar
2 eggs
1/2 tsp vanilla
1/2 cup milk (I used skim)
4 cup flour (plus more for dusting the counter)
1 tsp baking soda
1/2 tsp baking powder
1 lemon, zested
1/2 tsp salt
2 tsp corn syrup
FOR THE ICING:
3 cup powdered sugar
2 Tbsp meringue powder
3 Tbsp milk
1 tsp vanilla (clear)
food coloring
Instructions
For cookies, cream butter and sugar. Add eggs, vanilla and milk. Stir in remaining ingredients. Dough will be sticky and soft. Place on a well floured surface and knead dough with flour until dough is pliable. Roll out to about 1/4 inch thick, cut into shapes.
Bake cookie in a 325 degree oven for about 10-12 minutes. Let cool.
For icing, mix powdered sugar and meringue powder in mixing bowl. Add in vanilla and milk. Beat for several minutes until smooth. To outline the cookie first, make icing a bit thicker by adding in less milk. Line cookies. Then add more milk and flood the cookies. If coloring the icing, beat in color. Check out THIS BLOG for a much better tutorial. Then don't come back here and judge me on my decorating skills okay? Thanks!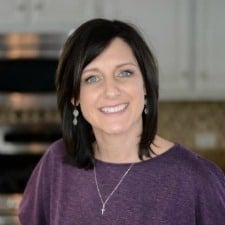 Aimee is a dessert lover (specifically rice krispie treats), workout enthusiast, self-taught foodie, and recipe creator. Her recipes have been featured in over 15 magazines, and her passion is to share her love of cooking with the everyday home cook! Learn more about Aimee.