Get out your slow cooker, this Southwest Chicken Chowder is a fix and forget it dinner recipe! Packed with potatoes, corn, and chicken, you'll love the kick of flavor from the jalapenos, salsa, and taco seasoning!
Love slow cooker recipes? Add Slow Cooker Chicken Enchilada Soup to your must-try list next. Or try our easy Slow Cooker Apple Cake!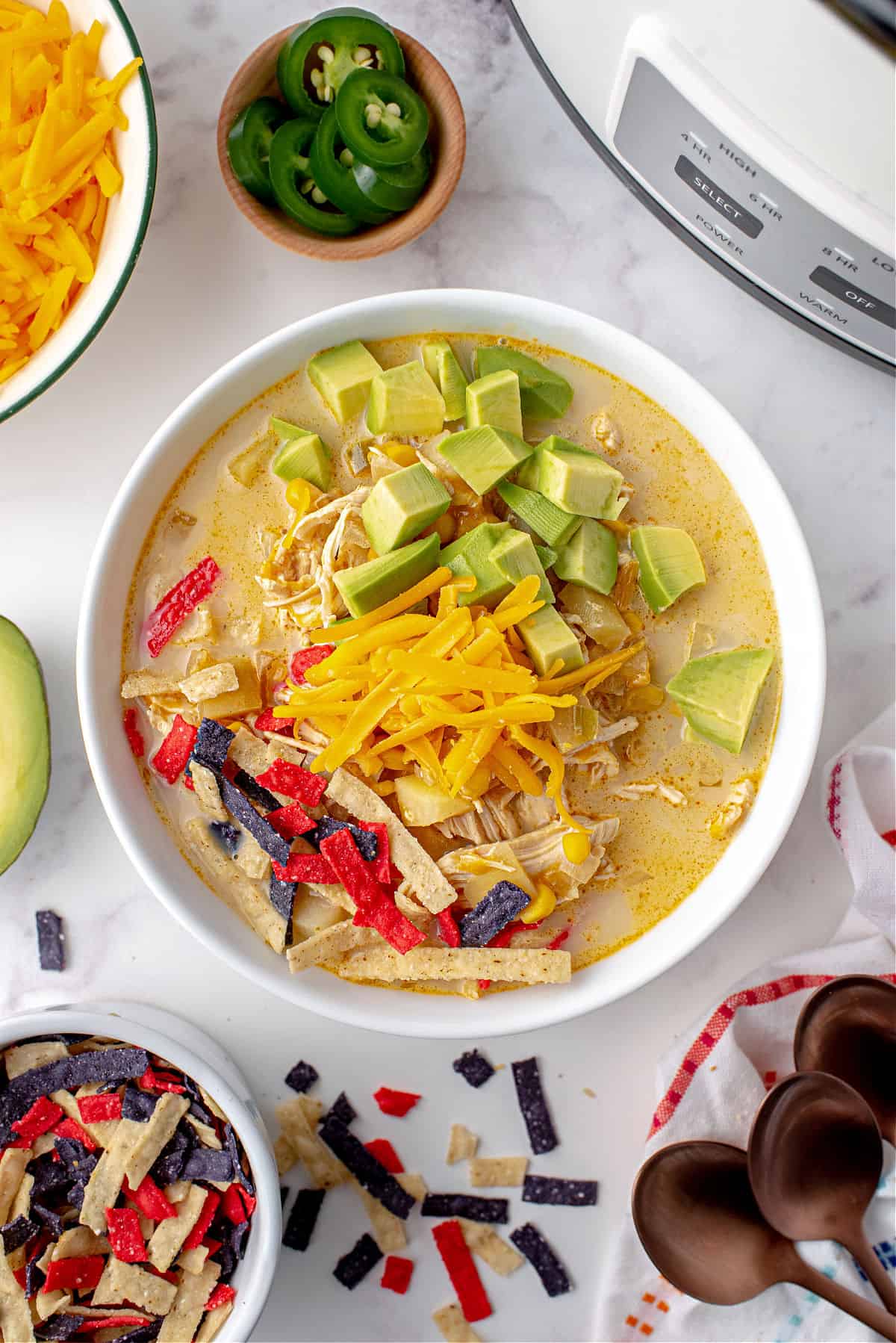 Why this Recipe Works
When life gets busy, I make on my slow cooker recipes. The key to delicious meals in the crockpot though is SEASONING.
Today's chicken corn chowder is INCREDIBLE.
Set it and forget it. Put everything in your crockpot and walk away while dinner cooks!
Hearty and flavorful. Taco seasoning adds the perfect kick to the creamy chicken chowder.
Nourishing and delicious. With plenty of protein and natural ingredients, this is a meal you'll feel good about serving your family.
Make it your own. Add black beans, cream cheese or more cheese to customize your chowder to your heart's content! It's delicious every way.
If this sound delicious, you've got to try our southwest chicken salad next! So hearty and flavorful, and similar to our easy layered chicken taco salad recipe.
Ingredient Notes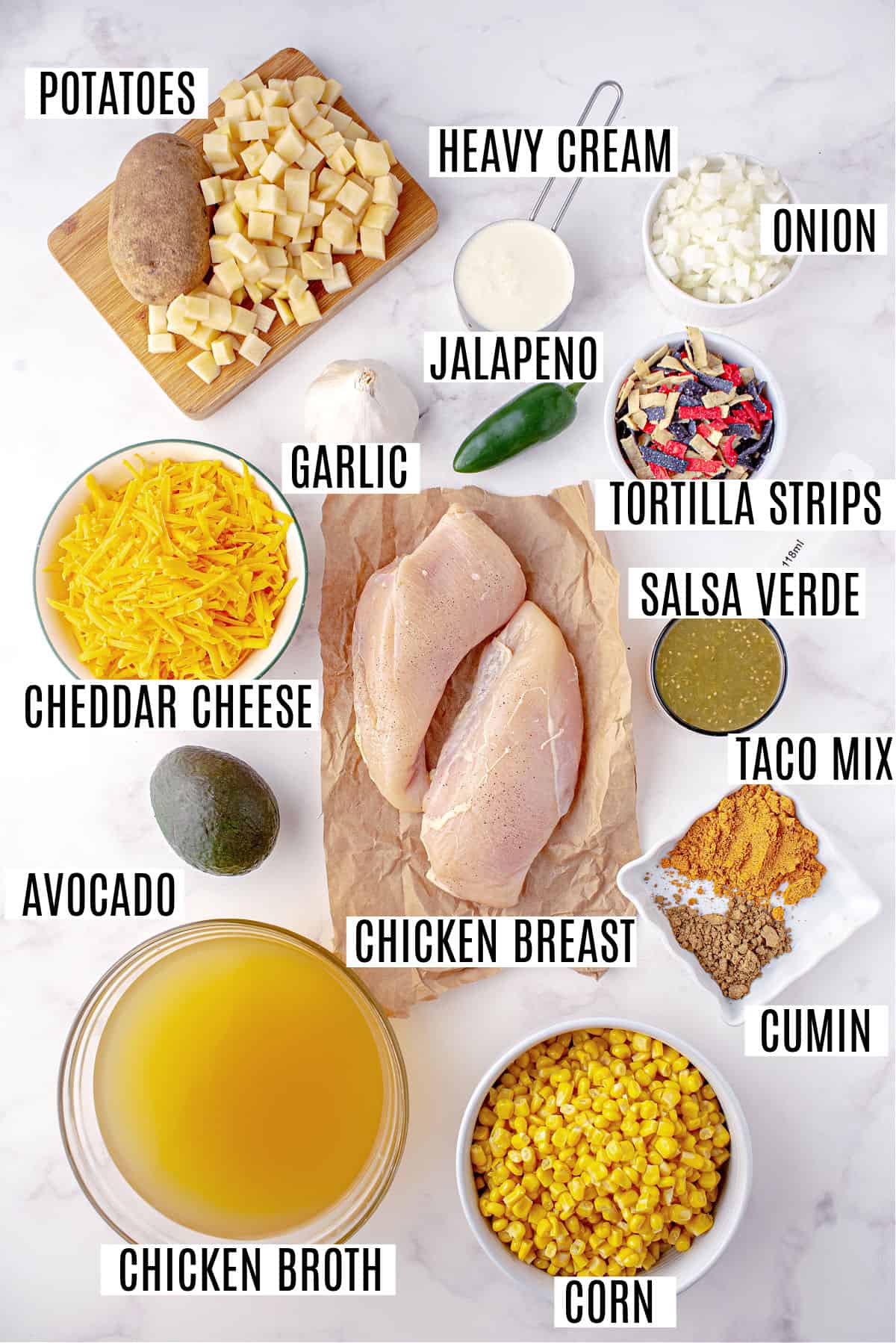 With basic pantry items, and easy ingredients, you'll love today's chowder. Here's what you'll need to make it:
Protein. I prefer using chicken breasts, but thighs work too. Black beans or pinto beans are a great addition!
Spices. I used my go-to Homemade Taco Seasoning to season the Slow Cooker Chicken Chowder. We also added cumin and garlic too. Using salsa verde creates a rich mexican flavor, without all the chunks my kids hate. Any kind of salsa works great here.
Veggies. Add in corn (canned, frozen, or fresh roasted corn works great). You'll want onion and jalapenos too!
Cheddar cheese. Colby Jack, Monterrey or your favorite Mexican cheese blend works well too.
Base. We use chicken broth (or bone broth) to create the base of today's soup. Add in heavy cream to make it just a little creamier. You can also add plain greek yogurt right before serving too.
Tips & Tricks
Shred cheese yourself. Freshly shredded cheese melts into the chicken chowder so much better than store bought.
For a thicker chicken chowder: add 4 oz of cream cheese and 1/2 cup of sour cream in the last 30 minutes of slow cooking.
Black bean chicken chowder. Add a can of black beans to the chowder for even more heartiness.
Stove Top. Skip the crockpot and make this on the stove top instead. Let simmer for several hours, shred chicken, continue to simmer until ready to serve. You can also use already cooked shredded chicken to speed up the process.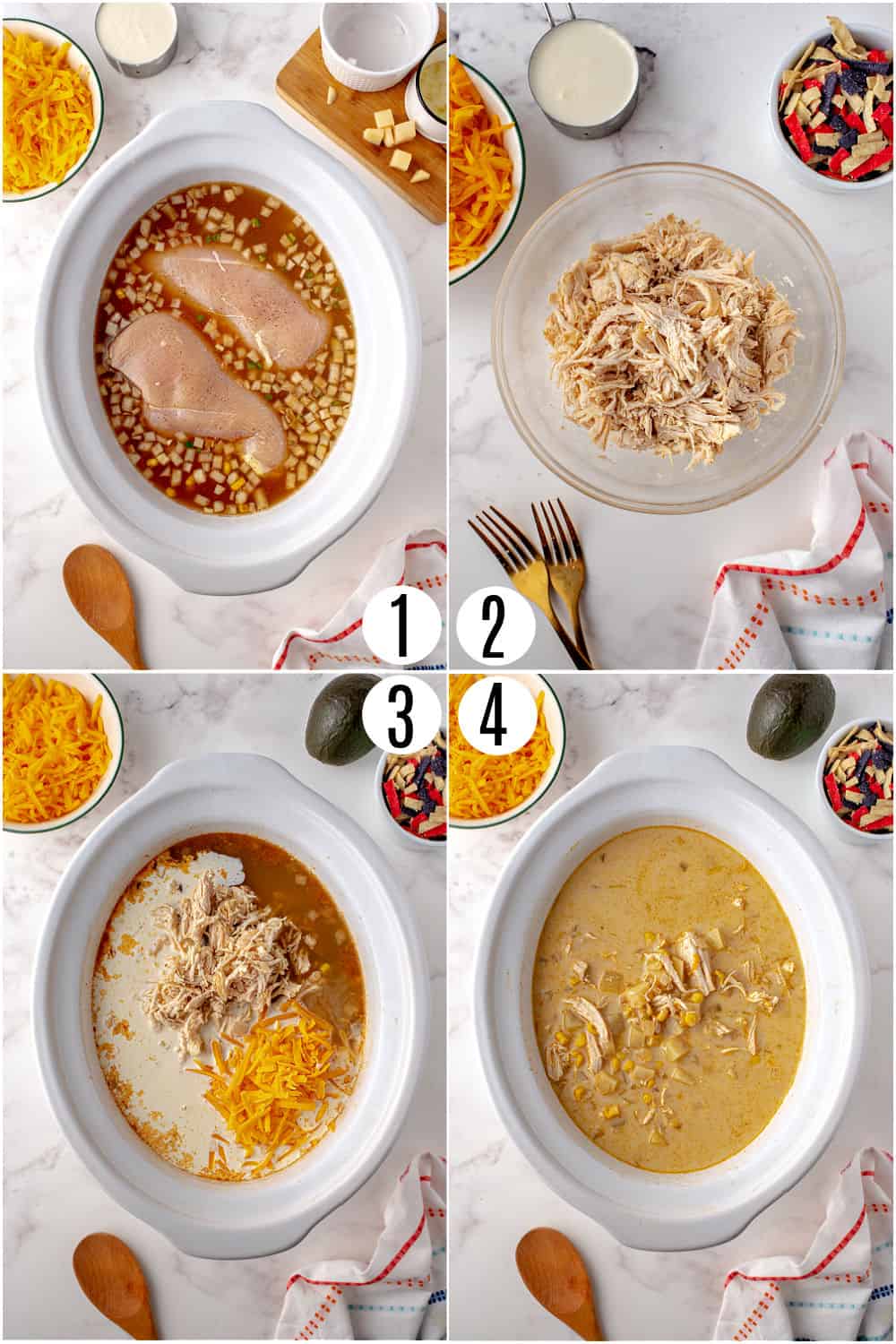 Serving Suggestions
Homemade chowder is a perfect vehicle for all your favorite southwestern toppings. Here are the toppings we love to load on to this chicken chowder just before serving.
Tortilla strips
Avocado slices
Shredded cheese
Sour cream.
Fresh chopped cilantro.
Make it your own. You could make a vegetarian chowder by leaving out the chicken and added extra beans. Or give it a new flavor by swapping out the heavy cream and replacing it with coconut milk!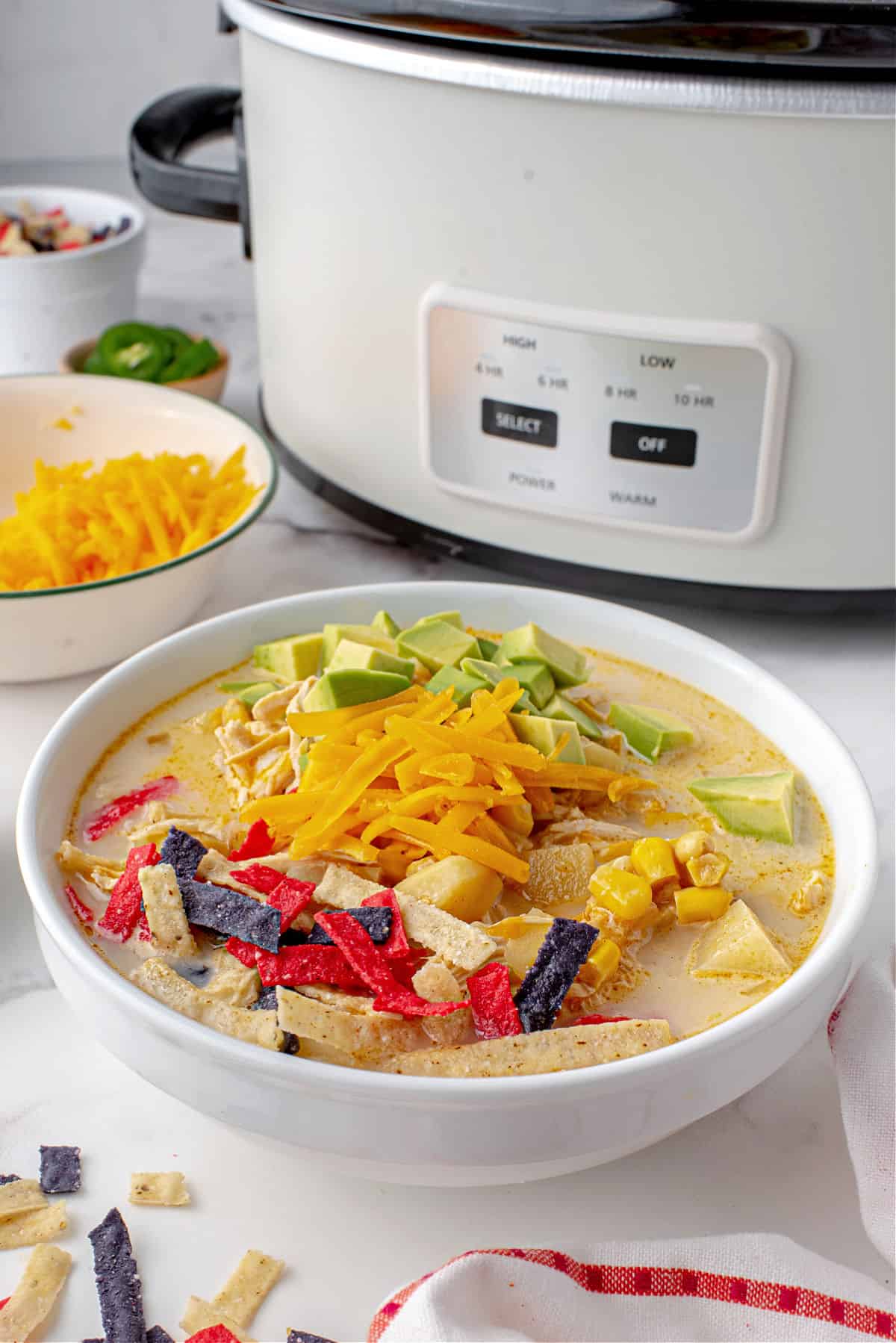 Recipe FAQs
How do you store leftover chicken chowder?
Transfer leftovers to an airtight container. Store in the refrigerator and enjoy reheated within 3 days.
Can I freeze chicken chowder?
Yes, chicken corn chowder can be frozen after cooking, for up to 3 months.
Will frozen corn work instead of canned?
Yes, I have made this with recipe with canned, frozen and fresh corn and it's wonderful every way.
Creamy and hearty chowder that's brimming with southwestern flavor! Chicken Chowder is an easy slow cooker recipe that'll have everyone coming back to the kitchen for more!