Spinach and Sun Dried Tomato Stuffed Chicken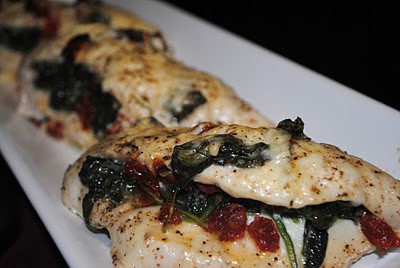 Are your teeth hurting? Too much candy, cookies and other sweets over the past couple weeks? Ouch. Mine too. Not to worry though, I've got the perfect thing for you…Spinach and Sun Dried Tomato Stuffed Chicken.
Not to mention a little cheese. Serve this with some roasted broccoli and zucchini and wild rice and you have one delicious dinner.
Don't worry about me though. I'll have some sweets up here soon enough! I mean, really, I can't go too long without being in my kitchen baking up a storm!
Spinach and Sun Dried Tomato Stuffed Chicken
Ingredients
1 1/2 lb boneless, skinless chicken breasts
5 oz fresh spinach
1 Tbsp olive oil
2 cloves garlic, pressed
3/4 cup sun dried tomatoes, in oil, chopped
4 oz parmesan cheese
6 oz mozzarella cheese, shredded
1 tsp kosher salt
1/2 tsp black pepper
1 tsp Italian seasoning
1/4 cup dry white wine (or chicken stock)
Instructions
n large skillet, saute spinach and garlic with olive oil just until starting to wilt. Remove from heat.
Using a sharp knife, cut a pocket into each chicken breast. Lay chicken in a 13x9 baking dish. Evenly stuff breasts with spinach. Then stuff the breasts with the tomatoes, sprinkling any extras on top of the breasts.

Sprinkle chicken with both cheeses, stuffing a little of each inside the pockets.

Season the chicken with salt, pepper and Italian seasoning. Pour dry white wine on bottom of dish (trying not to get it on top of cheese). Cover with foil. Bake in a 350 degree oven for 40 minutes, covered. Remove foil and bake for an additional ten minutes. Enjoy!