Strawberry Daiquiri Doughnut
I know what you're thinking. I'm not really on vacation, I'm in rehab. But is it for my addiction to donuts, or my obsession with making them alcohol inspired?
These were my kids favorite. The picture of the strawberry ones didn't come out very well, and since I was in a hurry to deliver these to Michael's work, I didn't look to see that I had gotten a good picture. Snap and run. Lesson learned.
These are very similar to taste to my original strawberry frosted, but the rum flavoring and lime juice with the fresh strawberries add a subtle zing. I loved them! Enjoy!
Is anyone out there? I miss you all. I'm sure I'm having fun though!
Strawberry Daiquiri Doughnut
Ingredients
1 batch of basic doughnut recipe, prepared
¼ cup milk
¼ cup heavy cream
2 tsp Rum flavoring
1 tsp lime juice
4½ cup powdered sugar
4 strawberries, chopped
Instructions
Prepare basic yeast doughnut recipe.
In blender, puree strawberries with ¼ cup milk. Pour into a saucepan and heat milk and strawberries with cream. When warm, remove from heat and stir in rum flavoring and lime juice. Whisk in the powdered sugar until smooth.
Frost each donut by dipping one side into frosting and allowing to harden on baking rack. Enjoy!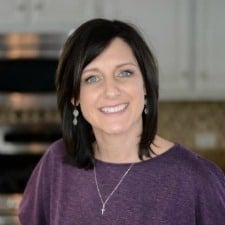 Aimee is a dessert lover (specifically rice krispie treats), workout enthusiast, self-taught foodie, and recipe creator. Her recipes have been featured in over 15 magazines, and her passion is to share her love of cooking with the everyday home cook! Learn more about Aimee.