Sugar Cookies (think Lofthouse)
I've got a great story for all of you. Go ahead, grab a cup of coffee, sit back and relax. Welcome to my life. As many of you know, I am blessed with 4 awesome kids. Each with their own talents, and each with their own set of activities that keep us busy. Which means, yes, we get rotation onto snack duties when it comes to sports.
Now, I admit, I usually forget about snack duty until we are on the way to that game and we have to run into the store and end up buying some juice boxes and bags of chips or cookies. But this time, I was inspired. Plus, my daughter begged me to bake something for her snack.
We were leaving for camp the following day, but I decided to take 3 hours out of my day to make cookies. Cookies shaped like softballs.
They turned out so cute. I used a thinner frosting for the softball cookies for snack day, and the remaining cookies I used my traditional sugar cookie frosting recipe. These cookies are about as close as I have been able to get to making Lofthouse cookies. Have you had a lofthouse cookie before? I could eat a whole package. Yum.
I digress, back to the story. So, I painstakingly decorated 25 beautiful softballs (way more than necessary, but thought at least the players siblings could have some too)! I put them each in little baggies, and stacked them lovingly in a tray to bring to the game.
I made these using my 4inch cookie cutter, so they are quite big. I made about 50 cookies in total. Yes, this recipe calls for alot of cookies. You can cut your shapes and place them on a cookie sheet in the freezer for an hour, then transfer to a ziploc bag for future use.
Around 4pm the rain started and within the hour, the game was cancelled. Did I mention we were leaving for camp? Now, not only had a made all of these cute cookies, but this was her last game of the season (we would miss her actual last game while camping). All this work for nothing. Totally my luck too. The one time I try to play super mom, it backfires. And now, I have spent all afternoon baking when I should have been packing and cleaning for vacation! Ah well, it makes for a good picture, right?
Yield: 5 dozen
Lofthouse Copy Cat Cookies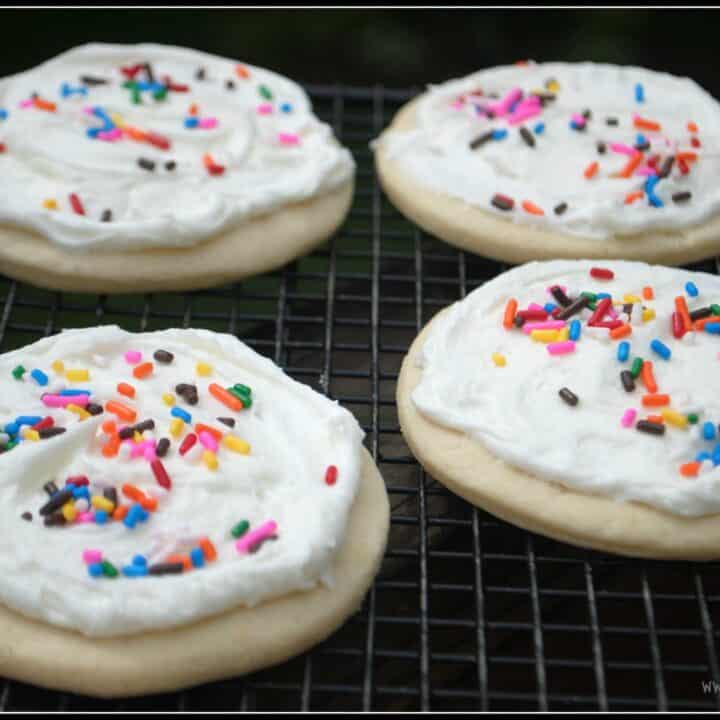 Ingredients
for the cookies:
2 cup butter, softened
2 1/3 cup sugar
4 eggs
1 vanilla bean, scraped
1 cup milk
8 cup flour (plus more for dusting)
1 1/2 tsp baking soda
1 tsp baking powder
1 lemon, zested
1/2 tsp salt
1/4 tsp nutmeg
1 1/2 Tbsp corn syrup
For the fluffy frosting:
1 cup butter
9 cup powdered sugar
1/4 cup corn syrup
1/2 cup milk
for the baseball cookie icing:
4 1/2 cup powdered sugar
1/4 cup corn syrup
2 Tbsp milk
1/4 tsp lemon flavored extract
red wilton's candy melts
Instructions
For cookies, cream butter and sugar. Add eggs, vanilla and milk. Stir in remaining ingredients. Dough will be very sticky and soft. Place on a well floured surface (about 1/2 cup flour), and knead dough until pliable. Roll out to about 1/3 inch thick (the key to getting them like a Lofthouse is to roll them thicker). Cut into shapes and place on cookie sheet (I used a 4inch circle cutter).
Bake in a 325 degree oven for about 10-12 minutes. Cookies will be soft. Cool and frost.
For frosting, beat butter with powdered sugar, corn syrup and milk. Add more milk if necessary to get to desired consistency. This recipe makes a lot of frosting, but like a Lofthouse, put it on thick! Add sprinkles if desired!
To make the frosting for the baseballs, mix first four ingredients until smooth. Add more milk if necessary. You don't want it too thin that it drips off cookie though. Place in ziploc, cut tip of bag, and frost cookies. Place immediately in refrigerator to harden. Remove. In small bowl melt red wilton's candy melts (about 1/2 cup). Place in ziploc, cut tip of bag, and pipe onto cookies to resemble baseball. Enjoy!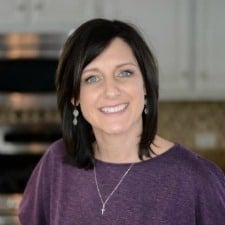 Aimee is a dessert lover (specifically rice krispie treats), workout enthusiast, self-taught foodie, and recipe creator. Her recipes have been featured in over 15 magazines, and her passion is to share her love of cooking with the everyday home cook! Learn more about Aimee.