Sweet and Salty Brownies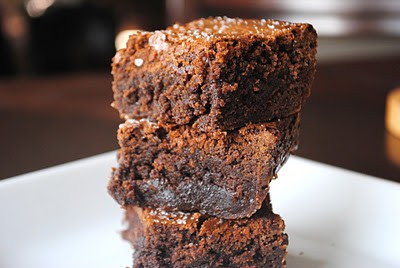 Let's talk for a minute about my obsession with sweet and salty.
I love mixing the two. There. That's all I really had to say. So, this month when the secret recipe club sent out it's assignments, I was pretty excited to see that I was assigned nomnivorous blog!
There were several great recipes to choose from, but I chose
Sweet and Salty Brownies
. Sadly, I failed to make the homemade caramel sauce she recommends. It's not that I was afraid, I make homemade caramel every year. I was just short on time. 
Okay, I was lazy. I knew I had a jar of caramel sauce, plus I knew my husband would be working late. Which means any extra dishes (like a sticky pot of caramel) would be mine to clean up. So I grabbed the jar of caramel sauce. And it worked great!
These moist and chewy (and very chocolaty) brownies are a keeper in our house now!
Ingredients
11 oz dark chocolate, coarsely chopped (I used Ghirardelli dark chocolate morsels)
1 cup butter, cut into cubes
1 1/2 cup sugar
1/2 cup brown sugar
5 eggs, room temperature
2 tsp vanilla extract
1 1/4 cup flour
2 tsp kosher salt, divided
2 Tbsp dark unsweetened cocoa powder
3/4 cup caramel sauce
1 tsp granulated sugar
Instructions
In medium bowl, mix flour, 1 tsp salt and cocoa powder. Set aside.
In large microwave bowl, mix butter and dark chocolate pieces. Microwave for one minute, stir, microwave for 30 second intervals until melted and incorporated (mine took 2 minutes total).
Whisk in sugars until completely combined. Add eggs, one at a time. Add vanilla. Do not overbeat. Fold in flour mixture using a spatula.
Pour half batter into a buttered, and parchment paper lined, 13x9 glass pan. Drizzle caramel sauce over batter, being careful not to get too close to the edges. Sprinkle with 1/2 tsp kosher salt. Pour remaining batter over caramel and salt.
Bake in a 350 degree oven for 30-35 minutes. Remove from oven and sprinkle with remaining salt and 1 tsp granulated sugar. I cooled mine in the refrigerator for a couple hours before cutting. Delish!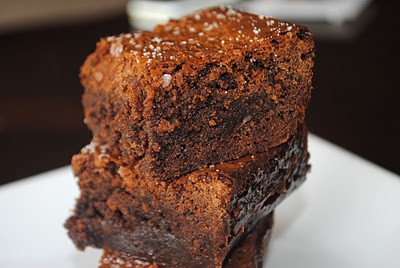 Sweet and Salty Brownies