Top Ten in January
Hey friends! I feel like it's been forever since I've shared my Top Ten with you all. So better late than never, am I right?
There is so much to love with this New Year! I've set myself some resolutions and I'm sticking to them! Mostly. It's so hard to believe that January is almost over!
1. Remember when I said I wanted to take a full two days off work each week…well, instead of doing that I decided to add a new job to my repertoire. I am officially a Jamberry Consultant. Can we take a quick minute to talk about Jamberry? Then I promise to share some drool worthy photos with you!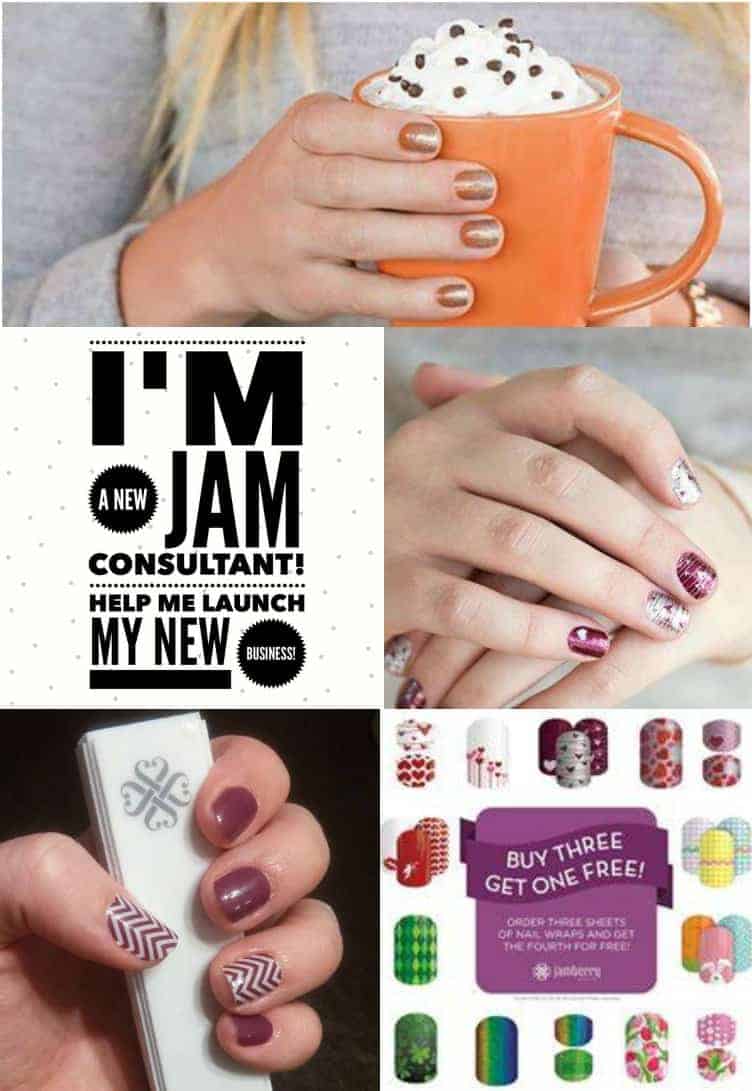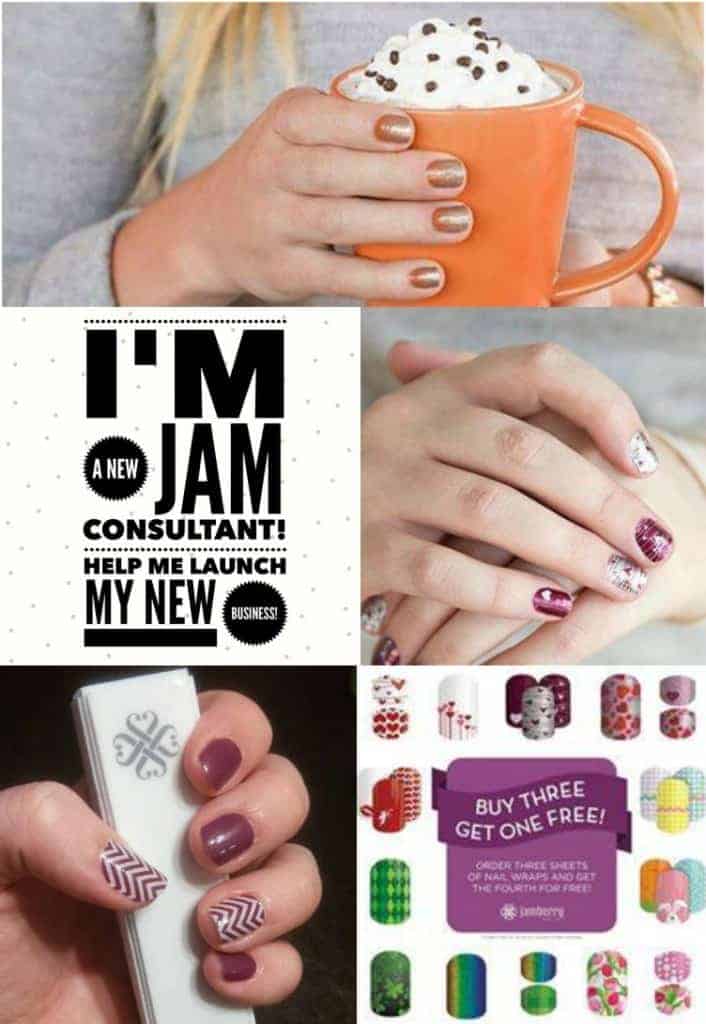 Last summer when I saw my first Jamberry catalog, I'll be honest, I thought "stickers? really?" But it wasn't until my sister in law began selling Jamberry that I tried my first set. These are not stickers. These manicures last about 2 weeks.
I've always suffered with short, brittle nails…until now. Ever since my first pair of "Jams" this Fall, I've not gone more than a few days without wearing them. My nails are longer than they have ever been, and stronger too!
Unlike traditional manicures and gels, and acrylics…Jamberry wraps have no harsh products and will not harm your nails! You can apply them using a hair dryer (or purchase a mini heater). You all know how much my hands are busy cooking, cleaning, cooking and more cleaning…these hold up! That's what sold me. Plus, they are $15 a wrap, and each wrap is enough for 2 manicures and 2 pedicures (much cheaper than the professionals). You can always enjoy the Buy 3 wraps get 1 FREE deal too! That's how I started out….and now, well…I'm addicted.
I'm often asked which ones are my favorite…how do you choose? So, these are the top 5 Jamberry Wraps I'm currently crushing on!
Love Spell: I'm wearing this one. Right now. (see here on instagram) I love that this wrap comes with the different designs all in one sheet! And, I'm a bit biased towards the sparkly metallic wraps! Hurry though, cause this one will be gone soon!
White Chevron: This was the first wrap I ever tried. I wore it plain over my nude nails for a very subtle look. But, you can also wear it over ANY color of polish to give a great look, yet still match your wardrobe! This is a great one too for toes!
Urban Lights: I just bought this one, but haven't worn it yet. My sister in law and my good friend, Kari are both sporting it. It looks awesome on your nails. Very stunning, and the gold triangles add a little sparkle to your hands!
Midnight Sky: like most Jamberry wraps, the picture of the wrap doesn't do these justice! Having seen this one in real life, on a real hand, it's awesome!!
Prissy Plaid: This Christmas I wore this Tinsel Town plaid and LOVED it. I've now got my eye on this wrap, which would be perfect for Spring!
I'd love to chat more, or help you get your first set of Jams! Stop on over at my website (yes, so professional!!) and order your first sets now! If you have any questions, leave me a comment below and I'll be happy to help. This is my FIRST official "launch party" so thank you (THANK YOU) for supporting this little side business of mine. I promise to still bring you lots of treats and food here, my blog is my first job!
2. Speaking of treats and food….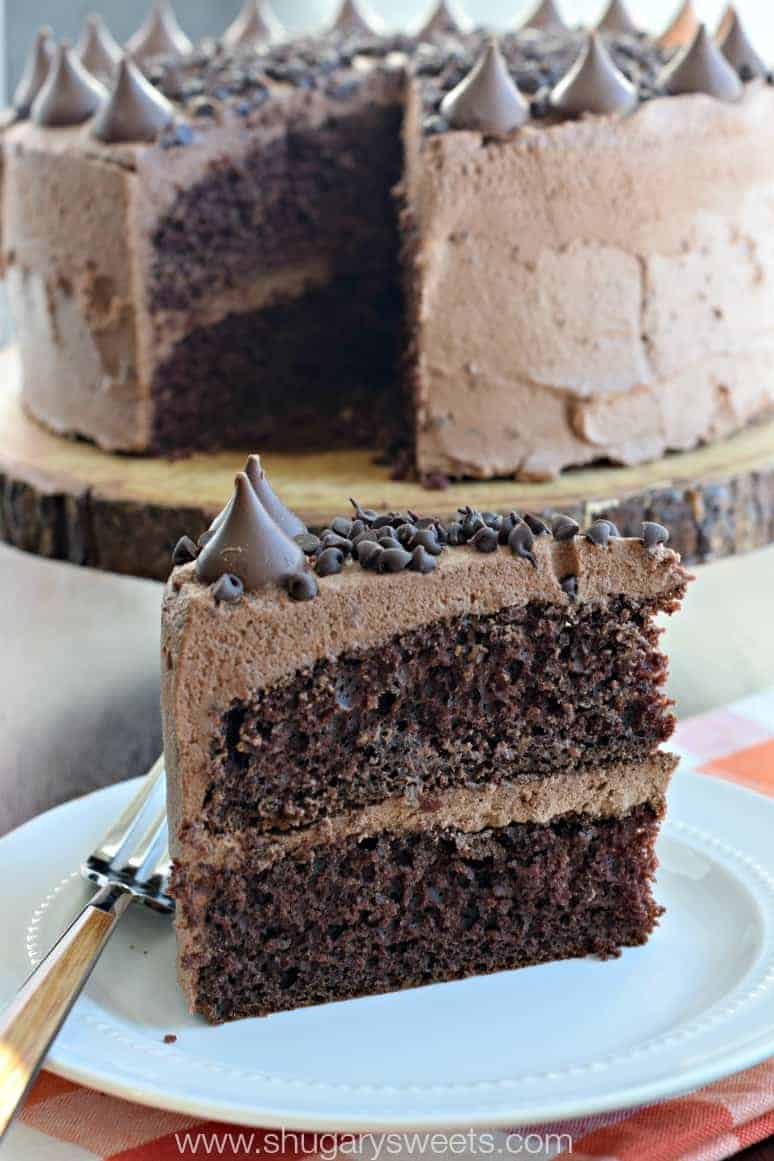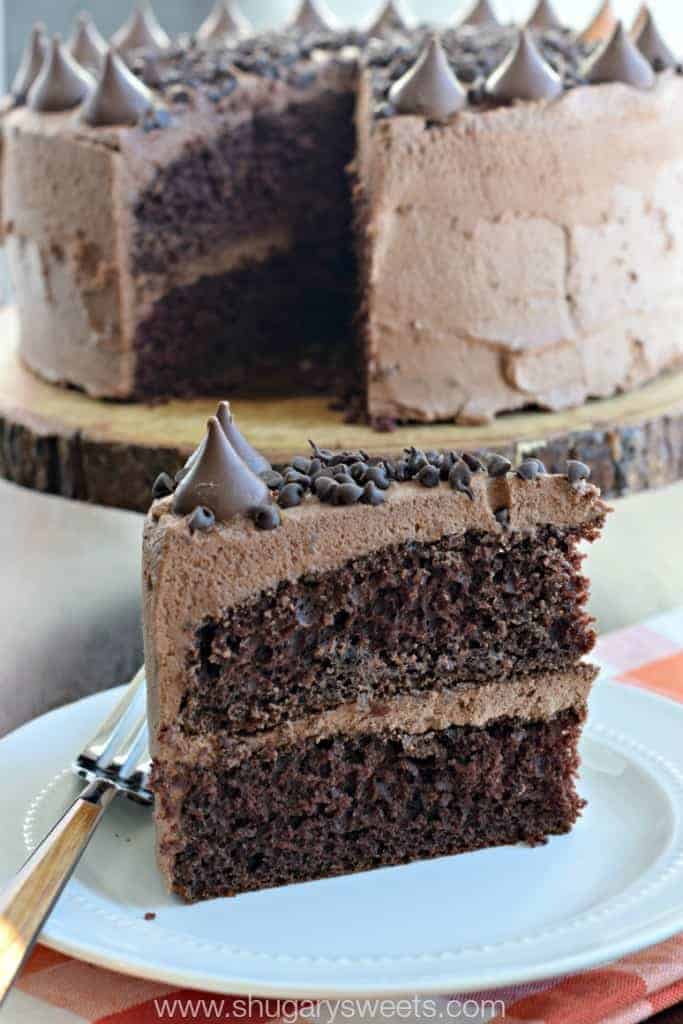 This Chocolate Cake with Ganache Frosting is becoming a fast hit! I mean seriously, frosting with two ingredients, whipped to perfection. Have you tried this yet??
3. While we are talking cake….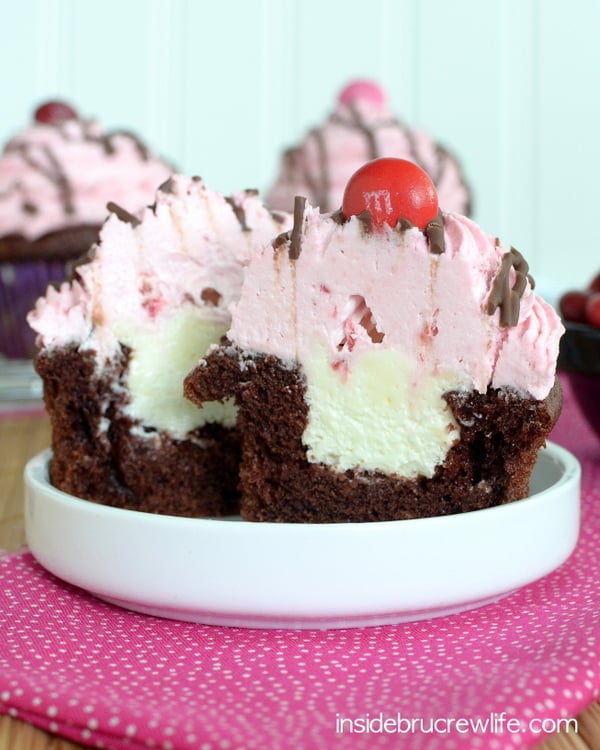 I might as well mention that these Raspberry Cheesecake Chocolate Cupcakes from Inside BruCrew Life have been on my mind for weeks. Yes weeks (maybe years??). I think Valentine's Day would be a perfect time to make these, yes?
4. Stitch Fix
. Yep, I'm still getting my monthly boxes of clothes from Stitch Fix! If you haven't signed up yet, what are you waiting for? I've had some great luck in my last couple of fixes: cute bags, dresses, jeans (YES JEANS), chunky sweaters…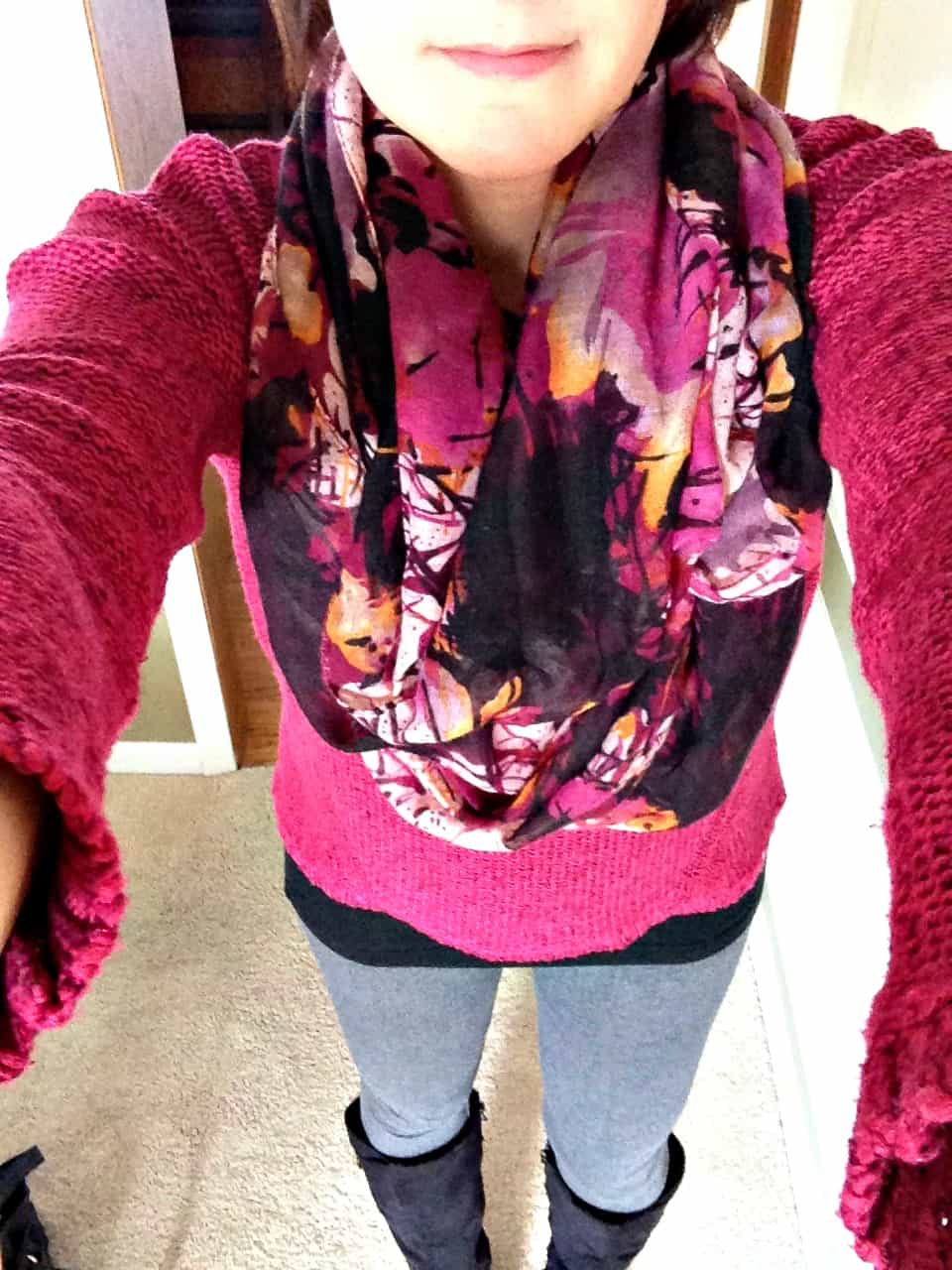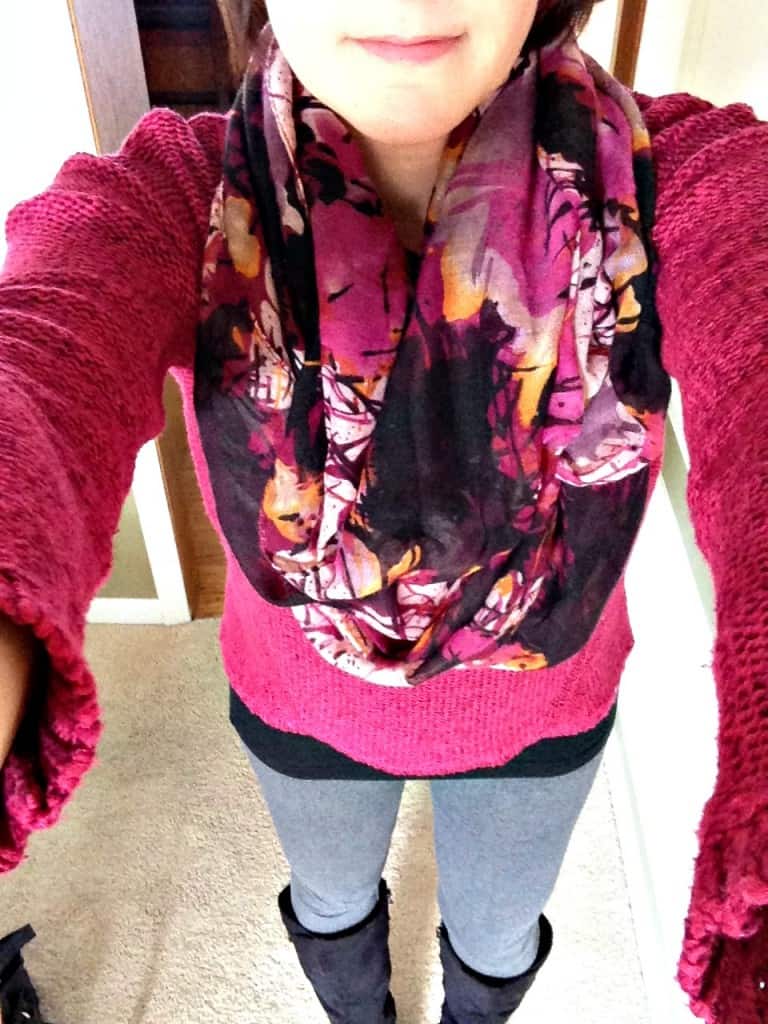 This cute magenta sweater was in one of my recent fixes, and I realized it matched my favorite scarf perfectly (sorry, I'm not so good at the selfies). That's one of the great things about Stitch Fix. The clothes gets delivered to your house and you have three days to try them on before returning anything (they send you a prepaid bag that you just stick in your mailbox with the items you want to return). So easy. So fun!!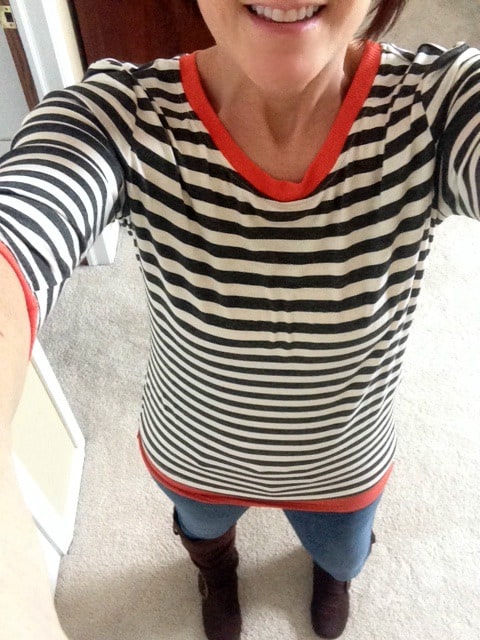 I love this striped shirt that just came in my box this week (another bad selfie shot). It's so comfortable. I also got a pair of jean capris, which I love, just can't wear yet…since it's still snowing here in Chicago!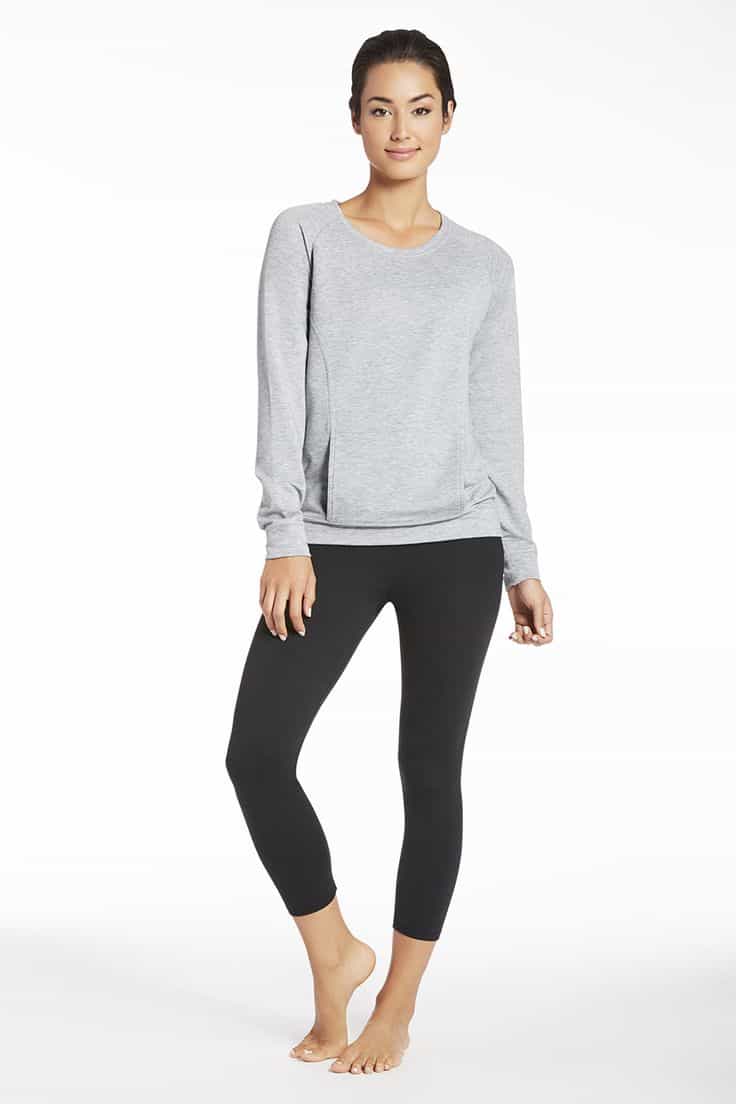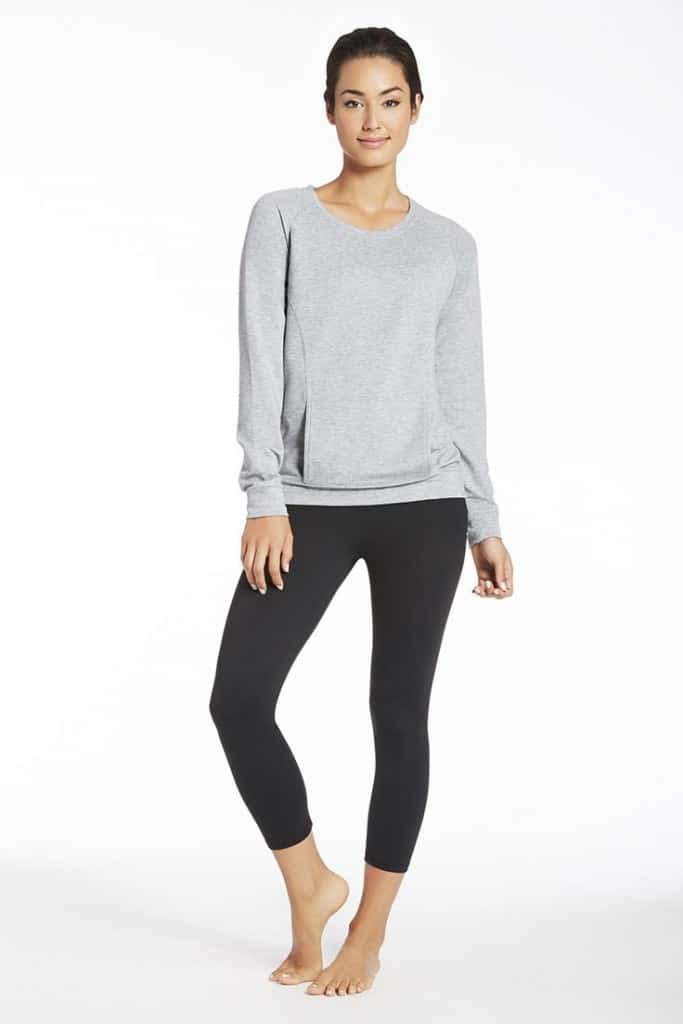 5. Fabletics. As if my stitch fix addiction wasn't enough, I've also recently joined Fabletics. Since I basically live in either jeans or yoga pants, this one is a natural fit! I love the quality of fabric in the items I have received. My first outfit I chose was the "Yearning" group. The long sleeve athletic shirt is SO comfortable, I wear it with jeans, haha!
6. Superbowl. There are so many delicious dips and treats and savory snacks that I can't list them all (you can see them on my Game Day pinterest board though.
Here are a few of my favorites…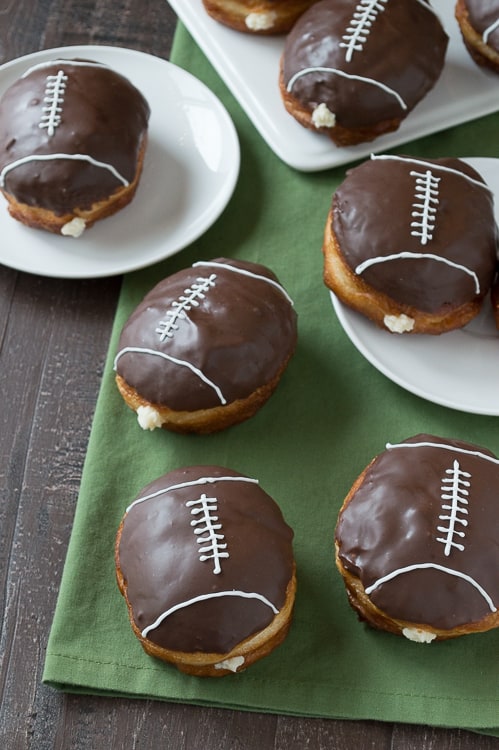 Cream Filled Chocolate Football Donuts. Who wouldn't love these doughnuts ??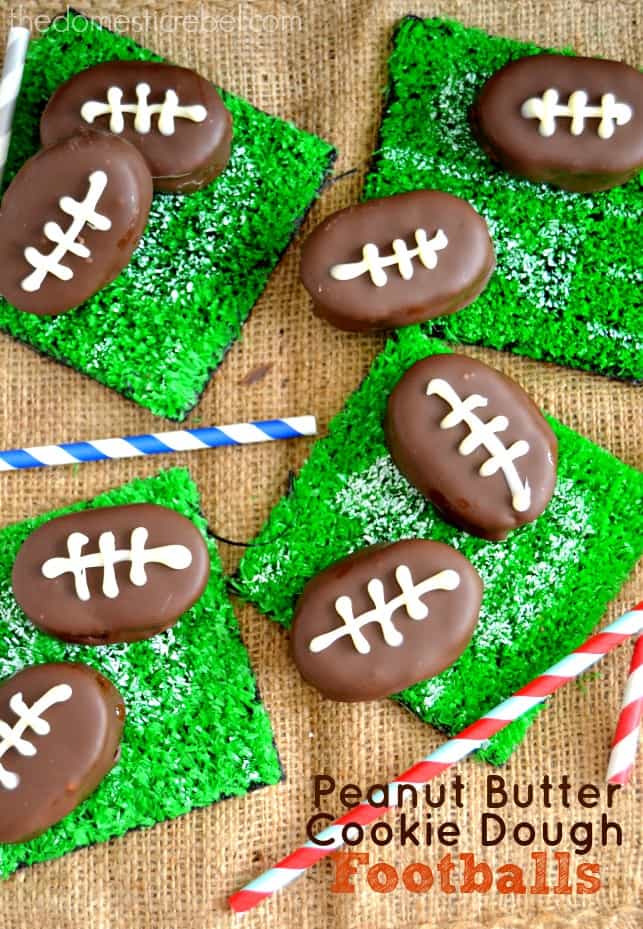 7. Peanut Butter Cookie Dough Footballs. These look incredible…plus peanut butter AND chocolate, what's not to crave?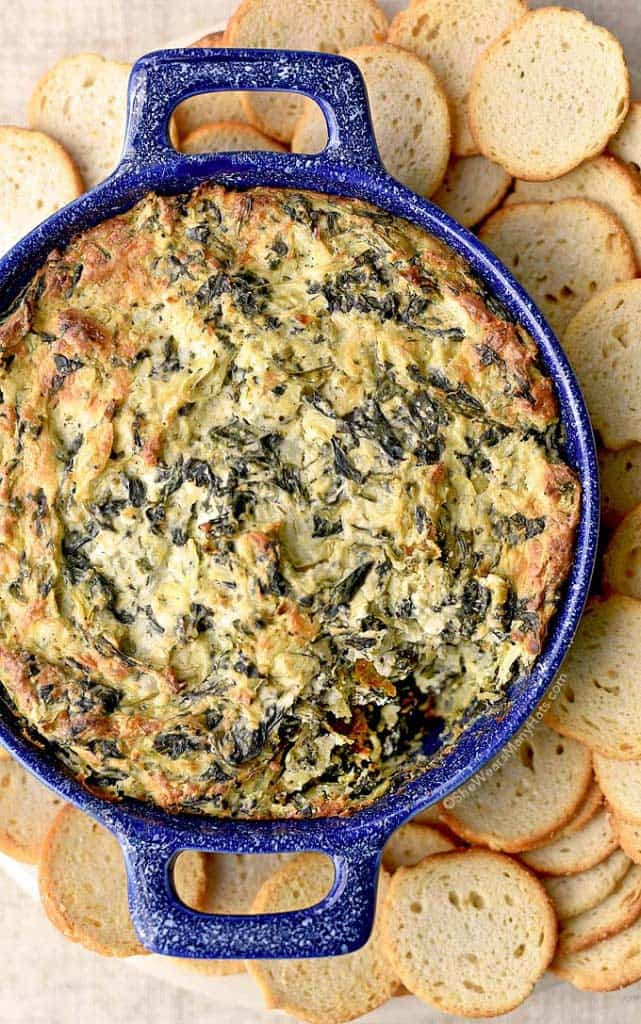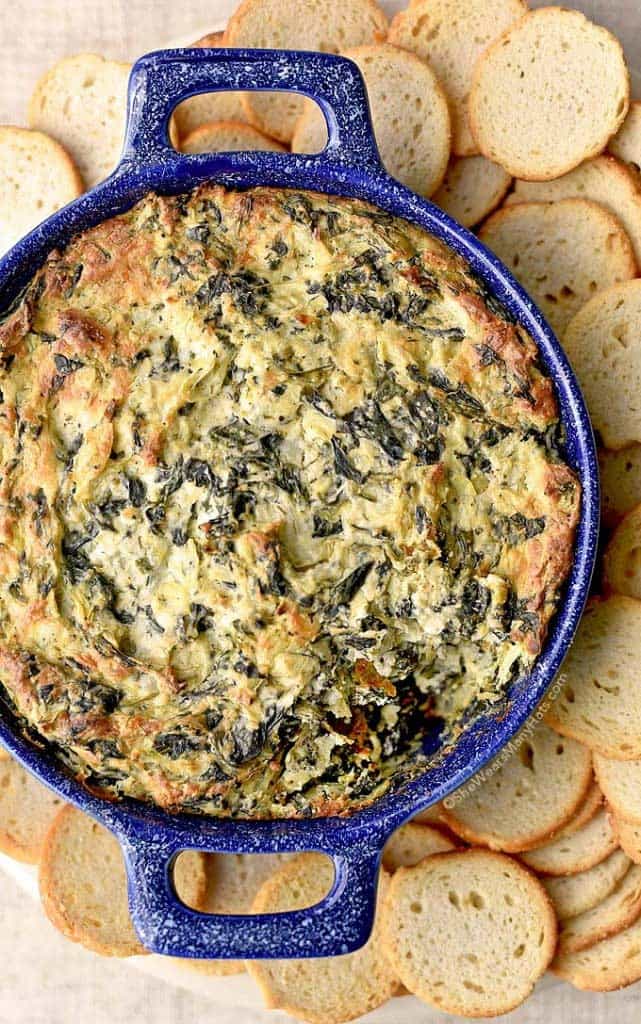 8. Spinach Artichoke Dip. No joke, this is my kind of game day food! Forget the deflated footballs, the men chearing from the couches, I'll be in the corner inhaling this dip…bite after delicious bite!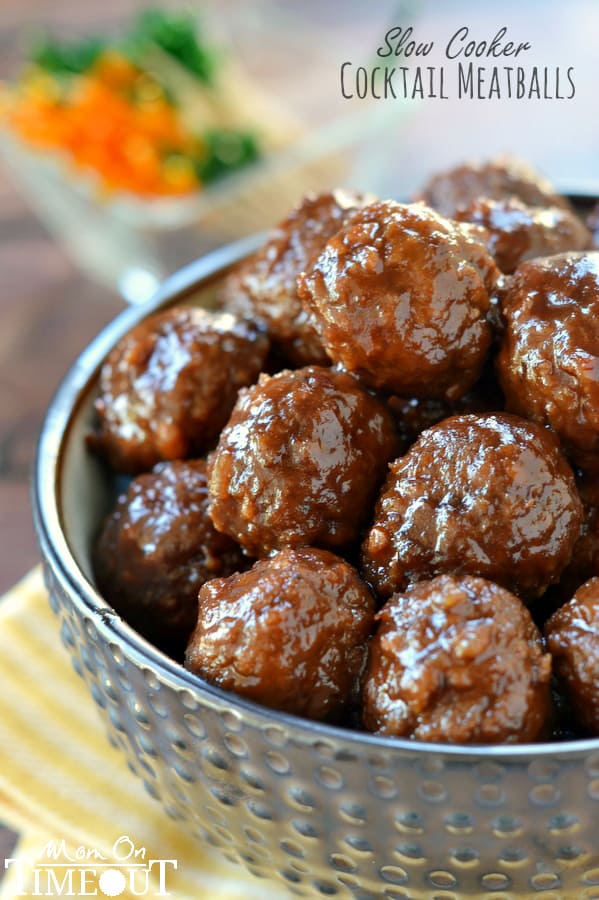 9. Slow Cooker Cocktail Meatballs. All party menus should include these meatballs.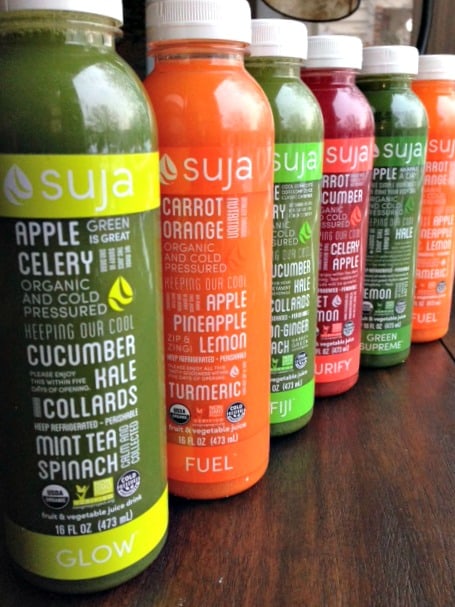 10. Suja Juice Cleanse. I figure this is a good way to close out this Top Ten. If you follow me on Instagram you may have noticed that I am once again in the middle of a Suja Juice Cleanse. I love these. I really do! I think this is my third or fourth cleanse. I am hooked!
I do the 3 day Fresh Start, but you may see my line up is a little different. I don't use the Vanilla Almond juice. I replace it instead with my favorite…the Fuel. The first time I juiced I didn't care for the Vanilla Almond one, at all. So I learned that if you have a nut allergy you can substitute any of the others by indicating that in the notes. I don't have a nut allergy…but I substitute anyways!
I'm often asked if I'm hungry. Yes and No. When I convince myself I'm going to do this cleanse, I'm determined. And it can be quite pricey, so I don't want to cheat or waste my money (sign up for their emails and you'll get notices of sales. This current cleanse was only $115 with free shipping). So while, yes I hungry to CHEW on something, the juices actually fill me up enough to not NEED anything. Which is one of the reasons why I like to do these cleanses. To retrain my body to recognize hunger.
As for cheating…I don't give up my coffee. Sorry Suja. I can't do it. However, I do drink my coffee black during the cleanse, so that I'm not adding any sweetened cream to my diet. I also drink hot green tea to replace some of my coffee intake (green tea is acceptable on the cleanse). Additionally, I drink a lot of water.
Next question…do they taste good? The first cleanse I did was rough. I signed up to do a 5 day. Big mistake. My body can do a 5 day now…but back then, having never done this before, it was rough. And the flavors of the juices were just okay (because let's be honest, I really just wanted a hamburger). Now though, I LOVE the flavors of the juice. They have grown on me, in a good way. I find myself craving some of them when I'm not juicing. The Fuel (orange one) is my absolute favorite. The Purify (red one) I hated the first time I tried it. It's made with beets…which in my mind taste like dirt. I expected Hi-C Fruit Punch, LOL. Now, I love the Purify juice. And all the greens are fantastic, but I drink Green Monster Smoothies, so that wasn't a surprise that I would enjoy those. The Vanilla Almond (which I don't get anymore) was a little too Cinnamon (or Nutmeg) or something for me. Many people love it and say it tastes like a melted milkshake…I personally don't care for it.
Another question, do you lose weight? My intention in doing these cleanses is NOT weight loss. It's to learn to recognize hunger. And to curb some of my intense sugar and salt cravings. By doing these cleanses, I feel like my body hits the reset button. I no longer feel the need to take "one more bite." I love how I feel on and off of the cleanse. I may lose a couple pounds during one of the juicing cleanses…but after a few weeks it comes back naturally. However the effects last much longer….the ability to control my hunger and the power I have to not crave the junk food!
Suja, by the way, has no idea who I am. They don't send me free stuff. I get no personal discounts. I just thought I'd share my experience with you guys! If you have any questions, I'm happy to give my honest feedback, as always!
Well, there you have it friends! My Top Ten for the month! What do you think? What's on your top ten? 
Don't forget:  sign up for my FREE email subscription…new recipes in your inbox plus you can get my TEN favorite recipe ebook FREE for subscribers only!
**Disclosure: There may be affiliate links in this post. Thank you for supporting Shugary Sweets!**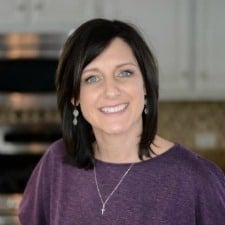 Aimee is a dessert lover (specifically rice krispie treats), workout enthusiast, self-taught foodie, and recipe creator. Her recipes have been featured in numerous magazines, and her passion is to share her love of cooking with the everyday home cook!